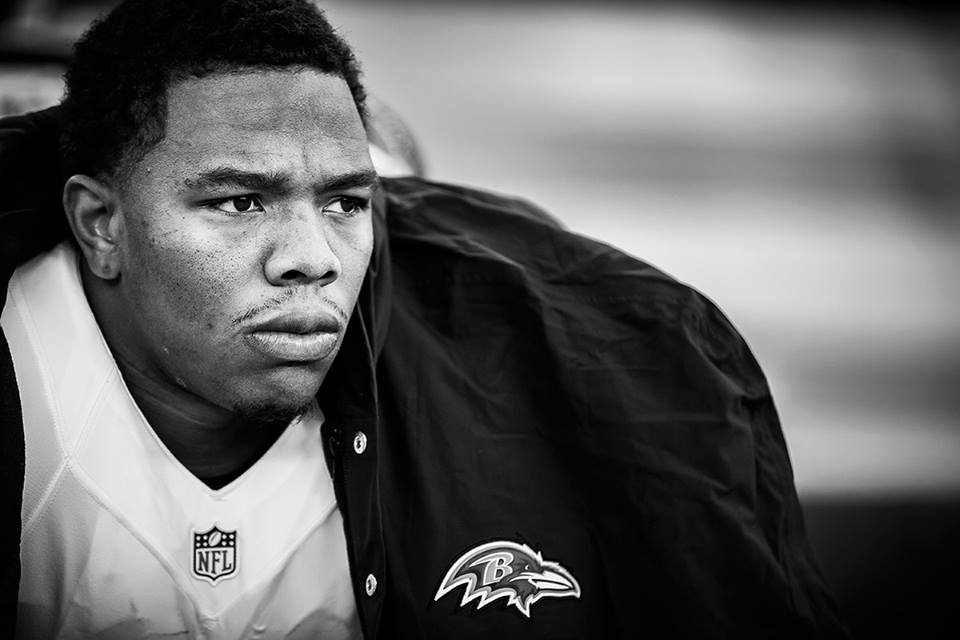 **UPDATE 2:20 p.m.: The Baltimore Ravens tweeted this afternoon that they have terminated running back Ray Rice's contract. NFL Commissioner Roger Goodell also announced that based on new video evidence that became available today, he has indefinitely suspended Rice. Our earlier post from today is below:
Until today, we hadn't seen the violent punch Ray Rice threw that knocked his future wife out cold in an Atlantic City elevator. It's a powerful and
brutal clip of a man hitting a woman when he thought no one was watching and it should serve as a wake-up call to the NFL.
To recap: Indicted on third-degree assault charges following his arrest, Rice entered a diversionary program for first-time offenders to avoid a trial and potential jail time. The NFL then gave the running back the slightest of slaps on the wrist—a two-game suspension—half, as been noted, the suspension players receive for violating the league's substance abuse policy.
It was only
after the ensuing outrage over Rice's lenient penalty that the NFL announced any future domestic violence offense by a player will bring a six-game suspension and that a second offense would mean a lifetime ban.
Meanwhile, Rice's two-game suspension and the video remain evidence of the NFL's hypocrisy toward women (its biggest domestic growth market) as it continues to court female fans with its "pink" fundraising campaign for breast cancer research and marketing of female team apparel, not to mention a 16-page, league-sponsored spread in Marie Clare this year. The Ravens specifically also host events like "A Purple Evening" that cater to women.
The worst part is Rice's assault of then-fiancée Janay Palmer is hardly some outlier for the NFL. Just in the past week, the San Francisco 49er's Ray McDonald and New York Jets's Quincy Enunwa were arrested in domestic violence cases. Closer to home, two years ago, Terrell Suggs was accused of domestic violence by his future wife, who alleged the All-Pro linebacker punched her in the neck.
NFL Commissioner Roger Goodell, who, if he didn't see the video previously, at least knew the details it contained, finally admitted last week that he got Rice's suspension wrong. Now, particularly in light of the new evidence, it's time to actually make things right and suspend Rice for, at minimum, six games. If the league has to go through the union to change the punishment, so be it. If the union doesn't allow it—then it's on them. The NFL also needs to revisit its latest, current policy—because a full-season suspension is more appropriate, truth be told, for Rice or any first-time offender.
Since the video became public, even current and former players are now speaking out regarding the need for stiffer penalties for Rice.
Anyone remember Hall-of-Famers Paul Hornung and Alex Karras? They were suspended for the entire 1963 season for betting on football. Or, more recently, New Orleans's coach Sean Payton? He was suspended for a year after the Saints's "bounty" system for going after opposing players was revealed.
Those are the precedents when the NFL takes a violation of its standards seriously.
If the NFL won't sit Rice down for longer than two games, then owner Steve Bisciotti and Ravens should. (We emailed the Ravens for a comment and will update this story if they get back to us.)
Players Speak Out
LeCharles Bentley, Former NFL center
Ray Rice, at a loss for words. If anybody believes that's the FIRST time he's hit a woman, I got an ocean in AZ I'd like to sell you #Coward
— LeCharles Bentley (@LeCharlesBent65) September 8, 2014

Duke Ihenacho, Washington Redskins
No I don't care how you slice it, it's wrong. They gotta open the case back up and come down hard on this one
— Duke Ihenacho (@NachoLyfe) September 8, 2014
& being a fan of someone that's a good player is one thing, but this is way bigger than football. Don't be blind to what's really important
— Duke Ihenacho (@NachoLyfe) September 8, 2014

Chris Harris, Denver Broncos
The NFL should have zero tolerance for domestic violence. There is never a reason for any man to be violent towards any woman.
— Chris Harris (@ChrisHarrisJr) September 8, 2014

London Fletcher, Former NFL linebacker
@nflcommish to say you got that wrong is an understatement. Very disappointed in you. Wow…unbelievable.
— London Fletcher (@LFletcher59) September 8, 2014

TJ Lang, Green Bay Packers
2 games. Disturbing.
— TJ Lang (@TJLang70) September 8, 2014