West Side
Terrance West's journey from Whitelock Street to Ravens Nation.
Twelve miles separate the Ravens practice facility in leafy Owings Mills from the confluence of Whitelock Street, Woodbrook Avenue, and North Avenue in
West Baltimore, where Terrance West learned to run, but has never run from.
Sitting in a lounge in the plush building known as "The Castle" after practice one day in June, the running back is reflecting on the rocky road that's
taken him from one of Baltimore's toughest environments to one of its most renowned. For a man who travelled such a short distance, West certainly has come
far.
"I always thought I'd get here, even when I didn't have [scholarship] offers when I left high school," he says.
He's here, true, but can he stay? The Ravens backfield is a crowded place these days, and West's presence in it this season is uncertain. After one of the
greatest years in Towson University history, West's career fizzled in the NFL. The Ravens signed him in the middle of last season, and offered him a shot
to compete for a job this year—nothing more, nothing less. West, 25, is determined to make the most of this opportunity, which very well could be his last.
"I don't look at it like that," he says between bites of a grilled chicken salad. "I just control what I can control. Right now I'm a Raven. Whatever the
future has for me, it is what it is."
Some of the names tattooed on his arms, including those of his cousins, Damian and D.J., who were murdered, are permanent reminders that in life—especially
when you're from West Baltimore—nothing is guaranteed.
An hour after
West leaves the Under Armour Performance Center to race home to his fiancée and newborn twin girls in Ellicott City, the streets of his old neighborhood
are hopping. It's 3:30 on a Thursday afternoon, and in front of the CVS that burned during last year's unrest, men mill about.
West grew up just a few blocks from here, in a household without a father. While a consistent male influence wasn't around, the prospect of trouble
constantly was.
"We are surrounded by drugs, crime, so he had to fight through a whole lot that other kids . . . didn't have to go through," his mother, Onika West, told
Fox Sports.
West turned to athletics to keep him focused and on the right path. He first took to the gridiron at the age of 9. At Northwestern High School, he played
basketball and ran track, but it was clear from his freshman year that his future was in football.
"Just the way he worked was something special," says Eric Woodson, his high school coach. "If we started workouts at 7 a.m., I would get there at 6:30, and
he would be sitting in the stands. I didn't know exactly how he was getting there. Sometimes he would beat the guys that lived right around the corner. One
of the kids said, 'You know, coach, West rides his bike up from North Avenue to Northwestern.' That's how hard-working that young man was."
His practice habits translated to results on the field. In high school, West rushed for 5,949 total yards, an astronomical number that attracted the
attention of major college scouts.
"When he started getting recruited, I think it was an eye opener for the other kids that were there," Woodson says. "I put some weight on him to let him
know it's not just about you, it's about letting these other guys know that they have a chance because, let's be honest, in that area a lot of those kids
don't think that they can make it. It's sad. If you talk to a lot of those kids, they think they're going to live until 21. They don't see themselves going
to college. We used [West's recruitment] as a talking point to get these kids to realize that there's more than just Northwestern."
Poor standardized test scores kept West from playing for one of the elite schools that recruited him (like Clemson University), so he enrolled at Fork
Union Military Academy in Virginia. When he returned to Baltimore after one season, he found himself in a situation so many young men in his
neighborhood do today.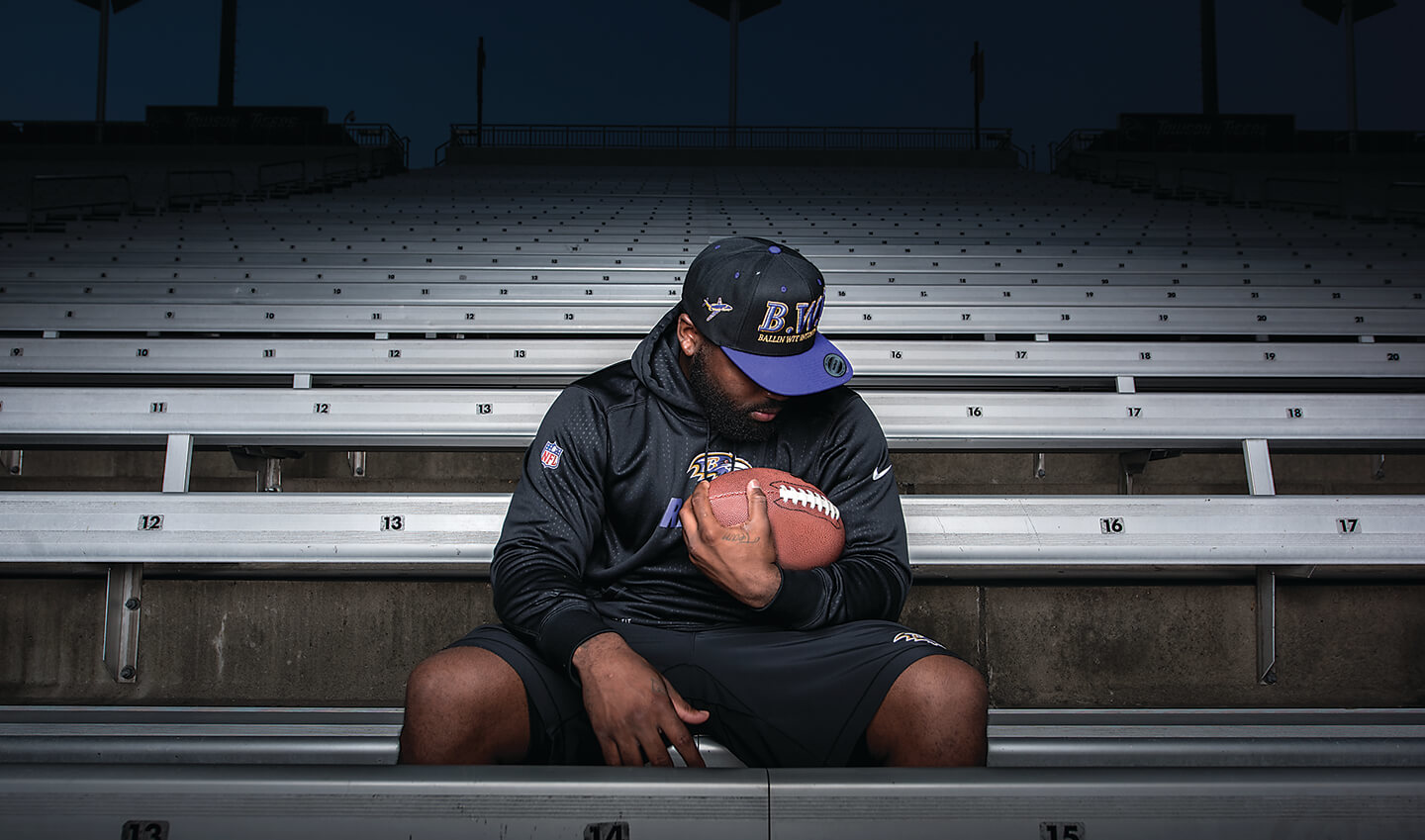 "The drugs and the crime, there's a multitude of things that these kids face on a daily basis that's tough for them to get out of," says Woodson, now coach
at Glen Burnie High. "I've been coaching 21 years now, and I've been to some funerals. For him not to get distracted or get swayed into doing things that
he shouldn't be doing—he could have went down any one of those roads."
Instead of giving up or giving in, West did what he does best: He went to work. He landed a part-time gig selling shoes at Jimmy Jazz in Mondawmin Mall,
and continued to work out on his own.
"It wasn't something that I wanted to do, but it was something positive to keep me out of trouble and keep me focused," he says. "It wasn't looking too
good. I became desperate and tried to start walking on at [four-year] schools."
The University of Maryland and Morgan State were among those that passed, but when Towson head coach Rob Ambrose heard West was available, he offered the
running back the only thing the kid was looking for—a shot. The Tigers coach had watched tape of West and knew he was an instinctive runner who possessed
the ability to deliver punishment but also to make defenders miss.
"He was humble," Ambrose says. "He knew we didn't have a scholarship for him. We said this is how you have to do it if you want to be here, be a part of
this. We'll give you an opportunity."
West was a raw player at that time. In practice, Ambrose saw flashes of brilliance followed by boneheaded mistakes. But he was coachable, and Ambrose was
impressed with his work ethic.
"I'm known for getting out of bed and going to work," Ambrose says. "We started at 5:30. I'd be rolling in there at 4:30, and he was there. He had been
waiting for me on a couple of occasions. In 25 years of doing this, I don't remember many players that beat me to work. Just didn't happen."
West would wake at 3 a.m. to catch the No. 13 to the No. 8 bus. The trip to Baltimore County could take up to 90 minutes.
"It didn't matter what I told him to do, he just said, 'Okay,'" Ambrose says. "His heart is in the right place, but sometimes the heart got in the way of
the head. When he was a sophomore, his great-grandmother passed, and he was a mess. I didn't play him much [for one game], and he didn't handle it very
well. But he became a better teammate, and we were a really good football team."
West's junior season was one to remember. He established single-season program records with 2,509 rushing yards and 41 rushing touchdowns, which was also
an NCAA Football Championship Subdivision record. Towson rode West to the FCS championship game, sparking the resurgence of the school's football program.
After the season, Ambrose, for the first time at Towson, recommended to an underclassman that he leave school early for the NFL. West was 13 credits short
of his degree in sports management when the Cleveland Browns selected him in the third round of the 2014 draft. He vows to one day earn that diploma.
"I started college so I want to finish," he says. "Everything I do I want to finish."
But in the summer of 2014, his sole focus was on starting his journey to NFL stardom.
West's debut in Cleveland
was an auspicious one. He rushed for 100 yards in the season opener against Pittsburgh, and finished the year with 673 yards on the ground, fourth among
NFL rookies. Yet before his second season, the Browns dealt him to Tennessee, a move that definitely raised eyebrows around the league.
He vaguely blames "a bad fit" for his departure from Cleveland, and insists that he asked for the trade. Others paint a different picture.
"With Terrance, it was just the accountability, the day-to-day practice habits, being a pro," former Browns coach Mike Pettine told The Baltimore Sun. "It was unfortunate because Terrance is a likable guy. We just felt at the time it was in both of our best interest to move
on."
West believes he was misunderstood in Cleveland, and needed a change of scenery.
"I just didn't think that was the right place for me," he says. "I didn't feel the love. At the time, I just felt like I needed to be at a more
professional place."
Ambrose speculates other reasons may have played a part.
"Just the way he worked was something special. If we started workouts at 7 a.m., I would
get there at 6:30, and
he would be sitting
in the stands."
"A little bit of money when you don't have it can cloud your vision," he says. "Work's never been a problem, talent's never been a problem, but Terrance
hasn't always been quiet—some of the things that he's said aren't always the things that he should be saying. At that level, they don't care. Get on the
bus or get off the bus. That's not the easiest thing for him."
After playing in just two games for Tennessee, the Titans released him, and the Ravens signed him to their practice squad. Returning to Baltimore felt
almost like fate. It's a city that's given much to him and also taken much away, but donning the black and purple for his hometown team always was a dream.
"I love Baltimore—it's the best city I know," he says. "There's a lot of kids that are good players, they just don't get the opportunity. But me, I just
had that determination—I was going to get where I wanted."
Apparently, that meant back home. Those around him believe he's in a better place mentally than they've seen in years. The birth of his daughters, Lyric
and Harmony, in June have centered him, and his return to Baltimore has grounded him. In July, he hosted a free football camp for area youth at his old
stomping grounds—Johnny Unitas Stadium in Towson.
"This is where I was born and raised," West says. "I want to give back to my city. When I was coming up, we didn't have opportunities . . . so I'm just
trying to give back and lead the kids in the right direction."
West is hoping his own direction leads to a spot on the Ravens roster. So far, his coaches like what they see from the young running back.
"Terrance has done a great job," said John Harbaugh, Ravens head coach, during mini-camp in June. "I would say he's in the best shape of his life. He looks
good. He looks quick. He looks fast."
At 5-foot-10, 225 pounds, West's running style is similar to his old neighborhood: punishing, hard-nosed, and unforgiving.
"The more he's grown up, the better he gets," Ambrose says. "I'm glad he didn't go to Baltimore first. Terrance needed to be in another city. I always
hoped one day he'd come back when he was ready.
"He's ready now."