Leading Man
Terrell Suggs discusses his passion for film and how he plans on stepping up to command a new era of Ravens defense.
The script might have read something like this: It's February 2014, and in the snowy, windy swamps of New Jersey the greatest football sequel of all-time is unfolding.
As the clock at MetLife Stadium ticks down, the Ravens, trailing by a single point in their quest for a second-straight Super Bowl victory, appear beaten. The Detroit Lions sit on the brink of the title. (Hey, this is Hollywood—anything goes.)
On third down, the Lions' quarterback drops back to pass, a completion spelling certain doom for the boys from Baltimore. In the center of the frame, as usual, is the golden-armed QB, but as he looks to his right, a jump cut shows self-proclaimed "gladiator" Terrell Suggs (played by Henry Simmons of NYPD Blue fame) streaking around the offensive line.
The roar of the crowd fades to classical music of the intense variety. As the play unwinds in super slow-mo, cameras cut to the Ravens' sideline, where Coach John Harbaugh (Kyle Chandler) paces nervously. Over his shoulder, the retired Ray Lewis (The Rock) looks to the heavens, asking the Almighty for one more solid.
Cut back to the field, where at the exact moment No. 55 in purple plows into the hapless Lions passer (Kid Rock), a timpani drum explodes on the soundtrack. Suggs's ferocious hit causes a fumble, which he recovers and returns for the winning touchdown.
Cue the confetti. Roll credits. Please properly dispose of your popcorn bags and soda cups on your way out of the theater.
More than anyone on the planet, the real Terrell Suggs is capable of making this happen, whether in reality or on the screen. Following an injury-plagued season that saw his production decline and his critics multiply, the 30-year-old quarterback-attacking, ball-hawking, trash-talking linebacker is in the best shape of his life, poised for the first time in his illustrious 11-year career to receive top billing on a defense that suddenly finds itself short a few icons.
A burgeoning film producer who harbors as much respect for Tyler Perry as he does disdain for Tom Brady, Suggs believes that 2013 is his time.
He's ready for the starring role.
Walking shirtless through the halls of the Ravens' training facility after a mini-camp practice in June, Suggs appears not so much man as machine. His upper torso is impossibly muscular—almost like a human Transformer.
"If I was going to create a player on the 'Madden' football game, I'd create somebody just like Terrell Suggs to play on my defense," Cincinnati Bengals tackle Andrew Whitworth told ESPN.com in 2012.
T-Sizzle, as he's nicknamed, has just taken an ice bath, and after putting on a white T-shirt that looks as if it could burst Incredible Hulk-style, diamond earrings, and a Marines baseball cap, he settles into a seat in the cafeteria.
"I feel great," says Suggs, who is listed at 6-foot-3, 260 pounds. He's leaning forward, animated and engaged, almost as if he wishes the season started tomorrow. "No dings, no nicks, I can't remember the last time I actually felt 100 percent."
It certainly wasn't last year, when Suggs missed the first half of the season after tearing his Achilles tendon in April. He shocked the football and sports-medicine worlds by coming back only five months after surgery, but it was clear that he wasn't the same player. A torn bicep late in the year didn't help matters. He recorded just two sacks.
When Suggs first stepped onto a football field, everyone on both sides of the ball had to worry.

"I personally did not think he would be able to come back from an Achilles injury and play, especially at that position when you're talking about him being a speed-rush guy and covering guys out of the backfield, which he does occasionally," says Brad Jackson, a former Ravens linebacker and analyst for Comcast SportsNet. "Him being able to go out there and battle 350-pound men, beat a block, make a tackle, beat a double-team, for him to come back the way he did was a testament to his workout. He's out there with one arm and one leg, and continuing to play at a very high level—not a Pro-Bowl level, but offenses still had to account for No. 55."
When Suggs first stepped onto a football field, everyone on both sides of the ball had to worry. In elementary school, he was too big to play with boys his own age.
"My dad signed me up for football when I was eight years old, but I had to play [with 10 year olds]," Suggs says. One of four children in the family (another died at birth), Suggs grew up in a tough St. Paul, MN, neighborhood before the family relocated to Chicago and, eventually, Arizona. His father, Donald Sr., wanted to ensure that his son could take care of himself.
A running back in high school, Suggs shredded opposing defenses, but astutely saw that his future lay in delivering the hits, not avoiding them. He stayed close to home and attended Arizona State University, where his 24 sacks in his junior season set a Pac-10 record. The Ravens made him the 10th pick in the NFL draft in 2003, when he went on to be named Associated Press Defensive Rookie of the Year.
"From day one, his passion and his work ethic far superseded his age," Jackson says.
In Baltimore, Suggs says, there was no choice.
"There are only two teams that you're gonna think about in the history of the NFL when you speak of defense," he says. "One is our rivals [the Pittsburgh Steelers], and the other is Ray Lewis and the Baltimore Ravens. When I first came here, I just knew I was in privileged company. I got to walk alongside giants. From the moment I got here, it was either you're gonna take on that persona or you're not gonna make it."
Suggs immediately fit in. He tied an NFL record with a sack in each of his first four games, and his outwardly carefree attitude notwithstanding, he innately understood that professional football is serious business. Over the course of his career, he's made four Pro Bowls and was Defensive Player of the Year in 2011.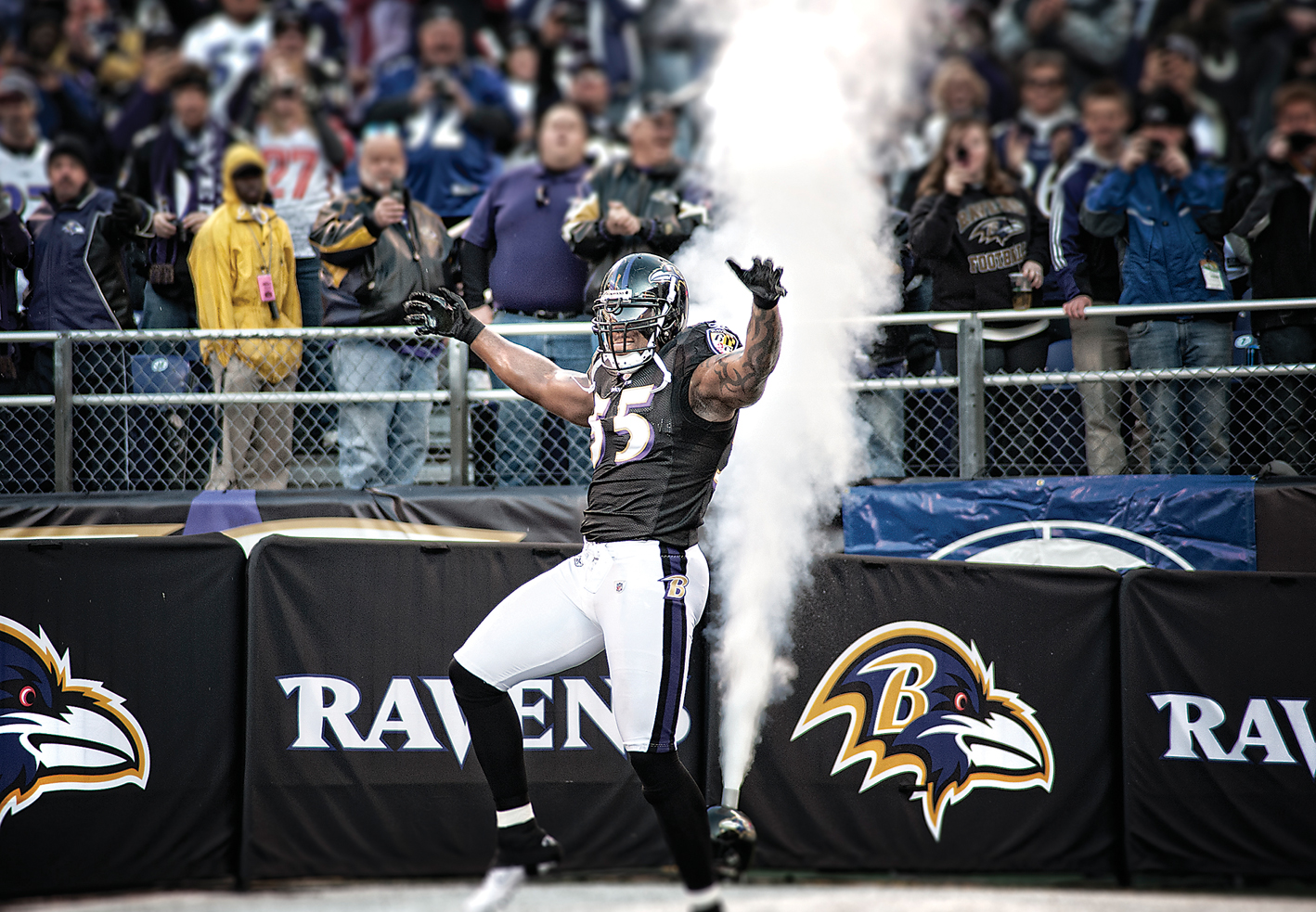 Terrell Suggs revs up the crowd before a Ravens game. —Photography by Christopher Myers
"I really didn't like him very much when I first met him," says teammate Haloti Ngata, who joined the Ravens in 2006. "He was just really loud, kind of obnoxious. But, once I got to know him, my perspective changed. Whenever I had a question about football, I'd ask him, and it created a bond. Seeing how hard he worked was a great example."
Still, despite his fondness for microphones and their attraction to him (the area around his locker is usually crowded real estate for media after games), he always played third fiddle to Hall of Famers-to-be Ray Lewis and Ed Reed.
"To his credit, for all the success that he's had, he's always said this is Ray Lewis's team," Jackson says. "That's rare, especially in this day and age in modern sports where it's always about 'me.' He's waited his turn, and now they're going to have to look to him on defense. He's going to have to be the emotional leader."
For all his bravado—Suggs once famously said that while God could have Steelers quarterback Ben Roethlisberger's soul, "his ass belongs to me"—he refuses to abandon the team-first approach that has garnered the Ravens so many wins over the years.
"It's our team," he says. "A lot of guys have been around here that have also earned their stripes. Haloti Ngata, Lardarius Webb. It's gonna fall on all of us to keep our Raven identity and keep the standard those guys have set. We have a few guys who can lead this team."
John Harbaugh, however, is looking specifically at Suggs to step up.
"I think [Terrell] always has taken a leadership role, but it might be different this year," the coach says. "There will be higher expectations for him. He'll be a little more of the focal point without those guys here. I know he's up to the challenge."
Terrell Suggs has 84 1/2 career sacks, and nearly as many opinions. At the end of our interview in June, I asked him about a handful of controversial issues, and he didn't shy from commenting on any of them. I started by discussing NBA player Jason Collins, who had just become the first man in a major American team sport to proclaim that he is gay.
"He needs to be commended on his courage," Suggs says. "I accept people for who they are because I would want someone to accept me for who I am. I personally don't have a problem with it—that's their choice, and I respect that."
Moments later he maintains that he's never had a concussion—"this is football, everybody gets their bell rung"—and the NFL is overreacting to the perceived problem.
"We all know it comes back to money," he says. "It's not really 'We're gonna commit to safety,' it's really so people don't come back with this problem or that problem after they're done playing. It's business."
In December, Suggs wed his longtime girlfriend, Candace Williams, with whom he has two children. It was the culmination of a rocky relationship. A month earlier, she had filed a protective order against him, which she ultimately voluntarily withdrew. As part of the filing, however, Suggs was forced to surrender nine guns. But he was never charged with a crime, so they were returned to him. He continues to own and operate firearms—unapologetically.
"I don't think the problem is the guns, the problem is gun violence and murder," he says. "I do it to protect my home. I've had a couple of homes burglarized. I have two children and their safety is first and foremost my number-one priority in my life.
"I personally believe that a person should be able to defend himself and his family. You don't tell a gazelle to cut his horns off and defend himself against a lion that's trying to kill him. You don't make it easier for your attacker. I'm erring on the side of safety for my family."
Despite his turbulent domestic past, married life "is lovely," he says. "At first it was a period of adjustment, but I like it."
He catches himself.
"I love it, excuse me."
Asked what he's learned from Williams, he responds, "that men can be monogamous. I've definitely learned that, whether I want to or not."
It's a typical Suggs line—scathingly honest, amusing, and spoken with utter disregard for the potential consequences. His frankness—and his play, of course—got him booked on ESPN's First Take, a daily shouting match featuring journalists/commentators Stephen A. Smith and Skip Bayless yelling at each other (and occasionally their guests) about whatever it is they're disagreeing about on any given weekday.
After the Ravens' 2012 AFC Championship game loss to the New England Patriots, Suggs appeared on the show and, in the heat of a debate, called Bayless a "douche bag." It was a rare moment of frankness in the almost-always canned world of sports television.
"We have different views," Suggs says of Bayless, whom he describes as a "frenemy." "It's just like Republicans and Democrats; it's all from a point of view. I don't hate Skip or anything like that, I just think some of the things he said he done lost his mind."
If Bayless ever reads that, he'll probably chuckle. After years of sparring with Suggs, he seems to have developed an appreciation for the linebacker's unfiltered approach, which makes for good TV sports talk (or at least what passes for good these days).
"Suggs can be as quick mentally as he is physically," Bayless says. "Three years ago we had Suggs in studio for the entire two-hour show and I got to chat with him quite a bit off-air. I liked him and loved his good-spirited combativeness. He doesn't take himself quite as seriously as some stars of his caliber do, and he's an intriguing mix of street sly and artistically creative. I always have fun with Suggs and I'm pretty sure he has fun going at it with me. Sometimes he makes me laugh, but he often makes me fight a grin."
Suggs is equally spirited when he talks about the big screen. While sports can provide fertile ground for father-son bonding, and men find commonality in the flow of a basketball game and the violence of football, in the Suggs household, the silver screen (from the drama of The Godfather to the fantasy of Star Wars) served the same purpose.
"It was something me and my father and brother did together," Suggs says. "I don't know if it was a sixth sense, I just always knew I would be part of film somehow. Kind of like football, I just loved it."
With time on his hands due to a contract dispute, Suggs attended the 2009 American Black Film Festival in Miami, where he met filmmaker Monica Mingo.
"Everybody was trying to find someone with money who could help fund their project," she says. "Terrell obviously had the money [he signed a reported six-year, $63-million contract that summer], but he also had the passion for it."
When they returned to Maryland, a meeting ensued, and soon after Team Sizzle Films produced its first project with Suggs as president and CEO, and Mingo serving as creative executive director. Sisters was a short film shot over two days in Washington, D.C., for $7,000.
"He's waited his turn, and now they're going to have to look to him on defense. He's going be the emotional leader."

"It struck a chord with all of us that we had great energy together," Mingo says. While the two were writing a subsequent project, Suggs imagined a woman in a wedding dress crying. It became the basis for When Beautiful People Do Ugly Things, a short that was accepted into the Cannes International Film Festival in 2011.
"Terrell has a very sophisticated eye for the way something should be presented," Mingo says. "He is very quick on his feet. He knows what people enjoy seeing. The things that he doesn't really care about are dotting the I's and crossing the T's.
"He'll have this vision, and he's confident that we've built the team to make that happen. Just like the CEO of any Fortune 500 company, he's not necessarily sitting down trying to figure out the nuts and bolts of how to get it done; he knows how he wants it done."
It's working. The company's first full-length feature, The Coalition, was released on Netflix and in retail stores, and through July 16 received an average of 3.9 starts (out of five) from the 95,761 people who rated it.
Filmmaking is clearly more than a hobby for Suggs, whose locker is equipped with a 40-inch TV, PlayStation, Bose sound system, and at least 40 DVDs. His library runs the gamut, from The Avengers to Ted to Finding Forester to The Usual Suspects.
"He likes to play a lot of those war movies like 300 or Troy," says Ngata, whose locker is next to Suggs's. "He does it depending on what the feeling is in the building of the players. He'll play a comedy if we need to loosen up. A lot of players will pull their chair up and watch the movie."
While Suggs sees his future in the film industry, he's still more J.J. Watt than J.J. Abrams. He dropped 20 pounds this off-season and, by all accounts, appears ready to return to his pre-2012 form.
"He looks phenomenal," says Jackson, a close Ravens observer. "He wants to get back to that 12-, 13-, 15-sack type of year. It's going to be hell to pay for a lot of quarterbacks."
Entering his 30s as a married man, father, and football player, Suggs appears more comfortable in his own tattooed skin than ever.
"I made a decision that either people are gonna accept me for the real me or they're not gonna like me at all," he says. "The ones that do are going to appreciate you being yourself and being genuine. I don't want to come off as fake. I always want to give people the real me."
On the football field and off it, Suggs has done just that.
That's a wrap.