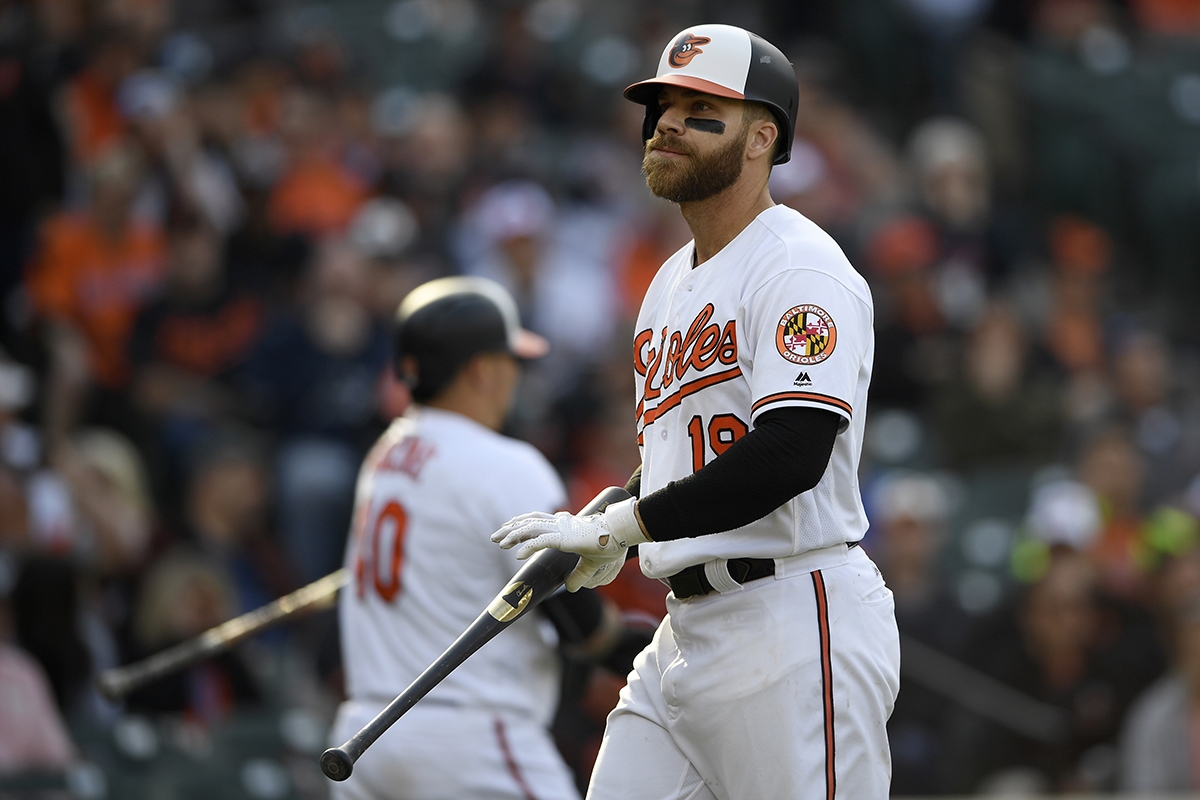 AP Photo/Nick Wass
Give him credit. Chris Davis, the once proud slugger and now overpaid fallen hero, stood at his locker after the Orioles' home opener and answered the inevitable questions.
Of course the media, the conduit to the fans, wanted to know what the player formerly known as Crush thought about the fact that a good number of the announced 44,000-plus in attendance at Camden Yards booed him—loud, uncomfortably, and repeatedly—during the O's 8-4 loss to the hated Yankees. The foul sounds started in pregame introductions, as Davis trotted down the traditional orange carpet from centerfield to a mix of cheers and boos. And the jeers intensified after each of his three strikeouts in the first, fourth, and sixth innings.
Then things reached a pointed crescendo in the bottom of the eighth inning. Little-known utility infielder Hanser Alberto, playing in his fourth game in an O's uniform, pinch hit for Davis, the 33-year-old former MVP candidate who's in his ninth season here. A thunderous, positive roar erupted from those still watching.
"I mean, it's not something that I was really expecting," Davis said afterward, with a throng of cameras and reporters surrounding him. "At the same time, I heard it a lot last year, and rightfully so. I've said it before, I'll say it again, I understand the frustration. Nobody's more frustrated than I am."
How has it come to this? Well, it's been a few seasons in the making, and the unravel has been fascinating.
Davis led the majors in home runs in 2013, when he finished third in American League MVP voting. He was the home run king again in 2015, albeit while also leading the league in strikeouts.
Three years later, last season, he recorded one of the worst hitting seasons in baseball history, hitting a career-worst .168, and he's now a bad 0-for-17 with 11 strikeouts to start 2019. At times, he seems as far away from hitting a baseball as one could imagine.
This is not what anyone wants to see from someone in the middle of a seven-year, $161 million contract to do exactly that. And, in the past, some, like the O's beloved Hall-of-Fame broadcaster Jim Palmer, have questioned his desire to put in the work to change.
But, man, the public shaming of Davis yesterday was tough to watch and hear. For boos to rain down on the guy the way they did after every at-bat of the home opener, with still 150-plus games to go this season? I've never been one to say that a paying fan can't voice frustration with any player or vent anger for whatever reason occasionally, but it certainly doesn't do anyone on the field any good. It seems almost like a more New York or Philadelphia thing to do.
Davis has been relatively open about his struggles at the plate—last year he talked with MASN's Roch Kubatko about hitting into shifts, trying to bunt, his apparent 20/10 vision, and whether his ADHD diagnosis and treatment has anything to do with his hitting problems. He addressed the problems again at FanFest in January, and he seems to genuinely want to turn things around. You can only guess what thoughts are racing in his head as he tries to square the bat on a ball headed his way at 90-plus miles per hour, much less while he's surrounded by a cacophony of anti-support.
"It's very easy to shame or boo people from an outside perspective," the Orioles young leader, Trey Mancini, said after Thursday's game, shortly after he patted Davis on the back with encouragement after his media session. "But you never really know until you go through it. . . . [Chris] is in there every day working on things. He's a professional. Look at the back of his baseball card and what he's done in his career. He's an incredible hitter and still is. I still believe that."
"To feel that in front of your home fans, I mean, I can't even imagine," said yesterday's starting pitcher Alex Cobb. "I get all sides of it. Chris works really hard. He's a great guy. He's one of the better teammates that I've had in my time in the big leagues, and I know he cares so much. I do feel for him. [But] I understand the fans' frustration as well."
Sure, had O's ownership not given Davis the monster contract in January 2016 after he led the majors with 47 home runs, he'd probably have been traded long ago with Manny, Britton, and the rest of the Buck Showalter-era stars. Had he performed a bit better the last few years, maybe the O's would have won more games. But it's hard to pin all the faults of a team on one player, though Davis even alluded to the idea that he was a buzzkill on Thursday. "Especially a day like today," Davis said, "the kind of game that we were having. Really had them on their heels the whole game and it was a frustrating day for me personally and the team collectively."
The Orioles went ahead early on the second pitch of the game via a Jonathan Villar home run to right field, then scored two more runs on a bases-loaded balk and a wild pitch from Yankees' starting pitcher James Paxton in the top of the first inning, which ended with Davis striking out swinging. The O's eventually led the Yankees 4-2 behind a strong start from Cobb, before reliever Mike Wright threw a two-out, two-strike pitch to the Yankees' Glayber Torres, who crushed it for a three-run home run. Luke Voit hit another three-run homer in the ninth for the final margin.
The Baby Birds are now 4-3 on the young season, good for second place in the A.L. East standings, and they play the second in a three-game series with the Yankees on Saturday night.
Perhaps the reception Davis got is more a signal that many fans have embraced the Orioles rebuild plans, and want the beleaguered slugger out of the way. That's ultimately a good sign for new general manager Mike Elias and company. If things keep going like this, the O's could conceivably just cut Davis, but, considering the contractual commitment involved, it's in the team's best interest to get the most from the player they can, to see if the new analytics-minded regime can do anything to revive his career.
As Davis even said at his locker, wearing a gray T-shirt that read "Courage" on the front in red block letters, "I'm going to be here for the foreseeable future." He's got four years left on his deal and you'll hear his name long after that, since Davis is due to receive New York Mets/Bobby Bonilla-like deferred annual payments until the year 2037. (He'll be 51 years old by then.)
"I'm going to continue to play him, and I'm going to continue to support him and find the right match-ups for him," first-year manager Brandon Hyde said, and he was also surprised the response to Davis' strikeouts. "I haven't been around here, so I wasn't aware of fan reaction. I'm not really concerned about it. I'm going to support the guys on the club. It is what it is. I'm going to continue to stay positive with him." Hyde also correctly pointed out the hitting woes haven't seemed to affect Davis' defense at first base.
But Davis certainly understood what the fans were getting across.
"I don't think anybody's feeling sorry for me right now," he said. "I think people are ready to see me turn it around, and I'm ready to turn it around."