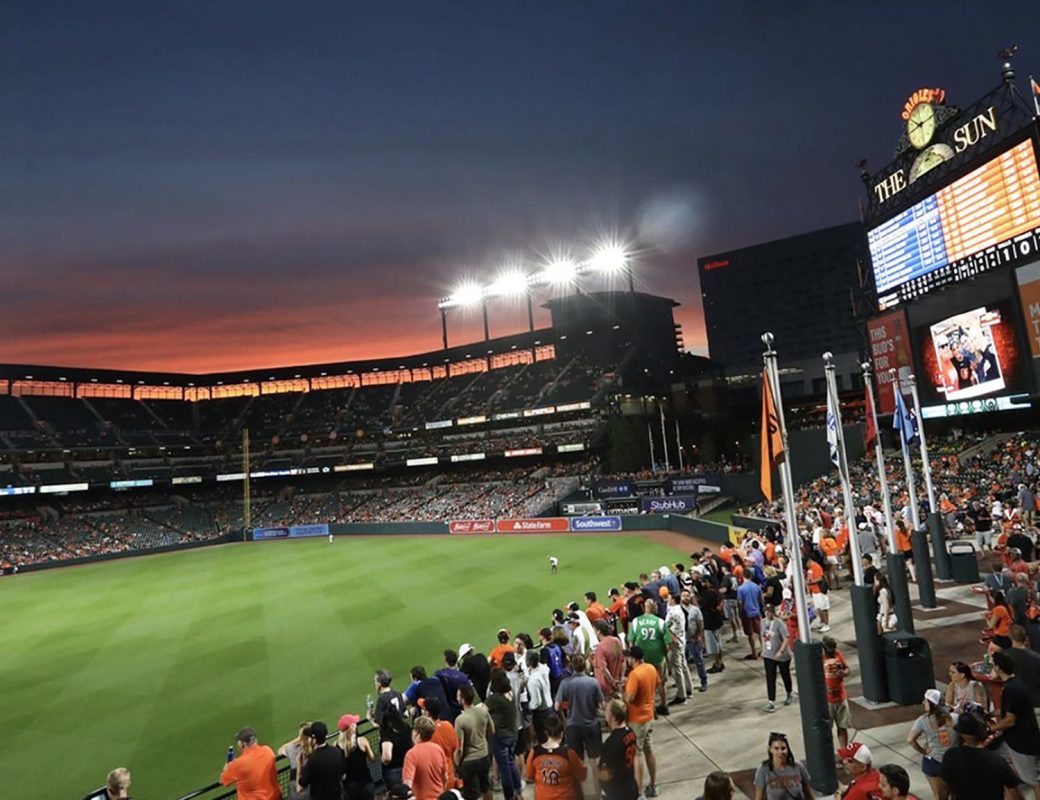 Baltimore Orioles
Unless he knows something about Fort McHenry's future that we don't, John Angelos—the Orioles top executive and son of Peter, the team's principal owner—appeared to put all of the rumors of Baltimore's beloved baseball team moving out of town someday soon to bed last week.
"No, no," Angelos—the Baltimore native, a trial lawyer like his father, who is in charge of the Orioles day-to-day business—went on record saying from a big comfy chair during a panel discussion at Visit Baltimore's annual meeting at M&T Bank Stadium. It was as good a time as any to refute the speculation.
"As long as Fort McHenry is watching over the harbor, the Orioles will be in Baltimore," Angelos said in his first public comments since last month's buzz that the team was either looking to relocate (and even had a likely new home in Nashville or Las Vegas) or would be for sale (which, reading closely, wasn't ruled out in Angelos' wonderful anthropomorphic statement.)
The questions stem from a confluence of uncertainties including 90-year-old Peter Angelos' reported declining health and an unknown (at least publicly) ownership succession plan; the rebuilding state of the club; the ongoing legal dispute over television rights fees with the Washington Nationals; and, most prominently, the fact that the Orioles haven't yet signed an agreement to play at Camden Yards after their current lease runs out in two years.
Those still scarred from the Colts' middle-of-the-night move to the Midwest more than 30 years ago might say they've heard a claim like Angelos' before, only to experience the opposite.
"I have not any intentions of moving the goddamn team," the Colts' then-owner Robert Irsay said during an infamous press conference, standing alongside former mayor William Donald Schaefer in January 1984 at BWI Airport. "If I did, I will tell you about it, but I'm staying here." Two months later, fearing state seizure of the team, the Mayflower trucks packed with Colts gear and office equipment rolled out of town amid snowflakes, leaving the city sensitive to relocation rumors.
But the present circumstances are different and not as immediately concerning. Both the Colts and Orioles were seeking a new, joint stadium back then—the O's already have a beautiful, fully capable home now, which ultimately arose from those talks—though the future, again, is uncomfortably unknown.
The Orioles' lease with the Maryland Stadium Authority states the team can't move from Baltimore until the current 30-year term ends in 2021, and the team has a five-year renewal option. But negotiations on a new agreement have been held up, according to a letter Governor Larry Hogan sent to Major League Baseball last year, due to the O's never-ending multi-million dollar legal battle with the Nationals over the rightful owner of a years' worth of MASN revenue.
Despite the money and politics involved, many fans are optimistic. It's hard to imagine anything other than baseball happening at Oriole Park at Camden Yards, aside from a few concerts. And color me skeptical that general manager Mike Elias and assistant GM and former NASA engineer Sig Mejdal would have taken jobs here if they knew they'd be moving anytime soon. Their aptitude for gauging probabilities and risk-reward ratios is too good for that.
In any event, and thankfully, season one of this nascent, ballyhooed build-by-numbers revival is now finished. The O's long baseball year ended on Sunday with a 5-4 loss to the Red Sox in Boston. Fifty-four wins. One hundred and eight losses. The team would have ghosted into the offseason, had it not been for this Steve Wilkerson spectacular catch, navigating one of Fenway Park's sharp old-timey features while taking away a home run in centerfield. "Greatest HR robbery ever," dude.
The play speaks to one major takeaway from this year: We can't say the 2019 edition of the Orioles quit, even if players sometimes felt like they wanted to.
Sure, there was the Chris Davis mid-game blowup in the dugout (after a fielding gaffe, of all things). Davis would have done something he'd later regret to first-year manager Brandon Hyde had big Mark Trumbo and hitting coach Don Long not intervened. "That was really kind of the breaking point," Davis said later, and frankly, we don't blame him. His season started with a chorus of boos, a historic hitting slump, and ended with 139 strikeouts, a .179 batting average, 12 homers, and continued talk about his albatross of a contract, which has three years, $51 million (and $42 million in deferred payments in the 15 years following) still to go.
There were also the MLB-record 305 home runs that the Orioles pitching staff allowed, a number that demolished the previous mark of 258 (and a rate of almost two per game.) The Yankees' Glayber Torres hit 13 of them, and the Astros' Carlos Correa hit the longest homer tracked in Camden Yards history, 474 feet to centerfield.
The Baby Birds' weekly transaction report resembled a yo-yo of players to and from Baltimore and the minor league affiliates in Norfolk, Bowie, Frederick, wherever. The O's used 38 pitchers this season. In the statistics that most non-analytics folk are familiar with, only John Means finished with a winning record (12-11) and a close-to-respectable earned run average (3.60). Wilkerson threw five innings, and he was not the only position player to take the mound. Which is to say, the O's are still looking for help at the game's most important spot.
But—and this might be the optimists' view—wasn't this season not as bad as you thought?
The Orioles somehow won 54 games. That was anywhere from one to five less than the Las Vegas sportsbooks' preseason predictions, but the overall record was better than last year's brutal, franchise-worst 47-115 number. And that team had expectations of another potential Buck Showalter-led playoff run.
There's some more good news: One of the few holdovers from the Buck era, first baseman Trey Mancini, is still with us. So is second baseman Jonathan Villar, the only Oriole to play in all 162 games. Means was a surprise all-star. Stories and possible parts of the rebuild emerged like outfielders Austin Hays and Anthony Santander (San. Tan. Dare.), who famously entertained a group of about 4,000 kids from the United Kingdom in leftfield in the dog days of summer. The Brits are apparently more grateful for a free ball than us. (Speaking of that, good for the O's for extending foul-ball netting into the outfield.)
There's hope you can believe in, too, namely in catcher Adley Rutschman, who the O's drafted first overall out of Oregon State University in June. His highlights in the minor leagues made this summer somewhat bearable as the big club's losses piled up, but also embodied the idea that this Oriole-ball project is going to take time.
Only recently did Elias begin to make sweeping front office personnel changes, as expected, firing 14 people last month (including Showalter's son, Nathan, who was somehow still on staff as a scout), and hiring his own people like new director of player development Matt Blood. "I anticipate many more hires and additions to our baseball operations department as we proceed into the offseason," Elias said.
Mancini, the most defined of the O's puzzle pieces, told us something last year that continues to ring true. "It's a process," he said of the rebuild. "It's not going to happen overnight. You have to get some of the right guys, people have to click, and unfortunately, it might take a couple years. That's usually the case."
Unfortunately, is right. Losing more than a hundred games a year, no matter how much you're paid to play, coach, or watch a kids' game, isn't easy on anyone's health. Take one night a few weeks ago, the O's fourth to last home game of the year. It was around 10:30 p.m., and at the start of the bottom of the ninth inning, the Orioles led the Toronto Blue Jays by four runs. Maybe a thousand fans were left in the stadium. It felt almost like an open practice.
With the game's outcome seemingly decided and a newborn baby at home, I left the press box, and headed down the stairs to get to the team's clubhouse a little early. The Oriole Bird had the same idea. The mascot soon emerged from a nearby staging room in the bowels of Camden Yards with a big black-and-orange flag that he or she waves after wins, and the feathered animal of joy jogged down a hallway toward the field.
But soon, as I watched on a small television with a few team employees and stadium security guards, relief pitcher Miguel Castro had walked the bases loaded. One run scored first. Then, someone named Randal Grichuk hit a crushing, two-out grand slam into the mostly empty left-field stands that put the Blue Jays ahead 10-9.
In a sad yet terribly appropriate and telling image, the Bird came running back down the hall. The O's ended up losing by 11-10 in a game that took more than four hours to finish. It was as demoralizing a defeat as we've ever seen, and a reminder of how much time there might be before the O's consistently win again.