Tips For Best Fan Experience at Baltimore Blast's New Towson Venue
The lowdown on pregame spots, new amenities, and how to mingle with players.
For the first time in decades, the Baltimore Blast are playing their hard-hitting, high-scoring, indoor-soccer games some place other than Royal Farms Arena. The team's new home is the smaller, more modern SECU Arena on Towson University's campus.
In an interview with Marty Bass and Linh Bui on WJZ team owner Edwin F. Hale, Sr. linked the move to his ongoing legal dispute with the city over the ownership of billboards outside Royal Farms Arena. And the deal with the college is the only reason the team is still around.
"Had we not gone to Towson University, there would be no Baltimore Blast this year," Hale said.
Still, for Blast diehards, leaving may feel a bit like when the Orioles, and then the Ravens, departed Memorial Stadium. Though little about the building could be described as state-of-the-art, the old Baltimore Civic Center is not without its shabby charms and history. But the Blast are all we got and they're still really, really good at winning games—they're going for their third championship in a row.
This past Saturday, we ventured out to Towson to check out the new digs and see the Blast take on the St. Louis Ambush. Here are some pointers for enjoying an action-packed game at the new venue.
Buying Tickets
Even though the team's maximum seating capacity has been cut by more than half (from about 10,000 to 4,000), there were still plenty of seats available for the game against the Ambush. The box office is located beyond the security check-in at Gate 2. With that said, it's still best to call or check the map on Ticketmaster before banking on walk-up sales.
The small confines and smaller field really do put fans right on top of the action. My buddy and I started out in section 206 and had a great view nearly at midfield. It's worth it to splurge and get seats in the lower bowl—we checked out club section 112—where you can clearly listen as the players call out directions to their teammates and hear the sound of the ball moving along the artificial turf.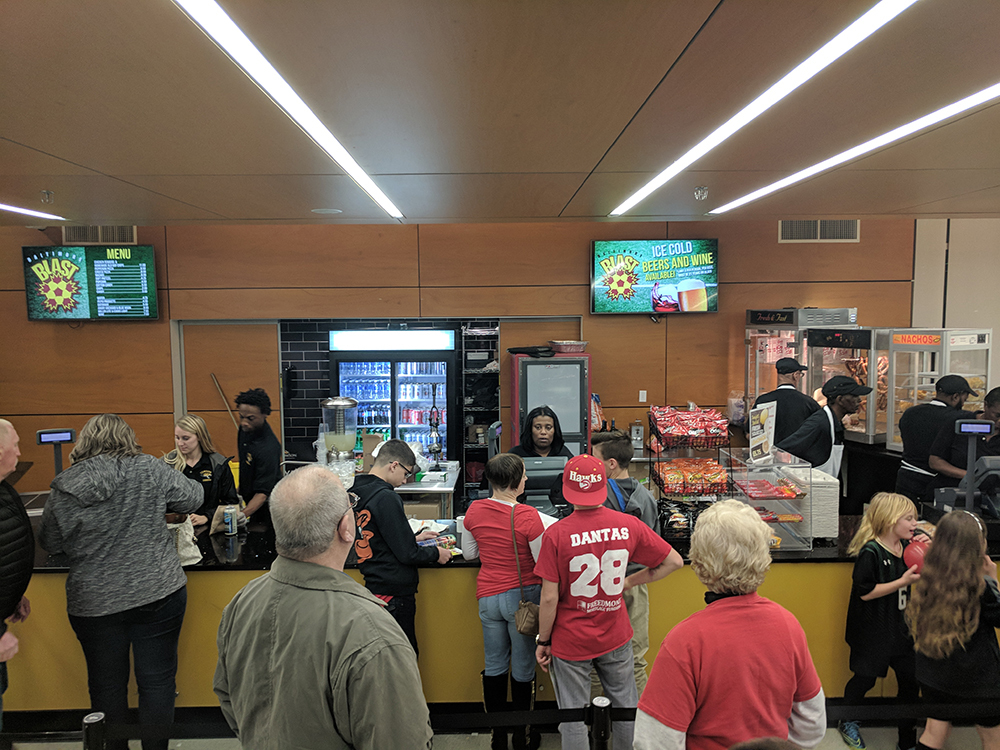 Pregame
Given its location on York Road just off Towson's campus, local sports bar staple Bill Bateman's Bistro is, by default, the best place to grab some pregame beers and food. Even then, it's about a 20-minute walk from Bateman's to the arena, so you'll probably still have to drive (responsibly, of course).
I asked our bartender if there were any Blast-related specials and he said there weren't, but that he was thinking about mentioning it to his manager after seeing an uptick in business on game days. No pressure, guys.
But they did have their regular slate of deals, which on this day featured discounted Bell's Best Brown Ale ($4.50 for a 22-ounce glass, $3.50 for a pint), and, of course, all the wings, burgers, and pub grub our appetites could handle.
Know Before You Go
SECU Arena is just off Osler Drive and, as the team has heavily promoted, parking is built into the cost of a ticket. As you head south on Osler, the first sign for Blast parking will lead you toward lots near Unitas Stadium. Keep going, though, and you'll see a second sign that leads to parking near the Towson Center. The lots near the football stadium are much further away.
It took us a little more than five minutes to walk from our spot to the gate and through security. Though not quite as strict as Ravens game, SECU security doesn't allow bags larger than 12 inches high, 22 inches wide, and 8 inches deep.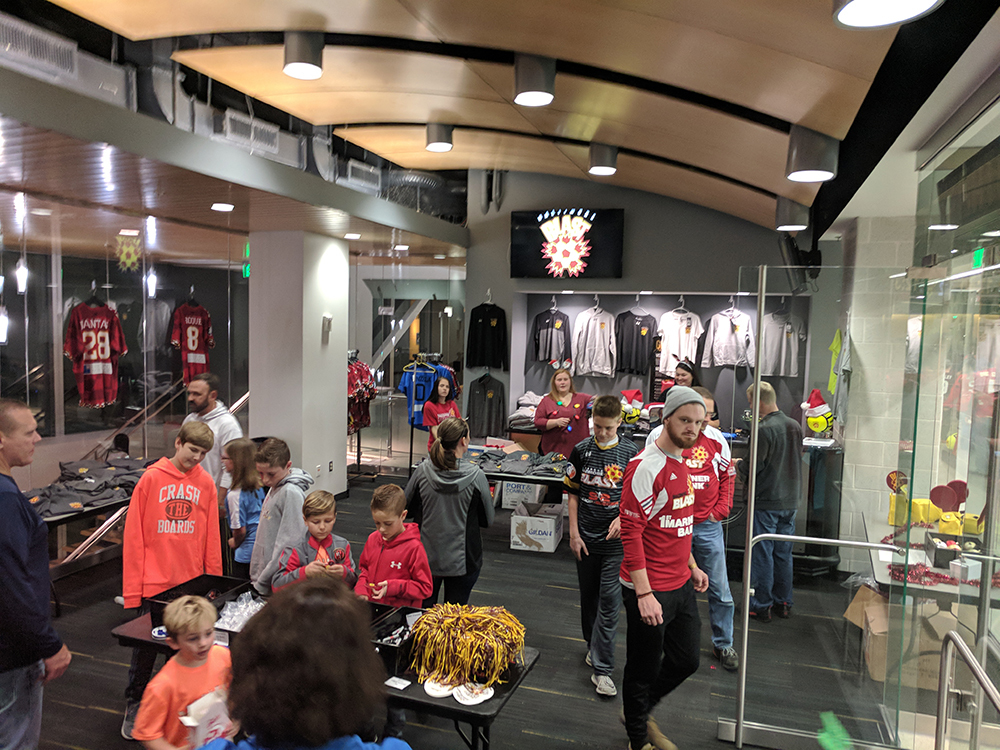 The In-Game Experience
Opened in 2013, SECU Arena still has a lot of new bells and whistles, including an overhead scoreboard with crisp graphics and rectangular video boards that wrap around the seating bowl, much like at M&T Bank Stadium. These new amenities give the game itself a much sleeker, professionally produced feel.
As for concessions, professional sports still means professional sports prices, with nachos at $6, pizzas at $8 ($8.50 for pepperoni), chicken tenders and Old Bay chips at $11, and beer and wine ranging from $7.50 to $8.50, just to name a few. There were only three main food areas and a couple of carts, but they all seemed to move customers through briskly. Only at halftime were there noticeable lines. A few things worth pointing out: There are no vendors walking up and down the aisles, and the food stands started shutting down early into the fourth quarter.
The team store is located below section 210 and sells standard sports fare, like jerseys, shirts, and soccer balls, as well as fidget spinners and, if you so desire, Hale's autobiography.
Otherwise, the atmosphere is the same as ever: Kool & The Gang's "Celebration" and a T-shirt toss after every goal, the once-per-game playing of the theme from SpongeBob Squarepants, and superfan Rickee Walker—decked out in a hat and vest covered with buttons and pins from years past—banging on a drum, shaking gas fans filled with chickpeas, or playing a vuvuzela to hype the crowd.
Postgame
Per usual, several players will head to the team store after the final buzzer to sign autographs for fans.
The official after-party is at Nacho Mama's in downtown Towson, where players, coaches, cheerleaders, and their families enjoy a meal together and then mingle with fans. There were no specials there, either, but the restaurant does boast having its house margarita, the sour and salty Graceland, on draft.