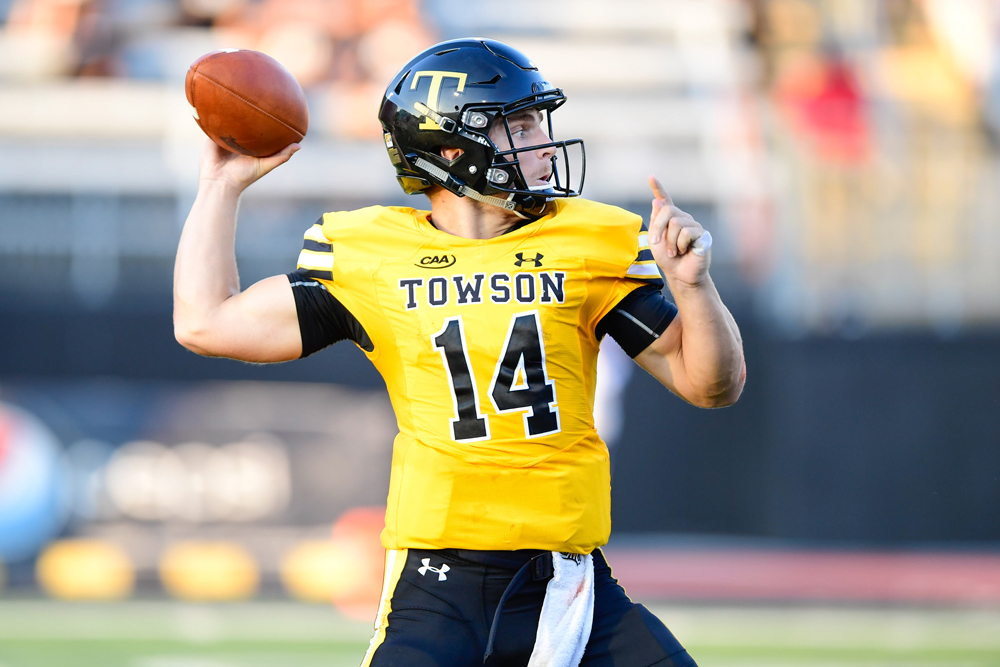 ENP Photography
Tom Flacco is used to it. He's fielded questions about his brother, the NFL quarterback, since Tom played football in high school five years ago in New Jersey and older brother Joe was already with the Ravens. But there's still times when the practice aggravates him, like in the press conference that followed Towson University's win at nationally ranked Villanova earlier this fall.
A reporter from Philadelphia repeatedly asked about Joe Flacco. All Tom wanted to talk about was the team, and how everyone else played. "I don't give a shit," he finally said, cutting off the string of questions.
And if you're wondering how he's similar or different from his brother that might also show you.
It's a story. When the younger brother of Baltimore's Super Bowl winning quarterback shows up to play in the same city, it's going to get attention.
"It's a hard position for him to be in, especially in this city, but it's kind of cool at the same time," Towson head football coach Rob Ambrose says. Even more, when he's about to play against older brother's beloved alma mater, Delaware, on Saturday.
Tom is in his first season as the starting quarterback at Towson. Like Joe, who transferred from NCAA Division I program Pittsburgh to "small school" Delaware in search of more playing time—a move that set him on his path to professional football, and essentially laid the groundwork for this family tale—Tom left Division I Rutgers last summer, after spending the previous two years as a backup at D-I Western Michigan, to transfer to Towson. Like the school his brother attended a short drive up Interstate-95, its football team plays in the Football Championship Subdivision (formerly known as Division I-AA).

Tom, the youngest of the five Flacco brothers, now 23 and already with a degree from Rutgers and pursuing a master's in applied information technology at Towson, has lit up the scoreboard and stat sheet while leading the Tigers to a 6-1 record and No. 10 national ranking. Tom recently was added to watch list for the Walter Payton Award, given annually to the top offensive player in FCS football, and he just won this third Colonial Athletic Association Offensive Player of the Week award. He's averaging 280 yards passing per game, has thrown 17 touchdowns and has rushed for 515 yards for four TDs ahead of Saturday's game at the 21st-ranked Blue Hens.

Tom insists Joe's presence in Baltimore didn't influence the decision to transfer to here. "It wasn't going to deter me from coming here," Tom said. "And it didn't make it more attractive." But there is a logical connection. Towson assistant coach Jared Ambrose (coincidentally, the younger brother of the head coach, Rob), was graduate assistant football coach at Delaware and worked with the offense when Joe was there, reaching the 2007 FCS national championship game. Ambrose told Flacco 2.0, who was then a kid watching in the stands, about the talent on this year's Towson team, and the potential to play right away.
Another perk? The family dinners now on the weekend are pretty nice. On the Sundays when the Ravens play at home, Tom, who lives on Towson's northern Baltimore campus, will usually go up to Joe's house nearby on Sunday nights to eat Italian food and see his four nephews and niece. Their mom, Karen, brings and cooks fresh spaghetti from Severinos Pasta Shop from their native New Jersey. Can we come?
"When I was at Western [Michigan], I would never admit it, but I guess I just admitted it, I missed it," Tom says. "Now I'm definitely grateful for being around my family."
Joe's enjoyed it, too. He attended Towson's season-opening win at Morgan State in person and has streamed other games on TV or the computer. The two exchange messages about each other's games. "It's been cool," Joe Cool says. "It's unique that he's right here. I've been waiting to see him play for the last three years."
If you see them stand next to one another, or sit at the dinner table, you don't have to be a detective to see that they're brothers, based on their facial features alone, though Joe's a bit taller (listed at 6 feet, 6 inches) than the 6-foot Tom. How else are they similar? They share the same last name. Come from a competitive, athletic family. Their other brother, Mike, was drafted by the Orioles in 2009 then played college football as a tight end; and another brother, John, walked on the Stanford football team as a wide receiver. These Flaccos play quarterback. Close your eyes when listening to their quotes, and they sound similar. Tom says they share the same outlook on the life, but that's largely where the comparisons stop.

"You talk about the relationship with his brother and he has it," Ambrose said. "But everybody wants to compare the two. He doesn't want any part of that. Tom's Tom and Joe's Joe."
How they're different? They're 10 years apart and, yes, have different personalities. "Joe would probably be the best guy you've ever played poker against," Rob Ambrose said. "He has a poker face in everything he does. Tom is a lot more overtly excitable. Joe's excitable, you just can't tell."
And on the field, "The way I play is different, obviously," Tom says, "You can see if you watch." Forget being "Joe Flacco's brother,"—that's a good thing—Tom seems more interested in shedding other, more dreaded labels like "athletic," or "running quarterback." In football parlance, if you're a quarterback, that's usually code for "throwing the ball is not the strongest part of his game." (At the same time, though, older brother has been dogged through his career for being "immobile," so sometimes you can't win.)
"I'm a quarterback that's athletic, not an athletic person playing quarterback," says Tom, who was a three-sport star at Eastern High in New Jersey and also was drafted as an outfielder by baseball's Philadelphia Phillies. He sounds like's talking straight to NFL scouts. "I can be a quarterback, execute the play and if things break down, I can execute that second play to keep things going."
"He's 6-foot, but he probably doesn't get a lot of credit for some of the things big tall guys do," Joe says. "He can do a lot of those things . . . He's a really good player, great athlete, he can really throw the ball. Obviously, he's my brother so I have some bias."

Which brings us to the big, timely topic at hand. Asked this week who he was rooting for to win on Saturday—his brother or his alma mater?—Joe said family first.