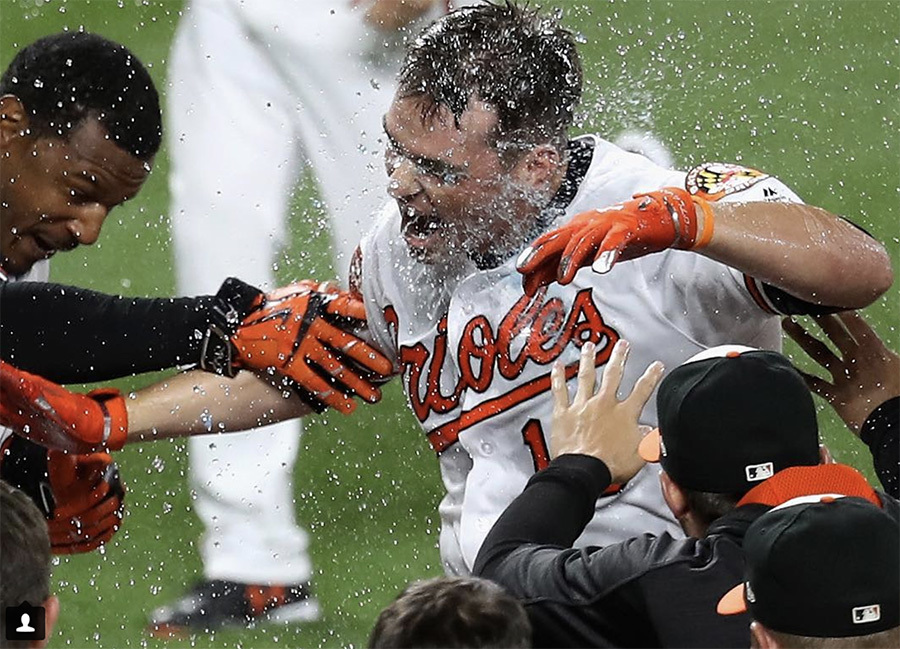 MASN / Orioles
The 2017 Orioles season is one of those that fans are eager to move past. The attitude is less reflective and more looking forward to spring, counting down the days (95) until pitchers and catchers report in Sarasota, Florida.
But this week we were given a great reason to look in the rear-view mirror, as outfielder—and clutch DH—Trey Mancini was named a finalist for American League Rookie of the Year. He'll definitely need his "it's an honor just to be nominated" speech ready, as any baseball fan knows that this has been the year of Aaron Judge. Pinstriped or not, when a first-year player hits 52 home runs and ends up with a slugging percentage of .622, there really is no contest.
Still, it's great company to be in and Mancini was picked over infielder Yuli Gurriel of the world champion Astros, who had a pretty comparable year to our ROY finalist—albeit a better ending. Mancini, an eighth-round draft pick and University of Notre Dame alum, gave the Orioles plenty of great moments to celebrate this season, including 25 homers, and a resulting slash line of .293/.338/.488. No matter where he falls in the battle for silver or bronze, we are sure glad Mancini had plenty of sunflower-shower moments this year.
But that's kind of where the good news ends. For the second year in a row, no Orioles were nominated for a Gold Glove. Manny Machado was our best bet. Not to get all stat-crazy, but if you look at his range factor—which divides putouts and assists by the number of games played—Machado's was low (2.57), especially versus last year (4.13). That number, which is essentially the amount of outs he was involved in, hasn't been that low since 2014, fittingly another year he didn't make the All Star Game or MVP list.
Maybe the biggest tell as to what this means for the Orioles franchise is how little outcry there has been. Sports fans are generally all too willing to claim a player was robbed by Rawlings, MLB, or BBWAA. But the O's faithful seems pretty resigned to the fact that this season we only had one All-Star (a reserve at that), no nod for Manager of the Year, zilch on Gold Gloves, and no one on the short list for American League MVP. As one Camden Chat commenter said about Machado, "At the least, I don't feel he was unjustly shafted by The Man."
There is another thing that Orioles fans can all agree on: it's time for a change in 2018.