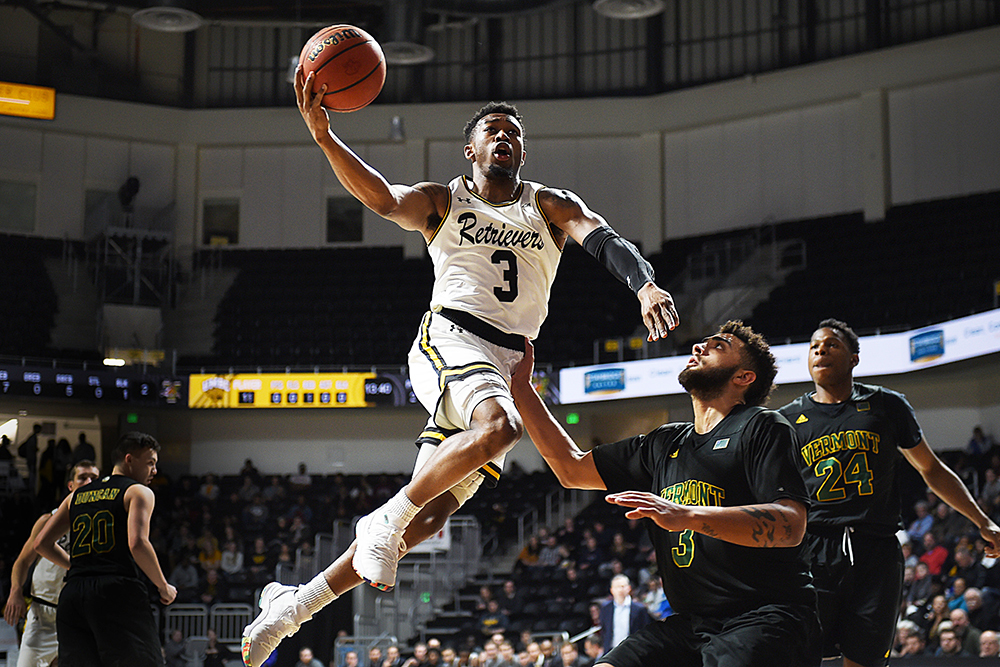 Gail Burton
If anyone is wondering what life is like for the UMBC men's basketball program—coming up on one year after its star turn as America's favorite underdog—just know that it's still pretty great.
Last night, on their suburban Baltimore campus, when the Retrievers faced America East rival Vermont, the UMBC athletic department proclaimed it Fortnite Night. Of course they did. It was an ode to senior forward Nolan Gerrity's proclamation last year that 16th-ranked UMBC beating No. 1 Virginia in the NCAA tournament was akin to winning in the massively popular, last-person-standing concept video game.
And so the roughly 2,000 people that showed up to the UMBC Event Center on Thursday night received a beautifully detailed themed poster, complete with the university's mascot, True Grit, hanging from a helicopter. Gerrity said he wanted to go home with 10 of the giveaways, and he wasn't the only one. "Obviously, we love Fortnite," junior Arkel Lamar said afterward.
Plus, the players are also talking about March again, as in what they can do for an encore to last spring's Cinderella story that brought them, and their relatively small and very smart research university in Catonsville, unexpected and exceptional national recognition. Because let it be known: The men's basketball team from University of Maryland Baltimore County, or U Must Be Cinderella, is still winning.
With an impressive 65-56 victory over visiting and league-leading Vermont on Thursday night, a rematch of the game that sparked 2018's magical run, the lovable Retrievers have won nine of their last 10 games, a remarkable feat considering they lost starting forward Daniel Akin to a season-ending knee injury just a month ago, and that was after they'd lost five of their previous eight games dating back to mid-December. And, you know, it's also harder now that everybody knows who they are. The proverbial target is on their backs, along with jersey numbers and last names.
But UMBC hasn't lost it charm, even in its $85 million athletic facility and led by a coach, Ryan Odom, who doubled his salary after pulling the strings on last March's madness. After Thursday's game, each member of the team circled the courtside seats and front rows of the stands, slapping hands and fist bumping supporters with personal thanks. At halftime, Odom's kids shot baskets on the court, then his youngest son, Owen, joined the boisterous student section behind one of the baskets for the second half while his older brother, Connor, a sophomore basketball player at the renowned Oak Hill Academy in Virginia, sat behind the UMBC bench.
Four rows up at center court, Odom's dad, the former Wake Forest and South Carolina coach Dave, sat with family members that twisted with the emotions of every play on the court, up to final-minute free-throws. True Grit sprinted around the court in a No. 50 jersey to pump up fans. The women's lacrosse and swimming and diving teams threw out free T-shirts during television breaks because the game was shown live to a national audience on ESPNU. A white, gold, and black banner—#16 UMBC-74, #1 Virginia 54—hangs from the ceiling of UMBC's arena.
And post-game, in a media room that contained just six reporters and one university-issue video camera, Odom said proudly, "This team just keeps playing. They're resilient, and guys continue to make plays. . . . They listen. They're coachable kids. They're all great kids."
While the two primary faces of last year's history-making team, Jairus Lyles and K.J. Maura, are no longer in uniform, there's still a few players left over, most notably graduate student (in data science) Joe Sherburne. The forward is this year's leading scorer and rebounder and just plain looks like a calming agent in what can otherwise be a chaotic chess match on the court. Gerrity, a "management of aging studies" major is back, too, as is Lamar, who had 10 rebounds on the big stage against Virginia a season ago. And there's new names and faces that, if the Retrievers are able to win the America East tournament once again, might also become popular across CBS broadcasts next month. Like London native R.J. Eytle-Rock, point guard K.J. Jackson, and junior guard Ricky Council II, a transfer from Providence.
The Retrievers have a solid nine-man rotation that gets contributions from each piece in various ways, be it Lamar making a steal and throwing down a thunderous dunk Thursday night that gave UMBC a 42-33 lead with about 13 minutes left, and got the crowd off its feet for the first time. Or, a few minutes later, Lamar hitting a three-pointer that made it 51-41, and slapping an unrestrained high five with Sherburne at mid-court, again getting the crowd going. Or Jackson hitting a three-pointer as the shot clock expired to make it 59-48 with 3:39 left, that essentially sealed the win, or one-shotted it, in Fortnite lingo. Jackson had a game-high 18 points and three assists, Lamar had 15 points, Eytle-Rock had 10, and Sherburne, quietly, led with six rebounds. Council had nine points off the bench.
Overall, the team's identity centers around defense, a stamp that began to be impressed after back-to-back losses at Hartford and UMass-Lowell the second week of January and helped Thursday when Sherburne and others got in foul trouble early and sat on the bench. That means generally gritty work like rebounds, steals, and blocks turn into points. "The coaches just really didn't let us make excuses," said Jackson, a junior from Houston. "We responded to that well, not giving in, not allowing ourselves to be any less than we could be. We have a standard and we're destined to meet it every single time out."
Sure, "Neither team could win the championship tonight . . . It comes down to March," as Odom said Thursday. "We don't have it figured it out. We're trying to continue to figure it out, every game and every practice." But the result was an important, big-picture marker. UMBC, as a program, had lost 23 straight games to mid-major power Vermont before Lyles' buzzer-beater in the 2018 America East conference title game (the only real way for them to make the big NCAA tournament via a conference champion automatic qualifying bid). Now UMBC has beaten them three times in a row, after also winning on the road a month ago.
With the latest victory, UMBC moved into second place in the America East standings, clinched a conference postseason tournament home game, and improved its overall record to 18-10 with only three games left in the regular season. That's called heating up in a Fortnite Battle Royale, if you ask them, and at the most wonderful time of the year.
"As it gets closer to March, we're always excited," Lamar said, speaking like the veteran he is. "The thought of going dancing is unbelievable."