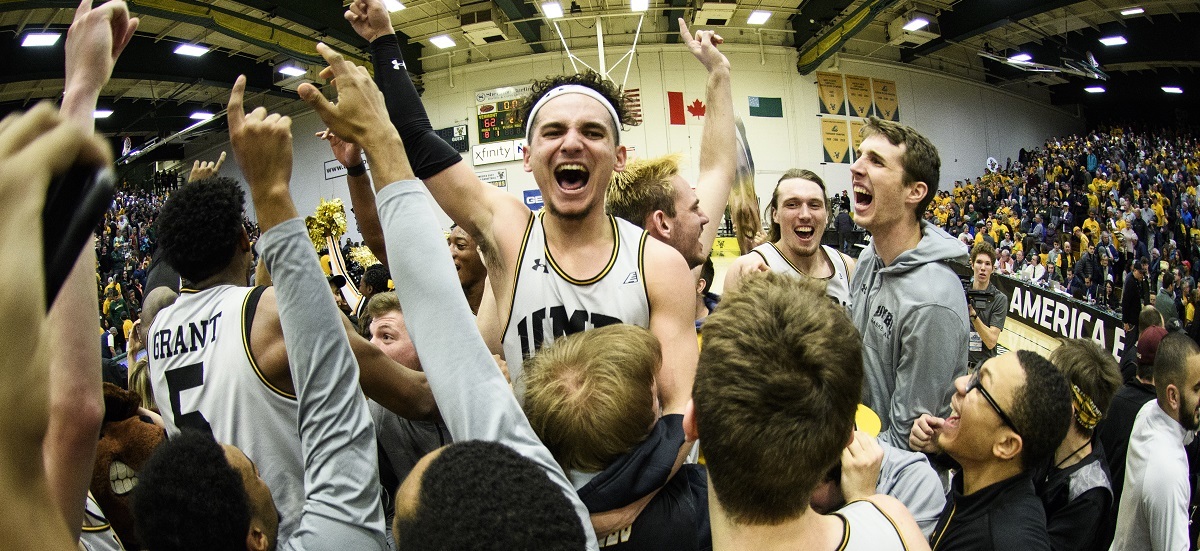 UMBC
From the last-second shot that sent them to the NCAA tournament and their university president's bromance with their star player Jairus Lyles, to the school's acronym that might make a few people wonder, "What's that?" when they see it on screen Friday night, and even the program's Chesapeake Bay retriever mascot, True Grit, the UMBC men's basketball team has a bit of that lovable underdog feeling around it right now.
 
Dare we say, Cinderella?
 
There's only one men's team from the Baltimore area, and all of Maryland and Washington, D.C., participating in March Madness this year (if you're reading this it means you're late filling out your office bracket), and it is the UMBC Retrievers, who started the craziness early by shocking favorited Vermont in the America East title game Saturday. Lyles, a Silver Spring native and a graduate student at UMBC, drained a 23-footer with 0.6 seconds left to complete the 65-62 comeback win.
 
The reward? The conference title, which gave mid-major UMBC its first NCAA tournament spot since 2008, in just head coach Ryan Odom's second season.  
But that achievement also brought with it a David vs. Goliath task: a first-round match-up with the 68-team bracket's No. 1 overall seed, Virginia, in Charlotte, North Carolina. The Cavaliers, the ACC champs with a 31-2 record, are expected to win by 21 points, according to the Las Vegas sports books, and they feature the top defense in the nation and potential future NBA talent.
 
"The way we won that game in Vermont was a storybook ending," Odom said Wednesday. "That's a lot to digest. We had a lot coming at us. And so I just encouraged the guys that we have to turn the page now. But now we've got a massive challenge staring us in the face, and if we don't prepare the right way, it won't go well."
 
A 16-seed has never beaten a No. 1 in the NCAA men's tournament. Traditionally these types of games have been blowouts. But Virginia coach Tony Bennett (bet he's never heard a "can he sing?" joke), speaking to reporters this week, didn't sound as if he found the Retrievers, who went 24-10 this season, a pushover.  
"Good basketball knows no division or limits," he said. "They can spread the floor and shoot the three [pointer] at a high clip. They're very versatile and defend solid. They know how to play the game. You watch all that stuff and you're impressed."
 
You'll likely notice the Retrievers do-it-all 5-foot-8 point guard, K.J. Maura. He's from Puerto Rico and is shortest player ever to win the America East Defensive Player of the Year award. He might need to be aggressive against Virginia's super-efficient, slow-down offensive style.  
And the 6-foot-2 guard Lyles will look to crack the Cavs' tough defense. "He's very quick and dynamic," Bennett said of the Retrievers' leading scorer (20.2 points per game). Though sadly the Virginia coach didn't mention as part of his scouting report the unlikely friendship that Lyles—a 4.0 GPA student pursuing an M.A. in education—has forged with UMBC president Freeman Hrabowski (they text), who probably couldn't be happier at the moment.  
The 52-year-old public university in Catonsville—well-regarded for its science, tech, and engineering education—has received a generous attention boost this week. And it will get some more exposure, win or lose, on a national platform for roughly two hours Friday night. That's UMBC, the University of Maryland Baltimore County, of course, if any out-of-towners ask.
Game Time: No. 16 UMBC (24-10) vs. No. 1 Virginia (31-2), Approx. 9:20 p.m. ET Friday
NCAA Men's Basketball Tournament, South Region, First Round
TV: TNT
Live Stream: NCAA March Madness Live