Undefeated Johns Hopkins Football Team Advances in Tournament
Attention for the Blue Jays football team is hard to come by in a crowded sports landscape.
This is certainly not the big money world of college football. The 834 fans at Homewood Field who watched Johns Hopkins' 52-20 rout of Western New England on Saturday afternoon in the first round of the NCAA Division-III playoffs attest to that.
So does the two hours and 34 minutes of real time it took for the nation's sixth-ranked Division-III team to handle business against a top-20 opponent. There were no television timeouts or pre-packaged, in-game entertainment, unless you count what happened on the field. By the end of the first quarter, the Blue Jays led by two touchdowns and were on their way to a 38-0 halftime lead.
This is the best local football team you've never seen.
Jim Margraff, who decades ago played quarterback for Hopkins, lives in Timonium and is in his 26th season as head coach. The undefeated Blue Jays are in the second round of the 32-team tournament for the third time in four years. They host Wesley College (10-1) at noon this Saturday, November 28. A win would mark their 12th this fall, a program record, and match its deepest playoff run ever.
"We're excited about it," Margraff said Saturday. "When the year is over, you look back and reflect and maybe count things up, but right now we're going to enjoy this one tonight and get ready for next week."
So, how does this happen? Five-foot-six, 175-pound senior running back Brandon Cherry, who went to Boys' Latin and has more than 2,500 collegiate rushing yards to his name, points to the program's recruiting approach. Division-III football teams cannot offer athletic scholarships or likely NFL careers and generally lack the resources to recruit nationally, but a glance at the Blue Jays reflects the opposite: 88 players from 23 states, and only four from Maryland. Not even Mount Union (Ohio) and Wisconsin-Whitewater, winners of the last 10 D-III national championships, can boast such geographic diversity. Should Johns Hopkins win Saturday, a potential game against Mount Union awaits in the quarterfinals.
"You look at other teams and you don't see the type of talent the coaches are able to recruit," Cherry said. "It's kind of crazy. With the SAT and GPA requirements here, it's hard to find people who match that and are good players at the same time."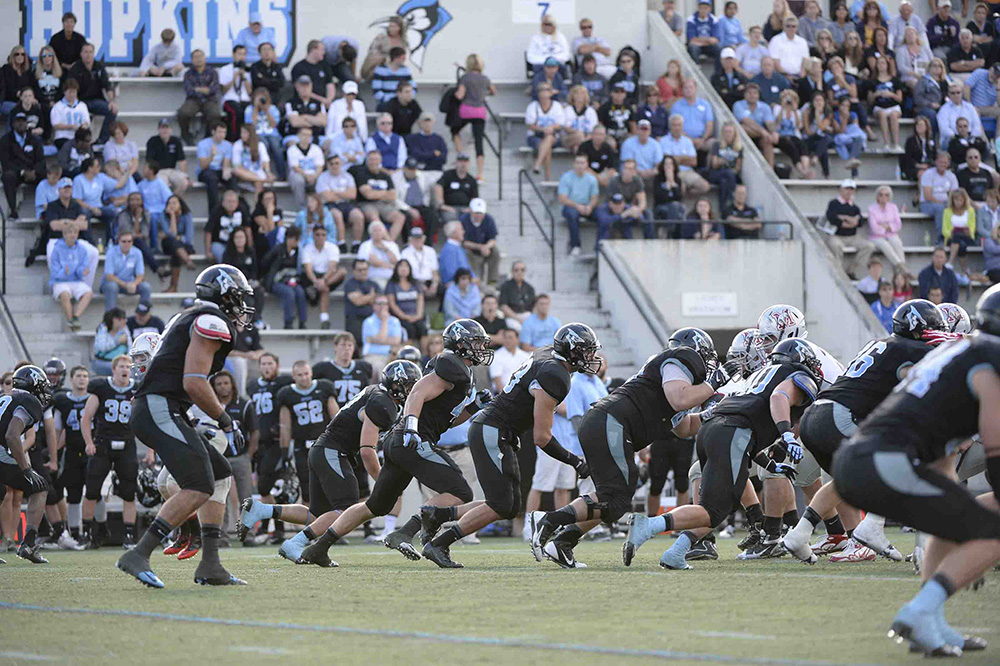 It's taken ingenuity fit for Johns Hopkins' smart-school reputation. The football budget doesn't allow unlimited trips to hotbeds like Florida, Texas, California, or even Ohio, so the Blue Jay coaches use opportunities while working summer camps at Ivy League schools to identify recruits. Overlooked by Harvard, Princeton or Yale, but have a great academic profile? They say you're two inches or 25 pounds too small? Hopkins may be the right fit.
Don't make that argument to Western New England coach Keith Emery, the former Hopkins defensive coordinator, who faced his old boss on Saturday. He said the Jays' offensive line—averaging 6-foot-4 and 300 pounds—was so big that some of his defensive players said they couldn't even see Johns Hopkins junior quarterback Jonathan Germano working read-option sets, which allow for a run or pass play.
"They're impressive to look at. We had some All-Americans when I was coaching here too, but now they seem to be across the board," said Emery, on the Blue Jays staff from 1998-2004. "They're doing the things we taught years ago, they're just doing it really well with guys from all over the country. That's the biggest difference. We had guys from Pennsylvania and New Jersey and a smattering from here and there. This team comes from everywhere. They are getting kids from the best high school programs in the country."
Take junior wide receiver Bradley Munday. He played for a Chagrin Falls, OH, high school program that reached the state playoffs all four seasons he was there. Margraff said he's a Division-I talent, but was overlooked because he's 5-foot-8. Johns Hopkins plays in the Centennial Conference and Munday last week was voted its offensive player of the year. On Saturday, he made a beautiful one-handed catch on a trick pass by running back Stuart Walters. Margraff patrolled the sideline in khakis and a Columbia blue pullover, carrying a white folder with notes. He flashed a wry smile when the play was called. It was worthy of a SportsCenter highlight.
But attention for this team is hard to come by in a crowded sports landscape. This isn't a Division-I team like Maryland. Cherry thinks back to his sophomore year, when nearly 1,500 fans showed for the Blue Jays' first round playoff game against Wesley College, the same team from Dover, DE, they'll face this week.
"It was like, 'Man, I'm really playing college football,'" Cherry said. "Other times, it's like, 'Oh man, there's not many people here.' But when you're out there with your teammates and having a good time, you don't have time to think about that. We have each other, and our coaches, and that gets us through."