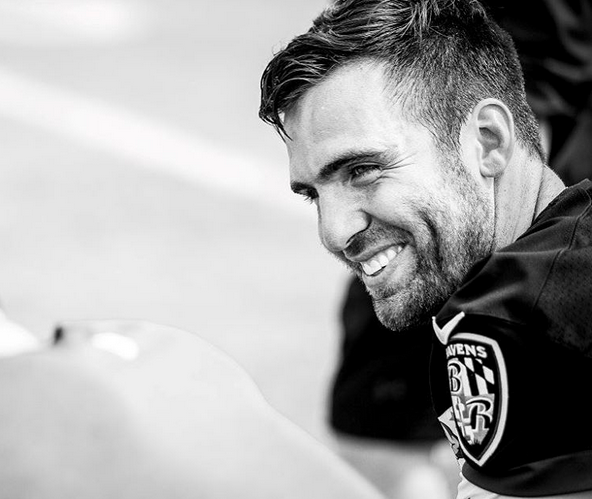 Courtesy of the Baltimore Ravens
Let me preface this by saying, I am ardently opposed to typical girly sports fanaticism. My entire body cringes when I'm told I know a lot about sports "for a girl," I hate team's pink merchandise with a fiery passion, and I never, ever, base my opinion about athletic talents on looks. I root for the full gamut—from Suggs to Crush.
But something has become undeniable lately and I must speak on it. There has been a shift in the universe. Joe Flacco got hot.
I first noticed it at Ravens open practice at the beginning of August when the Jumbotron featured Flacco, already out of the game for second-stringer Matt Schaub, standing on the sidelines in a Ravens beanie, smiling and shooting the shit with Dennis Pitta. I turned to my friend Michelle and said, "Is he? Am I? Is Joe Flacco hot?!" She started cracking up and nodding furiously before shrieking, "I was thinking the same thing!"
We both wondered—when did this happen? This was the same guy who the fans and media mercilessly teased about having a unibrow. This was the dude who, when we didn't think it could get any worse, grew a Fu Manchu mustache. This was the player who, despite his elite (yes, elite) status and Super Bowl ring, was still so desperately awkward in commercials and tediously boring in press conferences.
All of the sudden, it appears that Joe Flacco has acquired some—dare I say it—swagger. Maybe he grew into his looks. Maybe he got a new stylist. Maybe the evolution had been happening all along and we were too blind to see it. But now, with a brand new Pepsi commercial, even his acting skills aren't that bad. Or maybe they're still bad, but now I suddenly find them endearing. What is happening?!
Turns out, the more I asked around, the more I realized it wasn't just me. Female fans of all ages were confirming my newfound attraction to him. One responded, "Yes! Is he an elite…babe?" Another pointed out, by sending me this picture, that maybe his good looks began to kick in last year. Even my straight guy friends were admitting, "You know, he does look good." And then, the discovery started to go mainstream, with an article on SB Nation dedicated to Flacco's majestic coif. On the Twittersphere, indecisiveness quickly turned to declaration:
I can't decide if Joe Flacco is attractive or not.
— ♋Velma♋ (@pitchesluvme) August 20, 2015
Hashtag when did Joe Flacco get kinda hot…….
— Kaitlin M. (@kmclhinney) August 14, 2015

Joe flacco is hot as shit with his new hair
— Marlee (@MarleeEatWorldd) August 20, 2015
The Ravens themselves are totally in on it, too, posting GQ-like Instagram photos of him casually throwing the football or this one of him looking like a boss at Eagles training camp or this black-and-white beauty that inspired many heart-eye emojis in the comments.
So now it appears that the secret is out: Joe Flacco is all grown-up with a glorious head of hair, a five o'clock shadow, and a strut of confidence in his step.
But none of this will mean anything to me if he can't bring us back to the playoffs.