Puff Daddies
As our lives get increasingly hectic, cigar clubs and lounges are experiencing another renaissance.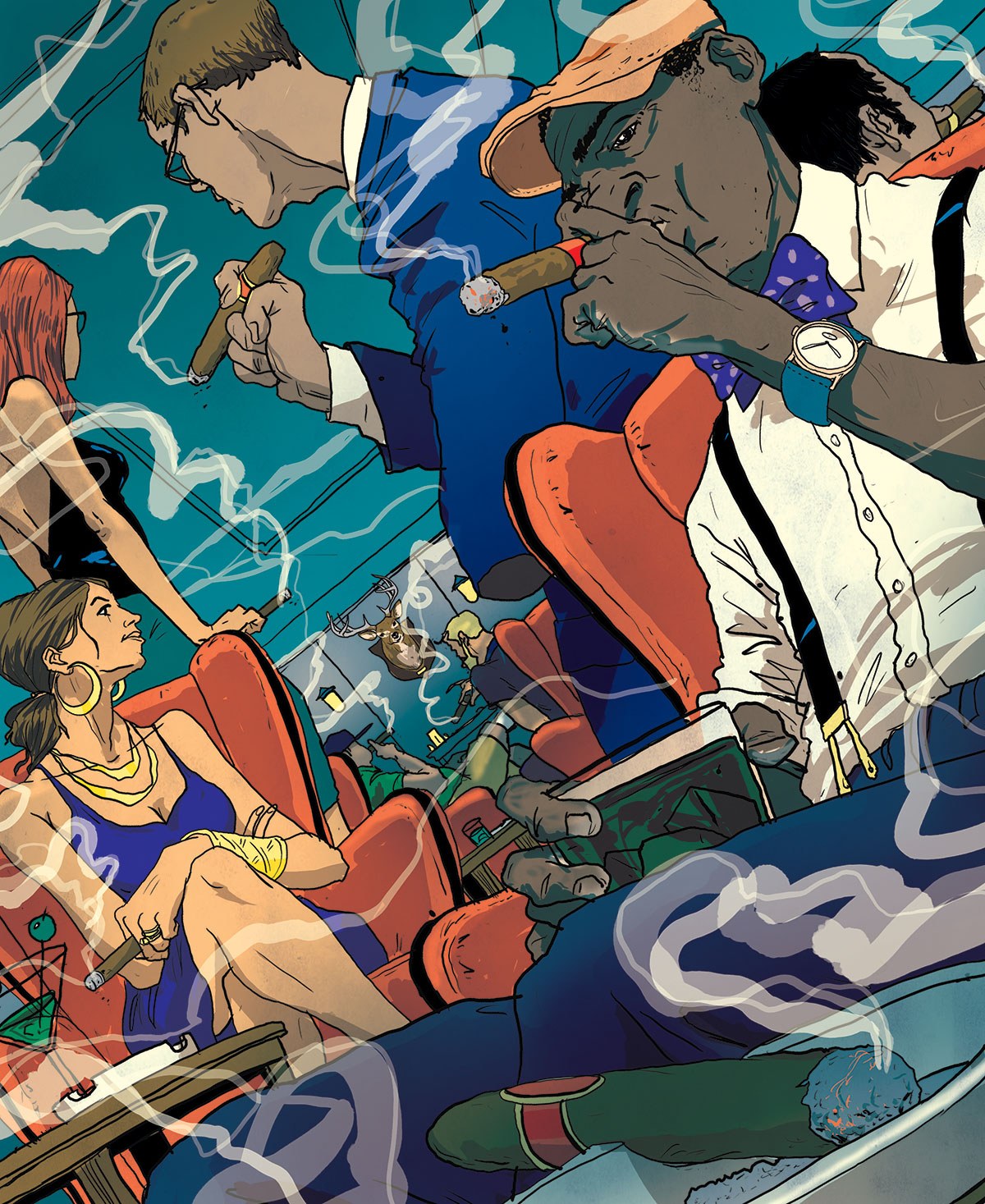 Navin Dass loves the smell of tobacco in the morning. It's 10 a.m. on a cold January Monday, and the owner of Cross Street Tobacco in Federal Hill, the granddaddy of Baltimore cigar shops, is puffing on a Macanudo Inspirado. The store has just opened, and at a time when many people are in their office cubicles, slogging through emails and on their second cup of coffee, a handful of stogie lovers file in and light up. For years before he bought the place in 2015, Dass was a customer. Listen to him describe the pleasures of a good cigar, and it's clear—even through the cloud of fragrant smoke—why more and more people are indulging in them at retail stores, lounges, and private clubs across town.
"A cigar is a very intimate thing. When I draw from the cigar, I let it out through my nose," he says of the practice called retrohaling, which he demonstrates with subtle ease. "That changes a cigar from being a Ford to a Bugatti. You taste the country, the earth." Like almost all cigar smokers, he doesn't inhale.
Cigar enthusiasts discuss the varieties of tobacco leaves used for wrappers, fillers, and binders the way wine buffs gush over grapes. Prices can vary as drastically as vintages of pinot noir. Dass sells sticks ranging from a few bucks to $64 for a Padron 59th anniversary reserve. Is it worth it? "At that price it's a celebratory cigar," he says. "So it depends what you're celebrating."
Almost everyone who enjoys a premium cigar (loosely defined as handmade, using only long leaf tobaccos) says what makes the pastime a passion—and one way to explain its recent uptick in popularity in Baltimore and beyond—has less to do with what you're smoking than it does with the act of smoking itself. The camaraderie, they say, is key.
"I'm a truck driver. I deal with speeds of 75 miles per hour all day, so when I get out and light up a cigar, I can relax and leave everything behind," says downtown resident Mike McCoy, a Cross Street regular. "There's a very diverse, interesting group of men and women who come through here. You could be sitting next to a fireman, attorneys, anybody. It's very welcoming. The first time I came in, a guy introduced me to some of the regulars. Next time I came back, they referenced me by my first name. I thought, 'that's special.'"
The origins of the cigar are hazy. According to a brief history published in Time magazine, a ceramic pot discovered in Guatemala that dates back to at least the 10th century depicts a Mayan puffing on tobacco leaves bound with string. The Mayans may also be responsible for the object's name, the story says: their term for smoking, sikar, likely led to the Spanish cigarro. In the United States, cigars were nearly as common an accessory (for men) in the 19th and first half of the 20th centuries as cell phones are today. Despite their perpetual presence between the lips of iconic figures such as George Burns, baseball legend Babe Ruth, and President John F. Kennedy (not to mention criminals like Al Capone), the practice fell out of favor as Americans became more health conscious. It wasn't until a boom in the early 1990s that they reentered pop culture.
"A decade after being left for dead, the expensive foreign-made cigar is back," The New York Times reported in 1995. "They are gaining [popularity], discovered by men and even a few women in their 20s and 30s. These new cigarophiles are puffing and twirling at more than a thousand dressy smoke-ins held around the country and are seeking out newly opened cigar bars and fine restaurants that welcome them. There, they say, brandishing a cigar is a statement of cool authority and elegance."
Like all bubbles, the cigar one eventually burst, but in the ensuing years a hardcore group of smokers remained. Today, the industry is experiencing a rebirth, with thousands of smaller, boutique brands joining heavyweights like Padron, Rocky Patel, Ashton, and Romeo y Julieta in humidors everywhere. "Business has been going up fairly steadily in the last three or four years," says David Giambelluca, manager of Mount Vernon Tobacco on West Read Street. "In the '90s, there wasn't enough product to meet the demand. That time it seemed much more fad-like. This time it seems more social."
In 2011, the Quintessential Gentleman started The Office Lounge at The QG, a private cigar club in its Calvert Street building downtown, and in late 2014, Davidus Cigars opened in Little Italy. Both, like Cross Street Tobacco, not only sell cigars, but offer customers a comfortable venue in which to smoke them. All have leather chairs, televisions, intricate exhaust systems, and allow patrons to bring their own booze. "There's certainly a trend in recent years of high-end lounges and clubs opening," says David Savona, executive editor of Cigar Aficionado. "In the old days, a cigar shop was strictly a place to go in, buy a cigar, and leave. Nowadays, shops have evolved into more of a cigar lounge where people tend to meet their friends and linger."
According to a report in the magazine, the United States imported 315 million premium cigars in 2015, an increase of 2.3 percent over 2014. The annual import numbers were below 300 million from 1999 to 2011, but made a comeback in 2012 when 304.7 million were shipped to the U.S. The numbers have stayed above 300 million since.
It's probably not a coincidence that this resurgence has come at a time when our lives feel busier and more plugged-in than ever.
"When you light a cigar, you're looking at spending anything from a half hour to more than an hour smoking it," Savona says. "It can't be hurried."
As the elevator doors open to the third floor of The QG, the smell of tobacco is faint. It's only when you walk around the corner, past the racks of smoking jackets, and enter the private club that the creamy, spicy, and sweet aromas fully materialize. "The flavor profile of a cigar can vary widely," says Mitchell Liebeskind, The QG's director of client services. "It's similar to the way you drink. If you're into gins, you want a Connecticut wrapper—they're lighter, a little more floral. If you drink 18-year-old Scotch, you better get something much darker."
The club has never been more popular. As of mid-January, just one of its 112 slots was available. For $300 up front and a $75 monthly fee, each member gets access to the lounge, with its comfy chairs, card table, three TVs, two Xboxes, wet bar, and fridge filled with mixers. Each smoker has their own humidified locker in which to store their cigars (and liquor if they'd like), and, of course, their own smoking jacket. The black, velvet coats are used mostly by the members of the after-work crowd who don't want to go home smelling like smoke. The club also maintains a walk-in humidor with cigars for sale. It curates its selections as meticulously as a sommelier does a wine cellar, offering a variety of flavors and strengths.
"Everyone's palate is different," says Ramon Burris, The QG's cigar brand ambassador. "Some people won't touch a lighter cigar, they prefer something bolder, with notes of chocolate or cinnamon. Our clientele is very eclectic. We have people who are aficionados, but we also have the new, younger cigar smoker who wants to get into it and add it to their daily routine."
Well-known brands, such as Arturo Fuente, coexist along smaller, boutique ones like the Boca Raton, Florida-based LH Premium Cigars in the retail humidor. Nicholas Syris, owner of LH Premium Cigars, hosted a tasting at the Baltimore club in January.
"Right now we are in the renaissance of cigars," says Syris, who is also the company's master blender. He uses Ecuadorian wrappers and filler from Peru, Nicaragua, the Dominican Republic, and Brazil. "There are thousands of brands. If you don't have a good cigar, you're not going to get very far in this market. Clubs like this, where you have your man cave away from home, are great places to smoke. Where else can you have a bricklayer and a physicist sit down and immediately have common ground?"
While the majority of cigar smokers are men, more and more women are enjoying the pleasures of a nice stogie, as well. Lori Harris felt the allure from the moment she started smoking at The QG's club, which she joined in December. She's one of the only female members, and aside from the sticks themselves, loves buying accessories such as  lighters, cutters, and cases. "The fact that it takes a long time to smoke a cigar inherently makes it a social activity," she says. "The guys here are great. It's a lounge, not a locker room. The nice thing about it is you can socialize the way you feel comfortable. There's no pressure on any front."
That come-one, come-all vibe—The QG even allows nonmembers to buy a day pass by purchasing $30 of cigars—stands in stark contrast to the Elk Room, the exclusive new Harbor East speakeasy and cigar club that opened late last year and prefers to shroud itself in a smoky haze of secrecy. The Atlas Restaurant Group, which owns it (along with Bygone, a new restaurant in the Four Seasons Hotel that has an outdoor patio for cigar smoking), declined to comment on it, saying only that it is a "private, members-only club."
In February, The Other Corner Charcuterie Bar owner Bernard Dehaene announced he was transforming his Hampden establishment into the Elmwood Social Room, a new members-only martini and cigar club. While the private clubs certainly meet the needs of one clientele, Baltimore has no shortage of friendly, membership-free places to puff. Navin Dass felt that warmth when he first discovered Cross Street Tobacco, and he strives to maintain it today.
"When you walk in that door, it doesn't matter who you are, where you're from in life," he says. "Everybody in here is on an even playing field. There are people from all walks of life that become friends because they met here; if they had met somewhere else they would have never become friends because they look different, they talk different, they walk different, they come from different backgrounds. But cigars really bring people together."
Rodney Ferebee nods in agreement. A city firefighter, his overnight shift has just ended. At a time when most people have the brunt of their day ahead of them, he pours a small shot of whiskey, takes a pull off his cigar, and sits back in his armchair, content as can be. Not a bad way to end a day.