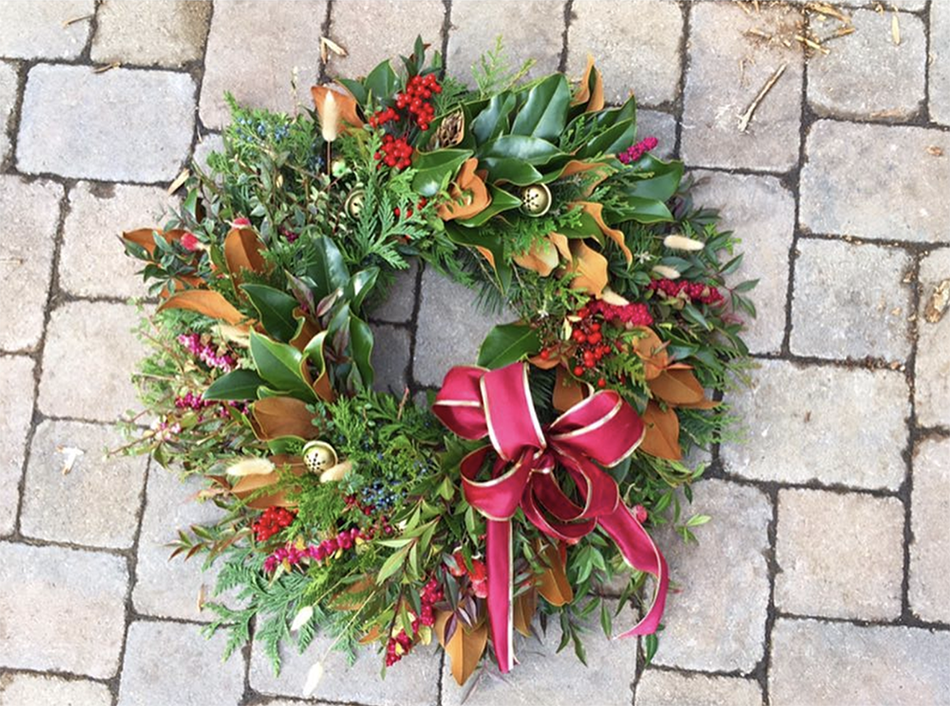 Local Color Flowers
Sure, a quick trip to Home Depot can solve all your holiday decorating problems, but where's the seasonal spirit in that? We've gathered plenty of local ways to embrace your inner-Martha Stewart with DIY wreaths, wine glasses, ornaments, gingerbread houses, and more.
12/3: Holiday Wreath Class
Using locally available materials like burlap, branches, and berries, craft your own personalized holiday wreath with everything from succulents to to dried flowers. Local Color Flowers, 3100 Brentwood Ave. 10 a.m.-12:30 p.m, $125. 
12/3-4: Wreath Making
Make your own wreath with holiday music and hot cocoa. Lake Roland Nature Center, 1000 Lakeside Dr. Sat. 2-4 p.m., Sun. 12-2 p.m. $13-15. 410-887-4156
12/4: Deck the Halls
Decorate the library walls with festive trinkets and craft your own ornament. Enoch Pratt Free Library, 158 N. Linwood Ave. 3:30 p.m. 410-396-5430.
12/4: Glass Painting Party
Whether you're hoping to give a unique gift—or keep the vessels for yourself—make your way to this Fells Point favorite to decorate holiday-themed wine and pint glasses. The best designer will win a $100 gift card that can be redeemed at Alexander's, or any of its sister spots (Wicked Sisters, Papi's Tacos, and Huck's American Craft). The $20 price of admission includes two draft beers or glasses of wine, as well as an on-the-house shooter. Alexander's Tavern, 710 S. Broadway, 7-9 p.m., $20, 410-522-0000
12/6: Gingerbread House Making Contest
Head to the Fells Point location of Abbey Burger Bistro to throw your hat into the ring for this gingerbread-making contest. Aside from a personalized gingerbread kit, the price of admission includes a complimentary draft beer or glass of wine. Abbey Fells, 811 S. Broadway, 7:30-9:30 p.m., $30, 410-522-1428
12/6 & 12/13: Ornament Painting Palooza at Delia Foley's
Grab your crew and unwind at this ornament-painting party in Federal Hill. The price of admission includes four ornaments, painting materials, and your first winter beer. Delia Foley's Pub, 1439 S. Charles St., 7-10 p.m., $25. 
12/9: Holiday Cards & Cheer
Enjoy cookies, theater, and music while making your own customized holiday cards. Reginald F. Lewis Museum, 830 E. Pratt St. 12-4 p.m. $1. 443-263-1800.
12/13: Gingerbread Haus Party
Reserve your spot for this gingerbread-making party at Das Bier Haus in Federal Hill, which includes all-you-can-drink drafts, call drinks, and seasonal cocktails. Das Bier Haus, 1542 Light St., 8-10 p.m., 443-708-8854, $30-35.
12/5, 12/12, & 12/19: Gingerbread Palooza at Smaltimore
Choose from three dates to get creative with cookies and confections at this Canton haunt. Guests are invited to sip Christmas beers while perfecting their houses with various candies and sweets. Smaltimore, 2522 Fait Ave., 8-10 p.m., $30, 410-522-1421.