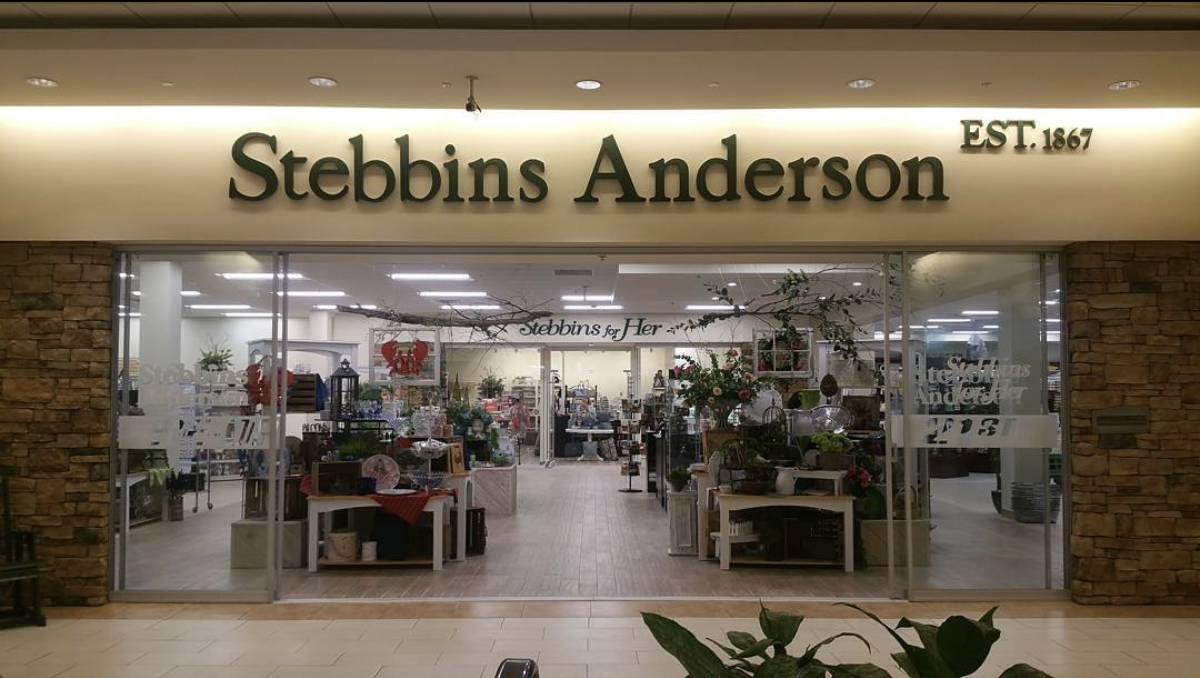 Courtesy of Stebbins Anderson
From hardware to houseware, Stebbins Anderson at Towson's Shops at Kenilworth has been a destination for all things home for 152 years. However, this holiday season will be the last hurrah for the one-stop-shop. Owners Ken and Bonnie Knight announced in a Facebook post earlier this month that the retailer will be closing its doors on December 31.
For Towson dwellers, it's the end of an era. "I have been coming to Stebbins for 40 years," one long-time shopper replied to the post. "This makes me very sad." This sentiment was echoed by many as the news spread.
The home store has been a mainstay at The Shops at Kenilworth since the mall's inception in 1979. The brand itself has been a community treasure since 1867, when it first made its name as a coal, lumber, and hardware shop on York Road. With a rich history and ability to transcend time, the Knights held high hopes for the store when celebrating its 150th anniversary in 2017.
While some have lamented the loss on social media, others were quick to criticize the retail changes that begun in 2015 after the mall was taken over by real estate developer Greenberg Gibbons—going as far as sharing a petition calling for a stop to the changes the new owners have been making to the property.
The Shops at Kenilworth have undergone $20 million worth of renovations and expansions, including the introduction of several stores each year—one major development being the opening of a Trader Joe's. Ken and Bonnie purchased Stebbins Anderson in 2015, refreshing the look and feel of the century-old store by narrowing its merchandise away from hardware and focusing sales onto homeware. They also reduced the two-story footprint to a single floor.
But Baltimore Councilman David Marks—who cut the ribbon when Greenberg Gibbons unveiled the new main entrance—says that these renovations have contributed an "unprecedented building boom" in Towson within the last decade.
"Development is needed in a place like Towson," Marks says, "It's not healthy to have whole tracks of land that are derelict like we did nine years ago."
According to The Sun, Stebbins Anderson claimed diminishing sales year after year—attributing the decline to the competition of online shopping and the general change in shopping trends.
"The overall view is that retail has changed," says Jane O'Donoghue, owner of Urban Threads, a specialty home décor shop that moved into Kenilworth in 2018. "We can look at Amazon and Wayfair and HomeGoods. We look at all these different places online, and people make the decision to shop that way. So, retail has to be vibrant, interesting, and experiential."
Urban Threads initially opened in Ellicott City in 2011, and held a retail location in Bare Hills from 2013 until moving to Kenilworth five years later. For O'Donoghue, The Shops at Kenilworth was a place where she could embrace a community of small business owners and gain retail visibility. She describes the move to Kenilworth as being been nothing but successful.
"My customers from the old Bare Hills store are still my customers here at Kenilworth," she says. "They have always shopped at Kenilworth. And now, because of Trader Joe's, I get a lot of walk-through customers, which I wasn't expecting."
Conversely, Ken Knight told The Sun that "the retail environment has become increasingly more difficult for small businesses, which factored into the decision." He noted that Stebbins' sales had dropped $2.5 million annually, a number which has declined for more than five years. "We're in an economy of decreasing sales, due to the Internet," he said.
While Stebbins has suffered, newer small businesses have continued to find success at The Shops at Kenilworth. In 2017, jewelry store Amaryllis relocated to the mall from Harbor East.
"We thought we'd get more of the local customer, which we do get now, as opposed to the transient customer we had downtown," says owner AnnaMarie Fiume. "For the product I have, I'm definitely supported by the community here. Since we've moved, [sales] have increased year over year."
In a bittersweet goodbye, Stebbins Anderson's owners concluded their announcement by sharing, "the good news is that we have one more holiday season to celebrate together, so please stop by and say goodbye."
"I'm heartbroken over Stebbins," O'Donoghue says. "We don't want to let go of what people in the community love so much, but I'm crossing my fingers that the it will embrace the changes."