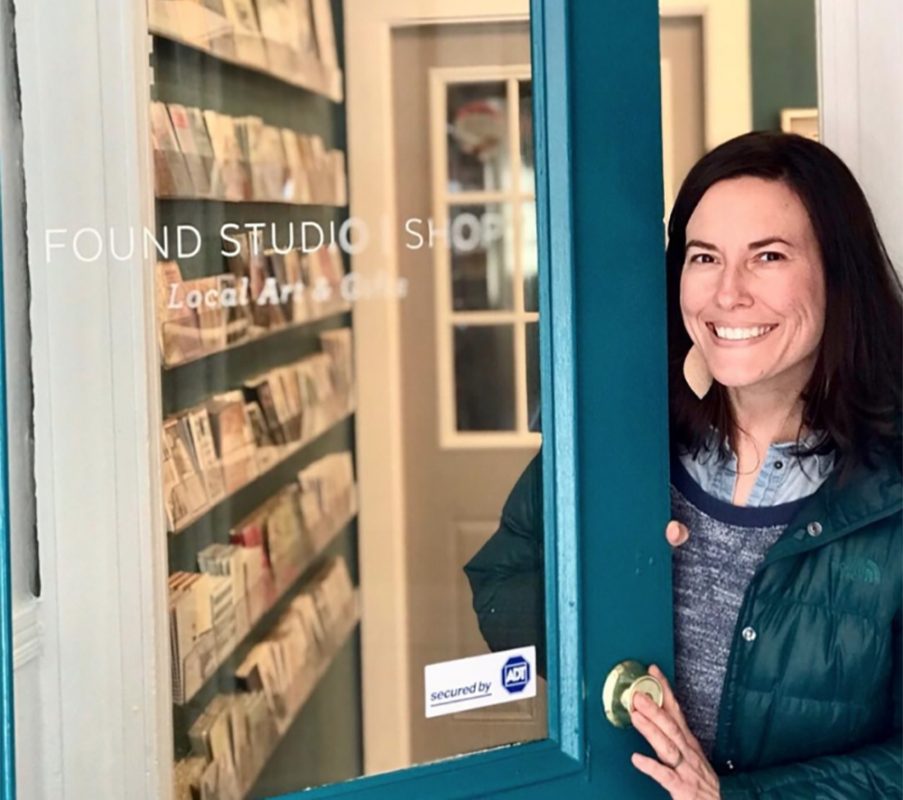 Tell me a little about your journey to Found Studio Shop. How did you get into art and then switch over to running your own business?
I've been making art since I was a teenager in the '90s. I studied art education and became an art teacher for several years. I have always wanted to own a creative business, and when I was out of college and teaching, I continued to feel that pull. In 2006, I had an incredible opportunity to open what is now Trohv [then Red Tree] in Hampden with my husband and two other friends. I took that opportunity and helped run the shop for a few years until I decided to have children and stay home, producing my art in my home studio. Then I became involved with the Charm City Craft Mafia, helping with a wonderful team of makers to produce craft fairs.
When did you know it was time to open your store?
I wasn't sure that I would ever own another shop. Balancing a shop plus all the things—helping produce the craft fairs, making my work, and raising two now elementary-aged kids—seemed like a bit much. However, last January, I was approached by Josie Rhodes, one of the owners of Red Canoe Café, about the possibility of creating a "tiny shop" within the café. It seemed to me like the perfect scenario: a tiny shop in my favorite café, three minutes from my house. It all fell together, and I couldn't refuse.
Found Studio Shop is located in Lauraville. How has running a store in an up-and-coming neighborhood—as opposed to being in Hampden, which is such a shopping hub—been different?
It's been different for sure. Of course, I don't have an amazing amount of foot traffic in Lauraville. However, Lauraville and the surrounding northeast Baltimore neighborhoods have been extremely supportive and are intentional about shopping locally. Lauraville is starting to make a name for itself, and several new retail businesses and restaurants are popping up along the Harford Road corridor.
A block away is Domesticity Fabric & Craft Studio, which is the perfect complement to my shop. We have many of the same customers. The owner Christina Brunyate has many people finding her shop weekly. People come to her, she sends them down to me and the café, or people find me, and I send them to her. I think all of us—business owners and residents alike—want to make sure that we are all successful and send business to each other. Plus, this is where I have lived and owned a house for the past 15 years. There's nothing like living and working in your own community.
How do you choose what products to sell at Found Studio Shop?
I tell people all the time that, because of the size of my shop, I really have to choose cohesive products that display well together. Most, but certainly not all, of the products I sell are locally and regionally made. I am paying attention to our carbon footprint. Most of these products have not traveled far. Many of the artists that sell in my shop could easily walk from their homes and studios. It goes without saying that high quality "crafts-womanship," beauty, purpose, and a reasonable price point also go into my decision of whether or not to choose a product. I have to love the product myself, or I won't feel comfortable selling it.
What is your favorite product at the moment?
That's a really tough question because I love everything I sell. One of my favorite items right now is Hon's Honey Lip Balm, if I must pick one. I give one to everyone who works at the shop and everyone I want to give a little "I'm thinking of you" gift. Hon's Honey supports women survivors in South Baltimore, helping them get back on their feet through job training and intentional community. An excellent product and mission? You can't beat that.
What does the future look like for Found Studio?
We are coming up on our first anniversary in April, and I want to launch an online shop by then. Workshops are in the works for this year. Many people are asking for them, and as a trained art teacher, I do actually love teaching and gathering with others who are open to learning something new. I hope to host not only my own workshops, but other workshops in many other creative genres, as well.