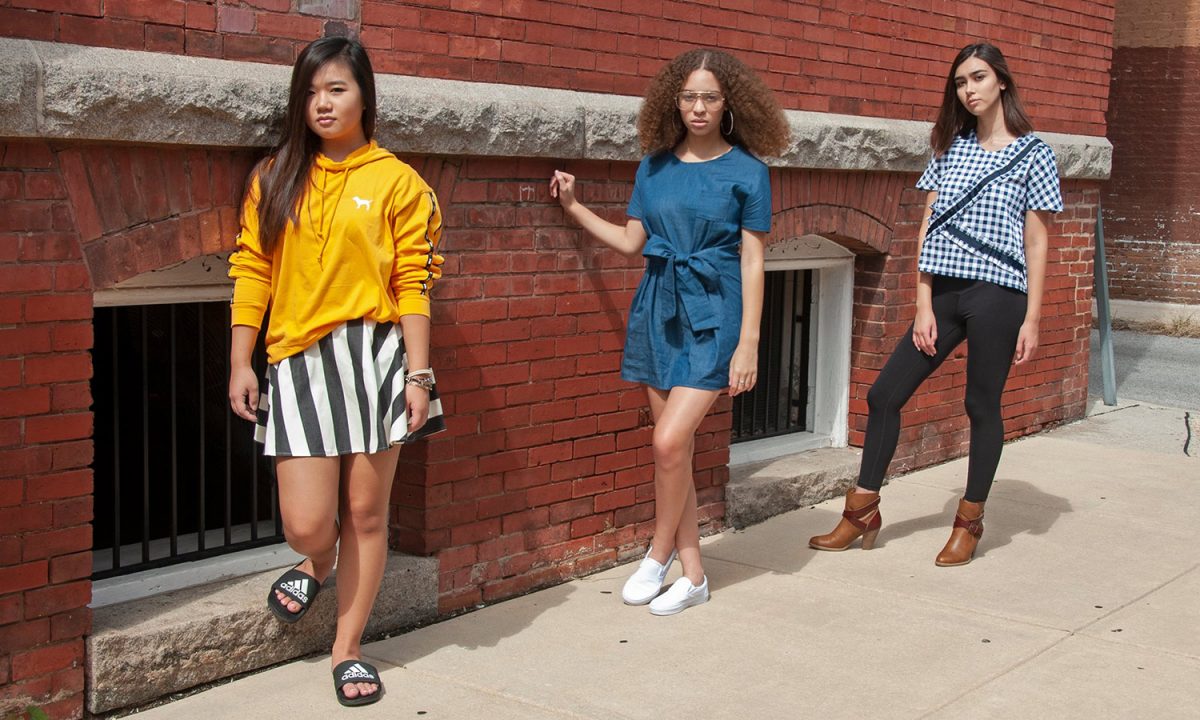 SewSquad
As we know, Baltimore is bustling with creative minds. But did you know the former fashion director of Brit + Co. lives among us? After 15 years in New York, the Charm City native recently moved back home to start an easy, breezy sewing pattern brand. The days of laboring over sewing machine manuals and watching endless hand-stitching video tutorials are over, because SewSquad has entered the scene with trendy, yet simple threading patterns. We talked with SewSquad founder Zoey Washington to get the inside scoop on what her startup is all about.
What gave you the inspiration to start SewSquad?
As a teenager, I really loved making clothes and small things like tote bags and t-shirts, but I wasn't by any means a master seamstress. I noticed when I would go to different fabric or craft stores, there was nothing that really spoke to me—then and now. So, I felt like there was a gap in the market between products for really young kids who are doing DIY fashion and looming and master seamstresses. I wanted to create SewSquad to appeal to a fashion-savvy and style-loving teenager or young adult, who wasn't necessarily interested in becoming America's next top sewer but really wanted to have something inspirational, fun, and simple to do.
How did you decide what styles to create?
I've been in the industry for quite a long time as a fashion editor, writer, and stylist, so I am lucky to have the skinny on upcoming trends. What I usually do is create a mood board. I figure out what the top trends are and how we can make those trends relatable and easy to create. One thing that's really important to us is that the items don't necessarily have to be made with a sewing machine. When we choose different silhouettes we think: "Is this so complicated that someone with a needle and thread can't recreate it?" If it is too complicated, we don't create it. But if there's a way to make it simple and easy to manage, then we go for it.
With each pattern, how do users know what fabric they can use?
We do suggest materials, and we will likely extend that online to give more examples of what to use, but we also offer bundles of fabric for customers to buy. We want to create that one-and-done experience so you don't have to go somewhere else to buy fabric. We also like to give inspiration and leave a little room for discovery by giving examples of how to personalize—whether it's tie-dying light denim or adding ruffles where there aren't any.
Which design has been your favorite?
It is summer so I'm all about an easy, breezy silhouette—something you can wear all summer long. I would say the most popular pattern right now is the classic tee because it's the quickest pattern to make. I can just grab material I have lying around or take an old dress I don't wear anymore and make that into the classic tee.
What has been your go-to summer look this year?
I am notorious for wearing the same thing over and over again. My summer uniform is a black slip dress with lace trim. And I'm really into the dad-Hawaiian-shirt trend. I've been wearing that over my silk slip dress. Then, I tend to go high-end with accessories, so pair that with any Céline flats and a statement bag. This summer I'm doing a black Prada Raffia bag.
What advice do you have for young fashionistas who are just exploring their personal style?
We have this mantra: make it, wear it, and share it. And I think that's what you should do. You should jump right in. Every morning we get dressed, and make choices about what we want to wear. It's really just about shifting your perspective and the way you approach style, or even just a simple everyday outfit and trying something new.
What does the future for SewSquad look like?
Eventually, what we want to do leading up to back-to-school and the holidays is to start to develop our IRL presence. At the end of the day, it's a very demonstrable product, and we are all about that sense of discovery, which I think happens in person. We want to experience that along with our customers. One of the main reasons that I got into creating SewSquad was that this space needed some disruption. When you go into a sewing or craft store, you get kind of a granny vibe and everyone has this insider terminology about sewing—which someone who just wants to make their own clothes may not understand. We want to approach an event or possible store in a way that's more fashion-based than craft-based.
How has being in Baltimore influenced your designs?
What I love about Baltimore is that it's a melting pot of different styles, and it's a useful city. New York is great and fun, but it's extremely fashion brand and label-heavy. Baltimore is more about personal style. That's something that has influenced SewSquad. We're a company that's dedicated to young people discovering their personal style.
I think that has a lot to do with being from Baltimore and realizing that, whether you go to a prep school or a public school, whether you love fashion or you're just trying to discover what to wear, there's something for everyone. Everyone takes different influences from all over. We don't have one overarching style, we have microtrends, and different influences that melt together to create something very specific. A lot of that is art-driven, and a lot of that is self-taught. That's very much part of the SewSquad DNA. You don't have to be some sort of master; you're just figuring it out along the way. And I think that's very much inherent to Baltimore.