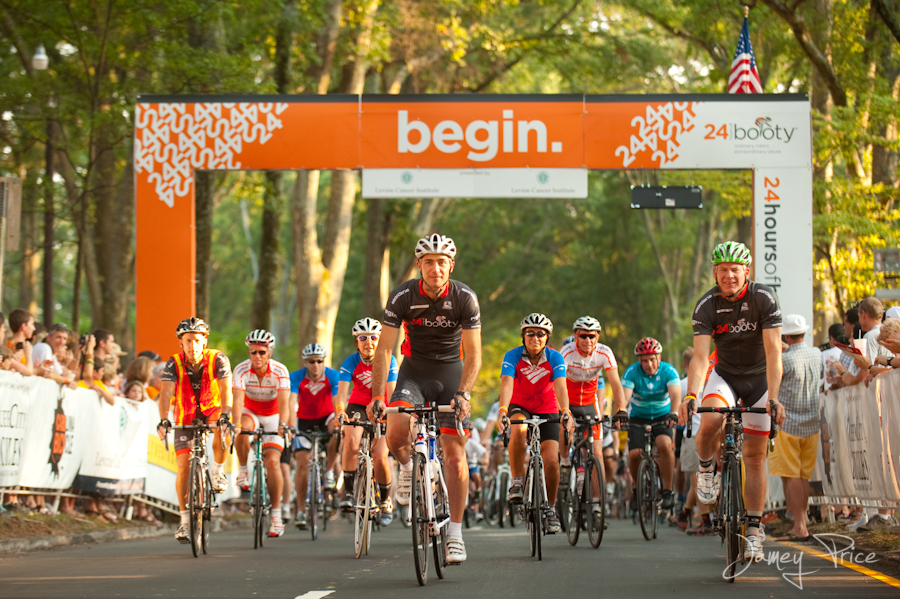 Jamey Price Photo
24 Hours of Booty
24 Hours of Booty is back for its 9th consecutive year in Columbia. The biking event which hosts more than 400 participants pedaling for 24 hours to raise money for the Ulman Cancer Fund and cancer research will be held on August 20-21 from 2 p.m.-2 p.m the following day. Riders are able to participate individually or on a team and will have access to a campground or "Bootyville" to hang, relax, grill, and maybe take a little nap when not on the bike.
Local fitness favorite REV Spin Studio will have a team at the event led by team captain and director of operations Nick Rodricks—and they are ready to ride for the cause. "My grandfather was a cancer survivor numerous times," says Rodricks. "So this is very close to me. It's a good opportunity to get out of the studio and set some goals for a great cause." Donations to support Team REV can be accepted here. 7001 Columbia Gateway Drive, Columbia, 21046
Treason Toting Co. Opening
If you think you have baggage, you haven't seen anything yet. With it's grand opening on August 6, Treason Toting Co. has hit Baltimore with stride. Amidst the ongoing construction of the Sagamore Pendry hotel, Treason's new Thames Street will offer the latest totes, backpacks, and wash bags all made with top-grain leather, water-resistant canvas, brass hardware, and reliable trimmings. The brand which is known for its locally made, stylish take on travel bags and perfectly meshes community with a passion for creativity. With its new beautifully designed space, the store is a must-see on your next trip to Fells Point. 1714 Thames St.
Hike, Barre, and Brunch
Earn your brunch this Sunday, August 21, with Hike, Barre, and Brunch. Work up a sweat on an 90-minute hike with segments of a pop-up barre class throughout lead by INLINE's Katie Cook. Everyone is instructed to meet in the parking lot entrance to Gunpowder State Park on Belair Road at 10 a.m. with the hike starting promptly at 10:15 a.m. This event is free and the trail is ideal for beginners, so bring your non-outdoorsy friends, brunch-y snacks, and a couple of to go mimosas for a post-hike brunch celebration after the hike at the Gunpowder Lodge. Call INLINE Barre for more details. 410-940-9601.
Yoga Benefit for Holy Frijoles
Earlier this week, Mexican restaurant Holy Frijoles suffered a fire and, while no one was injured, smoke damaged much of the ceiling and interior. In an effort to recover, the Hampden restaurant is organizing a donation-based yoga class on Sunday, August 21 at noon in Roosevelt Park. Instructor Annette Arcenaux will be leading an hour-long mixed level vinyasa so attendees and staff can "get down to business and get centered." 1221 West 36th St.