The Style List
We challenged 14 of the most stylish Baltimoreans to show us seven fall trends.
Yves Saint Laurent once said, "Fashions fade, style is eternal." But what exactly does it mean to have style? We challenged 14 of the most stylish people in Baltimore to show us how they'd incorporate seven fall trends into their wardrobe, proving that no matter your size, status, or salary, nothing looks better than having a true sense of self.

TREND PIECE: Social Decay exclusive BMORE Babes muscle tee ($48) at Brightside Boutique.
Deana Hagaag, 29
Executive Director at The Contemporary
Describe your style: Unlimited. Style icon: Brown and black street culture from all over the world. Favorite fall trend: I am super into long, loose, flowy trench coats. Baltimore style is: Flawless. Baltimore style is unparalleled. Style advice: Make sure it's clean.

TT The Artist, 32
Artist
Describe your style: I would say it's a mix of street fashion with pop art. Style icon: I love Grace Jones, Jeremy Scott, and I am a big, big fan of Marc Jacobs. I love fashion designers that kind of bring together high-end fashion and street fashion. Baltimore style is: Everyone just has his or her own unique style, and in Baltimore I think style is really a reflection of a person's identity. Style advice: Dress as if you are always having fun.
---
TREND PIECE: Levi Strauss & Co. medium wash jean jacket ($35) at Bottle of Bread (on Bob). The jean jacket in pinter wash ($118) at Madewell (on mayor).
"Bowtie" Bob, 71
Retiree/Volunteer at Irish Charities of Maryland and Friendly Sons of St. Patrick
Describe your style: Preppy. Eternally preppy. Favorite fall trend: I love the tweed coats and bow ties. I like to look like a college professor or something like that. Baltimore style is: A little bit of everything. I just wish more people paid more attention to what they wear. What you put on is what people see before they even see you or talk to you. What is your favorite piece of style advice? If a Colleen says it looks good, it looks good.
Stephanie Rawlings-Blake, 46
Mayor
Describe your style: Chic, body conscious, and feminine. Style icon: I look to people like Diane von Furstenberg, Beyoncé, Iris Apfel, and of course, RuPaul. Baltimore style is: Unique, bold, and definitely trendsetting. Style advice: Know your body. Not every trend is for everybody. And for God's sake, please accessorize!
---
TREND PIECE: Belfry Beckman heather wool safari hat ($113) at Hats in the Belfry.

Al Rogers Jr., 26
Artist
Describe your style: It is inspired by my surroundings, not so much my mood. If I'm having a bad day, I'm still wearing bright colors. Style icon: My mom, my uncle, and André 3000. André 3000 came around in hip-hop at a time when everyone was following trends and he just didn't conform. He made it acceptable to embrace your feminine side. Baltimore style is: Very raw. Style here goes further than what you wear. It's just in how we carry ourselves. It is late, but it's cool. Style advice: If your favorite color is black, try blue.
Margaret Nam, 27
Public Relations Associate at PANDORA Jewelry
Describe your style: It's a little bit edgy. I like to mix things up according to my mood that day. Style icon: I would say Nicole Richie. She has rad hair, outfits, even her personality. Favorite fall trend: The Renaissance and baroque old school theme that I have seen a lot on the runways. Style advice: Don't be afraid to mix up different trends and styles, and stay unique to yourself.
TREND PIECE: Chan Luu chain trim skinny scarf ($29.50) at South Moon Under.
Chanel Cruz, 22
Merchandising Assistant at Poppy and Stella
Describe your style: Traditional things like denim, penny loafers, and blazers mixed with new contemporary styles. Style icon: Rihanna. She is amazing. Baltimore style is: To sum it up, the thrift store. People shop at antique and vintage places. There is Go-Go's bus, stores on Read Street, and all the huge Value Villages. People in Baltimore are hunters. Style advice: Stop taking style advice from your boyfriend.
Kriss Masson, 29
Musician and Owner of Esther & Harper
Describe your style: Being a musician and being on stage lends me the ability to wear things that I don't traditionally get to wear just to dinner, which is fun. Style icon: My style icon for the performance part of my world is Tina Turner. I love her spirit and tenacity. Favorite fall trend: I've been growing a collection of kimonos. I love just how varied they are and how colorful they are. Baltimore style is: Very eclectic. I love that there is a real celebrational sense of color here and it feels very embracing.
---
TREND PIECE: Article No. high cut reflective silver sneaker ($325) at For Rent Shoes.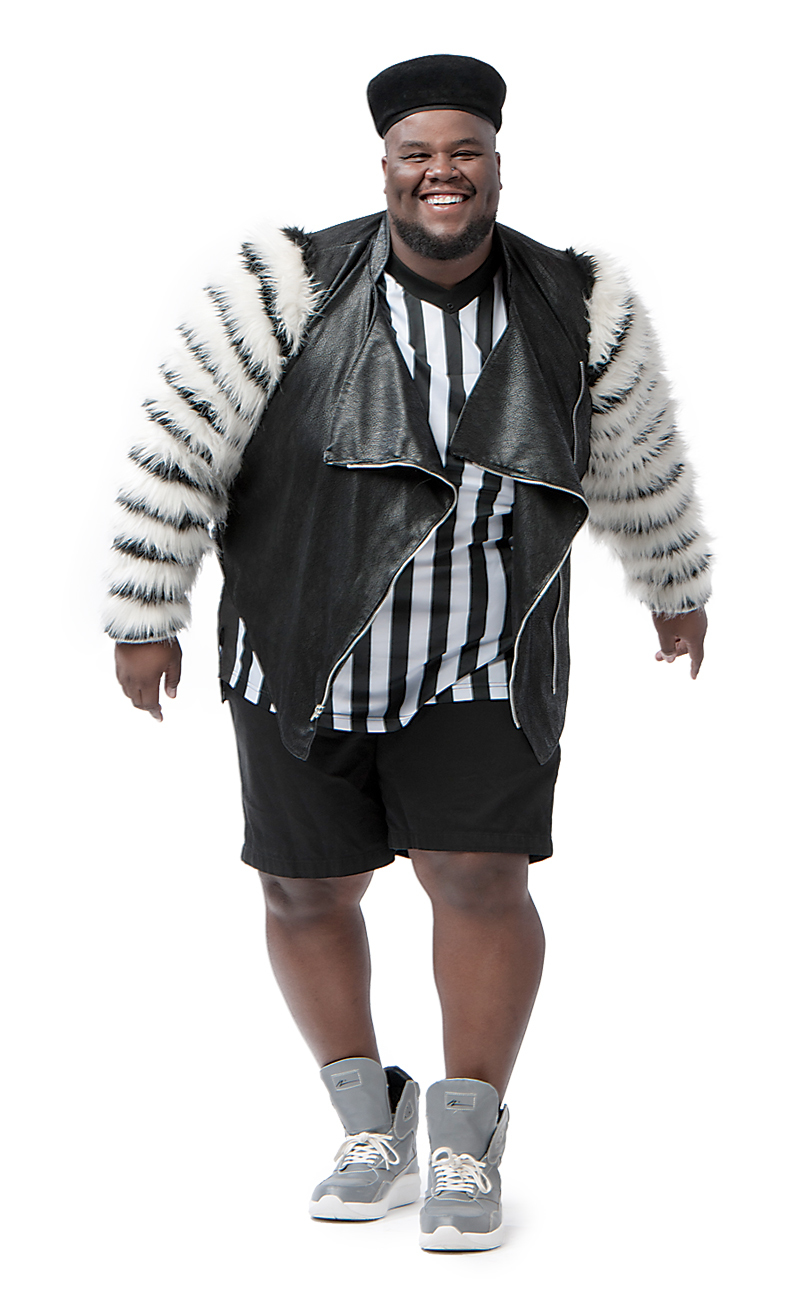 DDM, 30
Musician
Describe your style: My style is ostentatious and vibrant. You can never go too big in my opinion. Style icon: I love Jeremy Scott, CeeLo Green, Diana Ross, and Grace Jones. I like characters. Baltimore style is: Utilitarian. You get some interesting things based off of what people can work with. Baltimore is a city where people learn how to make things great. Style advice: Pile it all on and then start to edit.
Jason Bass, 36
Co-Owner and Creative Director of Treason Toting Co.
Describe your style: Sophisticated grit. Favorite fall trend: Bomber jackets. I am addicted to them. Baltimore style is: Changing. It's getting better and I'm very happy about that. I just hope everyone catches on—men and women—and we get out of that blue collar, older frat boy situation. Style advice: Shop for the essentials and basics and then build around it. That way you have a go-to every day, and find your comfort zone, and then from there you can start to explore different looks.
---

TREND PIECE: ourCaste Welkin checkered collared shirt ($62) at Hunting Ground.
Seth Schafer, 22
Tailor at Christopher Schafer Clothier
Describe your style: I go from one extreme to the other. I'm either in a suit and tie or jeans and a T-shirt. I think it's hard for people to fathom that I actually own other clothing besides suits. Style icon: Cary Grant and my father, Christopher Schafer. Baltimore style is: Different. We have so many different influences from international transplants, trendsetters, and people rocking vintage clothes. We have a little bit of everything. Style advice: The small stuff adds up.
Chelsea Gregoire, 26
Bartender, Creative Consultant, and Owner of Drinkable Genius
Describe your style: I do a definite menswear take for a female body. I like patterns and colors but I also like to go Brooklyn and just wear all black. Style icon: A lot of Google image searches. Favorite fall trend: Always jackets. Baltimore style is: This mix of young professionals, medical students, and art students, and they are all just thrown into this mess of different styles. People do whatever they want. Style advice: Be comfortable. Don't overwork yourself and make yourself feel like you have to fit into certain styles. Just wear what is comfortable to you.
---
TREND PIECE: Joe Jeans Ex-Lover cropped in nicola ($198) at Jean Pool.

Lana Rae, 35
CEO of KIS Agency
Describe your style: I'm edgy but classy at the same time. Style icon: I wouldn't say there is one style icon. I would say my inspiration comes from my emotions. I just dress how I feel. Favorite fall trend: I love monochromatic looks. Style advice: Never overthink your outfit. If it comes naturally then it's right.
Victoria Nolan, 25
High School English Teacher
Describe your style: Pretty classic, but I do always try to incorporate some trends. Style icon: Amal Clooney and Victoria Beckham. They are both very strong, powerful women with professional careers but still look awesome at all times. Baltimore style is: A beautiful thing. It is all over the map. Style advice: My favorite piece of advice comes from my mom who always said to dress in a way that makes you comfortable while still feeling powerful and sexy.