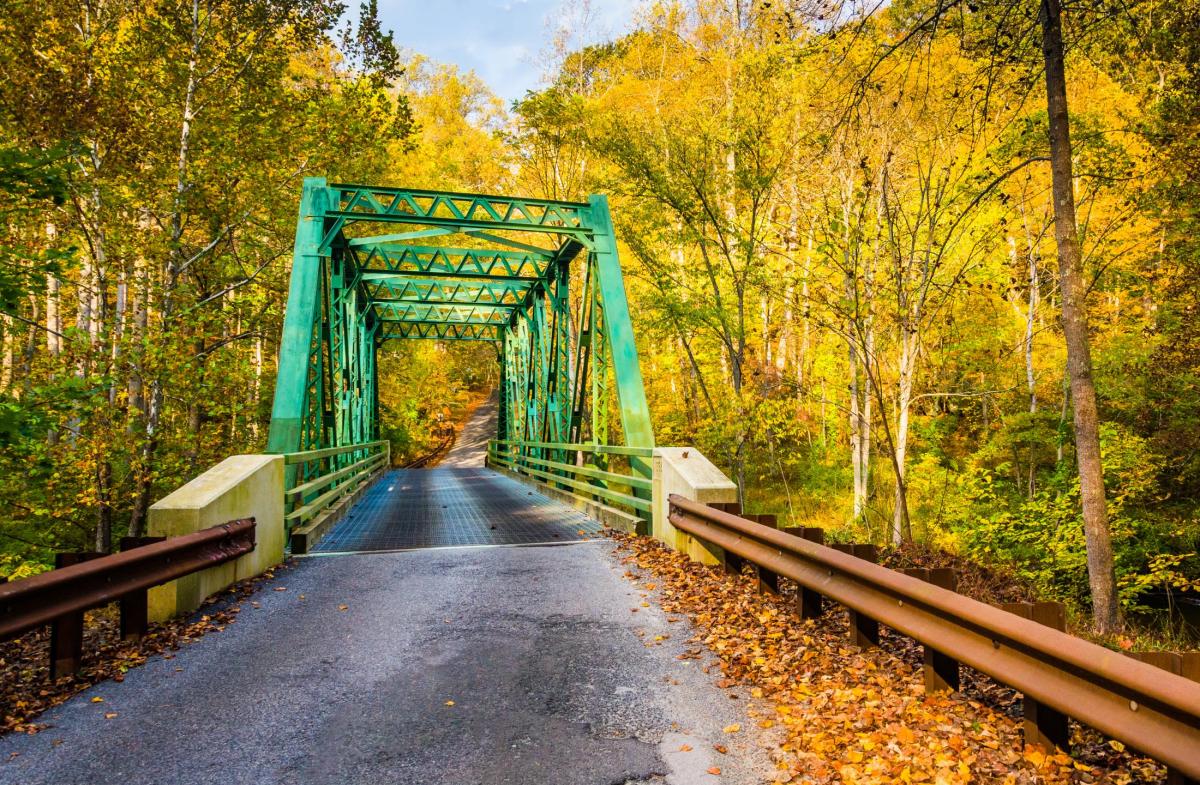 The changing leaves at Gunpowder Falls State Park. —Jon Bilous/Shutterstock
Prime time for the centuries-old fall tradition known as leaf peeping is just around the corner for Baltimoreans. From mid-October through early November, streets, sidewalks, and remaining branches will be coated with vibrant shades of orange and burgundy. Autumn's signature colors offer views that captivate everyone from annual leaf peepers to professional photographers. (Need some inspo? The National Park Service offers a robust virtual leaf peeping gallery for those who adore the season's unique charms.) 
So get out there and take advantage of the transition from warm summer temperatures to crisp and chilled air. Here are a few leaf-peeping destinations to spot some of the most beautiful fall foliage in the region. 
City Parks: There's no need to travel far to experience the golden hues, with Baltimore City's own park system offering plenty of fantastic foliage. Among the destinations are Druid Hill Park, which highlights acres of dense forest and old tree groves, and Cylburn Arboretum, an oasis for planted trees and natural woodlands, as well as beautiful gardens. Patterson Park, known for its grassy knolls, also features hundreds of mature shade trees, with maples and oaks turning red and orange. 
Baltimore's Waterfront Promenade: We'd be remiss without mentioning our city's crown jewel—the Inner Harbor. Walk along the waterfront, from Canton to Locust Point, where trees are shedding their green before winter. The harbor's sidewalks are excellent spaces to enjoy a day outdoors and watch rust colored leaves float in the water this fall. 
Oregon Ridge Park and Lodge: See more than 1,000 acres—including nearly 900 acres of forest with many native tree species—of this public green space that has been maintained by the Baltimore County Department of Recreation and Parks since 1969. Year-round activities are offered through a variety of recreational spaces including hiking trails and fitness areas. 13555 Beaver Dam Road. Cockeysville. 410-887-1815
Patapsco Valley State Park: Experience multiple areas of Patapsco Valley State Park's 14,000 acres of land. Plan a trip to see the famous hues of red, orange, and yellow float in the Patapsco River. 8020 Baltimore National Pike, Ellicott City. 410-461-5005.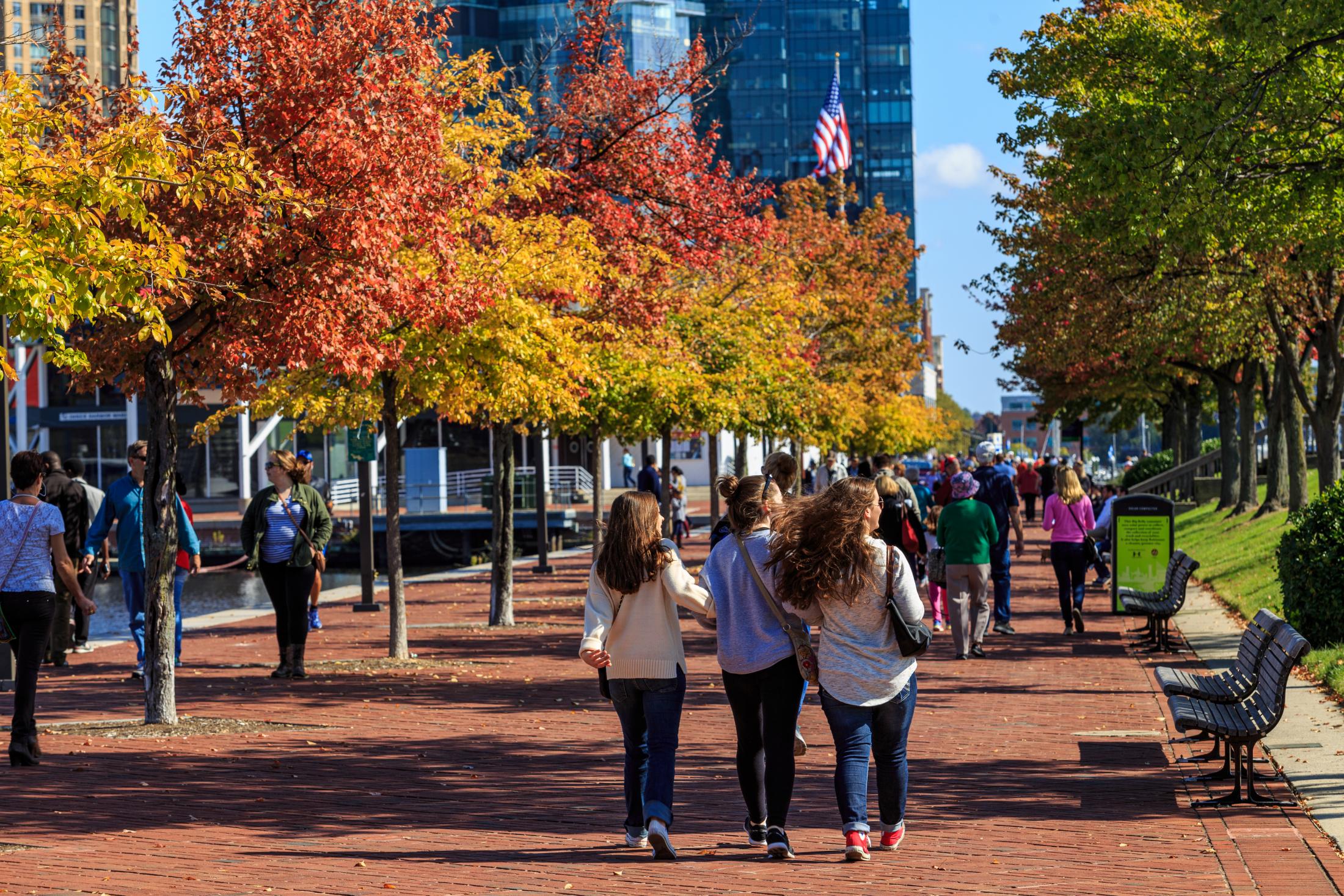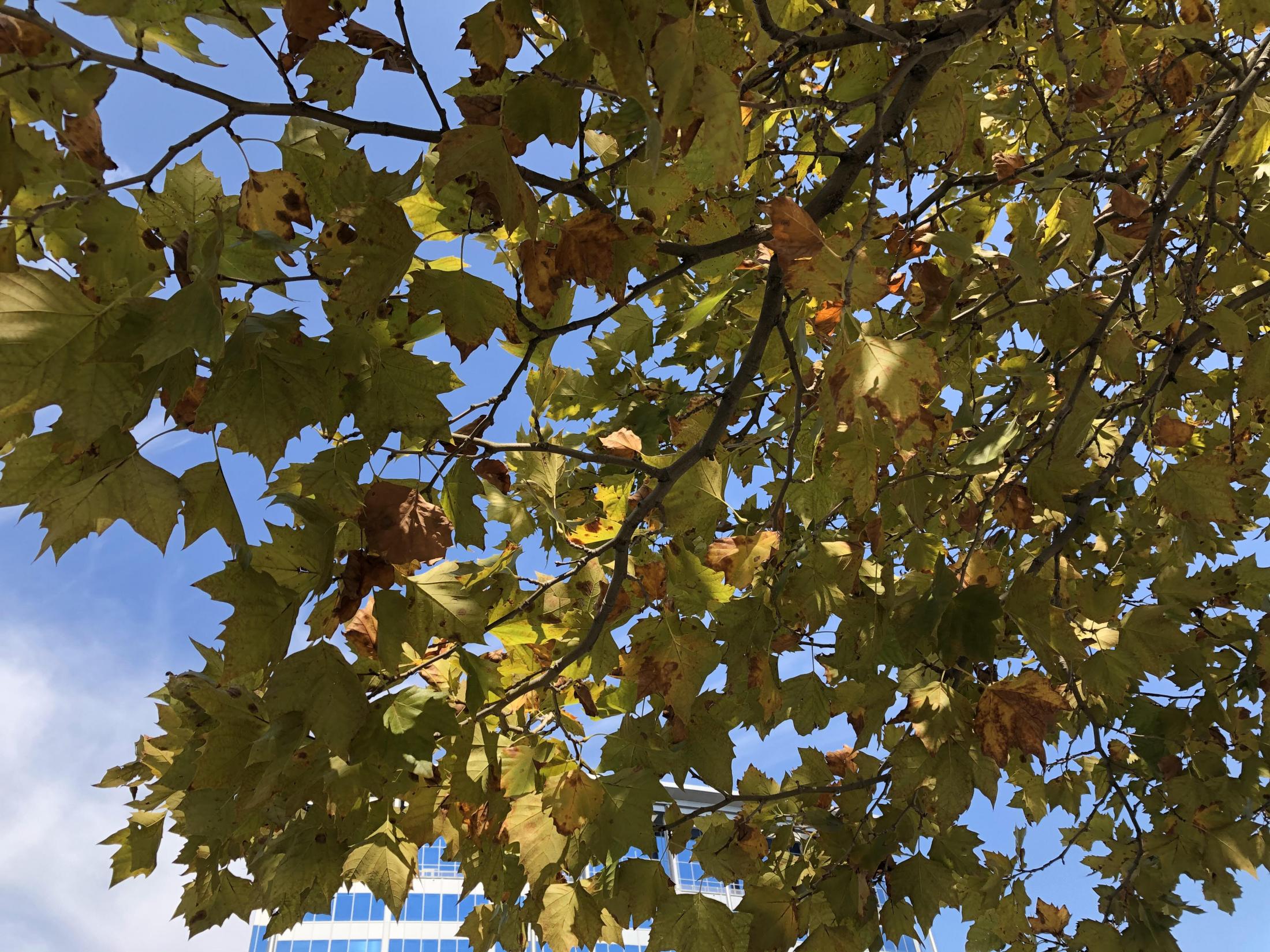 Centennial Park: This prime leaf-peeping spot offers hiking and 54 acres of lakefront views for visitors of all ages. The scenic park is home to diverse wildlife and tree species including sycamore, red maple, tulip poplar, and willow oak. 10000 Clarksville Pike, Ellicott City. 410-313-7256
Irvine Nature Center: Trails are open Tuesday through Sunday from 9 a.m. to 5 p.m. at this Owings Mills reserve, with an entrance fee of $5 for non-members. Explore more than 200 acres of woodlands, wetlands, and meadows. 11201 Garrison Forest Road. Owings Mills. 443-738-9200
Gunpowder Falls State Park: This regional favorite features more than 120 miles of multi-use trails across its 18,000 acres in both Harford and Baltimore counties, making it one of Maryland's largest state parks. Whether you're in the Hereford Area or along the Torrey C. Brown Rail Trail, take in wildlife and old trees, from hickories and birches to beeches and black walnuts.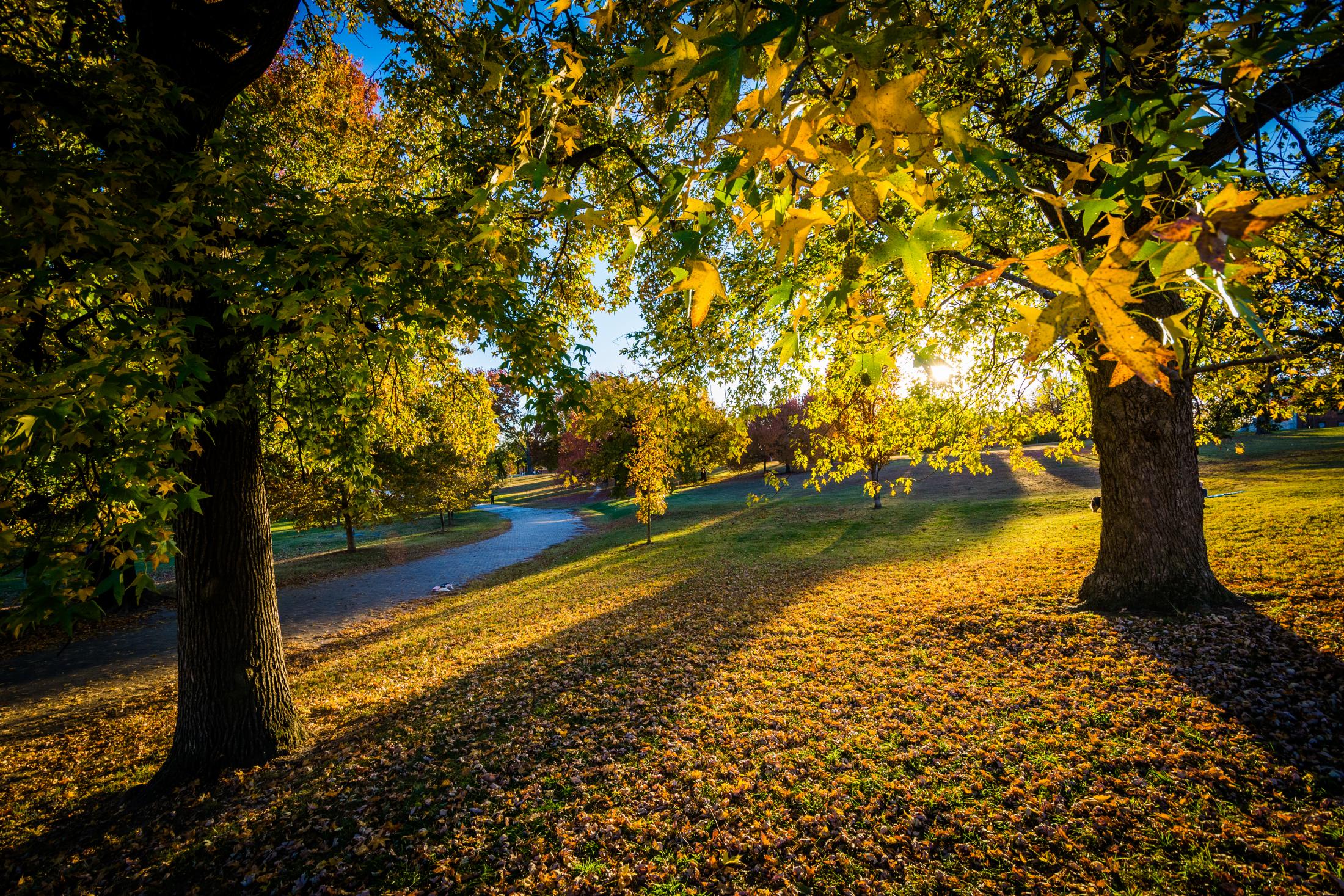 Sugarloaf Mountain: Marked by a small mountain terrain, Sugarloaf Mountain is a combination of spacious farmland and forest. The mountain's peak overlooks an entire peripheral view of bright green trees and shrublands, perfect for leaf peeping. 7901 Comus Road, Dickerson. 301-874-2024.
Harpers Ferry National Park: Spend your day at the intersection of the Potomac and Shenandoah rivers in Harpers Ferry, West Virginia. See a multitude of chestnut oak and red maple trees framed by the water. 171 Shoreline Dr, Harpers Ferry, West Virginia. 304-535-6029. 
George Washington's Mount Vernon: The picturesque home of George Washington's life and memory is surrounded by forest at Mount Vernon. Explore more than 500 acres of spacious land including sycamore, red maple, and yellow buckeye trees. 3200 Mount Vernon Memorial Highway. Mount Vernon, Virginia. 703-780-2000. 
Maryland Office of Tourism's Scenic Byways & Road Trips: Try cruising down these highways and scenic byways this fall. These road trip ideas include exploring leaf-peeping walkways, gardens, and forest areas. Find eye-catching and photo-worthy spaces before reaching your final destination. 
Additional reporting by Grace Hebron.