Comeback City
Embracing its underdog status, Detroit becomes one of America's coolest towns.
We know what you're thinking—Detroit? But for every time you've had to tell an outsider, "No, Baltimore is not just The Wire," there are that many good reasons to visit this equally underdog yet industrious Rust Belt city that birthed such American greats as the automobile and Motown. 
Detroit, like Baltimore, has somewhat of an image problem, with staggering crime statistics, streams of vacant houses, and a post-recession bankruptcy hangover. But also like Baltimore, Motor City is in the midst of a major revival, with its up-and-coming restaurants, craft cocktail bars and breweries, and renowned arts-and-culture attractions landing the sprawling city on must-visit lists by major outlets like The New York Times. 
Gritty yet cosmopolitan, bygone yet hip, it's a city where the past and the present constantly intermingle, just like Baltimore. And with a new QLine streetcar making this neighborhood city all the more accessible (unlimited-trip day passes cost a mere $3), plus cheap flights direct from BWI (fly Spirit for as little as $80 roundtrip and less than an hour and a half each way), there's no excuse to not make a weekend of it and support our fellow sleeper city. We see you, Detroit—and we're rooting for your comeback. 
MIDWEST BEST
We'll say it: the Detroit restaurant scene gives Baltimore's a run for its money. First things first—the cultish Coney Island dog. Six hundred miles from the New York beach, a fierce war wages over who makes the best chili, raw onion, and mustard-topped hot dog, which is said to have actually originated in Michigan with Greek immigrants. The rivalry between two next-door-neighbor eateries—American and Lafayette—is like the Midwest version of Baltimore's battle for best crab cake. Locals know that Lafayette is the move for its old-school diner vibe, no-fuss wait staff, and late-night hours. (Anthony Bourdain also loves the dogs at Duly's Place.)
Detroit-style deep-dish pizza is another local legend, with the best pies hailing from Buddy's, near the neighborhood of Hamtramck, where they've been hawking Sicilian-style square slices for 72 years. Crisp, crunchy, and smothered in Wisconsin cheese, it raises the question: Chicago, who?
But it's not all junk food (though, while we're at it, be sure to grab a bag of Better Made potato chips, aka Michigan's version of Utz)—trendy eateries have sprouted up across the city, too, garnering rave reviews and James Beard Award nominations. For breakfast, start at Rose's Fine Food, a Bon Appétit-approved hipster haven on the far east side of town with faded wallpaper, charming dishware, and the best breakfast tacos this side of Texas. On your way back to center city, swing by the Beard semifinalist Sister Pie bakery for drool-worthy crusts and creative cookies such as salted rosemary shortbread and black sesame macaroons. By dinnertime, you should find yourself at Lady of the House, a Beard semifinalist for the country's best new restaurant. Located in the Corktown neighborhood, its small seasonal menu, curated by chef Kate Williams, tips a hat to Detroit's Irish community and keeps an eye on local sourcing and nose-to-tail butchery. Extra points for its awesome neon sign.
COCKTAIL KINGDOM
Detroit's hooch history runs deep. Legend has it that the city's Prohibition-era Purple Gang used to smuggle bootleg whiskey to the Chicago mafia by way of the one-and-only Al Capone. So it's no surprise that cocktails remain king, with old-school and new-school haunts serving up the sort of potent tipples that would make the Mob bosses proud. 
For masterful mixology, make your way to The Sugar House, a dimly lit Corktown saloon where mustachioed bartenders whip up classics such as brandy Alexanders and boulevardiers. If you can get in the door, the secretive Bad Luck Bar crafts extravagant concoctions worth every penny of their whopping price. The $25 tropical "Exoticism," served in a brass pineapple, should be your divine drink of choice.
As you might expect, Detroit's dive bars are also exceptional. Located on a shadowy downtown side street, the bustling Café d'Mongo's Speakeasy is not for the claustrophobic, as barflies pack in for strong pours, wall-to-wall bric-a-brac, and gourmet grilled cheeses until last call. Don't sleep on the first-class jukebox and tattered pool table at the Bronx Bar in the Midtown neighborhood, or the unexpectedly epic whiskey selection at the dusty Painted Lady Lounge in Hamtramck.
Looking to experience the craft booze scene straight from the source? The five-year-old Two James Spirits started as the city's first licensed craft distillery but has quickly become a bartender's choice the country over.Its Johnny Smoking Gun whiskey has even found its way into Baltimore cocktail bars like the Regal Beagle and W.C. Harlan. Now touting 11 products, their Corktown tasting room is a must for samples and tours. If beer is more your speed, set up shop at one of the city's small-batch brewers like Atwater (try the vanilla-java porter) and Motor City Brewing Works (tip back the Ghettoblaster dark ale). At area bars, we recommend other Michigan-made suds Short's Brewing (the fruit-infused Soft Parade rye), Bell's (Oberon wheat ale), Founders (All Day IPA), and Stroh's (aka the Great Lake State's Natty Boh).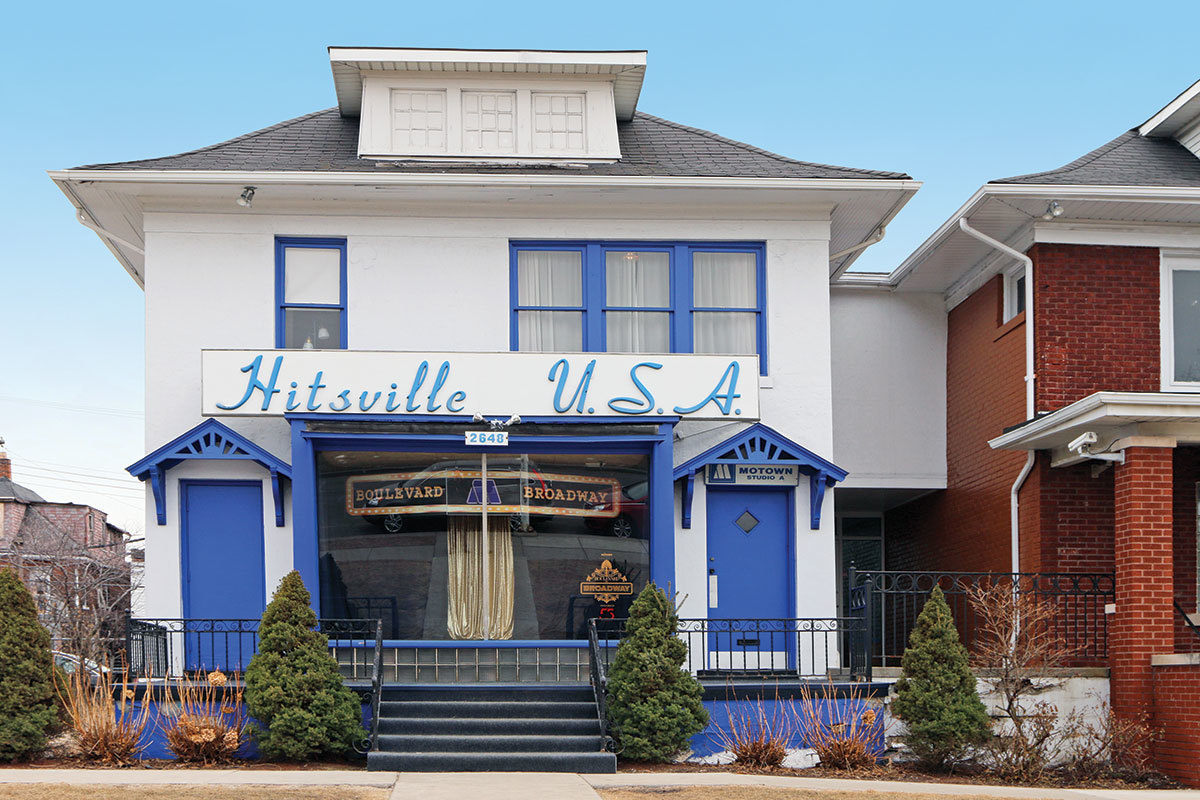 ROCK CITY
Detroit has long been one of the music capitals of America. As home of the acclaimed Detroit Symphony Orchestra, the 2,000-seat Orchestra Hall entices world-renowned musicians to perform on its gilded stage, while other gorgeous old theater houses, such as the Fox Theatre and The Majestic attract touring Broadway musicals and rising indie acts, respectively. 
But when we think of Motor City, we instantly picture Motown. In 1959, a young man by the name of Berry Gordy transformed a blue-and-white house on West Grand Boulevard into a record label and recording studio that revolutionized American soul music. Today, at the Motown Museum, aka "Hitsville U.S.A.," you can follow in the footsteps of legends like Diana Ross, Smokey Robinson, Stevie Wonder, and Marvin Gaye as the label's headquarters lives on through curated exhibits and awe-inspiring artifacts, such as Michael Jackson's bedazzled glove.
Decades before the Jackson 5 sang their ABCs, Detroit was a beacon for blues and jazz. Some real-deal nightclubs still survive, like the 83-year-old Cliff Bell's dinner theater with its ritzy Rat Pack bar and all forms of freestyle jazz. Off the beaten path, you'll also find the 1930s Baker's Keyboard Lounge, one of America's oldest jazz clubs (with killer fried chicken to boot), and the 1950s blues mainstay Raven Lounge (sort of a must for visitors from Baltimore). At both, come dressed to impress. 
Of course, the city's rock legacy is as big as a hair-metal blowout—with the 1970s bringing us bands like MC5 and Iggy Pop, as well as the iconic Creem music magazine and its legendary critic Lester Bangs. Luckily, a few rough-and-tumble venues keep the guitar-shredding spirit alive and well. Head upstairs at Saint Andrew's Hall to hear touring rock bands, rappers, and electronic artists, or downstairs to The Shelter, where local DJs spin in a set associated with Eminem's 8 Mile. The reincarnated Marble Bar also hosts a hoard of up-and-coming DIY bands and beers as cheap as $2.50, while Small's is a headbanger's hangout for hardcore punk and metal.
While you're there, take some music home with you at Third Man Records, founded by Detroit-native guitar prodigy Jack White of The White Stripes. Located in the Cass Corridor, this brick-and-mortar shop includes vinyl for purchase, a small performance stage, and its very own record pressing plant.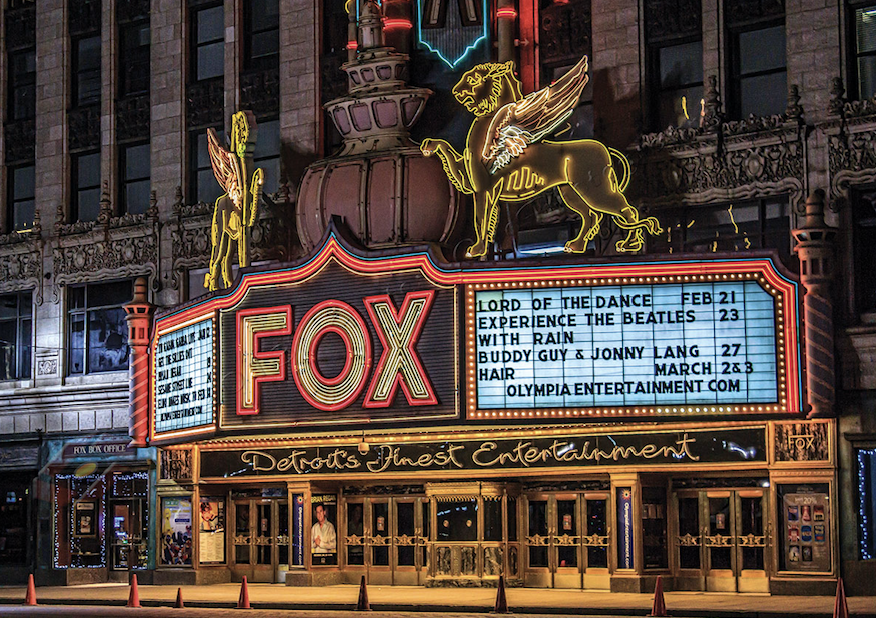 ARTS MECCA
At a cultural crossroads, Detroit is home to a fitting fusion of fine and underground art. Start with the Detroit Institute of Arts, which might be the museum world's best-kept secret. After the city declared bankruptcy in 2013, this world-class art collection was almost auctioned off to help pay the debt, but private and public entities banded together to save the 133-year-old institution. Wandering its halls today, this massive Met-esque treasure trove embodies the city's former splendor. Room after room, you run into familiar names—Degas, Cézanne, van Gogh, Picasso—not to mention Diego Rivera, with an entire atrium covered in his murals. Across the museum's more than 100 exhibits, be sure to browse the impressive African, Egyptian, and Islamic holdings. 
While the DIA does display Andy Warhols and Mark Rothkos, the Museum of Contemporary Art Detroit, or MOCAD as its locally known, focuses solely on the modern masters. Housed in an industrial warehouse, this rotating collection includes a medley of mediums, including video and performance art, and has featured works by the likes of renowned author Dave Eggers and celebrated artist Kara Walker. To explore even further outside the box, visit the east side's Heidelberg Project, an institution in its own right. For more than three decades, local artist Tyree Guyton's quirky, colorful, outdoor installations have drawn visitors from near and far.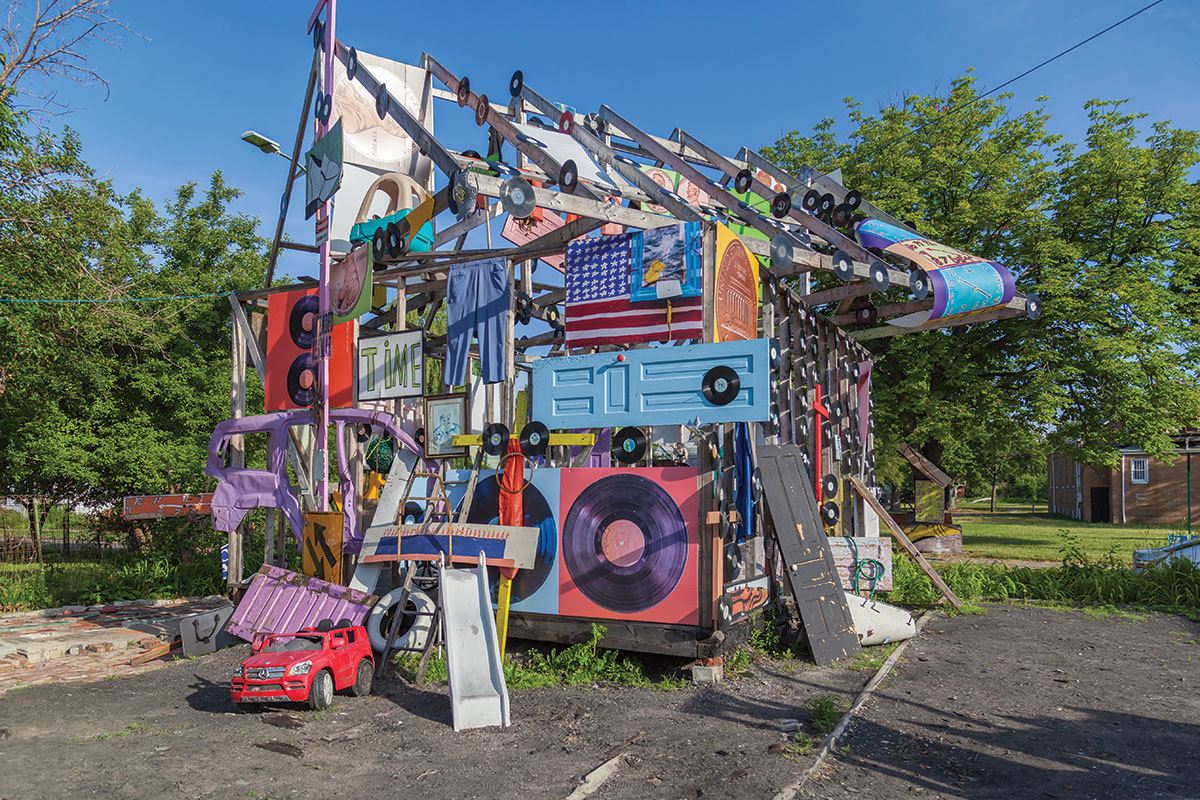 LIVING LANDMARKS
While Detroit's industrial heyday might be a thing of the past, its architecture is something to behold right now, especially as development continues to rapidly change the skyline. Designated as America's first and only UNESCO "City of Design," the city's ornate structures—from skyscrapers to churches to mansions—are a standing testament to its past prosperity. Art Deco and Neo-Renaissance details still embellish nearly every cornice and façade, so walk around—and always look up.
Of course, no trip to Motor City would be complete without a hot rod history lesson. At the turn of the 20th century, Michigan native Henry Ford changed the world as we know it with his namesake automobile brand. While two Ford museums exist, skip the Dearborn behemoth for the intimate Ford Piquette Avenue Plant near the city's Art Center neighborhood. The birthplace of the Model T, this tiny former factory looks much as it did when those famous wheels first rolled off the assembly line, 110 years ago this fall. Today, daily tours are led by a knowledgeable and friendly staff. 
From there, a 15-minute walk will lead to the Detroit Historical Society, filled with more automotive attractions, a retrospective exhibit on the city's '67 riots, and a mountain of memorabilia from Michigan's much-loved sports teams. While you're at it, cheer on the city's underdog athletes by taking yourself out to a Tigers ball game at the downtown Comerica Park or seeing the Red Wings hockey players or Pistons basketball stars at Little Caesars Arena in Midtown. In Hart Plaza along the Detroit River, there also stands a 24-foot bronze fist Monument to Joe Louis, hanging in tribute to the former world heavyweight champion, who launched his career in Motor City.
Feeling the need to get in your own exercise and burn off some of those Coney Island calories? Follow the RiverWalk for three and a half miles of waterfront promenade for walking, running, and biking, plus abundant green spaces, access to the verdant Belle Isle park, and scenic views across the river to Ontario, Canada.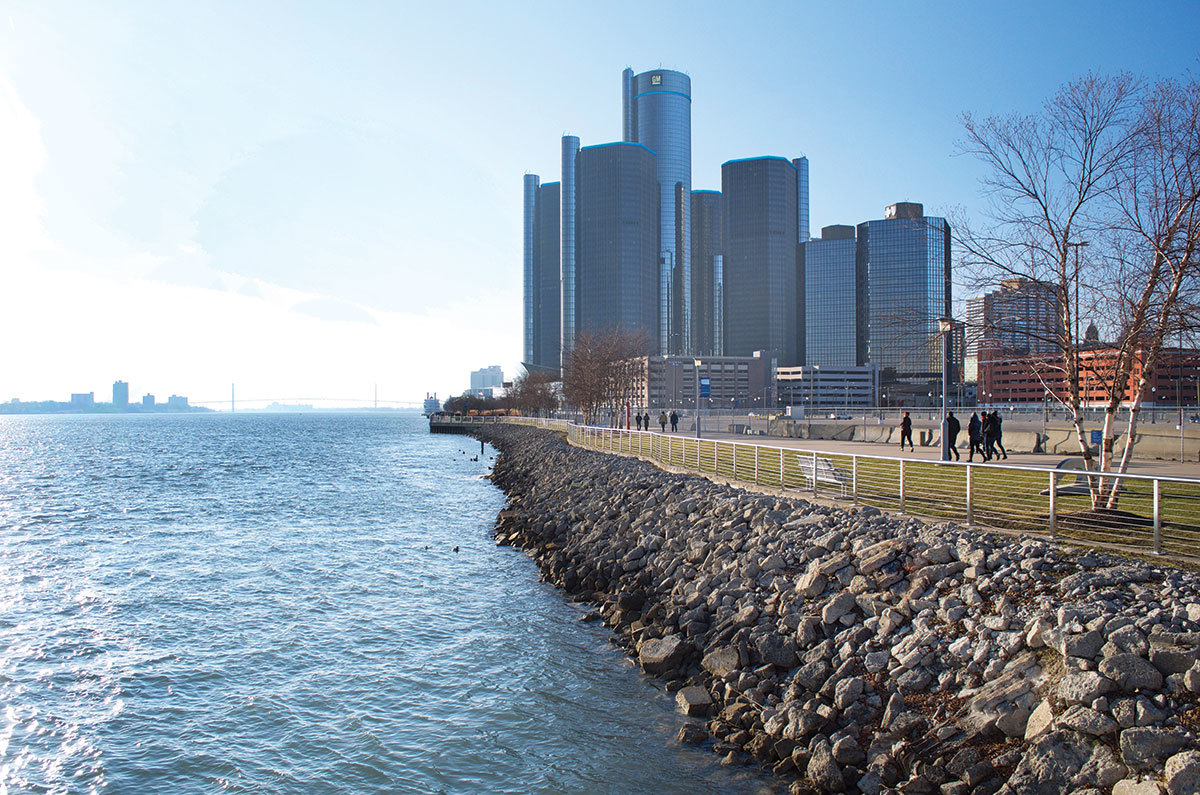 TALK SHOP
While the collapse of the auto industry changed the face of Detroit manufacturing, the city's entrepreneurial spirit has endured through all eras, and today it is home to a bevy of cool businesses promoting local craftsmanship. 
In Midtown, Shinola, the hip watch and bike maker, was founded in 2011 in an attempt to bring jobs back to the city. With an expanded collection now including audio equipment and home accessories, their Midtown showroom has become a high-end destination for its upscale coffee shop, pop-up florist, and live DJs on the weekends. A few blocks north, the venerable Carhartt work-wear company, open since 1889, lives on as a fifth-generation, family-run business. Located in a former car dealership near Wayne State University, the flagship store features the brand's best, including those iconic tan coats and coveralls. 
To shop amongst the locals, head to the Eastern Market neighborhood, known for its historic, year-round bazaar with farm-fresh produce and artisanal foods on Tuesdays, Saturdays, and Sundays. The surrounding streets are also home to trendsetting shops, like Detroit Mercantile Co., for vintage and fresh-picked finds. Eldorado General Store in Corktown is another gem for more secondhand goods, with its bohemian treasure trove including women's apparel and worldly trinkets. Bibliophiles can also find bliss in the John K. King Used & Rare Books warehouse, featuring floor-to-ceiling stacks filled with art magazines, almanacs, and—you guessed it—auto manuals.
SWEET DREAMS
Detroit's boutique hotels have come to embody the city's thoughtful evolution, incorporating sophisticated vibes as they look to the future and salvaging industrial touches as they pay homage to the past. 
Detroit Foundation Hotel: Located in the city's former fire department, rooms start around $200, and posh patrons can grab reservations with Michelin-starred chef Thomas Lents in the lobby's Apparatus Room.
The Siren Hotel: Look for vaulted ceilings, vintage details, and a hipster-chic aesthetic in this Instagram-worthy Renaissance Revival building, with rooms starting at $139 a night.
Shinola Hotel: This fall, the hometown brand will open its own hotel, bringing 130 rooms, rooftop patios, and a communal outdoor alley space downtown.
Airbnb: For dozing on a dime, take advantage of the city's affordable Airbnb options, from cozy rooms to trendy lofts and entire houses, often between $80-150 a night.