Port of Call
Embark on an epicurean getaway to Portland, Maine.
Portland—Maine's great, granite-clad city on the sea. At one time seen as the down-on-its-luck little sister to Boston, the city's new status as culinary queen of New England (nay, the East Coast) may come as a surprise if you've always thought of it as the other Portland.
Once a gritty harbor town whose stone edifices bore testament to the bygone days of the cod and timber industries, the city has experienced a renaissance as restaurateurs discovered its affordable rents and proximity to fish, forests, and farms. Today, Portland is a walkable foodie mecca, where bustling breweries and innovative eateries in the cobblestoned Old Port vie to constantly set the culinary bar higher.
With the region's best ingredients as the medium, Portland's gastronomic scene is the great uniter, drawing everyone from vacationing families to urban hipsters, Down East Mainers to snowboarding hippies, brought together by their kindred search for an excellent meal. Its ample eats, drinks, and food experiences ensure that they won't leave disappointed—or hungry.
While you can take the scenic, nine-hour drive (or the even longer Amtrak train ride) to get there, hop on a 1.5-hour direct flight from Baltimore via Southwest Airlines and you'll find yourself there, belly growling, in no time. Once you arrive, go ahead—tuck in.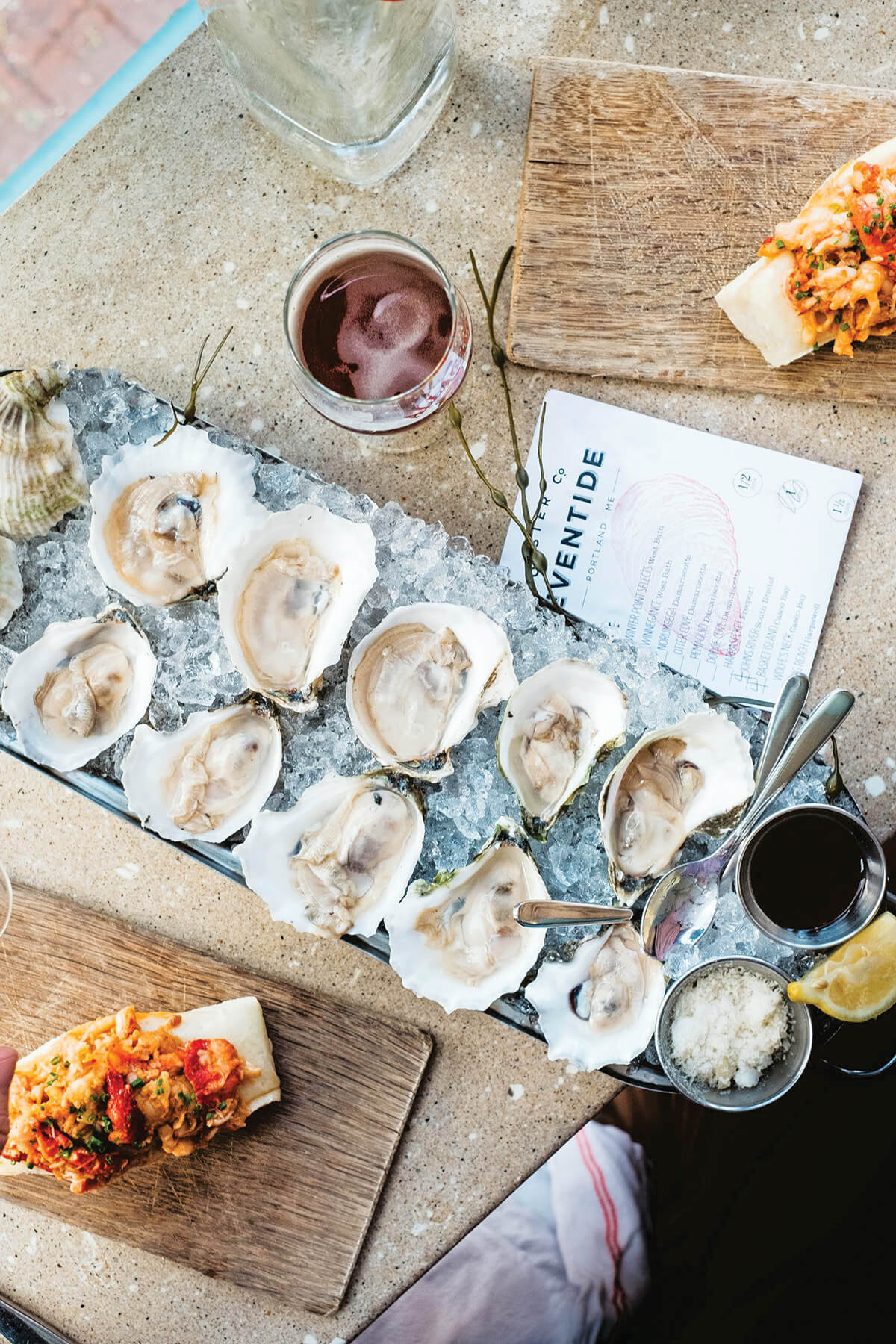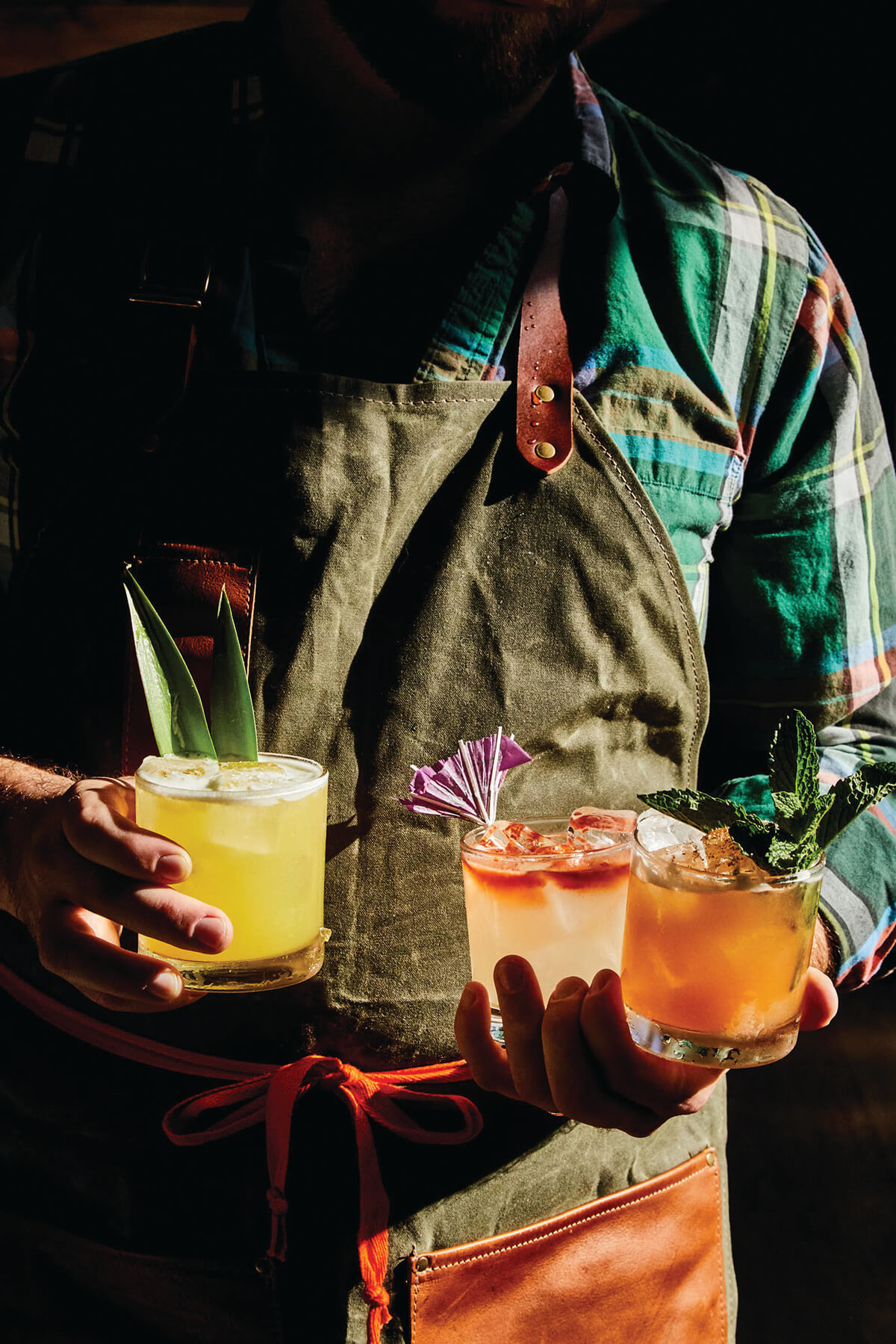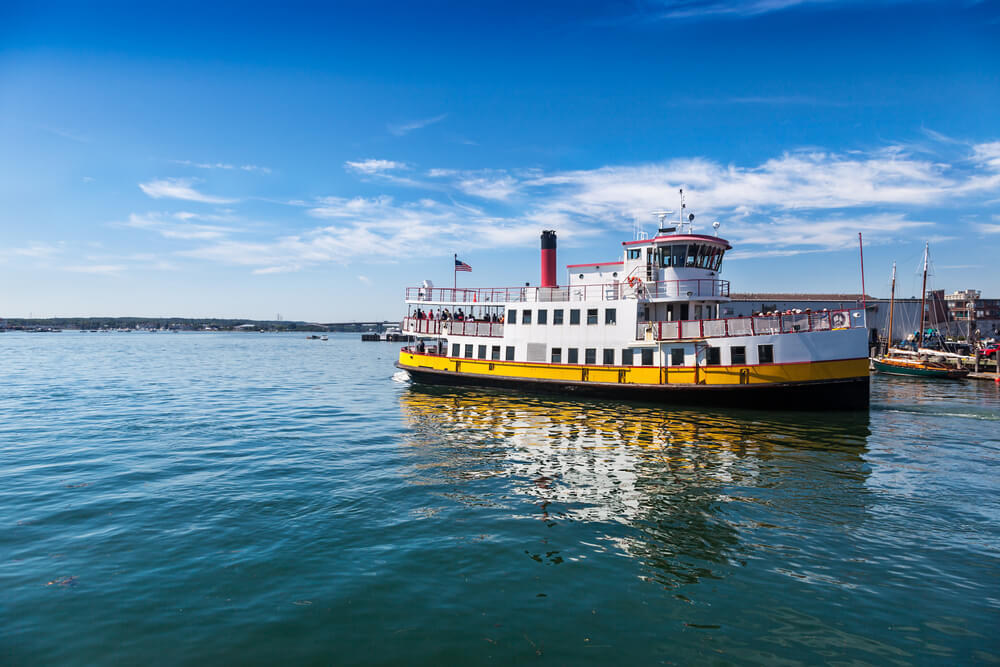 → EAT
Although there's always room for a lobster roll or two, Portland's food scene—packed with James Beard Award winners—has broadened Maine's reputation beyond just being the crustacean's world capital. Glowing with accolades from the likes of Bon Appétit, which named Portland their 2018 Restaurant City of the Year, the city is a place where every meal—from humble diner fare to worldly tapas—is an epicurean adventure.
Some of the finest seafood on the East Coast comes courtesy of Eventide Oyster Co., an ostreaphile's paradise. This 2017 James Beard-winning eatery serves up a just-caught selection of New England and West Coast bivalve varieties from a hewn-granite raw bar, but throw in some of their iconic steamed-bun lobster rolls, a few oyster shooters, and an Allagash ale or two, and you've got a meal that beautifully captures the flavors of Coastal Maine. Lines form early—plan to wait.
Much like Eventide, a seat at the farm-to-table Central Provisions requires a little luck to score. You'll understand why once you finally unfold their thick napkins and peruse the daily menu, from pillowy clouds of tuna crudo floating on marigold-spangled aioli to the crisp house-made fries served in an old-school paper cup. Don't overlook the cocktail menu, either, with inspired takes on throwback libations.
For a more down-to-earth, true-blue experience, say it with me: "Becky's Diner, nothin' finah!" Spend a Saturday morning at this no-nonsense comfort food institution sitting next to a motley assortment of fishermen, longshoremen, tourists, and locals alike and you'll be in total agreement with that statement as you tuck into a steaming cup of joe, a plate of corned beef hash, or a split, buttered, grilled blueberry muffin. Located right on the working harbor, you can also count on the tastiest crab melt in town.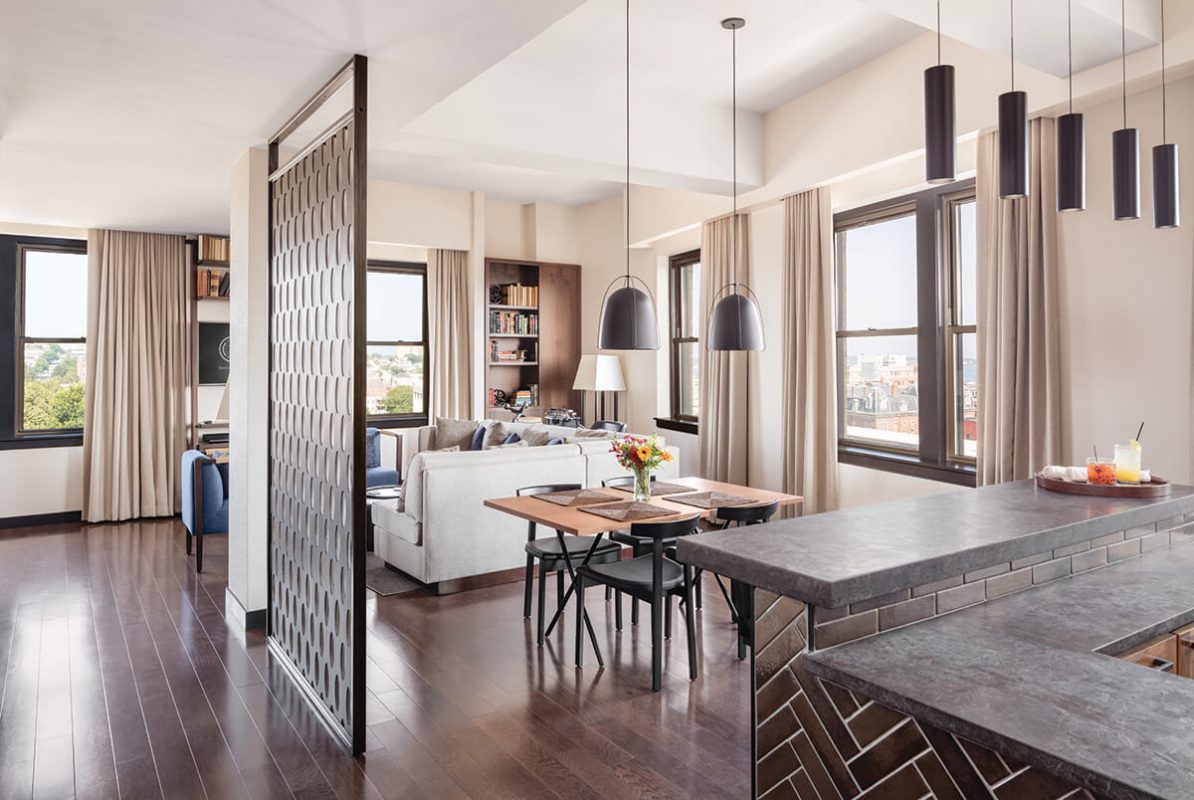 Portland has so many excellent restaurants, you may need to plan several trips just to scrape the culinary surface. Instagram influencers flock to the sceney The Shop by Island Creek Oysters for a seat on their no-fuss deck. Also consider a visit to Duckfat for Belgian fries, poutine, and gelato milkshakes or The Honey Paw down the street for fish-forward broths, lobster wontons, and house-made noodles. For our money, we often find ourselves at the off-the-beaten-path Piccolo, an intimate Italian spot, perfect for the cool days of autumn and winter, that specializes in lovingly prepared a-la-nonna fare and seasonal ingredients.
→ DRINK
Of course, man cannot live on bread alone—and thankfully for anyone with a terrible thirst, Portland's bar and brewery scene is expansive and endlessly creative. With acclaimed breweries and hip coffee shops, mixologist-mastered watering holes and trendy wine shops, there's a libation to suit every situation.
With more than a dozen breweries in the city, serving drafts of everything from traditional New England IPAs to avant-garde sours, Portland is now known for craft brews as much as it is lobster. Of course, there's Allagash Brewing Company to thank for that, who, fresh on the heels of its 2019 James Beard for outstanding beer producer, has earned its stripes after nearly 25 years of artfully crafted Portland brews. Known best for its Belgian-style "White" wheat beer, this iconic Maine brewer provides a refreshing respite in a market oversaturated with small-batch ales. After a tour, tip back a flight of classic suds and more creative takes, such as their spontaneously fermented Coolship varieties, on the stone porch.
Meanwhile, the cult-followed Bissel Brothers specialize in beers with big flavors—ultra hoppy, super sour, or cloudy and dank, and all delicious and dedicated to wild fermentation. Started by the namesake siblings in 2013, the brewery's cool, cavernous tasting room is a bit of a trek, but their innovative, experimental brews are well worth the drive or Uber. The flagship Substance IPA is one of the constants in a rotating line-up of brews whose names—"Industry vs. Inferiority," "Baby Genius," "Here's to Feeling Good All the Time"—communicate their brash, individualistic approach.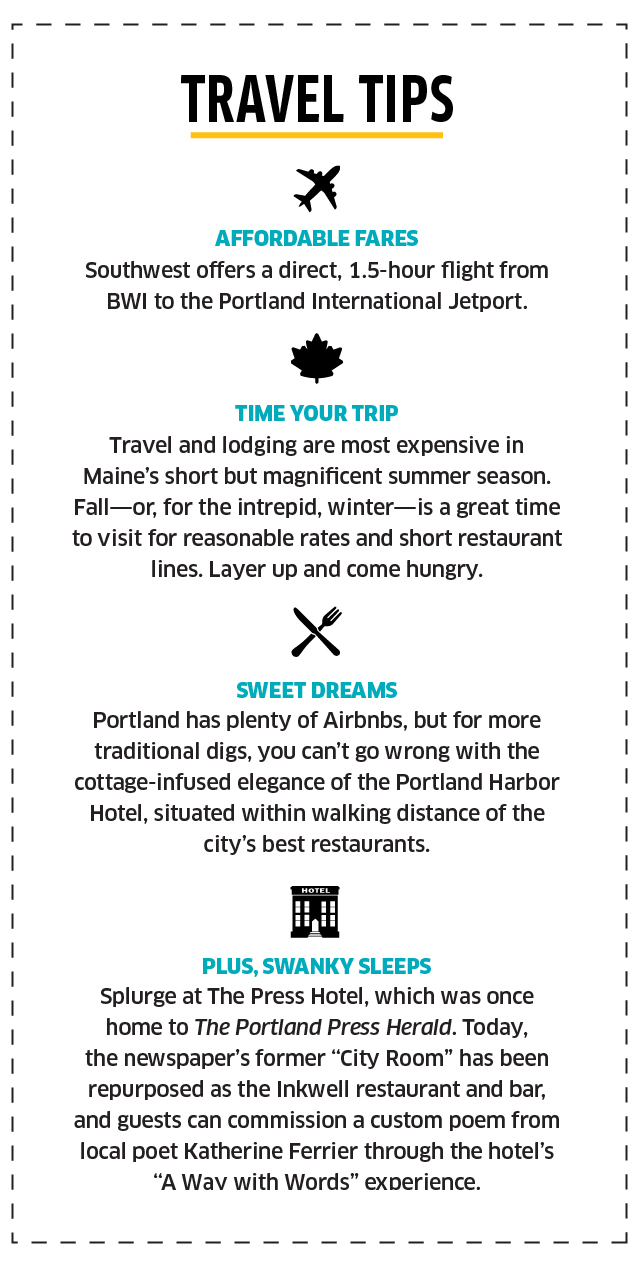 Slinging cocktails is an art form, and judging from the proprietary drinks proffered at every Portland bar, the city's mixologists are approaching Old Master status. For those served with Prohibition-level panache, stop by Vena's Fizz House, a locally loved bar with inventive highballs, mocktails, and custom sodas crafted with their own infusions, bitters, and flavored syrups. Also visit the Portland Hunt & Alpine Club, located just around the block, where you can channel your inner Skarsgård with Scandinavian sips and smorgasbords, or the maritime-themed Blyth & Burrows, with a section of the menu devoted to Navy-inspired concoctions (we recommend the "Three Sheets").
Once seen as the little sister to Boston, the city's new status might be culinary queen of New England.
Wine connoisseurs will feel at home at Drifters Wife, a hybrid restaurant-wine shop. Owners Orenda and Peter Hale are passionate about natural, unadulterated wines, and have a well-curated inventory made from organically farmed, hand-harvested grapes, fermented with native yeasts. Rely on the deep expertise of the servers for their guidance, especially if you pair their creative field-and-sea-to-fork fare with a few of their complex pours.
Prior to happy hour, spend some time in one of Portland's light-filled coffee shops, where house-roasted pour-overs and cold brews are the gold standard. Reigning supreme is Tandem—a local coffee shop to this Portland what Stumptown is to that Portland. Beans are thoughtfully sourced from around the world, and if you go to the East Bayside location (the other is located inside a chic former auto repair shop on Congress Street), you can watch them being roasted with a front-row seat. For caffeine on the go, check out Bard Coffee, where takeaway growlers will sustain you throughout the day.
→ SEE & DO
Between meals, Portland offers plenty of ways to enjoy the good life of Southern Maine.
The city's working waterfront is one of its most distinctive features. Lobstermen and the fishing fleet still dock and sell their daily catches, and a stop at the real-deal Harbor Fish Market is a way to experience a slice of Maine's maritime culture. Fresh seafood of every stripe gleams on glistening beds of ice, and huge tubs of live lobsters are frequented by men in rubber boots and dipnets. Open to the public and suffused with the smell of the sea, it's a great way to work up an appetite before dinner. Their oyster selection is extensive, so snag an oyster knife and select a dozen or two for an impromptu, only-in-Portland picnic in Deering Oaks Park.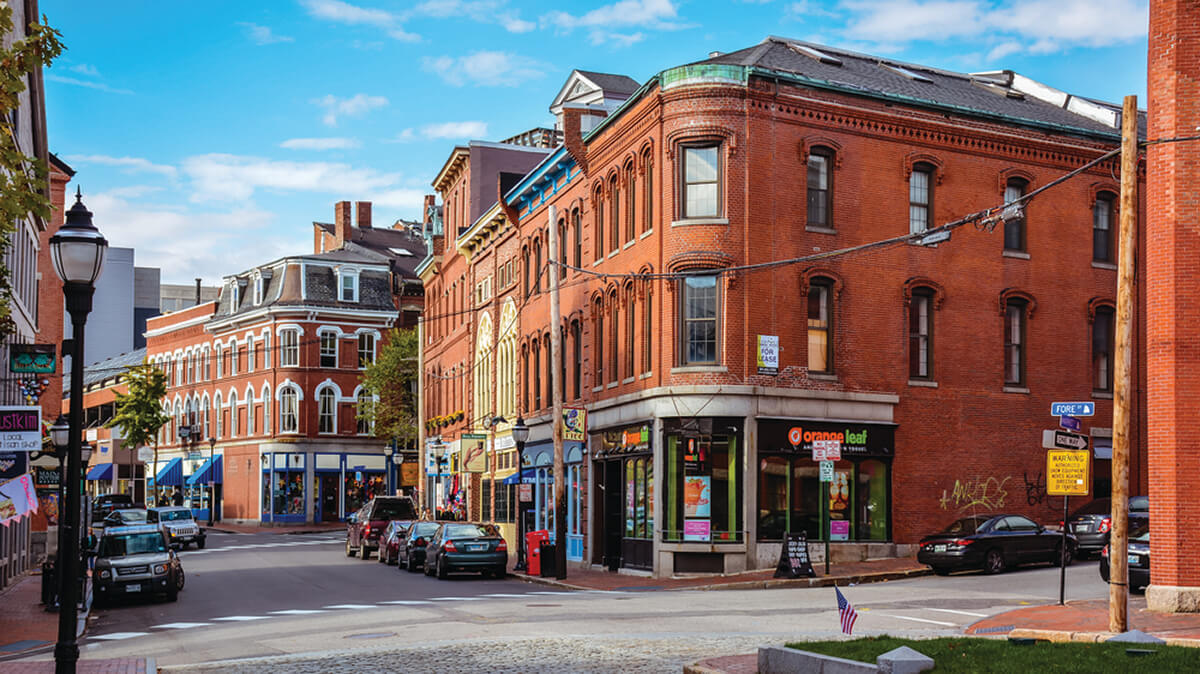 On your walk, the city's historic past is everywhere—its cobblestone streets, brick warehouses, stately stone homes and churches. With old buildings come attics, and attics mean vintage clothes, a relationship that's obvious on Congress Street, where dozens of secondhand clothing, antique, and vinyl stores have taken up residence in the old shopping district. From the thrifted tees to the macramé décor to a curated record selection at Moody Lords, you're sure to find some nostalgic souvenirs to bring back home with you to Maryland.
In the heart of downtown, art lovers should also take a tour of the Portland Museum of Art and its extensive collection, which includes notable works by Winslow Homer, Frederic Remington, and N.C., Andrew, and Jamie Wyeth, as well as other artists who found inspiration in the forests and oceanside cliffs of Coastal Maine. Every Friday night, the PMA offers free admission from 4 to 8 p.m.
And just across the harbor, the city overlooks the island-dappled Casco Bay, which is full of lighthouses, seals, lobstermen, and sailboats. Take the Casco Bay Lines Ferry from the Old Port for a 1.5-hour cruise to Chebeague Island to enjoy the island's slow pace and dollhouse-diminutive Victorian cottages. Spend the night at the Chebeague Island Inn, a restored 1920s hotel overlooking a rolling lawn down to the water's edge. Its wrap-around porch is the perfect place for a sundowner or two while watching the sun set in a state that has aptly been named "Vacationland" and whose motto is "the way life should be."