By The Seashore
A long weekend in Cape May, New Jersey, feels like endless summer.
Somewhere in our collective subconscious, there's a memory of a perfect summer beach day. A day with Jams shorts and jelly shoes; the prickle of sunburn under a slather of aloe; salty, windswept hair; a belly full of French fries—innocent pleasures somewhere on a Mid-Atlantic beach, where moms read paperbacks under umbrellas and the start of the school year seems a million miles away.
Luckily for us, there's a place where that day lives on forever. It's not Ocean City, smothered with swarms of families, or the Outer Banks, with its rows of over-muscled real estate. Just a few hours drive and a ferry ride across Delaware Bay away, Cape May, New Jersey, still feels delightfully unspoiled. Somehow both deeply 1880s and 1980s, it's a simple slice of sandy nostalgia, filled with faded Victorian painted ladies, lovely wide beaches, and a refreshing unselfconsciousness. A long weekend is the perfect amount of time to explore its porch-lined streets and then head back home—a more freckled, carefree version of yourself.
→ CRASH COURSE
Cape May is known for its historic inns and bed-and-breakfasts, with many of the town's grandest houses transformed into comfortable weekend beach retreats. Lots of lodging options also throw in free beach cruisers, chairs, and passes, which is almost reason enough to visit.
For B&B bliss, West Cape May's Albert Stevens Inn does both the bed and the breakfast perfectly. A lovingly restored former doctor's office and residence, the rooms are comfortable and tasteful with adjoining baths and a few frills. The classic farmhouse breakfast comes with dessert (why is this not a thing everywhere?), and the gratis evening glass of wine for guests is best enjoyed on the deep front porch, where everybody gets their own rocking chair.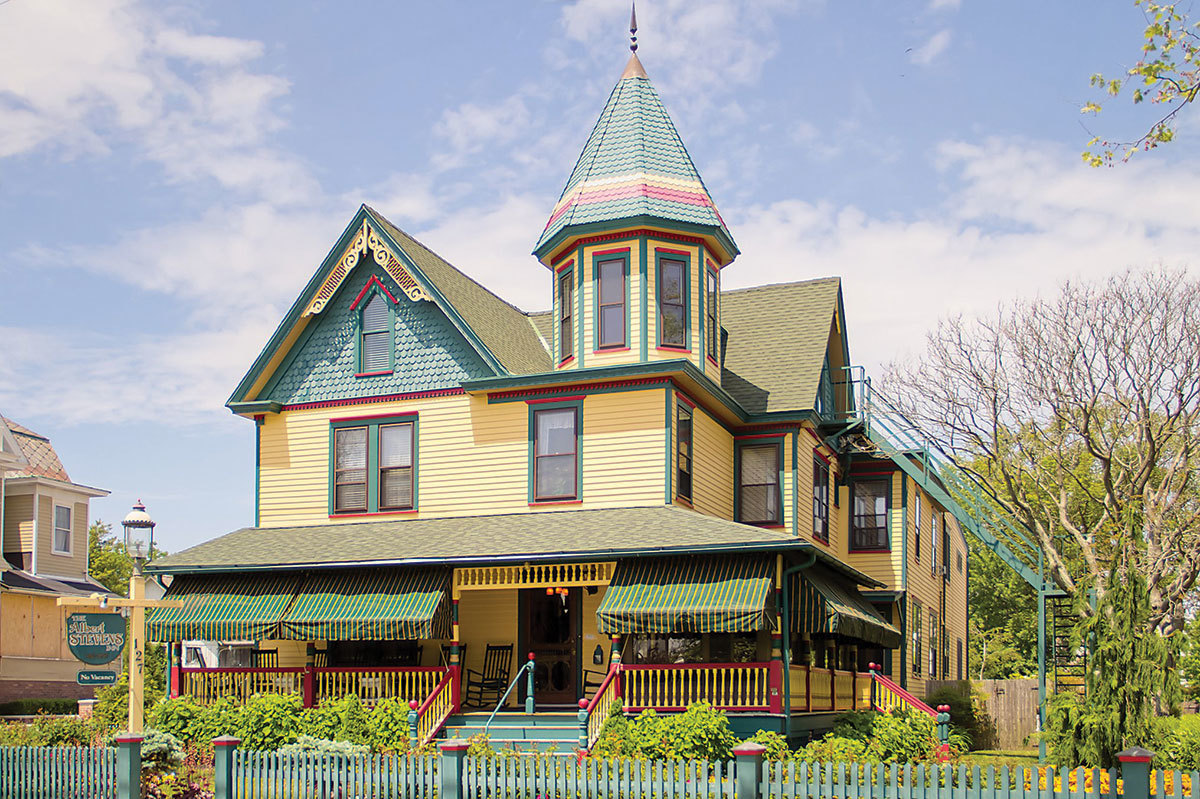 Feeling like a swanky seaside hotel is more your speed? Before Cape May was Cape May, there was the Congress Hall Hotel. Originally established in 1816, it was rebuilt in brick after the Great Fire of 1878. Known as the "Summer White House"—no, not that one—Presidents James Buchanan, Ulysses Grant, and Benjamin Harrison all relaxed on the breezy piazza—but today it's mostly regular families and cozied-up couples enjoying the ocean views and well-appointed rooms. Wherever you're sleeping, be sure to stop by the stylish Brown Room bar for a sundowner cocktail on the hotel's lawn. For the price of a couple rounds, you'll get the full Gatsby experience—straw boaters optional.
Airbnb and VRBO both have some good listings in Cape May as well, but if you do decide to go this short-term rental route, pay attention to the map and look for available options within Cape May proper for walking or biking to the beach. A big part of the charm comes from the slower, no-car pace.
→ PASTIME PLAY
Once you park the car and drop off your bags, it's time to settle into a routine of simple, sedate pleasures—long days on Cape May's well-tended beaches, pedaling around town on two wheels, and dominating the competition in Skee-Ball, putt-putt golf, and whack-a-mole. A relaxing afternoon spent exploring and shopping along the shady, candy-colored historic district with a drippy ice cream cone is as restorative to your soul as it is punishing to your credit card. But forget the guilt—this is beach-life balance at its best.
For starters, embrace your inner middle schooler and snag a bike. While most accommodations carry them, rentals are worth the splurge for those that don't. This beach town is incredibly bike-friendly and racks are everywhere—and far more affordable than parking. Cape Island Bike Rentals on Sunset Boulevard will hook you up with a sweet ride for a reasonable price. Just be sure to pick a bike with a basket to carry your picnic and chilled bottle of wine.
From there, make your way to the beach. As one of the least crowded, most civilized shorelines on the entire Mid-Atlantic coast, the Cape May beaches are well patrolled by lifeguards and amply serviced with plenty of clean bathrooms, snack bars, and chair and umbrella rentals. The sand is smooth and manicured, and dolphins swim just offshore throughout the day. But here's the skinny: it costs you money to get on the oceanfront (not a lot, and it goes towards the strand's pristine maintenance). Be prepared to buy a beach tag if you want to get in some sun before 5 p.m. It's $6 for a daily tag, $12 for a three-day tag, and $18 for a weekly tag. You can buy them at kiosks all along the boardwalk.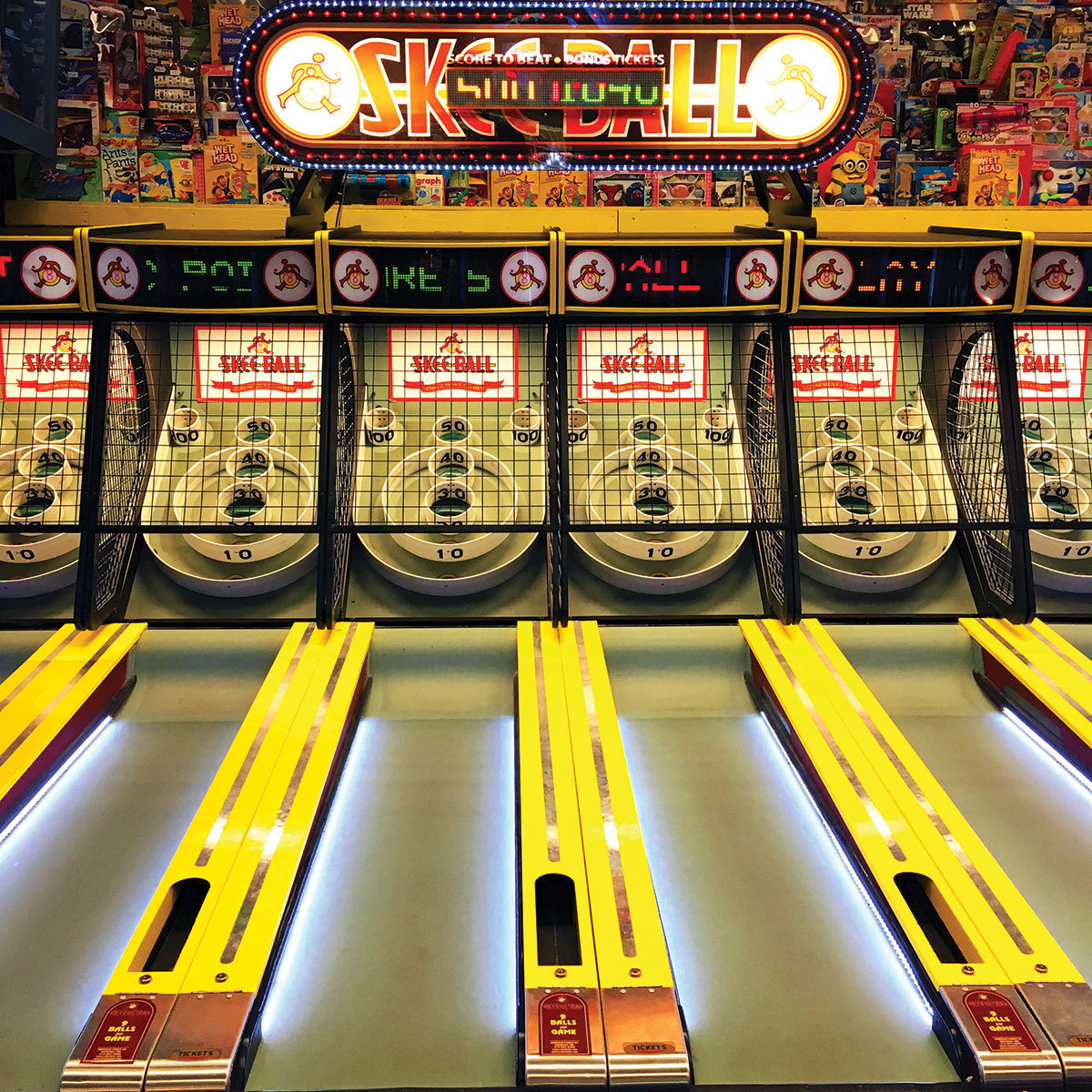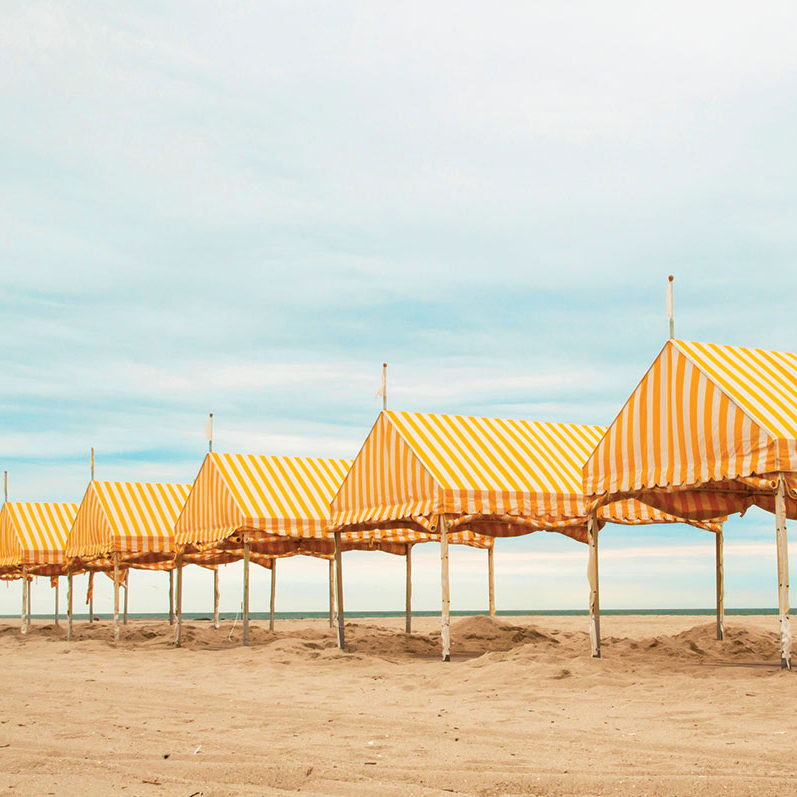 Skee-Ball and cabanas on the Cape May beach.
Speaking of boardwalks, unlike Ocean City, Maryland or Wildwood, New Jersey, Cape May doesn't actually have one; it has a promenade—aka a paved, two-mile stretch that runs parallel to the beach and has plenty of shops, restaurants, arcades, and sweetly corny putt-putt places for all your old favorites. What Cape May's promenade lacks—Ferris wheel, roller coaster, splash parks—it gains in charm, views, and tranquility. Don't miss the Cape May Arcade on Beach Avenue, where a couple of quarters let you chomp the Pac-Man ghosts to your heart's content. A few blocks down is the charmingly creepy Ocean Putt Golf, where excessively smiley vintage character cutouts watch you deliver your golf ball.
Seriously seeking souvenirs? There's plenty to lure you away from boardwalk and beach, with a quick ramble into town providing plenty of opportunities to ogle the historic district's ornate Victorian houses and offbeat shops. The industrial-chic West End Garage on Perry Street hosts scores of different vendors, selling everything from vintage postcards and pennants to snuggly socks from the local alpaca farm. Just across the street is the wonderful Flying Fish Studio on Park Boulevard, where owner and designer Sue Lotozo makes T-shirts her canvas. From Jersey tomatoes to horseshoe crabs, consider this Cape May clothing line a must-have memento.
→ BEACH-BOD BITES
While plenty of Cape May eateries still have a bit of an '80s "fine-dining" vibe (think sun-dried tomatoes, Wagyu beef, creamy pastas), there are some stellar standout spots that will slake your thirst and fill your belly. One of Cape May's greatest features is that its restaurant scene is largely BYOB. This means you can cycle over to your favorite packaged goods store—we're looking at you, Sunset Liquors on Sunset Boulevard—select a six-pack of your favorite craft beer or a preferred fine bottle of wine, and tote them to dinner. There's usually no corkage fee, which allows you to save on tipples and satisfy your craving for that banana split sundae with extra fudge.
For lunch and dinner, The Lobster House on Schellengers Landing Road is the real deal for waterfront eating—a venerable seafood joint rubbing cheek to jowl with the local fishing fleet. Skip the white tablecloths of the formal dining room and head around the back to the casual dockside raw bar. Here, you can demolish a couple dozen Cape May Salts on the half shell and wash it all down with a cold local IPA while seagulls pinwheel overhead.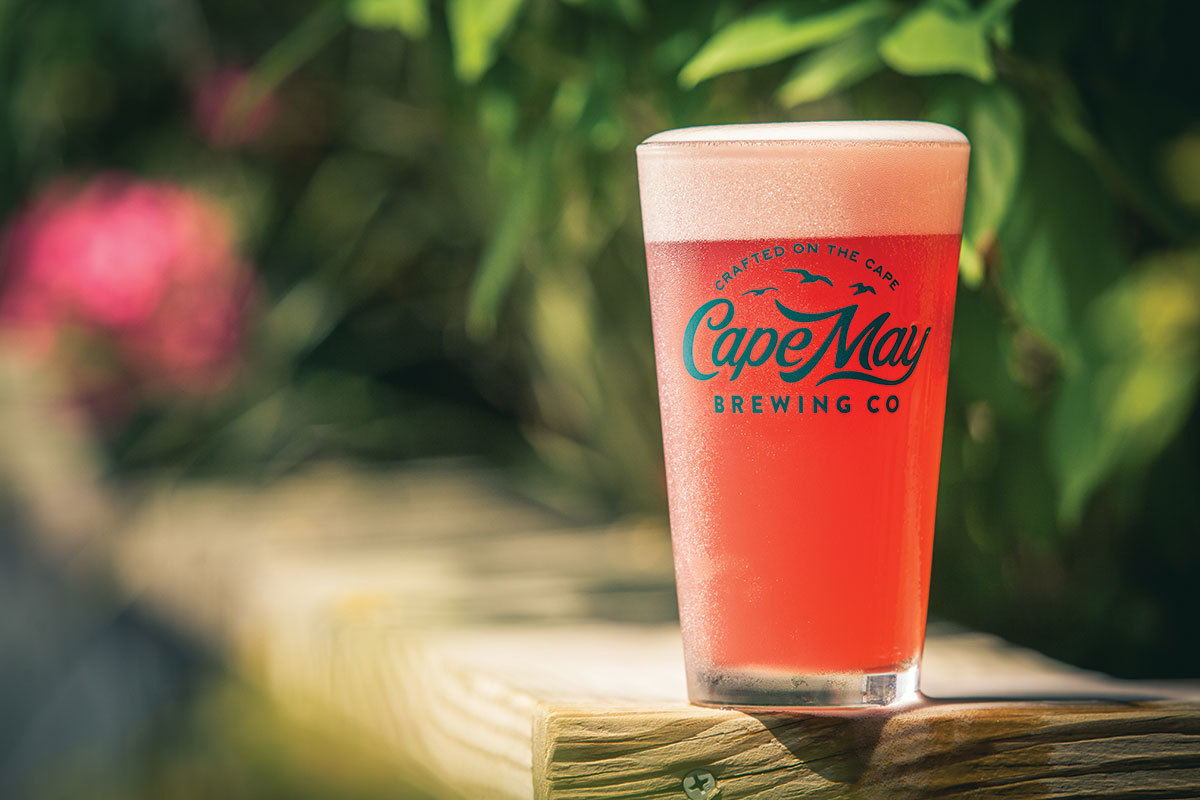 The Red Store on Cape Ave is another gem. Local fare shines in this reimagined general store, where you can walk in for a coffee or gelato, or stay for a farm-fresh meal full of bright flavors and creative combinations. Tucked away in a quiet residential neighborhood, the green, leafy surrounds provide a restful setting while you fork your way through the spicy comfort of shrimp and grits or crab and corn pancakes topped with bacon and crème fraiche.
Of course there's pizza, and then there's pizza. At the family-owned Panico's on Broadway, find the kind of pies that you just keep eating, even when you know that in 12 short hours you'll be strapping yourself into a bathing suit again, love handles be damned. Perfectly crisp yet tender with a summer-tomato red sauce and mozzarella pooling on top, these brick-oven beauties are a moment of no regrets. Uncork your bike-brought rosé and treat yourself.
For day drinks or night caps, Cape May Brewing Company on Hornet Road gets bigger, better, and more experimental every year. Based out of the small local airport that's only a 10-minute drive outside of town, this brewery's tasting room experience combines boundary-pushing beer flights with a laid-back, sandy-footed ambiance. Catch a classic movie on their big-screen projector while discussing the merits of a Coastal Evacuation IPA versus a Devil's Reach Belgian Strong Ale.
Although no food is served in the tasting room, Taco Shop Cape May is conveniently located right next door, so you can toddle over and get yourself a plate of al pastor before you heartily imbibe.