GameChanger: Luke McFadden
We catch up with the TikTok-famous waterman.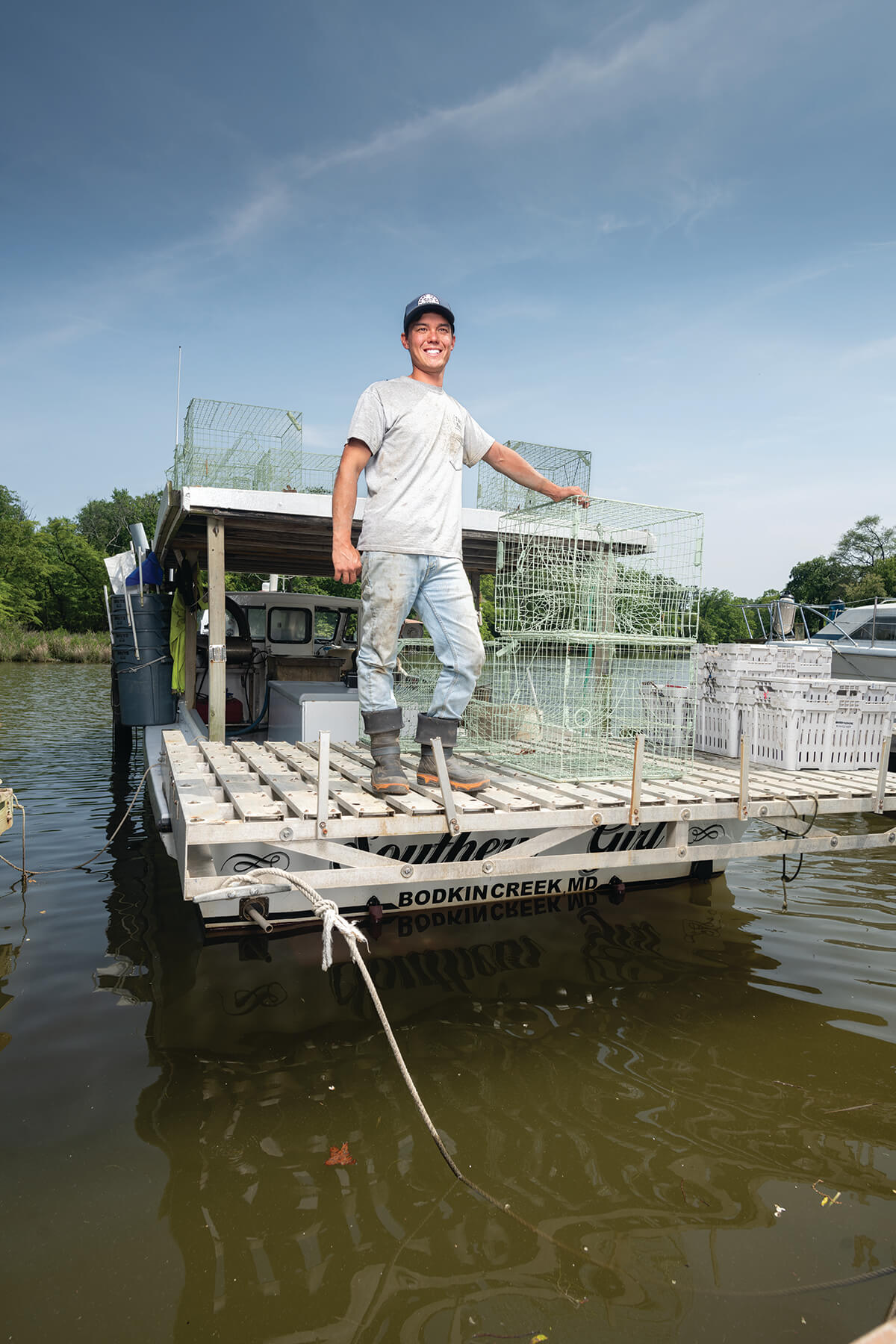 TikTok phenom Luke McFadden doesn't spend a lot of time thinking about how things have been done before. Nor does the Glen Burnie-based waterman worry what others think, never reading the comments of his 1.4 million followers. Instead, @fvsoutherngirl—his handle is named after his fishing vessel—is happy to trailblaze his own way in the estuary's traditional seafood industry, using his viral feed to share posts about crabbing on the Chesapeake Bay, rebounding wild oyster populations, and issues with invasive species like blue catfish. And he's reaching not just his Pasadena neighbors at the mouth of the Patapsco River, but people around the world.
How did you get into crabbing?
I'm first generation. My parents don't even own fishing rods. But I always loved the water and the outdoors. I saved up and bought my first boat when I was 11 out of the Pennysaver, an eight-foot rowboat. I paid $175 and got a set of oars from my grandmother for Christmas. I've been on the water ever since…My parents also had a friend named CJ who was a professional waterman, and as soon as I was old enough, he'd let me work in the yard, fixing crab pots. I was 12 when he first let me out on a real crab boat. I started working for him in the summers as crew until I was 18, when I moved out and bought my own boat. It was a slow crawl of a start. You name it, I've broken it or had to build it.
What's it like to be a waterman at the mouth of the Patapsco?
It's a total anomaly to be a waterman here. There are very few marinas that will even let you tie up a crab boat. If you have crab pots in your yard, people call the county on you. It's not easy. And the biggest hindrance to crabbing on the Upper Bay is the wastewater treatment plant out of Baltimore City. If we have a heavy rain, because of the sewage, we'll have an algae bloom that kills off the fish and crabs. We have to move all of our gear to get to clean water.
How does your approach as a crabber translate to social media?
There's a lot of "that's the way we've always done it" in the crabbing industry. But I always ask myself, "How could this be better? Where is there room for improvement?" I'm willing to innovate, even if it's a total failure…That's what people see in my videos. I don't only show the successes.
How has social media changed or supported your crabbing business?
I was trying to devise a way to sell all of my crabs direct to the public, to cut out the middleman. So I just started making videos about crabbing. It didn't catch on at first, but I treated it like crabbing, like a job—I knew it would be hard for a while. A couple videos went viral, and then things just took off. Now I ship crabs all over the lower 48. I livestream crabbing in real time every day. You can watch us crab, order the catch, and have them two days later.