Eight Great Ice Festivals Within Three Hours Drive of Baltimore
Cure cabin fever with these regional frosty festivals.
Restless residents of frostbitten places learned long ago that when winter gives you frozen water, carve it. Make sculptures. Ice castles. Ice luges. Why not? With ice, the aurora borealis is the limit: thrones, cocktail bars, bowling alleys, shuffleboard courts, slides, sleds—anything the ice artist's chainsaw, chisels, and imagination can conjure to make bleak midwinter more festive.
The jury is still out on whether Russia or China invented the ice festival, but the world's largest ice-centric celebration, the Harbin International Ice and Snow Sculpture Festival, is held in Heilongjiang province in northeast China. Meanwhile, Montreal started North America's glacial gaiety in the Victorian era, crafting elaborate ice palaces 10 or more stories high.
The United States' oldest frosty festival is the Saint Paul Winter Carnival in Minnesota. It began in 1886 as a rebuke to an East Coast newspaperman's verdict that the city was "unfit for human habitation in the winter." The city—year-round population 305,000—draws more than 100,000 visitors to its carnival every winter, but who's gloating?
In addition to ice sculptures and winter games, one of the festival's enduring elements is the symbolic battle between the forces of winter (led by Boreas, the ice king) and approaching spring (under Vulcanus Rex, king of fire). Many festivals still honor the ice and fire duality. Game of Thrones fans, rejoice.
The Harbin festival lasts for months, St. Paul's for a week and a half, but Maryland's temperate winters don't permit such prolonged celebrations.
"The maximum is three days," says Christine Rose of Ice Lab in Glen Burnie. The company sculpts celebratory ice for numerous chambers of commerce and municipalities, as well as for private parties, throughout Maryland and beyond, working with experienced carvers from across the country.
If China or Minnesota isn't in your travel plans this winter, enjoy the spectacle of decorative and functional ice works next month at Baltimore's own Harbor Point Ice Festival (January 21) and at these eight great festivals within three hours' drive of the city. Unless otherwise noted, all offer free admission.
Through December 31
National Harbor, MD (11⁄2 hours from Baltimore)
Ice attractions don't come much bigger than this enormous glacial spectacle: two million pounds of ice—hand-carved by those same Harbin artisans from China—depict larger-than-life scenes from the holiday film favorite, A Christmas Story. On top of that, they're in Technicolor. Thousands of chemically colored ice blocks render Ralphie Parker in his pink bunny suit, the Old Man's leg lamp, and other familiar movie vignettes, each preserved in high-tech fashion at an arctic 9 degrees Fahrenheit.
A timed-entry attraction, with tickets ranging from $28 to $45, ICE! is open to both day visitors and the resort's overnight guests. Make it a family outing, don a resort-provided parka, and explore the 17,000-square-foot attraction, passing through frosty tunnels and taking a ride down an ice slide that mimics the kid-sluicing chute in A Christmas Story's department store Santa scene.
January 13-14, 2023
Cambridge, MD (2 hours)
A coastal storm cut short Cambridge's inaugural festival last winter, but hardy Dorchester Countians still showed up by the thousands in the snow. The event returns in 2023, bigger and better prepared for Old Man Winter (January 15 is the backup date). Featuring more local business-sponsored ice sculptures than 2022 and popular on-ice games (a putting green, shuffleboard, cornhole toss, tic-tac-toe), the festival is "the most family-friendly event we've ever had," says Bill Christopher, president of the county Chamber of Commerce.
Sculptures crafted by Ice Lab (whose owner grew up in Cambridge) depict local culture: a hunting blind, a skipjack, Choptank River Lighthouse, and native daughter Harriet Tubman. A king-size ice throne and cock- tail-dispensing bar will also return. Best of all, the oyster shuck-and-slurp relay pits two-person teams racing to finish a dozen bivalves. Non-contestants strolling Cannery Way can slurp oysters, too, washed down with local craft beers.
January 26-29, 2023
Chambersburg, PA (2 hours)
This four-day celebration in south-central Pennsylvania—billed as the state's largest ice festival—lines downtown streets with more than 80 frozen sculptures. Entering its third decade, IceFest has become a point of civic pride. Businesses sponsor sculptures fashioned more or less in their own images: a church's crystalline Celtic cross, a mobile phone dealer's icy Android icon, a bail bondsman's frozen bank robber. Spectators can view carving demonstrations by the festival's ice-block Michelangelos, the DiMartino Ice Company of Jeannette, Pennsylvania.
Enjoy free rides on a double-wide ice slide. Go skating on a parking lot-turned-ice rink. Follow the Cake Walk to judge and vote on your favorite frosted confection. There's a polar dunk tank for unleashing your schadenfreude, a scavenger hunt for kids where ice sculptures contain clues, and the Run Your Ice Off 5K race for road warriors. Stay warm at the hot chocolate bar and chili cook-off station.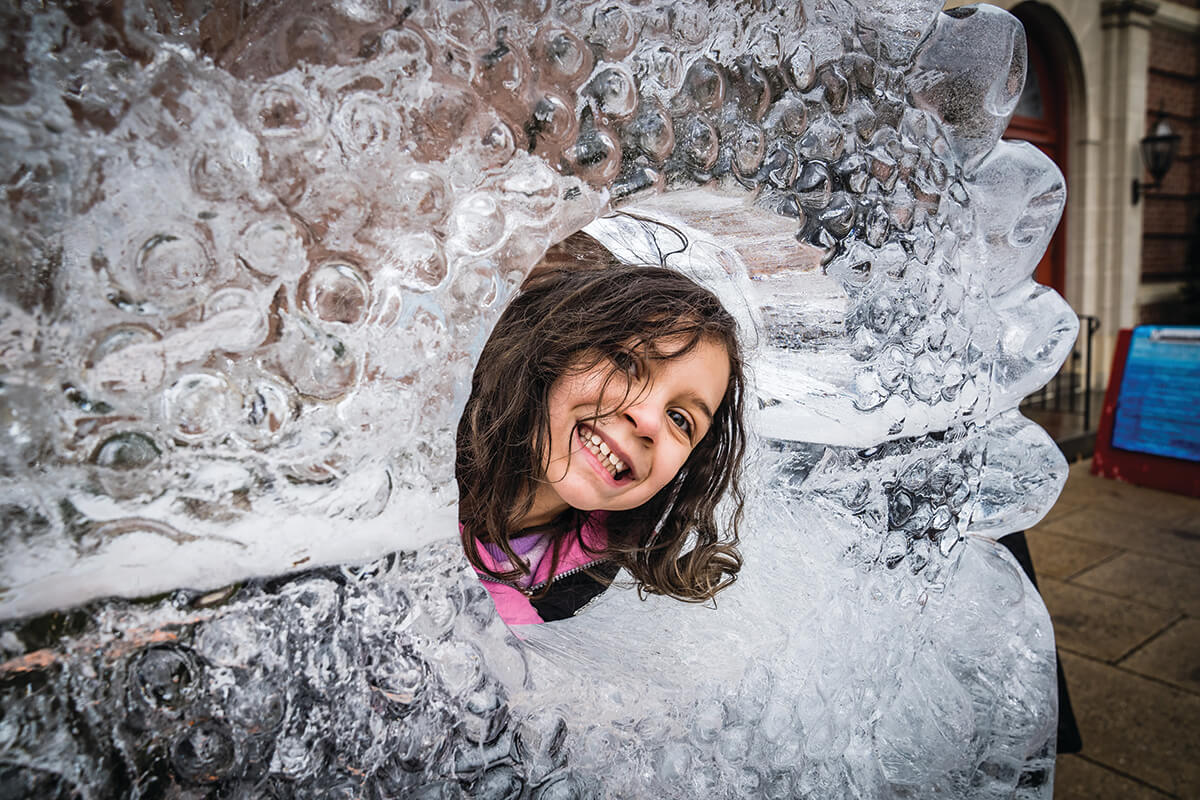 January 27-29, 2023
Bethany Beach, DE and vicinity (3 hours)
A favorite with summer visitors, "The Quiet Resorts" become a mid-winter destination during the three-day Fire & Ice Festival based in Bethany Beach. Each year features a themed celebration that spills into surrounding communities. The 2023 theme is "Lights, Camera, Action!" Sixty or more large ice sculptures will grace the Bethany Beach boardwalk and other locations, all illuminated at night in a glittering spectacle.
Meanwhile, area bartenders will be busy concocting Hollywood- themed cocktails in a friendly competition. Festivities officially begin with a Friday night beer garden and conclude with fireworks on Saturday. In between (and on Sunday), there's live music, ice-carving demonstrations, a chili cookoff, beer gardens, and more. After years of almost summer-like weather, the 2022 Fire & Ice Festival also fell victim to January's coastal snowstorm. Organizers have set February 3-5 as 2023's backup dates.
February 4, 2023
Frederick, MD (1 hour)
What began as a modest 12-sculpture display in 2005 has blossomed into an ice extravaganza that fills Frederick from end to end with ice artistry, a variety of food offerings, and activities for all ages. Look for more than 100 frozen sculptures to line city streets this time. There will be a new Polar Lounge for adults and a kid-friendly ice game zone, as well as a live ice-carving demonstration and fire performances in various locations. February's edition of the Downtown Frederick Partnership's popular First Saturdays,
Fire In Ice features special promotions by downtown merchants and a hearty sampling of the fare served at Frederick's renowned restaurants, including a food truck court at the Carroll Creek Amphitheater. Festivities continue into the night, when fire pits beckon visitors to warm themselves and toast marshmallows over the flames.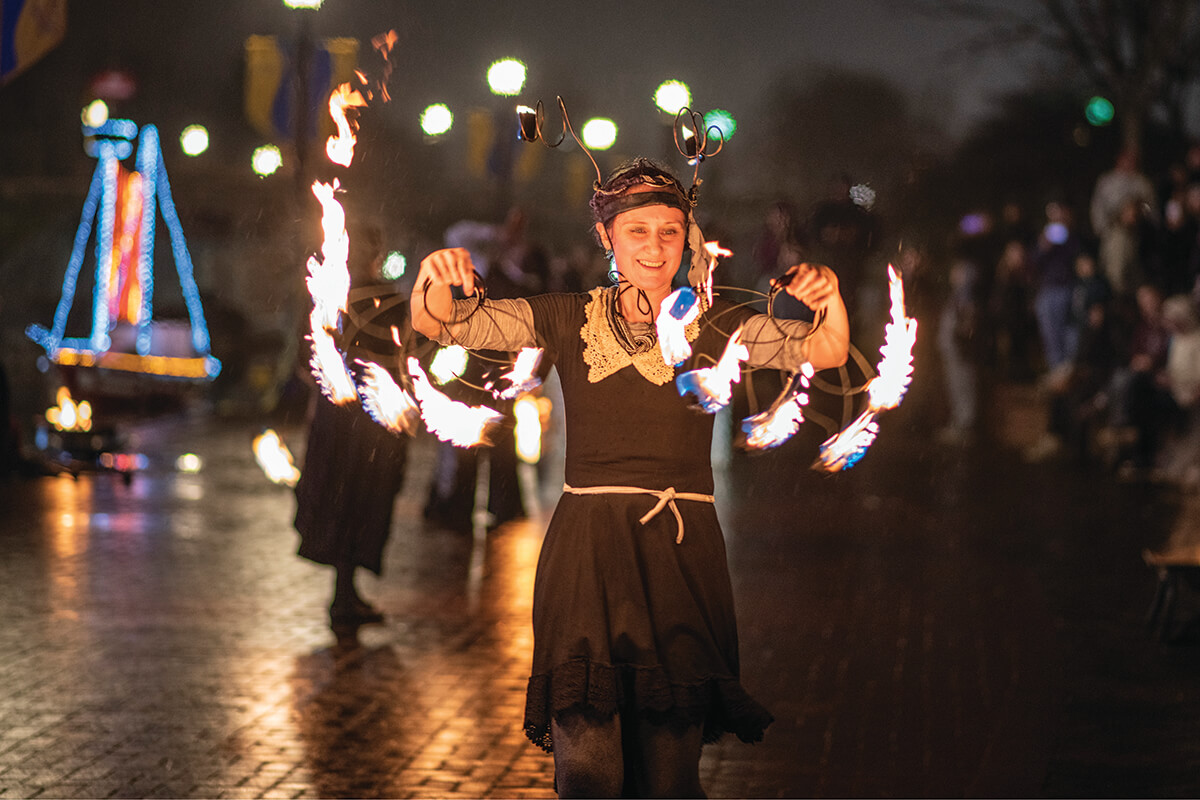 February 17-18, 2023
Easton, MD (1 1/2 hours)
Now entering its third year, this Presidents' Day weekend festival brings ice artistry to one of the Eastern Shore's most arts-oriented communities, home of the Avalon Theatre and Academy Art Museum. Even in 2020, an estimated 8,000 people attended the three-day inaugural event to see 300-pound chunks of ice whittled into elaborately detailed figures, family games, and other interactive attractions, like a wall of ice on which visitors carved their initials.
The LED-lit sculptures are traditionally unveiled Friday evening during the Ice Block Party and live carving demonstrations are held throughout the event. A previous festival featured fire jugglers and fire dancers, as well as belly-warming food and drink from local purveyors. Holly DeKarske, executive director of the Easton Economic Development Corporation, says the event is still being planned for 2023.
February 17-26, 2023
Lititz, PA (1 1/2 hours)
Known for its Moravian origins, little Lititz attracts at least twice its official population every February for this event, which has expanded from one weekend to its present 10 days. Three downtown streets and the entrance to the lovely Lititz Springs Park become outdoor galleries as bundled-up, strolling visitors ooh-and-ah over scores of sculpted frozen artworks. Festivities begin with Winter's Coolest Night Out, a preview party (tickets required) featuring live music and ice carving demonstrations.
Organizers promise more interactive ice attractions for young and old in 2023, as well as a return of Winter FUNderland, a kid-focused day, and the Fire & Ice-themed pub crawl for imbibing-age adults. Don't miss the Maker's Market, a showcase of local artisans' works on the second weekend, February 25-26.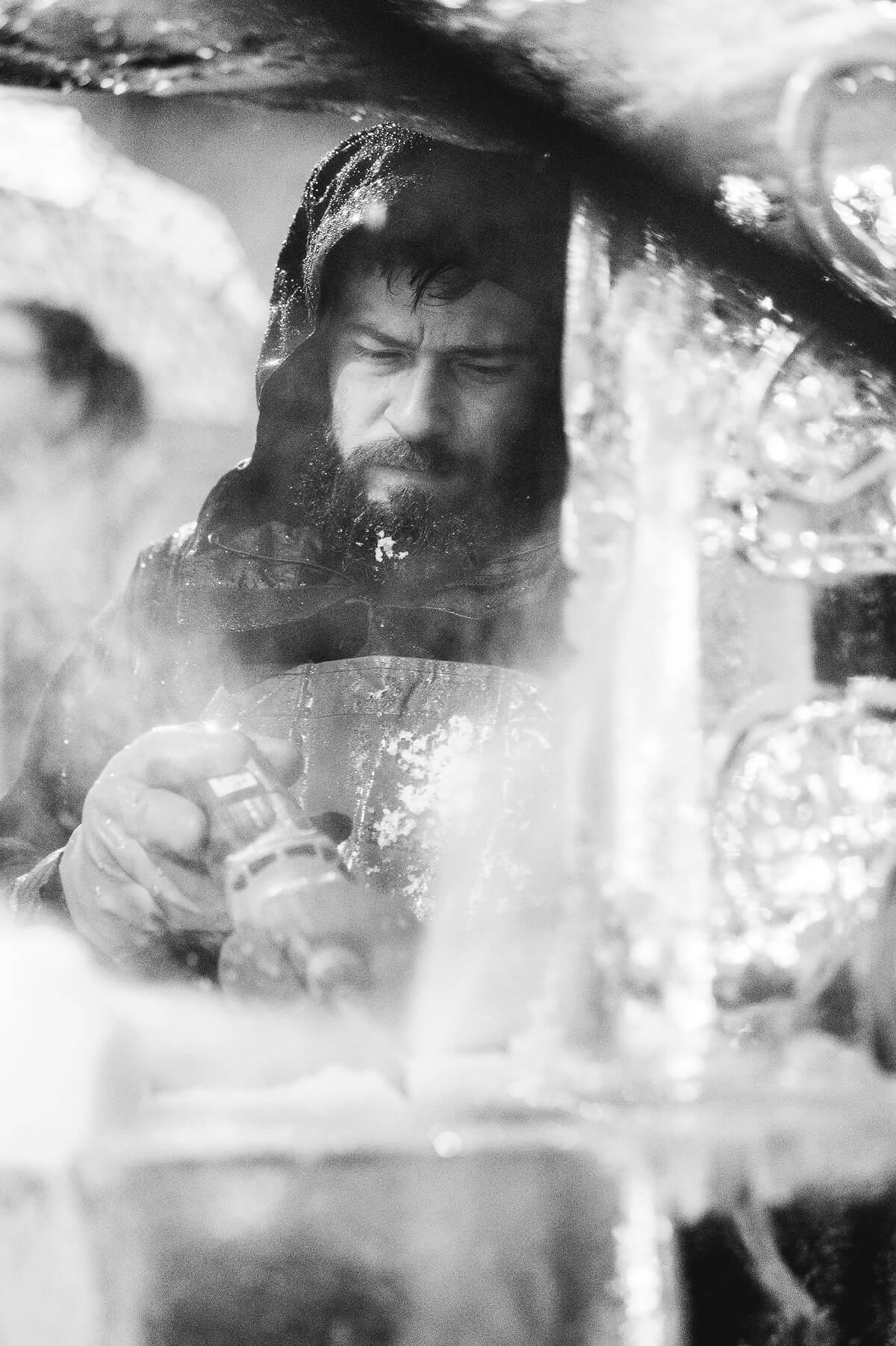 February 18, 2023
Oakland, MD (3 hours)
Perhaps no Maryland town is better suited to host a frosty festival than Oakland, which holds the state's coldest-temperature record (minus 40 degrees Fahrenheit back in 1912). Shiver not; the thermometer typically reads in the 30s over Presidents' Day weekend—just right for Oakland's annual Winter Fest. Plans for 2023 were still solidifying, so to speak, at press time, but one of the event's most popular attractions is the Wine Walk. In 2022, the seven-stop tasting tour was a sell-out.
There will be family-oriented activities—a gigantic inflatable Toboggan Tunnel was introduced last winter—contests for kids, and tours of historic attractions, like the 1884 B&O Railroad Museum and the town's Garrett County Historical Museum. And there's always something imaginative; one year, it was an interactive bowling alley made of ice with frozen cantaloupes as bowling balls.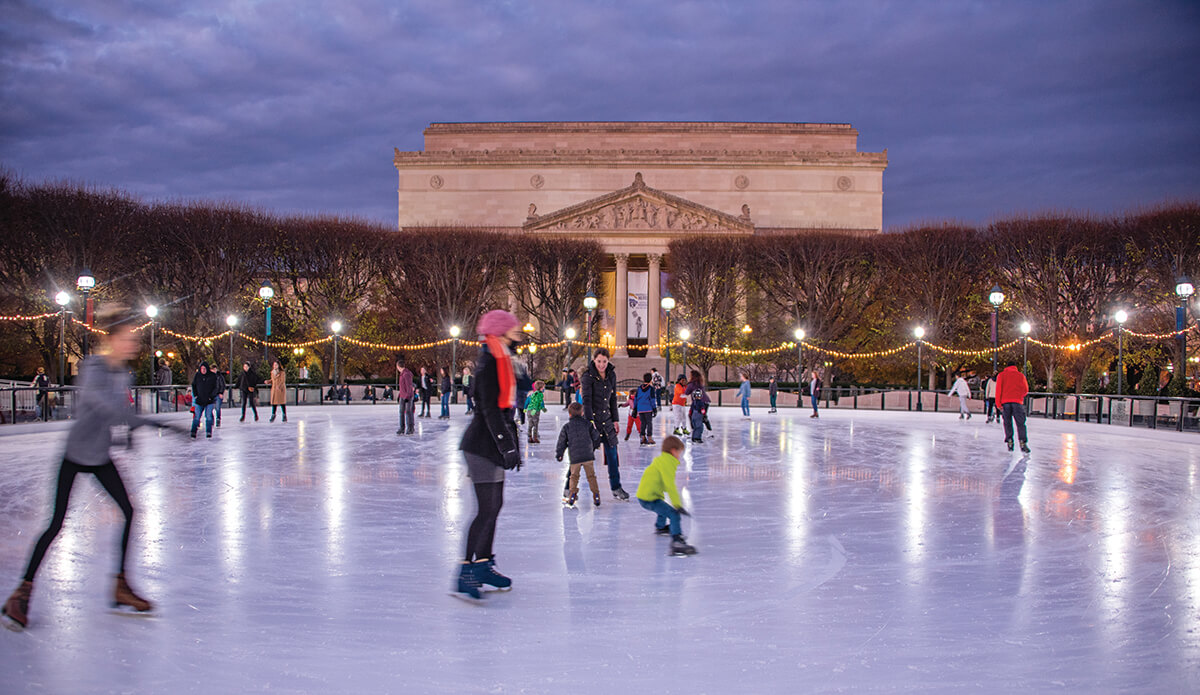 ■ More day trips for ice junkies
Ice is nice for recreation and sports, too, of course. Whether you're into figure skating, ice hockey, or one of those curious Winter Olympics sports (curling, anyone?), consider these regional destinations.
• Practice toe loops a la local Olympian Kimmie Meissner at Ice World in Abingdon. On Friday and Saturday night public skates, the indoor rink features a light show similar to those that the champions skate to. (30 minutes)
• Show off your crossovers in the Nation's Capital. The National Gallery of Art's outdoor ice rink at the Sculpture Garden makes an unparalleled setting for day or evening skating. (1 hour)
• Get your ice hockey and chocolate fixes in Hershey, Pennsylvania, where the Hershey Bears, a Washington Capitals development club, play at Giant Center. (11⁄2 hours)
• Learn curling at the National Capital Curling Center in Laurel. Its Saturday Morning Breakfast Extravaganzas offer lessons, breakfast, and a game in the Potomac Curling Club with other stone- sliding neophytes. (40 minutes)