Family bonding on long road trips, endless beach nights with friends, discovering new cities and cuisines – just a few things that can bring joy and a sense of normalcy during such uncertain times. So, how can you travel this summer and fall while staying safe from the novel coronavirus? To learn more, we talked to Dr. Kyle Yost, DO, assistant professor of family & community medicine and orthopaedics at the University of Maryland School of Medicine.
Is it safe to travel out of state this summer?
Ideally, you are safer at home. If you decide to travel, it's important to know if that area is experiencing an increase in cases which puts you at higher risk. COVID-19 has been found in all 50 states and the situations are constantly changing. Some states may require a 14 day quarantine upon entry, so be sure to check the area's restrictions for which you are traveling.
What are must-have items to bring with me while traveling?
In addition to a mask and hand sanitizer, bring all of your medications for the duration of the trip plus a few days. You may also want to bring food and water, as dining options could be limited.
What precautions should I take on an airplane?
Wear a mask in the airport, on the plane, wash your hands often and avoid touching your face. You can call the airline ahead of time and ask what new policies they have implemented to prevent virus spread. Find out if the airline is limiting the number of people on the plane to allow for proper social distancing.
How about while staying at a hotel?
Always wear a mask when entering and leaving the hotel. Utilize contactless options such as check in, check out and room entry. Call ahead of your stay and ask about their guest room cleaning and sanitization protocols.
What activities should I avoid during my trip?
Avoid crowded areas where you cannot socially distance, including large gatherings. Being outside is ideal compared to inside activities.
What should I do if I develop symptoms while away from home?
Isolate yourself and try to have your own bathroom if possible. Get rest, stay hydrated and take over the counter medications such as Tylenol. Call your physician or set up a virtual visit to discuss your symptoms. If you develop trouble breathing, chest pain, confusion, decreased alertness, blue lips or if symptoms are worsening, go to the nearest emergency room.
If I don't have symptoms, should I be tested for COVID-19 when I return home?
You should quarantine when you arrive home from your travels, and get tested roughly five days later. Identify a testing center near you and ask if they require a physician's order for the test.
Any other tips to prevent virus spread while traveling now or into the fall/winter?
As previously mentioned, you are safer at home. Avoid unnecessary travel when possible, wash your hands frequently, avoid touching your face, and socially distance when possible. If you tested positive in the past, that does not necessarily mean you are immune and you may be able to get it again. So still use the safety precautions to help prevent yourself from getting re-infected.
What is University of Maryland Family & Community Medicine doing to keep patients safe before and during their next visit?
Patient safety is our number one priority. Hand sanitizer is available throughout our facility, all patient rooms are thoroughly disinfected with high percentage alcohol cleaners, and our waiting areas are arranged for proper social distancing. Patients also have the option of waiting in their vehicles. Additionally, staff is screened at the beginning of each day, patients are screened upon arrival, and we use two separate entrances based on medical need.
---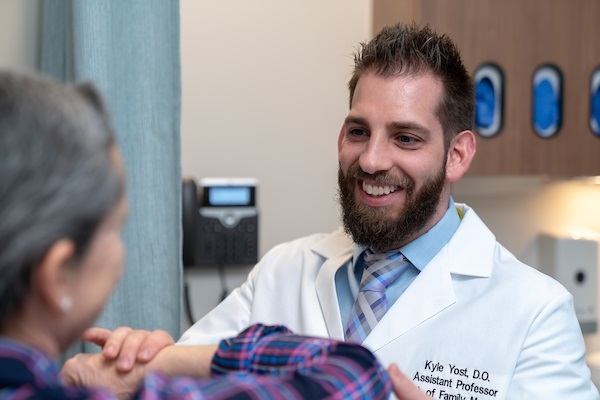 Dr. Kyle Yost, DO, assistant professor of family & community medicine and orthopaedics at the University of Maryland School of Medicine.