In the land of luxury living, 414 Light Street is taking a different approach to connect with their residents: This resort-inspired, luxury high-rise apartment complex sits at the edge of the Inner Harbor, providing guests with the highest quality views, amenities, services, and experiences. What sets it apart from other luxury-living options is its dedication to cultivating relationships within the community through a series of social events.
To appeal to residents' interests, Franklin James, the Lifestyle Manager, hosts a multitude of gatherings, ranging from health and wellness services to cooking tutorials, fitness competitions, off-site happy hours, and more. We had the opportunity to sit down with James and learn more about how this new standard of up-scale living creates an unparalleled experience for its residents.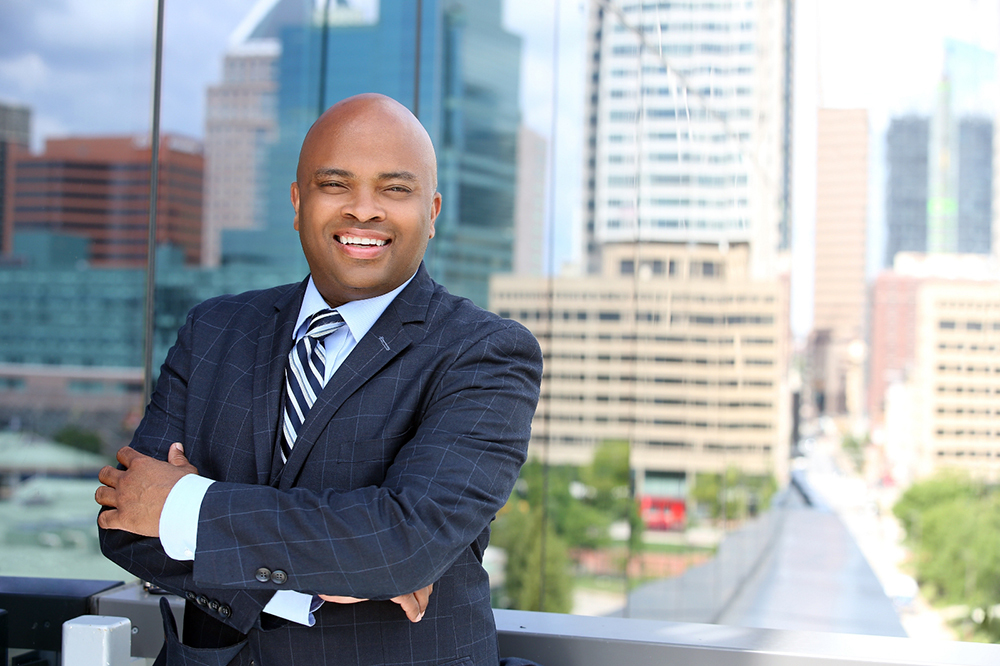 Franklin James, Lifestyle Manager
James takes great pride in his work: He's created an "on-boarding" welcome letter with a questionnaire and option for recommendations to better accommodate his clients and guarantee their happiness. By knowing everyone's names, interests, and living preferences, he is able to curate their ideal events and personalize their living experiences. It is worth noting that many of the residents at 414 value anonymity, safety, and security, because of their executive statuses. James honors these values, and through these exclusive events, he has built and maintained trust that encourages the foundations for a tight-knit community. He's proud that his residents are comfortable with creating new connections amongst themselves. James considers it "an extension of family." He laughs to himself as he says, "Somedays, residents come together and create their own mini-events on the 7th floor and I get nervous, thinking 'How did I forget about one of my own events?'" He is honored knowing that 414's residents have found such relationships.
Boasting over 40,000 square feet on the 7th floor of the 44-story complex, the recreational amenities floor provides guests with a fitness center (which will soon hold two new Peloton bikes following guest requests), multiple lounge areas, a conference room, kitchen, and media rooms. The outside portion of the floor features a pool, co-op style garden, mini-field for outdoor activities, and even a giant 16′ dual sided television for community movie nights. The possibility for a variety of up-scale events seems endless on their 7th floor oasis with breathtaking views of Baltimore.
414 Light Street goes above and beyond to create one-of-a-kind experiences for their residents.
414 Light Street goes above and beyond to create one-of-a-kind personalized experiences for its residents. Just a few scheduled for this summer are Jazz on the Rocks, Food Truck Festival, Peloton Bike Competition, Paddle Board Yoga in the pool, outdoor concerts, and Cooking Classes, where residents harvest their very own ingredients from the garden. Needless to say, these events are the epitome of luxury. One resident stated, "living here is like being on vacation everyday."
These opulent experiences are creating a new standard for luxury living. 414 Light Street has an unmatched level of personalized service with a 24-hour concierge and staff to offer a wide array of engagement activities and events. Health-conscious activities, like boot camp and yoga in the facility's private studio and meditation classes, are just a few of the wellness-centric options for guests. For those interested in more social opportunities, James plans happy hours (both on- and off-site), cooking and meal preparation demonstrations, pop-up art shows, tea tastings, paint and sip classes, garden clubs, and book clubs. Of course, all residents receive a luxury experience and even pets are included. 414 provides an on-demand dog walking service, grooming, and pet sitting. In addition, they offer on-site car washing, same-day dry-cleaning services, and on-site spa treatments, including massage, acupuncture, and reiki healing, to name a few.
All of these events require some kind of collaboration with experts on their various themes. 414 Light Street supports local businesses through more than 25 partnerships, all of which are affiliated with an array of industries. Whether local artists are being featured at a private art show or a fitness instructor is teaching an exclusive class, James solely relies on local collaborations for all events. He supports his residents and also creates exposure for Baltimore entrepreneurs: "We're trying to support local while also supporting 414's internal community." Through his services, James has created new opportunities for residents to get to know one another, as well as the local surroundings. His values of community and elevated services offers residents a lifestyle of seamlessness and ease.