Special Section
Summer Camp Guide 2019
Here's a parent's primer to finding the right summer camp for your progeny.

---
If you're feeling overwhelmed in your search for your kids' perfect summer camp, it's small wonder. Consider that there were once only two types of camps: day and sleep-away. And both offered things such as traditional arts and crafts (making lanyards, popsicle-stick artwork, and really crude wallets) and sports (dodgeball, basketball, baseball, swimming, and, if there was a lake, boating and perhaps waterskiing). But today, like everything else in our fast-morphing world, camps have evolved.
"While traditional camps are thriving, today there are more and more specialty camps," says Tom Rosenberg, president/CEO of the American Camp Association (ACA). And, though they're still in demand, traditional camps have also changed with the times, offering more options for activities and a bit more excitement.
"Sports are more extreme but still safe," says Marty Rochlin, director of Camp Airy for boys (affiliated Camp Louise is for girls). "At Airy, there is a skate park and there's aerial arts and circus at Louise. In addition, we have go-carts, zip lines, and Ninja Warrior. We have digital music, and our culinary offering is so popular that we have a waiting list." Rosenberg adds, "Many camps' arts and crafts programs have fine arts and silver works. And some camps have added digital photography and STEM [science, technology, engineering, and math]."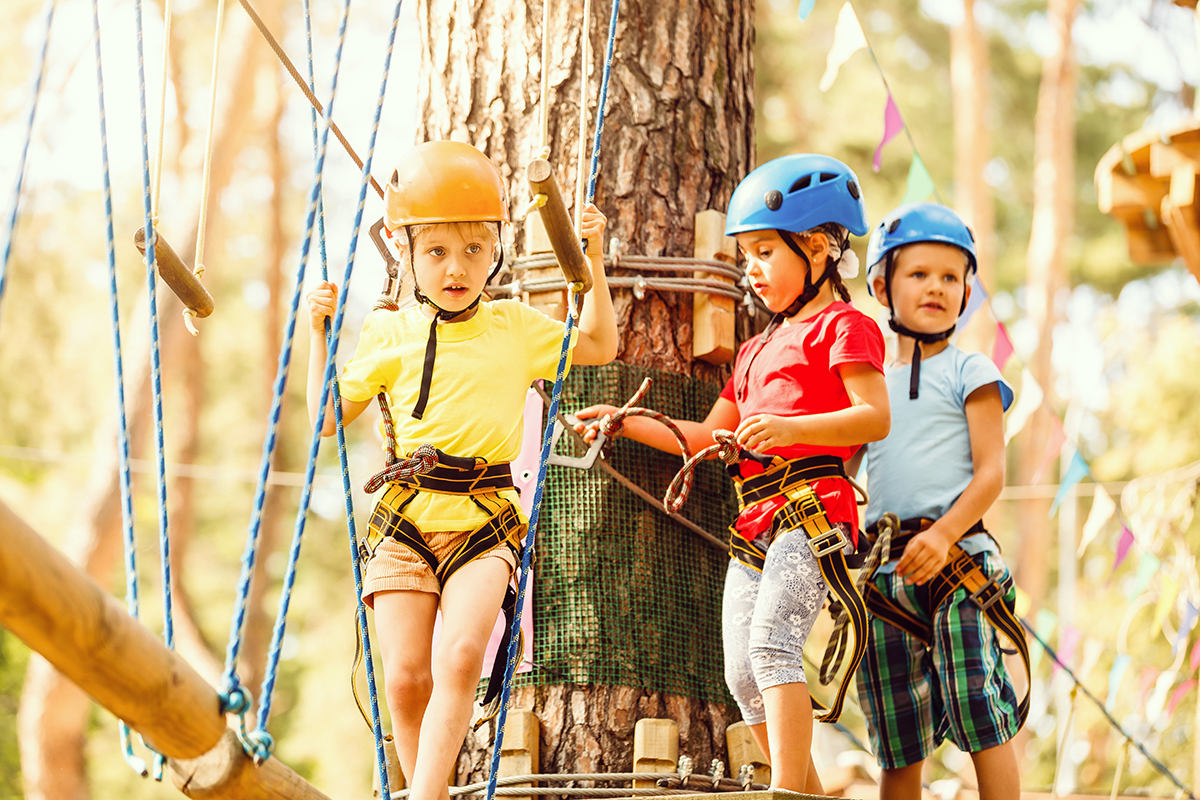 "even the length of stay at camps
has changed."
Eve Eifler's business, Tips on Trips and Camps, matches kids with summer programs that range from classic overnight camps to community-service travel opportunities for high-school students. "Some traditional camps allow campers to choose some of their activities, while others schedule by bunk or age group, both within the context of traditional style and activities," she says, underscoring an important question to ask when gathering information on a camp.
When you think of specialty camps, there are now more offerings than tennis, golf, computer, and music. Rosenberg says, "There are cooking, leadership skills, circus, debate, wilderness skill building, leader programs focusing on teamwork, and STEM camps." There are also camps for kids with dyslexia, asthma, and diabetes. You can also have a camp with some religion mixed in. And then pick your scenic backdrop: Camps in our area are by the Chesapeake, the mountains, at private schools, and on college campuses.
Even the length of stay at camps has changed. "For younger kids in the 8-12 age range, traditional camps that offer arts and crafts, nature, sport, and water activities are still popular," says Eifler. "But there is a push from parents to offer two-week sessions. This is shorter than the three-, four-, six-, or seven-week sessions of past years. It has been motivated by a combination of busy summers with vacations and the desire for a variety in activities. Many parents opt for two weeks, perhaps followed by a short specialty camp and a family trip."
Wondering whether to send your child to a co-ed or single gender camp? "Same-sex camp allows a different atmosphere," says Rochlin. "Kids are away from gender stereotyping, are surrounded by a real good crew of role models, and don't have to worry about how they look every minute."
So, how do you know if your child is ready for sleep-away camp? Rosenberg suggests you ask yourself if your child has had sleepovers at a friend's or relative's house and if they separate from you easily. "Also, we find children who have an older sibling who has attended an overnight camp tend to go to camp at an earlier age." He adds, "If they haven't had a sleepover, arrange one. If you're thinking about it for next year, plan a visit to the camp to get your child excited."

camp resource guide
Following is a list of just some of the camps in or near Maryland, grouped in different categories, offering everything from religious study and computer skills to sports training. Most camps encourage parents to register online. Camp websites may have updated rates and dates by March 1.
---
---
Arts, Academia, and Skills
» Baltimore Clayworks
5707 Smith Ave., Baltimore, MD 21209; 410-578-1919; baltimoreclayworks.org.
Offering 11 weeks of full-day camps for children ages 6-9 and 10-12 years, and half-day camps for teens. Campers will become masters of their craft while exploring hand-building and potter's wheel techniques to create their own inspired clay masterpieces. All camps run Monday-Friday, and class fees include all materials and firing.
» Camp Center Stage
700 N. Calvert St., Baltimore, MD 21202; 410-332-0033; centerstage.com/education/campcs.
Camp Center Stage is a two-week day camp for students in grades 2-12. Campers build creative confidence and self-awareness through fun explorations of theater. Camp BCS gives children and teens the chance to play, express themselves, make new friends, and get artistic instruction from a team of highly trained professional teaching artists. Each two-week session culminates in a presentation of student work for family and friends inside one of Center Stage's newly renovated theaters. Classes include acting, dance, circus arts, and theater production. The price includes a free lunch and a Camp CS T-shirt. Scholarships available. Register online. $750, four sessions, June 17—July 12 serves grades 2-7; July 15-26 serves grades 8-12.
» Camp Jemicy
11202 Garrison Forest Rd., Owings Mills, MD 21117; 410-753-8032; jemicyschool.org.
The five-week summer camp for students ages 6-14 run by Jemicy School offers skills instruction, tutoring, and recreation for children with dyslexia and other related language-based learning differences. Full-, half-, and extended-day programs. June 24—July 26.
» Columbia Academy Reading Road Trip Summer Camp
7425 Maple Lawn Blvd., Fulton, MD; 301-497-8610; 301-327-2714; columbiaacademy.com.
Reading Road Trip promotes summer reading by having campers explore weekly themes for fun and recreation and go on a virtual great American road trip, learning about everything from sharks and dinosaurs to American presidents. Themes will vary for pre-school campers, who learn about trains, farm life, and children's authors. June—August.
» Debate Camp
Loyola University of Maryland; 800-450-5012; capitoldebate.com.
Though it's perfect for your oratory extrovert, this also might be a fit for a child "who is shy or can't talk to more than two people without their knees shaking," says Ron Bratt, CEO of Capitol Debate, which has run debate camps at Loyola for 9 years and in the D.C. area for 17. Programs—from middle school debate camp to public forum debate camp—include an overnight or day-only option and are run by experienced debate coaches, but be warned, these camps sell out quickly. Two-week session, July 14—26.
» Gettysburg College Summer Academic Programs
300 North Washington St., Campus Box 2457, Gettysburg, PA 17325; 717-337-6924; gettysburg.edu/summercamps.
On a beautiful campus in a world-famous town, Gettysburg College offers several opportunities for high school students over the summer months. Its one-week programs give you not only a view of the Civil War battlefields but also hands-on experience for each academic camp. Subjects include psychology, creative writing, Sunderman Piano Institute, Information Technology 3D printing, and Information Technology Coding for Robotics and Electronics. Live on campus, eat in the dining halls, and learn from professors and experts. Learn more about Gettysburg's summer programming and pricing on its website, or call 717-337-6924.
» Gilman Summer!
5407 Roland Ave., Baltimore, MD 21210; 410-323-3800; gilman.edu/community/gilman-summer. Contact: Kip Digges; 410-323-3800, x627; [email protected]
Enrichment and skill-building programs for girls and boys grades K-12 designed and taught by Gilman faculty and field experts. Past classes have included an extensive art program, STEM courses, outdoor education, SAT prep classes, foreign language, and sports camps. Classes include Young Engineers, Summer at Hogwarts, Outdoor Experience, Nature Explorers, Art of Cooking, Summer Music Camp, and more. Sessions run June 10-July 19. Two, three, and six-week academic courses ($1,250-$1,500). One-week enrichment camps ($250-$350), mostly half-day, typically 9 a.m.-2 or 3 p.m.
» Goucher College
1021 Dulaney Valley Rd., Baltimore, MD 21204; 410-337-3052; goucher.edu/gogoucher.
Goucher College hosts one-week sessions during the summer for students from kindergarten through 12th grade. Programs range from creative writing workshops for high school students to science and all sports camps for elementary and middle school students. Our programs aim to build skills that will help children become stronger students and/or athletes while having lots of fun and making new friends in a supportive environment. Full- and half-day camps take place throughout the summer. For pricing and registration, visit goucher.edu/gogoucher.
» Howard County Arts Council
8510 High Ridge Rd., Ellicott City, MD 21043; 410-313-2787; hocoarts.org.
Council programs are held at the Howard County Center for the Arts, which includes resident artists' studios, two professional galleries, a dance studio, the black box theater for performing arts, and the offices of the Howard County Arts Council and The Columbia Orchestra. Students may select from age-appropriate visual and performing arts camps including pop art, Shakespeare, recycled art, and much more. Programs are open to the public, regardless of residency, for grades K-7.
» Loyola Blakefield
500 Chestnut Ave., Towson, MD 21204; 410-823-0601; loyolablakefield.org/summer. Contact: Chantal Cross, Director of Auxiliary Services and Co-Curricular Activities; 410-823-0601, ext. 328; [email protected]
Loyola Blakefield has a camp in every flavor for boys and girls 5-18, from cooking intensives, where campers learn to whip up feasts and confections, to Adventure Camps that take day trips for rock climbing, canoeing, and spelunking expeditions. Offerings are a mix of the cultural, academic, creative, and physical. Campers can choose from robotics, lacrosse—even Driver's Ed and SAT prep. Weekly sessions for preschoolers through high schoolers run from early June to early August, and registration is on a first-come, first-served basis. Most programs are week-long sessions, June 10-Aug. 9. Rates vary by program. Discounts for early registration and multi-camps discount.
» Maryland Institute College of Art Summer Art Camp
1300 W. Mount Royal Ave., Baltimore, MD 21217 and 11152 Falls Rd., Brooklandville, MD 21093; 410-669-9200; mica.edu.
MICA's Summer Art Camp, devoted to the fine and visual arts, offers morning and afternoon courses, as well as options for before-care, lunch, and after-care for grades K-8. For middle school students, MICA's unique Portfolio Preparation courses help serious young artists ready their portfolios to be competitive among high-school art and design applicants and aspiring fine-arts majors. MICA conducts Summer Art Camp at both its Mount Royal campus in midtown Baltimore and at the St. Paul's School in Brooklandville. Five sessions at each location, June 10-Aug. 2. Rates vary.
» Park School of Baltimore Park Camps and Summer Programs
2425 Old Court Rd., Baltimore, MD 21208; 410-339-7070; Parkschool.net/camps.com.
This summer, children ages 3 1/2 to 16 are exposed to dynamic experiences in the tradition of The Park School of Baltimore. Park's unique approach to learning and growing flourishes amid the beauty of the wooded 100-acre campus. Sessions include general day camps (Cubs, Bears, & Bruins) as well as special-focus camps that provide opportunities for intrepid girls and boys, plus programs in lacrosse, swimming, music, art, dance, cooking, robotics, and yoga, as well as service learning, technology, or engineering camps. Go online for details and registration.
» Roland Park Country School Red Hot Summer Camps
5204 Roland Ave., Baltimore, MD 21210; 410-323-5500; rpcs.org.
RPCS offers a variety of day camps and programs for both boys and girls ages 3-18. Offerings currently planned include arts, science and tech, nature, language, athletics, computer-oriented programs, and more. Call for a complete catalogue.
» St. Paul's School for Girls
11232 Falls Rd., Brooklandville, MD 21022; 443-823-6323; Spsfg.org/summer.
St. Paul's School for Girls offers a range of coed and all-girls programs, including a kindergarten camp, middle-school coed lacrosse, soccer, theater, dancing, and filmmaking, babysitting training, and driver's education. Ten percent multi-sibling discount.
» Summer at Garrison Forest
Garrison Forest School, 300 Garrison Forest Rd., Owings Mills, MD 21117; 410-363-1500; gfs.org/summer. Contact: Tara Rosenbaum; [email protected]
Summer at Garrison Forest has more than 110 program options: From preschoolers learning violin to teens polishing their IT skills, there's something for everyone. Campers can play nearly every sport, including riding and polo, express themselves in an array of arts programs, make STEM discoveries, learn to cook, and more. Located near 695 on Garrison Forest's 110-acre campus, Summer at Garrison Forest runs from June 10 to Aug. 16. Before- and after-care, lunch, and combo camp packages available. 10 weeks of programs for boys and girls age 3 and up. Rates vary by program.
» Summer at Calvert
Calvert School, 105 Tuscany Rd., Baltimore, MD 21210; 410-243-6054; calvertschoolmd.org/summer.
Calvert is offering full- and half-day camps for boys and girls ages 4-12, with programs in arts, drama, sports, and STEM. Sessions June 10-June 26. Call for rates and session dates.
» Summer Camp at The Odyssey School
3257 Bridle Ridge Ln., Stevenson, MD 21153; 410-580-5551; theodysseyschool.org/summer.
The Odyssey School's camp is a specialized five-week summer program for children with learning differences, for first grade through eighth grade, held on the school's 42-acre wooded campus in Baltimore County. The camp incorporates an individualized, structured academic experience in the mornings, designed to promote ongoing skill development in the areas of reading and written language, followed by afternoons of outdoor activities and athletics. June 24-July 26. Call for rates.
» The Walters Art Museum Summer Camp
600 N. Charles St., Baltimore, MD 21201; 410-547-9000, ext. 283; thewalters.org/family/camp; [email protected]
Weekly sessions include gallery visits, studio art-making projects, and activities led by professional educators and practicing artists. Before- and after-care. Museum members receive discount. Sessions for grades 1-5, June 24-August 9. Grades 6-8, July 30-Aug. 10.
» JA Super Summer Camp
Junior Achievement of Central Maryland, 10711 Red Run Blvd., Ste. 110, Owings Mills, MD 21117; 410-753-3292; 443-394-7211; jamaryland.org.
JA SUPER Summer Camp immerses youth ages 9-12 in its acclaimed, one-of-a-kind JA BizTown experience. They'll operate their very own business, manage a bank account, use a debit card, and get their dream job—like radio DJ, scientist, or CEO. As they run this simulated city, they'll have the opportunity to be creative, collaborate with campers and mentors, and learn skills that will last a lifetime. Held within the simulated city space of JA BizTown comprised of a City Hall, bank, radio station, television station, business and insurance office, newspaper office, cafe, distribution center, investment office, science lab, and retail shops. They also can participate in Fit N Fun fitness activities and challenges in conjunction with JA's partnership with the Y of Central Maryland. Before- and after-care. June 25-28, 9 a.m.-4 p.m. Cost: $300
---
---

Nature and Traditional Camps
» Baltimore Chesapeake Bay Outward Bound School
1900 Eagle Dr., Baltimore, MD 21207; 410-448-1721; Outwardboundbaltimore/programs/classic. Contact: Ben Worden; [email protected]
Baltimore Chesapeake Bay Outward Bound School has been changing lives through challenge and discovery for more than 30 years. This summer, students ages 12-14 can experience an eight-day backpacking and rock climbing expedition on the Appalachian Trail and a canoeing adventure along the Potomac River. The Outward Bound curriculum and expert instructors help to develop leadership, confidence, compassion, and skills for the real world. Let your child discover "their new possible" during one of Outward Bound's challenging, character-building adventures this summer.
» Carrie Murray Nature Center Summer Camp
1901 Ridgetop Rd., Baltimore, MD 21207; 410-396-0808; carriemurraynaturecenter.org.
West Baltimore is the perfect setting for this day camp run by the Baltimore City Department of Recreation and Parks that specializes in nature and environmental studies. The camp is situated on a 1,200-acre wilderness park. Coed for ages 4-13. June-August.
» Columbia Association Camps
6310 Hillside Ct., #100, Columbia, MD 21046; 410-715-3165; columbiaassociation.org.
The Columbia Association operates 18 camps that have something for every child, whether it is art, basketball, nature, skating, or swimming. The various day camps provide activities for boys and girls in grades pre-K-9. June 24-Aug. 23. Prices vary.
» Summer Camps at Coppermine Fieldhouse 

1400 Coppermine Terrace and other locations, Baltimore, MD 21209; 410-337-7781; copperminefieldhouse.com.
Coppermine Fieldhouse, a 28,000-square-foot indoor facility, offers age-appropriate day camps for children 3 to 18 years of age, including a starter program, sports camp, team sports clinics, and performing arts programs.  Gymnastics, rock climbing, team building, archery, tennis, and other specialty programs with swimming. June-August.
» Camp Wright
400 Camp Wright Ln., Stevensville, MD 21666; 410-643-4171; campwright.com.
Operated by the Diocese of Easton of the Episcopal Church, this camp has day and residential programs that capitalize on its location on the Chesapeake Bay. While learning Christian ideals, campers in grades K-11 can sail, canoe, learn sports and nature studies, and even take wilderness-adventure excursions. June-August. Ten one-week sessions of day camp. Coed.
» McDonogh School Summer Programs
8600 McDonogh Rd., Owings Mills, MD 21117; 443-544-7100; mcdonogh.org; [email protected]
For more than 80 years, McDonogh has been offering summer programs for ages 4 to 18, including traditional day camps, arts and academic experiences, and day and overnight sports clinics. The 80 camps are conducted on McDonogh's 800-acre campus, which includes stables and outdoor and indoor riding rings, two fishing ponds, three fully equipped playground areas, 20 tennis courts, and outdoor athletic fields, as well as a rock-climbing tower and ropes course. Indoor facilities include a 54,000-square-foot field house with seven basketball courts, an aquatic center that includes an Olympic-size swimming pool, two indoor batting ranges, a wellness center, and a wrestling room. A fine arts center boasts a 580-seat theater with modern stage, lighting and sound, black box, music room, and set design room, and there are multiple computer labs, art rooms, classrooms, and dormitory spaces to accommodate over 100 students. Call or go online for programs, dates, and rates.
» Preschool and Elementary & Middle School Summer Camps
Columbia Academy, 10350 Old Columbia Rd., Columbia, MD 21046 and other locations; 301-497-8610; columbiaacademy.com.

Preschool camp is offered in four locations: Thunder Hill, Kendall Ridge, Kings Contrivance, and Maple Lawn. In this 13-week camp, children will read, learn, swim, and play. Elementary and middle-school campers come together at Columbia Academy for a summer of science experiments and activities including swimming, cooking, art, weekly field trips, games, and mental challenges with a STEM (science, technology, engineering, mathematics) focus.
» Summer at Friends
5114 N. Charles St., Baltimore, MD 21210; 410-649-3218; fscamp.org.
Friends School of Baltimore offers kids ages 4-13 a variety of programs and day camps in technology, music, art, drama, and sports. Extended-day hours are available. Call for precise dates. Camp sessions planned for June 17-August 9. Parents choose the length of sessions up to eight weeks. Fees vary.
For parents interested in Friends for their children's schooling, the coed, independent, pre-K through 12 school is hosting a campus tour April 18. Visit friendsbalt.org/admissions.
» Summer at Bryn Mawr
109 W. Melrose Ave., Baltimore, Md. 21210; 410-323-8800; brynmawrschool.org.
The Bryn Mawr School runs half- and full-day sports and creative camps for boys and girls, pre-first through grade 12. Held on their sprawling North Baltimore campus, programs include sports such as field hockey and soccer, plus art, music, dance and enrichment programs, including such unique offerings as manners instruction, a doll camp, and a pets camp. Call or go online for rates. June-August.

---
---

Sports
» All Pro Lacrosse Camp

Notre Dame of Maryland University, 4701 N. Charles St., Baltimore, MD 21210; 410-532-0189; allprolaxcamps.com
Tom Marechek's All Pro Lacrosse Camp is directed by Hall of Famer Tom Marechek, a former Syracuse University All-American and now head coach at Friends School, and his All Pro Lacrosse staff. The camp, for boys 8-17 years of age, includes overnight, extended, and day sessions, scrimmages, instructional sessions, individual and team competitions, and guest lecturers.
» Downtown Sailing Center
1425 Key Hwy., Ste. 110, Baltimore, MD 21230; 410-727-0722; [email protected]
Junior summer camp runs weekly from June through mid-August. for children ages 8-15, offering kids expert instruction on sailing and boating skills. Partnered with STEM in 2016 and 2017. June 10-Aug. 23.
» Mast Tennis Academy
P.O. Box 278, Phoenix, MD 21131; 410-510-7199; Masttennisacademy.com. Contact: David Mast; [email protected]
The Mast Tennis Academy offers summer programs June to August throughout the Baltimore region with locations at Garrison Forest, John Carroll School, and Loyola University, among others. Programs are designed for beginners to tournament players, coed ages 4-16, and are taught by college graduates and varsity players overseen by founder David Mast. Mast, who was ranked among the top 25 amateur players in the U.S. and has a degree in psychology from UMBC, believes that sports—specifically tennis—can increase a child's self-esteem. Each day's schedule includes drills, races, tennis matches, and a break for lunch. Each Friday is a pizza party and awards ceremony. $215 per week, half day 9 a.m.-12 p.m.; $340 per week, full day 9 a.m.-3 p.m.
» Pete Caringi's 
All-Maryland Soccer Camps
1000 Hilltop Cir., Baltimore, MD 21250; 410-455-3003; all-maryland.org; [email protected]
Recognized by CBS as one of the top sports camps in the state, Pete Caringi's All-Maryland Soccer Camps holds two sessions June 17-21 and June 24-28 at Community College of Baltimore in Essex and a men's camp at UMBC July 12-14.
» Ripken Baseball Camps
873 Long Dr., Baltimore, MD 21001; 888-747-5361; ripkenbaseball.com
The Ripken Experience Aberdeen Powered By Under Armour is home to eight state-of-the-art youth baseball fields, highlighted by "Cal Sr.'s Yard," a replica of Oriole Park at Camden Yards, plus youth-sized models of Fenway Park, Wrigley Field, and Old Memorial Stadium. Campers are educated about the tradition of the game and how to play the right way, which readies them for higher levels of baseball, as well as life away from the diamond. Three sessions, July through August, day and overnight.
---
---

Medical/Special Needs
» Camp Aristotle at The Auburn School
7401 Park Heights Ave., Pikesville, MD 21208; 410-617-0418. Other locations in Fairfax, VA and Silver Spring. theauburnschool.org
Many students at Camp Aristotle experience challenges associated with Autism Spectrum Disorder (previously Asperger's Syndrome or PDD-NOS), receptive/expressive/pragmatic language challenges, and ADHD. However, not all campers have a formal diagnosis. Students at Camp Aristotle may have trouble with peer relationships and/or impulse control. Our teachers and staff are specially trained to understand these needs. Activities include creative arts, drama, cooking, music, movement and dance, team building games, science experiments, construction and design, water play, and computers. Camp Aristotle accepts rising kindergarten through rising 9th-grade campers offering both half-day and full-day options. Full-day and half-day programs, plus aftercare at additional charge.
» Easterseals Camp Fairlee
22242 Bay Shore Dr., Chestertown, MD 21620; 410-778-0566; campfairlee.com
Camp Fairlee is a traditional, overnight summer camp on Maryland's upper Eastern Shore for children and adults with all types of disabilities, providing accessible recreation for campers and family respite. Sessions start June 30 and run through Aug. 29 and vary in length from five to 12 days; most are 6 days. Activities include canoeing, kayaking, rock wall, zip line, horseback riding, nature trails, swimming, arts/crafts, and more. There is a health center staffed with RNs and LPNs. In 2015, the entire campus was rebuilt with new cabins, activity center, and dining hall. Serving Maryland families for 65 years, it is accredited by The American Camp Association.
» Camp Friendship at the Carol Jean Cancer Foundation
10718 Cleos Ct., Columbia, MD 21044; 410-531-0758; cjcf4kids.org
Camp Friendship, the premier program of the Carol Jean Cancer Foundation, was founded in 1991 as a place to let kids with cancer enjoy a carefree summer at camp without the worry of medical care or a financial burden. The camp is free to all its campers, ages 7-17, and includes a staff of medical personnel. A physician is on site everyday and several pediatric oncology nurses are there day and night. Campers enjoy swimming, boating, zip lines, and arts and crafts. One five-day session.
» The League at Camp Greentop
Office: The League for People with Disabilities; 15001 Park Central Rd.; Sabillasville, MD 21780; 410-323-0500, ext. 309; leagueforpeople.org
Camp Greentop in Sabillasville provides girls and boys with a traditional day and sleepover camp experience in a beautiful setting with the added benefit of a 2:1 staff-to-camper ratio. Campers with physical and mental conditions including epilepsy, cerebral palsy, and autism participate in diverse activities in a safe and nurturing environment. There is also a weekend-long family camp offered in the spring. 
Six sessions June-August.
---

---
Find the Best in Baltimore