After months spent in quarantine, kitchens have never worked so hard. As the new command center, kitchens are serving as makeshift offices, classrooms, and more. With so much time spent at home, the kitchen is emerging as the new family room. Homeowners are pulling in the character and style of their other rooms with hues, materials, and décor. Vibrant, fun cabinet colors are transforming kitchens and also transcending to backsplashes, floors, and ceilings. Minimal clutter and maximum efficiency are also at the top of the list this year. And naturally, products that lend themselves to increased cleanliness, such as non-porous quartz countertops and seamless slab backsplashes, are on the rise as well.
As kitchens continue to evolve and become front-and-center, you might need a little help to get it there. To learn more about the kitchen trends for 2021, we talked to Harry Alascio at Elevations Showroom by Myers.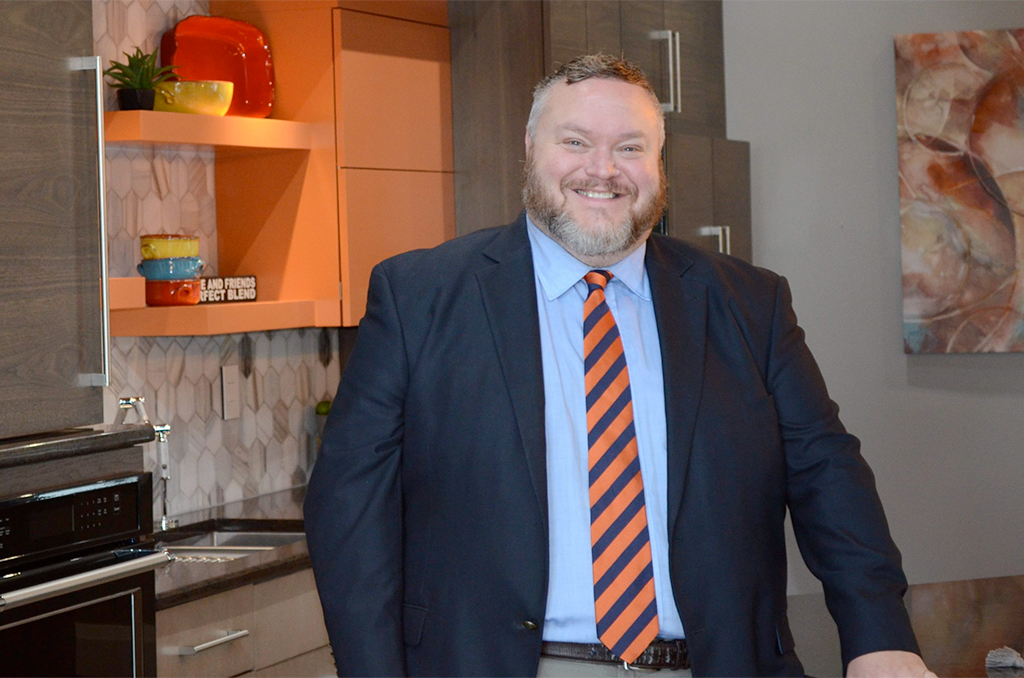 Harry Alascio of Elevations Showroom by Myers
#1 – Tuxedo Kitchens: Get black-tie fancy by switching things up. Blend white wall cabinets with black base cabinets for a truly classy combination that will keep things airy and open, while grounded and refined. This dual-tone look is chic and timeless.
#2 – Open Shelving: Forego the closed, cabinet doors and amplify space by incorporating floating shelving. The options are endless and range from glass and metal to neutral-toned wood. If you're going for a minimalist feel, the one-shelf design is a perfect fit. It's clean and streamlined to show off beautiful dinnerware sets, glassware, and art.
#3 – Color: Things have been very white and a little blasé for a while—and now everyone is craving color. Shades of blue are all the rage and being added with two-toned cabinetry. Keep it balanced with neutral-colored upper cabinetry and add the splash with your base cabinetry. Make a true artistic statement by adding pops of the same color to light fixtures, hardware, accessories, decorations, or rugs.
#4 – Quartz Countertops: It's official: When it comes to countertops, quartz is king. Because it's man-made, the variety of colors, textures, and appearances is nearly limitless. Plus, uniformed designs and patterns make matching paint, tile, and cabinets much easier than with marble or granite. Kick it up a notch by selecting a style with crushed glass, metal flakes, or other materials. Quartz is also loved for its affordability, durability, and low maintenance. It brings all the beauty without the burden.
#5 – Full-Height Slab Backsplashes: Want to add a luxury feel to your kitchen that won't break the bank? Consider making an impression with a slab backsplash. These can be designed to stretch from the top of the countertop to the bottom of upper cabinets or all the way to the ceiling. Whether you desire a bold, unique look or simply less maintenance, slab backsplashes are an excellent choice.
#6 – Microwave Drawers: Creating a streamlined space in your kitchen requires clean countertop lines—and that means hiding microwaves and other clutter for true style. Swap the traditional wall or cabinet-style microwave for a sleek microwave drawer that will tuck away into your island or cabinet.
#7 – Texture in the Kitchen: Gone are the days of shiny-and-smooth. Unique textures and layered features, implied and tactical, are being incorporated into the kitchen with a variety of techniques and materials. Adding recessed or raised cabinets or ones with distressed or glazed finishes is a great starting point. And a textured backsplash tile takes it to the next level. A few natural elements, like a butcher block or soap-stone countertop, can pull it all together and provide the perfect visual balance.
#8 – Statement Range Hoods: The true definition of function and style, a ventilation range hood can change the look of your entire kitchen and improve air quality! Available in all shapes and sizes, you can blend your range hood into your existing design and color palette or make a unique, standout statement by mixing it up with a copper or rustic wood piece.
#9 – Reclaimed / Vintage Farm Sinks: We think it's safe to say that these classic pieces will never go out of style. Truly timeless and also incredibly functional, they have plenty of room for items that require handwashing and are a great amenity for those who love to entertain. Bring a little bit of history into your home and get ready for the compliments!
#10 – Super Pantries: We've all seen them on Instagram and Pinterest: Gloriously spacious, perfectly organized, walk-in pantries. These designed spaces, complete with shelving, counterspace and drawers, are housing more than just canned goods. Pantries are now doubling as prep stations, wine cellars, and even coffee bars. Keep your kitchen clean and sophisticated by disguising your pantry behind a cabinet door. These sanity-savers are a must-have.