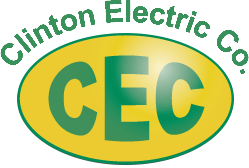 Clinton Electric Co. has been providing top-notch electrical service since 1969, and they've been the on-call electrician for over 50,000 satisfied residential and commercial customers in Baltimore and beyond. Their uniformed electricians are proud to be that special someone, and know their clients' pets as well as their electrical systems. They're happy to investigate any warm outlets, flickering sparks, or fussy fuses, and have a proven track record of charming clients—over 75 percent of their business comes from repeat customers and referrals.
A family-owned company headquartered on York Road in Lutherville-Timonium, Clinton Electric's success is grounded in strong relationships and trust with commercial and residential clients. Founder George Clinton Shumate, Jr. got his start as a coal mine electrician in West Virginia working for his dad. George put in ten years at Bethlehem Steel's Sparrows Point facility before founding his own electrical contracting business. George's son Mike took the helm in 1997, and the company just kept growing. 
Clinton Electric started installing standby generators in 1999. The company struck up a partnership with Generac in 2007, and have since added the full line of generators from Kohler—two big brands in the home generator business. And while quality residential service is at the core of Clinton Electric, the company has worked with commercial clients and been plugged into ambitious projects.
You can probably thank Clinton Electric for lighting up the Royal Farms down the street. The Baltimore-based convenience store and gas station chain has relied on Clinton Electric to grow its network in the region, upgrading existing stores and wiring new locations. Clinton Electric has also partnered with ChargePoint to install and service electric vehicle charging stations throughout the mid-Atlantic down to Florida. They've installed these stations for large employers like McCormick & Company and municipal projects like the Cell Phone Lot at the Baltimore-Washington International Thurgood Marshall Airport. All this puts Clinton Electric on firm footing to help keep America moving in the 21st century. 
Still, Clinton Electric has never let big contracts distract from excellent customer service. A team of certified installers and technicians are on hand to share their electrical expertise. They quote prices up-front based on the service required, rather than an open-ended hourly rate. Their trucks are fully-stocked, meaning most work gets wrapped up the same day. With 24/7 emergency service and flexible scheduling, Clinton Electric fits in perfectly with your life and will never put you under pressure or expect you to compromise.
Curious to see Clinton Electric in action? You can visit the company's stand-alone generator showroom at 30 W Aylesbury Road in Timonium to see what's on offer, or check out their setup at the Maryland Home & Garden Spring Show, March 5-6 and 11-13 at the Maryland State Fairgrounds. But be warned—with an increased demand for whole-house generators, keeping stock has proven quite the challenge, especially amid COVID-19 lockdowns, which led many homeowners to see the value in increased self-sufficiency.
So don't miss out. Winter is here, the snow and wind are coming. Don't be left in the dark.