You don't have to drive far from Baltimore to have an incredible entertainment-centric weekend getaway. With theaters big (think Strathmore, Olney Theatre Center) and intimate (Best Medicine Rep Theatre and Gaithersburg Arts Barn), a range of world-class performances and cultural experiences are offered up for every taste in Montgomery County, Maryland.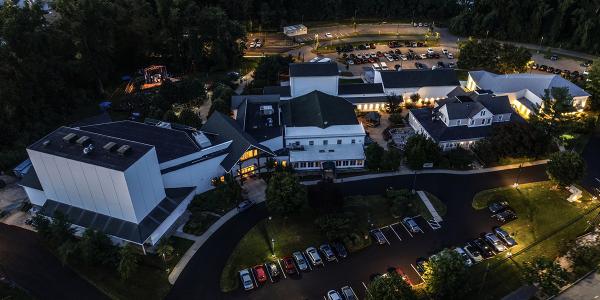 Olney Theatre Center
2001 Olney Sandy Spring Rd, Olney, MD 20832
Olney Theatre Center offers a diverse array of professional productions year-round that enrich, nurture, and challenge a broad range of artists, audiences and students. One of two state theaters in Maryland, the center is situated on 14 acres in the heart of the beautiful Washington-Baltimore-Frederick "triangle," within easy access of all three cities.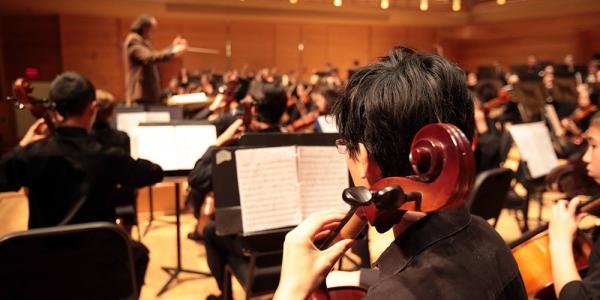 The Music Center and Mansion at Strathmore
5301 Tuckerman Ln, North Bethesda, MD 20852
High-quality arts programming, served with the hospitality and warmth of a family enterprise, are the hallmarks of The Music Center and Mansion at Strathmore. The 1,976-seat theater regularly hosts favorites like the National Philharmonic Orchestra and the Baltimore Symphony Orchestra. The Mansion at Strathmore hosts smaller performances and private collections. Walk the elaborate Sculpture Gardens, enjoy tea in the Strathmore Tea Room, or catch a music festival on the front lawn.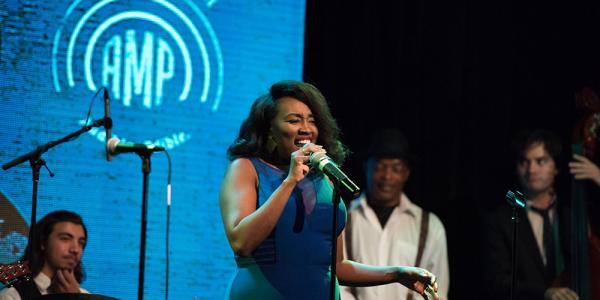 AMP by Strathmore
11810 Grand Park Ave, North Bethesda, MD 20852
AMP is your place to come together for great music at Pike & Rose, a Metro accessible neighborhood in North Bethesda. Powered by Strathmore, AMP puts a premium on authentic live music and comedy experiences, bringing new energy to this growing neighborhood.
Imagination Stage
4908 Auburn Ave, Bethesda, MD 20814
Located in Bethesda, Imagination Stage has grown from a handful of children in a single classroom to a full-spectrum theatre arts organization, with theatre productions by professional actors and artists that features new works for children every year.
The Fillmore Silver Spring
8656 Colesville Rd, Silver Spring, MD 20910
The Fillmore Silver Spring brings a dynamic, first-class music, and entertainment venue to downtown Silver Spring. With a capacity of 2,000 revelers, The Fillmore features an array of diverse live music programming and entertainment in a state-of-the-art venue.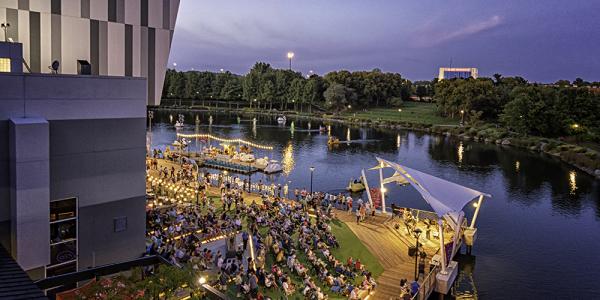 Gaithersburg Arts Barn
311 Kent Square Rd, Gaithersburg, MD 20878
Recalling the charm of a bygone era, the Arts Barn is a beautifully renovated stable that once housed horses on the former Tschiffely Estate. Today, the Arts Barn is part of Arts on the Green, the City of Gaithersburg's home for visual and performing arts, including a 99-seat theatre.
The American Film Institute (AFI) Silver Theatre and Cultural Center
8633 Colesville Rd, Silver Spring, MD 20910
The American Film Institute (AFI) Silver Theatre and Cultural Center in Silver Spring is anchored in the restored 1938 Silver Theatre, creating a classic feel to the films and movies shown within its walls. AFI examines the significance of films, while showing filmmaker interviews, discussions, and other events, making the films a true centerpiece.
BlackRock Center for the Arts
12901 Town Commons Dr, Germantown, MD 20874
BlackRock Center for the Arts, the leading venue for the performing and visual arts in Germantown, provides the community with the highest level of quality performances, free gallery exhibitions, and arts education classes in a welcoming and intimate setting close to home.
Scott Fitzgerald Theatre
603 Edmonston Dr, Rockville, MD 20851
Experience a captivating musical by the Rockville Musical Theatre, become moved by the Victorian Lyric Opera Company, or lose yourself in the spellbinding Rockville Civic Ballet. The F. Scott Fitzgerald Theatre is a vibrant, local theatre in Rockville at Civic Center Park. Dedicated to the performing arts, this 446-seat theatre boasts over 100 shows a year.
Boardwalk Stage at Rio's Lakefront
9811 Washingtonian Blvd, Gaithersburg, MD 20878
Featuring Friday night concerts in the summer, Boardwalk Stage is located along rio's lakefront and offers views of paddlers and the popular carousel. Enjoy a cocktail and a meal at one of several dining options along the boardwalk.
Round House Theatre
4545 East-West Hwy, Bethesda, MD 20814
Round House Theatre is a home for outstanding ensemble acting and lifelong learning. Known for its adventurous programming and deep investment in local talent, Round House has become a premiere destination for the serious theater enthusiast in the Washington, D.C. region.
Best Medicine Rep Theatre
701 Russell Ave, Gaithersburg, MD 20877
Best Medicine Rep is a nonprofit, professional theater company that develops and produces comedies. It is dedicated to the artistic, educational, and cultural development of the Gaithersburg and Montgomery Village area. Located in the Lakeforest Mall, Best Medicine Rep offers full productions, classes for children and adults, and free readings of new plays. Please visit this page and our website for more details.
Plan your next weekend getaway to Montgomery County, Maryland by requesting a free Getaway Guide.