A one-of-kind veterinary practice, Chesapeake Veterinary Surgical Specialists concentrates on multi body-system care to give your best friend the best treatment possible. CVSS specializes in advanced, small-animal surgical procedures for cats and dogs. Their board-certified surgeons are experienced in all aspects of veterinary surgery, from orthopedic to soft tissue to minimally invasive surgery and beyond. CVSS is co-located within Chesapeake Veterinary Referral Center, a collection of multi-specialty veterinary practices working together under the same roof. CVSS's relationship with a broad spectrum of board-certified veterinary specialists provides comprehensive medical care from cardiology to neurology and just about everything in between. With almost 30 years in practice and a substantial portfolio of surgeries, CVSS is prepared to take on any case, and is exceptionally equipped to handle high-risk surgeries that may be turned away by other surgical practices. Plus, with three convenient locations in Annapolis, Columbia, and Towson, its services are easily accessible for those in the greater Baltimore area. To learn more about what sets this practice apart, we caught up with Dr. Sakthila Jeyakumar, a board-certified, small-animal surgeon at CVSS.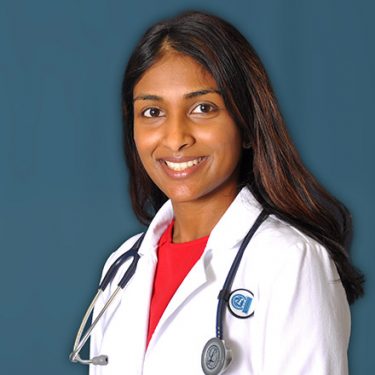 Dr. Sakthila Jeyakumar, BVSc (Hons I), MS, Diplomate, American College of Veterinary Surgeons – Small Animal
Tell us a bit about yourself. How long have you been with CVSS and what are your specializations?
I joined the CVSS surgical team in 2016. I graduated from the University of Sydney Australia with a bachelor's in veterinary science. Upon completion of my undergraduate degree, I moved to the United States to start an internship in small-animal medicine and surgery at Mississippi State University. Following the internship, I was accepted to the small-animal surgery residency program at Auburn University. In addition, I pursued a master's in biomedical science and performed research in surgical oncology. I have taught veterinary students in both surgical laboratories and in a clinical setting and received my board certification from the American College of Veterinary Surgeons in 2016. I have advanced training in minimally invasive surgery, including laparoscopy and arthroscopy, as well as soft tissue, orthopedic, and neurological surgery.
What sets your practice apart from other veterinary practices?
Chesapeake Veterinary Surgical Specialists is quite unique due to the education and depth of experience of our surgical team. We have many talented board-certified surgeons with specialized interests and skills, ranging from joint replacement to minimally invasive surgeries such as arthroscopy, laparoscopy, interventional surgery, and oncologic and reconstructive surgery. We provide cutting-edge care in small animal surgery and perform the full breadth of surgery, including high-risk cases. Our patients receive 24-hour care by veterinarians and technicians, so they are always being monitored and treatments are provided around-the-clock.
We also work in a multidisciplinary setting with support from fellow veterinary specialists in the fields of cardiology, critical care, internal medicine, oncology, neurology, dentistry, ophthalmology, and radiology. Combined with advanced imaging and diagnostic equipment, this collaborative relationship allows us to provide truly comprehensive care for our patients.
What services do you offer?
We offer a broad range of surgical procedures. This includes orthopedic surgery, soft-tissue surgery like advanced abdominal and thoracic procedures, oncologic surgery, and minimally invasive surgery. Some of the cutting-edge procedures that we perform include advanced knee (stifle) procedures such as TPLO procedure, arthroscopy, minimally invasive fracture repair, joint replacements, urinary stenting, laparoscopic procedures, gallbladder removal, and advanced oncologic procedure. All of our patients receive 24-hour care, so there is always a veterinarian and experienced technicians caring for our patients.
What are CVSS's core values?
CVSS is a wonderful practice to work with as a client and as a referring primary care veterinarian. Our core values encompass compassion, respect, integrity, and honesty. We truly do treat all our patients with a lot of love and care and do our best for them each day. We also like to give back to the animal-welfare community by donating our services to local nonprofit organizations, like BARCS and the Maryland SPCA.
Do you only treat canines and felines?
Our practice treats small animal patients, which encompasses mainly canines and felines. However, we have treated some pocket pets (like ferrets, hamsters and gerbils), though this is an exception and is not our primary area of focus. We would recommend that these patients are treated by a veterinarian specializing in their care.
Anything else you'd like to share?
CVSS is the most comprehensive, experienced surgical team in the state of Maryland. We are co-located within Chesapeake Veterinary Referral Center in Annapolis, Columbia and Towson, which means our locations are all easily accessible from all parts of the state and surrounding states.