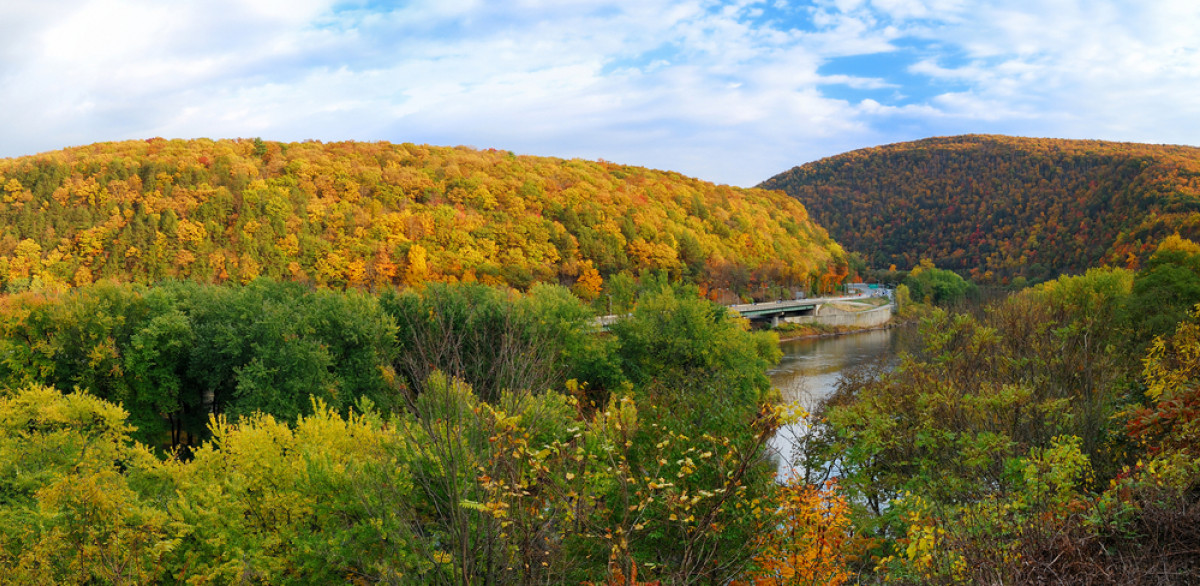 In the northern ranges of the Pocono Mountains are provinces stubbornly referred to as the Delaware Highlands and Lake Wallenpaupack. They are sans crowds and mercifully without the kitschy, old-time, family-style resorts, thus sustaining their natural beauty and exclusivity. It is here that you will find three getaway retreats only four hours from Baltimore. Their innkeepers have just one request: Please don't mention the word "Poconos."
---
The Lodge at Woodloch
The kids are away. My husband wants to play. "Isn't there a camp for us?" he's wondering aloud.
Well, envision an upscale, adult-only, lakeside retreat in pristine mountain woodlands. With great digs. And extreme activities. Intense workouts and gourmet food. Soulful leisure pursuits. And the dreamiest spa on the East Coast. Yeah, where?
"Welcome!" The guard in the gatehouse of The Lodge at Woodloch, just outside of Hawley, Pennsylvania, greets us with a smile through her sliding window. She points toward a compound that more resembles a progressive nature retreat than the tony spa resort we are anticipating. "You'll drop your car with the attendant at the front door," she gestures, "and the place is yours."
Ahead of us, the sprawling Lodge, constructed of indigenous stone, camouflaged timber beams, and large windowed spaces, suits its mostly undisturbed rural surroundings: white pine forest, natural lakefront, and assorted, rambling native undergrowth.
As promised, two valets rush toward our approaching car. They greet us with smiles and inquiries about our trip. One swiftly collects the car and our bags. The second escorts us inside. The natural light pouring into the foyer from the mammoth windows and skylights lends credence to the distinctive green-and-taupe hues so prevalent throughout the region. The glorious outdoor environment of the northern Pocono Mountains has been extended indoors and enhanced with climate controls.
We are introduced to the receptionist, who has clearly been expecting us. She presents us with customized activity packets. Each one includes an itinerary, class schedule, and a guide that details Woodloch's programs and spa services. Unexpectedly, she abandons the reception desk to escort us to our room via a personal tour of the Lodge.
Woodloch's on-site owners and developers, Ginny and John Lopis, were consultants to top destination spa resorts around the country, including Canyon Ranch, before masterminding their own place. They deem Woodloch "the new generation" in destination spas. One innovation is their reservation process, which assists guests in pre-booking their treatments and classes so that they can jump right into the scheme upon arrival.
We spot guests everywhere, donning nothing more than workout clothing or a spa robe, even in the dining room. Someone is even sprawled out on a sofa reading a book. Soon we are in our room, where our bags are waiting. Though the quarters are beautiful—a king bed with Egyptian cotton linens, a marble shower with a rain-head spigot, flat-screen TV, and a patio overlooking the lake—we don't want to lose one moment from our activities. First on my itinerary is aqua toning (water aerobics), and my husband is scheduled for bicycling. We walk to the spa together, and with 30 minutes to spare, we agree to meet up in the co-ed aqua garden.
The Woodloch spa is the resort's nucleus, the site for most classes and treatments. Arguably, its most spectacular spot is the aqua garden. It houses a heated pool for laps, volleyball, and water aerobics in a glassed-domed gazebo room. There is also an outdoor horizon-edge whirlpool with a radiant-heat deck inviting year-round use. But I have my eye on the bi-level soaking pools with hydro-massaging waterfalls. I stand under the falls and nod at my husband. He presses the switch and races to join me. Waves of pulsating ecstasy cascade over our heads, shoulders, and backs. Heaven.
Limbered up, we part for our individual locker rooms for juice before our classes, and plan to meet for lunch. The men's and women's areas both have saunas, steam rooms, indoor and outdoor hot tubs, and fireplace lounges with tea bars. The floor below has 27 treatment rooms, 14 massage rooms, and six facial rooms. Upstairs are mind/body studios for yoga, aerobics, and mat classes, a dedicated Pilates training area, and a fully equipped cardio-weight studio.
That afternoon, I scheduled Woodloch's signature "Awakening the Senses Body Treatment." It involved selecting a scent (lilac) and a light filter (yellow for sunshine, but it didn't matter, my eyes were covered with a mask). Then, I was buffed with sea salt and masked twice (the second time wrapped in cellophane), and showered before a final lotion application. While I was definitely "awakened," I found the multistep process too distracting to relax, plus the sea-salt body rub was rough on my skin. Next time, I'd opt for a simpler massage or an herbal facial.
There are a range of resort activities: On-premise choices include kayaking, row boating, fishing, and hiking. Championship golf and tennis can be arranged at a private club across the street. Excursions for hikes, tubing, and rafting are available at an additional cost. Woodloch has its own art studio offering drawing and painting classes. Often in the evening, there are speakers, a fire circle for storytelling, and a drum circle.
The Lopises' approach to cuisine is progressive-minded. Diverging from traditional "calorie counting," they focus on a gourmet dining experience that is healthful and organic. Accentuated is moderation in portion size, though guests may request additional servings. Superfoods—like berries, melons, squashes, salmon, and soy—are incorporated within meals that include red meats, chicken, fish, and vegetarian choices. There is even an international organic fine wine and beer list.
Breakfast and lunch include a variety of choices from a menu, or, for dinner, from a tapas bar. Our lunch entrées included chicken with raisin curry, tomato eggplant and mozzarella, salmon with coconut lime sauce, and turkey sesame wasabi wraps. Desserts and natural sodas are also offered. Every afternoon, there is high tea with, yes, healthy cookies. In the evening, there are bedside chocolates at turndown.
If you go: Take Interstate 83 north to 81N to 380S to 84E to Exit 30, Blooming Grove. Make a left onto Route 402N and follow to the end. Make a left onto Route 6W, then a right on Route 590E; follow 6.5 miles to the entrance of The Lodge at Woodloch, 866-953-8500, thelodgeatwoodloch.com.
Digs: Packages include room, three meals a day, gym access, classes, and a $115 daily spa allowance for $450 to $1,085 per person per night. Additional spa treatments are available a la carte.
Hotel Fauchère
High above my head, Andy Warhol is kissing John Lennon. I quickly check my vital signs and then pinch myself. Nope, I am not in heaven (or the alternative), and I am not dreaming. I'm in Bar Louis, the highbrow bistro in the basement of Hotel Fauchère in Milford, Pennsylvania. The place feels at once cosmopolitan and artsy.
The mesmerizing photograph of Warhol and Lennon is one of only three in the world, a gift from the photographer to Sean Straub, current owner of the hotel. It hangs on the exotic anigre wood wall behind the bar and monopolizes the 'scape and conversation of every patron. Just then, our waiter places chef Michael Glatz's sushi pizza—ahi tuna and spicy tobiko sauce on a crunchy tempura rice crust—in front of us. Once again, I'm thinking that I might possibly be in heaven.
Straub didn't intend to go into the hotel business. A onetime successful publisher of specialty trade magazines, he and his business partner Richard Snyder were on a personal mission, restoring the town of Milford to its heyday of the early 1900's, environmentally, economically, and culturally. In 2001, they learned that the historic 1880 Italianate hotel was at risk of being torn down and decided to take on the project. The result is a carefully renovated Hotel Fauchère.
Hotel Fauchère was founded by Louis Fauchère, the Swiss-born master chef of the original Delmonico's in New York City. In the 1860's, he brought his wife and daughter, his cooking mastery, and famous recipes (like lobster Newberg, baked Alaska, and eggs Benedict) to the Delaware River Highlands and launched a restaurant called The Delmonico Room inside his new hotel. Over the years, it attracted socialites and celebs such as Charlie Chaplin, the Rockefellers, Robert Frost, and the Carnegies. The hotel and restaurant remained a family operation until superhighways and major rail routes bypassed the town, inspiring easier access to other destinations. The establishment was abandoned in 1975.
Straub's restorations of the traditional and classic 19th-century motif in the common areas are impressive. He insisted upon preserving the original bead-board ceiling, chestnut floors, and the magnificent mahogany and walnut banister. Lining the walls throughout the hotel is Straub's ever-growing personal collection of Hudson River School artwork. The exception is Fauchère's original pub in the basement, which Straub renovated into an urban, chic milieu for casual dining.
The number of guest rooms has been reduced from the original 30 to 16 to accommodate new, colossal bathrooms. They offer amenities like radiant heat in the Pennsylvania bluestone bathroom floors, heated towel racks, Bose docking stations, flat-screen TVs, and lilac-scented Frette linens. Think you've heard it all? Straub insists that the bed sheets are ironed by hand so that guests have a pampered getaway experience. He and partner Snyder wanted to eliminate experiences that they themselves detest at hotels, namely "being nickel and dimed." That means Fauchère guests can count on not "being sold" anything in the room and receiving complementary local telephone calls, fine chocolates, a bottle of wine, and Wi-Fi access.
In the Zagat-rated Delmonico Room, chef Glatz has refined some of Fauchère's Delmonico recipes with adventurous ingredients and herbs and added an international wine list. Breakfast includes homemade granola, fresh-baked pastries, and locally roasted coffee.
In 2009, the Victorian house next door will be renovated into a spa and reception rooms for weddings and events.
Straub encourages his guests to venture around Milford, an adorable town filled with antiques, or he will arrange for private trout or fly-fishing and llama treks on his property. Within five to 10 miles are a slew of breathtaking, protected natural waterfalls, and establishments that provide rafting, canoeing, and tubing expeditions.
If you go: Take Interstate 83 north to 81N to 84E to 380 to Route 6 directly into Milford. Turn left on Broad Street. Fauchère is at 401 Broad St., 570-409-1212, hotelfauchere.com.
Digs: Rooms are $275 to $350. You won't need much more than your toothbrush—rooms are chock full of amenities. Hint: Some may prefer a room with a marble shower rather than a claw-footed tub.
You will need to: Make dinner reservations at The Delmonico Room or Bar Louis in advance of arrival.
Don't miss: Forest Hall Antiques—in a 1907 French Normandy-style building filled with fine antique furnishings and artwork (214 Broad St., 570-296-4299, foresthallantiques.com); The Columns, the county historical museum, where the blood-stained flag that was placed under Abe Lincoln's head after his assassination is on display (608 Broad St., 570-296-8126,pikehistory.org); Raymondskill Falls, just 10 minutes from town and spectacular—only four feet shorter than Niagara Falls.
The French Manor
A fairytale castle appears perched atop Mount Huckleberry in Sterling, Pennsylvania. But following the winding driveway, it becomes clear that this is a copy of a French château, constructed of local fieldstones, an imported Spanish slate roof, and a Romanesque-arched entryway by craftsmen and artisans of German and Italian descent.
Inside, the décor doesn't disappoint. Mining magnate Joseph Hirshhorn created this private retreat, modeled after a château in the south of France, so he could enjoy the solitude of the mountains and the serenity of Mother Nature. It was privately purchased and revamped into a B&B in 1984, retaining the original character and intrinsic features that Hirshhorn designed. It was sold again in 1990 to Ron and Mary Kay Logan, who also kept its architectural charms. Each room is unique, dressed in French provincial finery. Beds are triple-sheeted, and there are plush and frilly seating areas.
Still, there are modern creature amenities like DVD players and Wi-Fi. Most rooms have working fireplaces, two-person Jacuzzi tubs, and unobstructed balcony views of 20 miles of mountain forestry. A bottle of sherry and a plate of fruit and French cheese await guests. Godiva bits are left pillowside at turndown, and French pastries are served at teatime in the dining room.
The French Manor's restaurant currently holds the only AAA four-diamond rating in the Delaware Highlands. Plan to dress for dinner; jackets are usually required for men. The dining room, daunting with its 40-foot vaulted ceiling and two massive fireplaces, exudes the ambiance of a winery in the French Alps. The menu is classical and nouvelle French cuisine with an impressive international wine list.
One spectacular signature dish is filet mignon Napoleon, a char-broiled filet layered with sautéed lobster, mushrooms, and a pastry crouton, and napped with a cognac lobster cream.
The French Manor's staff is known for its flair in customizing afternoon excursions and weekend packages involving golf, hiking, horseback riding, tennis, lakeside swimming, tubing, and kayaking. There is also antiquing, historic sites, and restored towns and villages within a short drive. The kitchen will even prepare a gourmet picnic lunch for the journey.
If you go: Take Interstate 83 north to 81N to 80E to 380N to Exit 8, Tobyhanna. Take right onto 423N to 191N. Turn left onto Huckleberry Road. Driveway to The French Manor is at the top of the hill. 570-676-3244, thefrenchmanor.com.
Digs: The basic bed-and-breakfast rate for The Carriage Room House ranges from $165 to $340, but ask about the customized packages, many of which include dinner.
You will need to: Make dinner reservations in advance.
---
---