Most restaurants in town have one—that signature, don't-miss dish, an intersection of flavor and form, style and substance, a luminary even among other menu marvels. It's where the eye goes when you're reading the menu—the plate that prevents you from pursuing anything else, no matter how many times you partake, because why mess with perfection? Those are what we consider dishes to die for. Our favorites are listed here, as well as some stories behind their inspiration. So go for the lemon-curd donuts at Fork & Wrench or the duck pizza at Birroteca—we'll be one table over with a bad case of ordering envy.
DOING DISHES
By Lauren Cohen
Of course, taste is key when creating a dish to die for, but given that the first taste is always with the eyes, we've rounded up plates that are easy on the eyes and make us drool even without food on them.
---
Prague toile porcelain plate Preserve, made by Churchill China, Staffordshire, England.
This Annapolis newbie dishes out its sweets on Old World ceramic plates. "This plate is designed to be ubiquitous for all desserts," says Preserve co-owner Jeremy Hoffman. "It gives off the casual feel like you're at a family get-together, like you're just having dessert at Grandma's."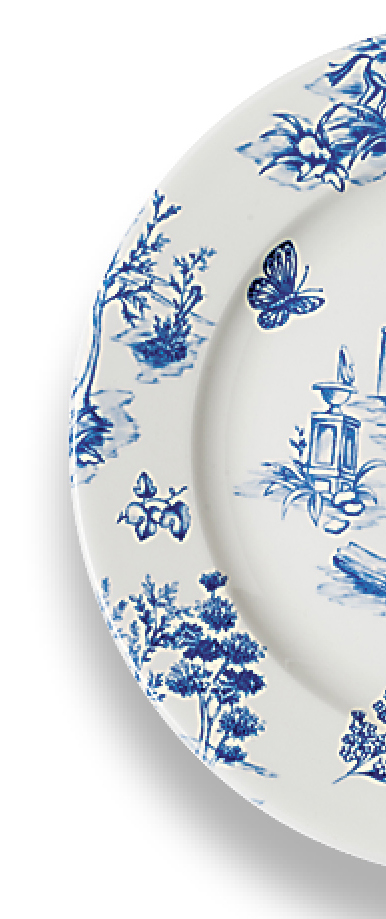 Oak plate Alma Cocina Latina, handmade by Domingo Silva, Tintorero, Estado Lara, Venezuela
In keeping with the Venezuelan vibe at Alma Cocina Latina, these wooden dishes are handmade exclusively for the restaurant by an artisan in owner Irena Stein's home country and are used to serve up arepas and other authentic delicacies. Says Stein, "From the plates and the food to the ambience and the music, everything transports you to Venezuela."
Gold leaf dinner plate Charleston, made by Bernardaud, Limoges, France.
Charleston's Cindy Wolf uses this plate to showcase her signature sweetbreads. "Each plate is different, with a center slope which is great for sauces," she says. "We have low lighting, so I like that the gold reflects the candlelight in the room——it's romantic, yet fresh and new."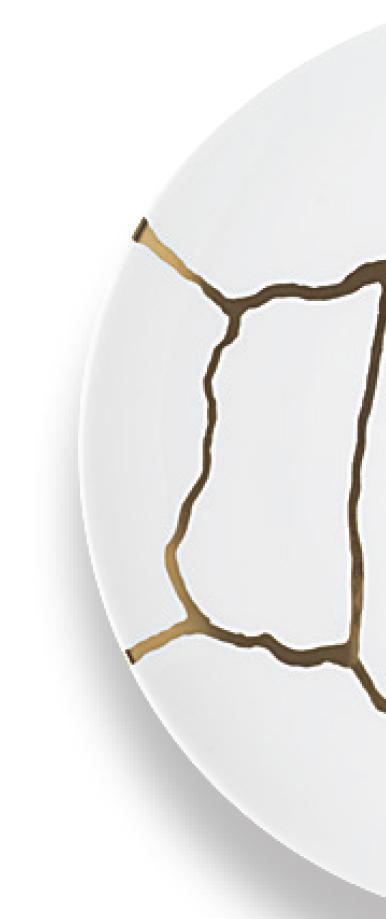 Black matte-finished stoneware Aggio, made by The Wheel Stoneware, Leucadia, CA.
Bryan Voltaggio's creative concoctions sit on these handmade plates at Aggio. "Sometimes the dish dictates the plate, sometimes the plate dictates the dish," he says. "The ingredients pop on a black surface, and these plates have concave sides, making them great for long noodles."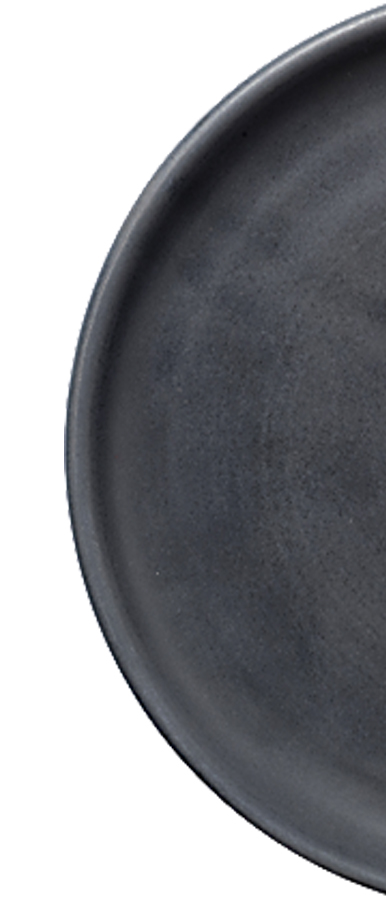 Museo White Dinner Plate Cinghiale, made by Richard Gionori 1735 in Florence, Italy
Though basic white, Cinghiale's refined porcelain plates make a big statement. "They bring out the elegance of the restaurant, while also emphasizing it's old school feel," says executive chef Julian Marci. "When you're at one of our tables, you feel like you're in Piedmont or Alba."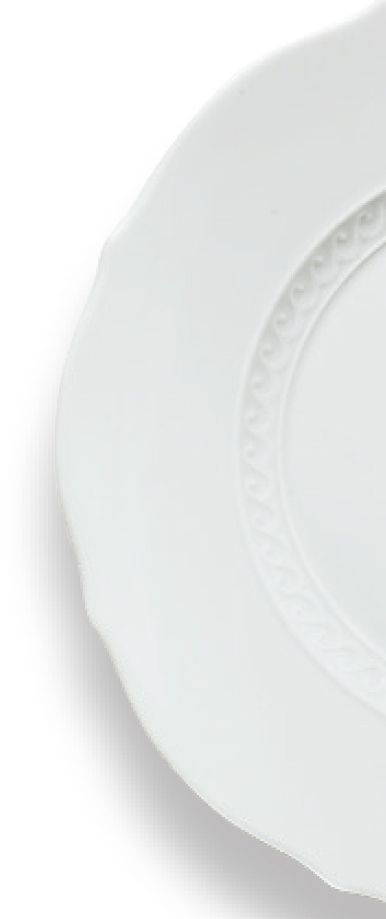 Crab Dip Ryleigh's Oyster
Ordinarily, we're seafood purists, and we're big believers that the sweet meat of our blue beauties hailing from Chesapeake waters needs no culinary co-stars. But when the mood strikes, we go gaga for the gooey goodness of the crab dip at Ryleigh's. It's served in a cast-iron skillet, bubbling with a blend of cream cheese, cheddar, heavy cream, thyme, parsley, sherry, shallots, Old Bay, and, that real rarity in dip, only the highest caliber of crabmeat from the famed J.M. Clayton on the Eastern Shore. Mind your manners and slather this dip daintily on toasted slices of baguette or go primal and eat it straight off the spoon (or even your index finger)—with a dip this addictive, anything goes. Several locations, including 36 E. Cross St., 410-539-2093
Roast Chicken Petit Louis Bistro
All too often, poultry is the most pedestrian plate on a menu. Not so at Petit Louis, where a black-feathered bird is bathed in duck fat, stuffed with herbs and sea salt, sided by shallots and garlic, browned on all sides for 20 minutes, and lovingly basted and tended to with care before being roasted. By the time the bird arrives tableside, ready for carving, the "oohing" and "aahing" will be audible. (Of note—only staffers with six months of training are entrusted with carving this creation.) Wash it down with a sommelier-suggested Beaujolais and you'll be flying high. And when you've picked over every last morsel of meat, consider taking home the carcass to make chicken stock. Forget the Oriole—this is our new state bird. Two locations, including 4800 Roland Ave., 410-366-9393. *The Inspiration: "Years ago, I was visiting Château Thivin at Côte de Brouilly and sitting by the fire with the proprietor. We were talking about la cuisine de grand-mère, and the way his mother would roast a chicken. I thought to myself, 'That's what we do at Louis—grandma's cooking.' And a decade after Louis opened, we put this roasted chicken on the menu." — Tony Foreman, co-owner Petit Louis Bistro
Charcuterie Corner Charcuterie Bar
A flurry of changes in name and concept has left our head spinning when it comes to this cozy hipster's den in Hampden. What doesn't change is the quality of the various house-cured meats (you can see them hanging from the rafters behind the bar) and carefully curated cheeses that comprise chef Andrew Cole's gorgeous charcuterie presentations. Paper thin slices of, say, Venetian soppressata and saucisse de Lyon drape a large wooden plank dotted with chunks and dabs of cheese from artisanal purveyors: a runny Thomasville tomme, a truffle-scented sottocenere, a sweetly herbal fleur verte. The platter is invariably garnished with a fetching trove of accompanying house-made mustards, dried fruits, and pickled things. Order up one of these along with a selection of the bar's handcrafted cocktails and you won't care what they call the place. 850 W. 36th St., 443-869-5075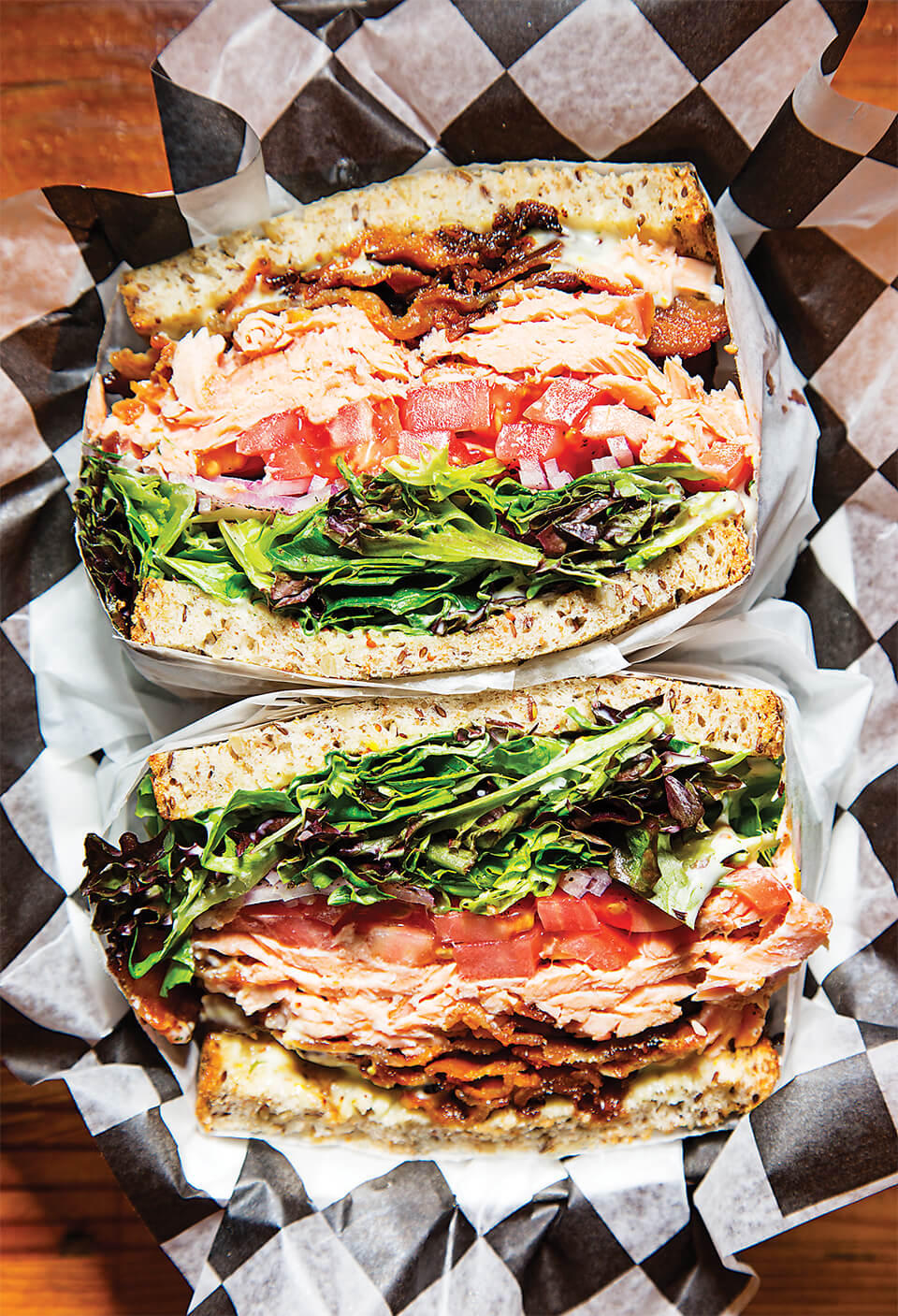 Smoked Salmon BLT Neopol Savory Smokery
How did chef-owners Barbara Lahnstein and son Dorian come up with their thriving smokery's most popular sandwich? Smoked salmon, of course, is one of the staples of the smoker and, to use up excess salmon, the pair invented a luscious version of the all-American BLT, yet another item in their extensive inventory of wood-fire-smoked foods, including everything from the requisite meats and fish to olives, salt, and tofu. The eat-in/take-out venue prides itself on sustainable ingredients. Accordingly, Dorian has traveled all the way to Scotland to check out the salmon they source from the environmentally diligent Wester Ross fishery. And the "B" in this BLT is, naturally, house-smoked and nitrate-free. Once you've tasted Neopol's version, you'll never want the standard-issue BLT again. 529 E. Belvedere Ave., 410-433-7700
Chesapeake Rockfish Wit & Wisdom
We've taste-tested all over town and chef Zack Mills makes one of our very favorite fish dishes: wood-grilled Chesapeake rockfish. Mills's creation, served with a side of kushari, grilled lemon, and squid-ink tomato-purée, is a simple, yet splashy, rendition, with a squeeze of citrus, some salt, and a peck of pepper, plus a coating of oil to crisp up the skin, as our official state swimmer (no, we're not talking Michael Phelps here) heads to the heat. And while Wit's entire menu honors regional fare, the rockfish is a rocking ode to Mills's talent. 200 International Dr., 410-576-5800
Burrata Verde
One of the city's best Italian cheeses isn't imported from the motherland or even made in Little Italy. Instead, on a quiet corner in Canton, this Neapolitan pizza parlor makes its own fiore di latte mozzarella in-house daily. Of the five mozzarella specials, order their crème de la crème: a house-made burrata fashioned from fresh mozzarella and rich, buttery cream. Topped with fresh basil and served with a side of house-made crusty bread, this soft-centered starter can almost make you forget about the dozens of delicious, wood-fired pizzas on offer. This cheese really does stand alone. 641 S. Montford Ave., 410-522-1000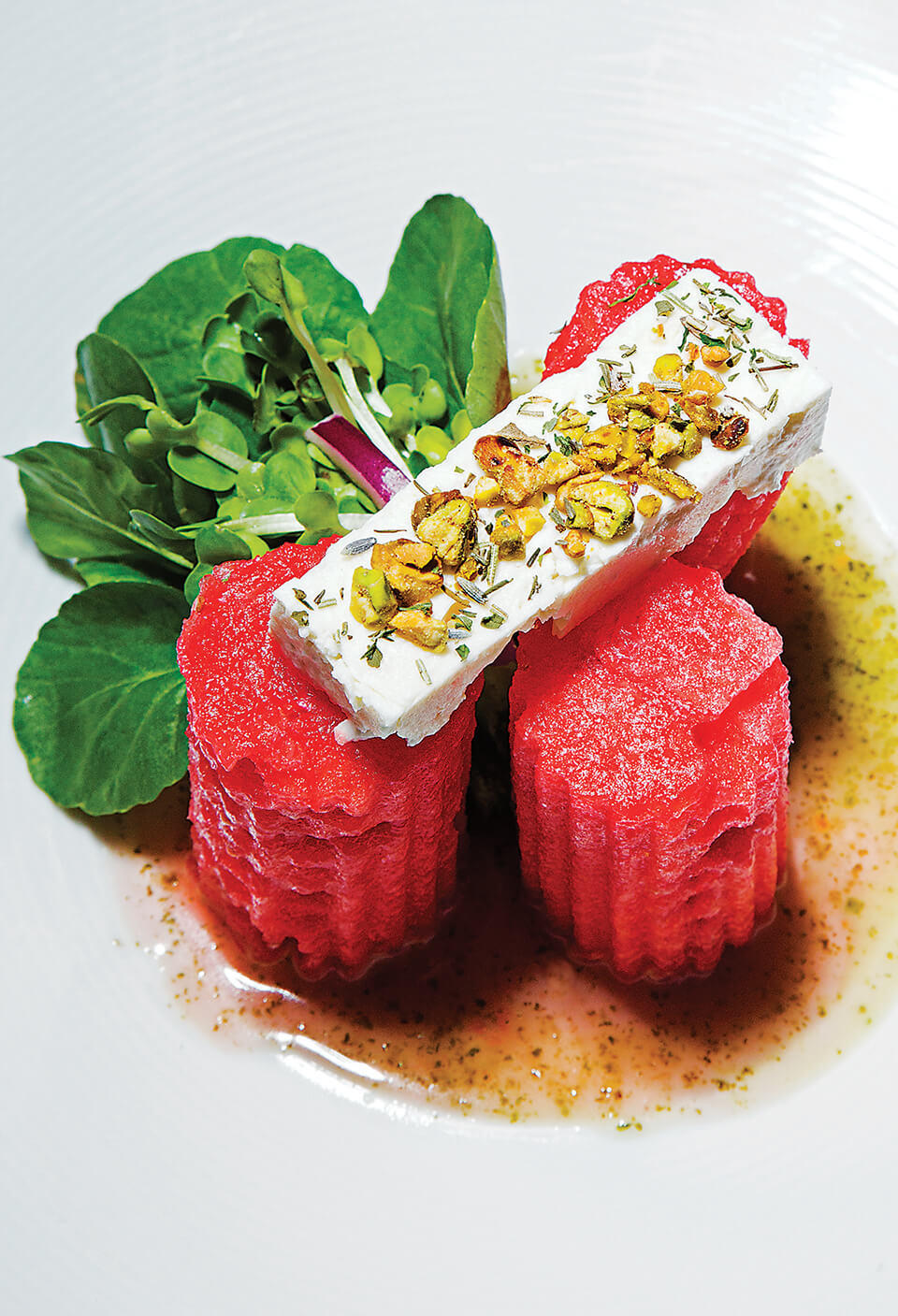 Hindvana Salad Ananda
Though it's listed under "salads," Ananda's Hindvana salad is anything but your standard starter. On a massive menu featuring refined Colonial Indian cuisine, this gravity-defying arrangement of baby watercress, spicy radish sprouts, and three chilled watermelon towers balancing a slab of briny feta (and doused with a sprightly lime-mint chili dressing to add a hint of heat) is an alluring, edible sculpture. But don't stop there—the Hindvana pairs perfectly with everything else on the menu—from tandoori chicken kebob to lamb vindaloo. 7421 Maple Lawn Blvd., Fulton, 301-725-4800. *The Inspiration: "Most of the elements of the salad are very common in Punjab. We wanted to make a salad that had traditional ingredients, but was assembled in a fresh, modern way. The tower of watermelon, topped with feta, is a very contemporary presentation that demonstrates our love for things that are new and exciting."—Binda Singh, owner, Ananda
Three Meat Plate Blue Pit BBQ
Barbecue is one of the most difficult cooking techniques to master, and in the middle of a city, health regulations can be an obstacle for properly smoking meats. So it's not surprising that decent barbecue has been the unicorn of foods in Baltimore. Blue Pit in Hampden-Woodberry is working hard to change that, with five meats smoked slowly over wood, carefully tended to by a pitmaster. Furthermore, they've thoughtfully streamlined the cumbersome process of deciding what to get by offering the forthrightly named "3 Meats," with stout servings of each protein and any two of the six available sides. We like to take the menagerie approach and order up the bourbon-glazed pork ribs, barbecue chicken, and Zeke's Coffee-rubbed brisket, along with maybe the best collard greens in town and baked beans spiked with smoked pork and brisket. For a paltry $17, this is an embarrassment of riches. 1601 Union Ave., 443-948-5590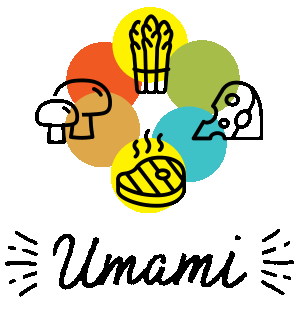 In the 19th-century, scientists defined the four finite flavors picked up by the palate: sweet, salty, sour, and bitter. But by the early 20th century, scientists identified a fifth taste known as umami (Japanese for "delicious")—a savory flavor profile commonly found in asparagus, tomatoes, cheese, meat, and mushrooms—as part of our receptor repertoire. "Umami is an extremely important element usually achieved by highlighting the amino acids in a particular dish," explains Robbin Haas, who owns Encantada, The Nickel Taphouse, and Birroteca.
And while the so-called "fifth taste" has been around for some time, "the food world evolves," says chef Howie Velie, an associate dean at the famed Culinary Institute of America in Hyde Park, NY. "As we become more based in science, and interested in the how's and why's of the way things taste, umami plays an important role. It's the same way that the word 'terroir' is now used to discuss taste outside of wine."
When devising dishes, many area chefs, including Cyrus Keefer of 13.5% Wine Bar, keep umami in mind. "We call it the base note," he says. "It puts the floor to something that needs more salt or more acid. A dish isn't done until we give it that little bit of oomph and that can come from anchovies or light soy or something like fish sauce. Umami is the flavor that gives everything depth—it's the one that brings it home."
Guacamole La Tolteca
We've sampled great guacs all over town (and even serve up a pretty mean version ourselves), but the green stuff at La Tolteca, prepared tableside, is in a league of its own. On a recent visit we watched carefully as our bartender at the Canton outpost of this local Mexican chain casually threw the standard ingredients into a traditional molcajete: two avocadoes; handfuls of onions, tomatoes, jalapeños, and cilantro; a dash of garlic powder; the juice of three limes; and—the secret ingredient—a teaspoon or so of jalapeño-flavored white vinegar. As the concoction was mashed, we salivated in anticipation. The result was brighter, richer, and better than any we've tasted. We'd happily watch this magic act again to see if we missed some sleight of hand, but for now we're left to ponder how something so simple can taste so divine. Several locations, including 2324 Boston St., 410-617-0959
Crab Cake Platter Koco's Pub
The tropical-yellow Lauraville pub, serving what many say is the best crab cake in town, is not on the tourist trail and it's not one of the high-end temples of haute cuisine. Most nights, you'll find casual Koco's packed (and we mean packed—make a reservation) with neighbors kibitzing over platters of wings and ribs, playing Keno, and drinking Natty Boh. But there's nothing casual about the main attraction—a massive mound of jumbo-lump crab, lightly held together with a touch of creamy mayonnaise and not much else. A humongous crab-cake platter—featuring fries, cole slaw, and a surprisingly yummy sliced tomato dusted in Old Bay seasoning (trust us on this)—is the $22.99 special on Thursdays (translation: extra crowded), but you can sample Baltimore's finest multiple nights of the week. We won't judge. 4301 Harford Rd., 410-426-3519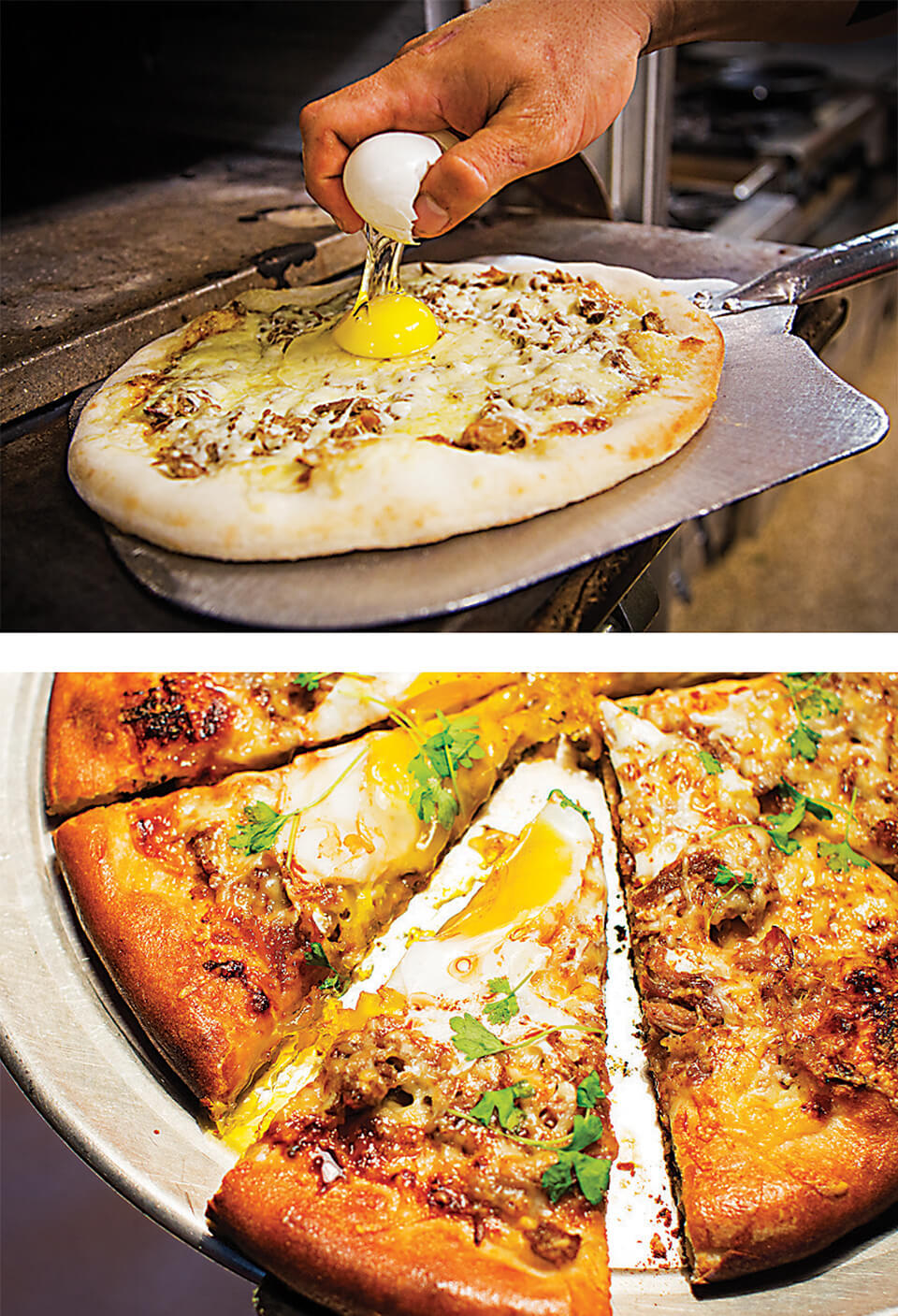 Duck Duck Goose Pizza Birroteca
Layering ingredients like a composer creating sweet harmonies—a smear of fig onion jam, mounds of creamy Asiago and fontina, shards of unctuous duck confit, a splash of aged balsamic, and a fat, farm-fresh duck egg placed at dead center—owner-chef Robbin Haas brings together sweet and savory flavors for his truly one-of-a-kind pizza. And since every great structure needs a good foundation, this bounty sits atop an outstanding crust used for all the kitchen's gourmet pies. Although deciding amongst the many innovative, rustic Italian offerings at Hampden-Woodberry's hopping brew pub is always a challenge, the siren song of this beautiful creation calls out to us every time. Two locations, including 1520 Clipper Rd., 443-708-1935. *The Inspiration: "The inspiration for this pizza was my love for duck. We wanted something unique, and also a pizza that was a little fun with a different taste profile using the agrodolce glaze prevalent in rustic Italian cooking." — Robbin Haas, chef-owner Birroteca
Stuffed Lobster Thames Street Oyster House
If your idea of a good time is a seafood smorgasbord, dive into the Maine lobster at Thames Street Oyster House. Serving four to six, this five-pound nod to New England is a bargain at $130, and it's more than enough to make a meal. (We promise, you can bank on leftovers.) A word of advice: Don't even think about taking the edge off with an appetizer. This behemoth beauty—served splayed open and stuffed with an amazing amalgam of blue crab, Gulf shrimp, scallops, Ritz cracker crumbs, red pepper, onions, and herbs—deserves your full focus. While the tail meat is intact, the claw meat (imagine an oversized oven mitt) is cracked, shelled, butter-poached, then plated on top of the whole affair. As if that's not enough, grilled asparagus and charred lemons are served on the side, and the final touch is a warmed plate with a ramekin of beurre monté (emulsified butter). Plan ahead. You'll need to order 48 hours in advance. 1728 Thames St., 443-449-7726. *The Inspiration: "A special occasion means family and friends, and, of course, lots of good food. At the heart of these gatherings is a dish that's big enough to feed everybody that's still extraordinary. I thought it would be great to offer the stuffed lobster, a centerpiece fit for a celebration and a dish that could make a special moment truly memorable for a long time."—Eric Houseknecht, executive chef Thames Street Oyster House
Dolsot Bibimbap Nam Kang
One of the great things about Korean food is its ability to unite the two normally conflicting attributes of healthy and comforting. Bibimbap, consisting of rice, various vegetables, sometimes meat, a fried egg for added richness, and the all-important gochujang-based sauce is an iconic example. At home it's often made with leftovers, but in a restaurant setting, the mix-ins are prepared specifically for the dish. In Nam Kang's version, the ingredients are served in a dolsot, or hot stone bowl, where the bibimbap forms an exquisitely crunchy crust, adding another dimension of flavor and texture. In this iteration, the vegetable toppings are perfectly seasoned, the bowl exceedingly hot, and the gochujang sauce some of the best we've ever eaten. Enough said. 101 W. 22nd St., 410-685-6237
Pork Skirt Steak Parts & Labor
How do you choose amongst the meaty marvels and creative cuts of grilled protein at Spike Gjerde's popular butcher shop-cum-restaurant in Remington? We look to what meat purveyors call the "secreto," the flap at the bottom of a pig's belly also known as the skirt, a slightly fattier, more flavorful cut than the soft tenderloin, eminently suited to grilling over a wood fire. P&L's version is pork-concentrated—a bracing hit of primal meat served with an herb salad of radishes, lovage, chervil, sorrel, and borage. It's like wandering through a deep green forest and encountering the smoky scent of burning fire: a little dangerous, a little exciting, and definitely meant to evoke a time when food was the elemental stuff of life itself. 2600 N. Howard St., 443-873-8887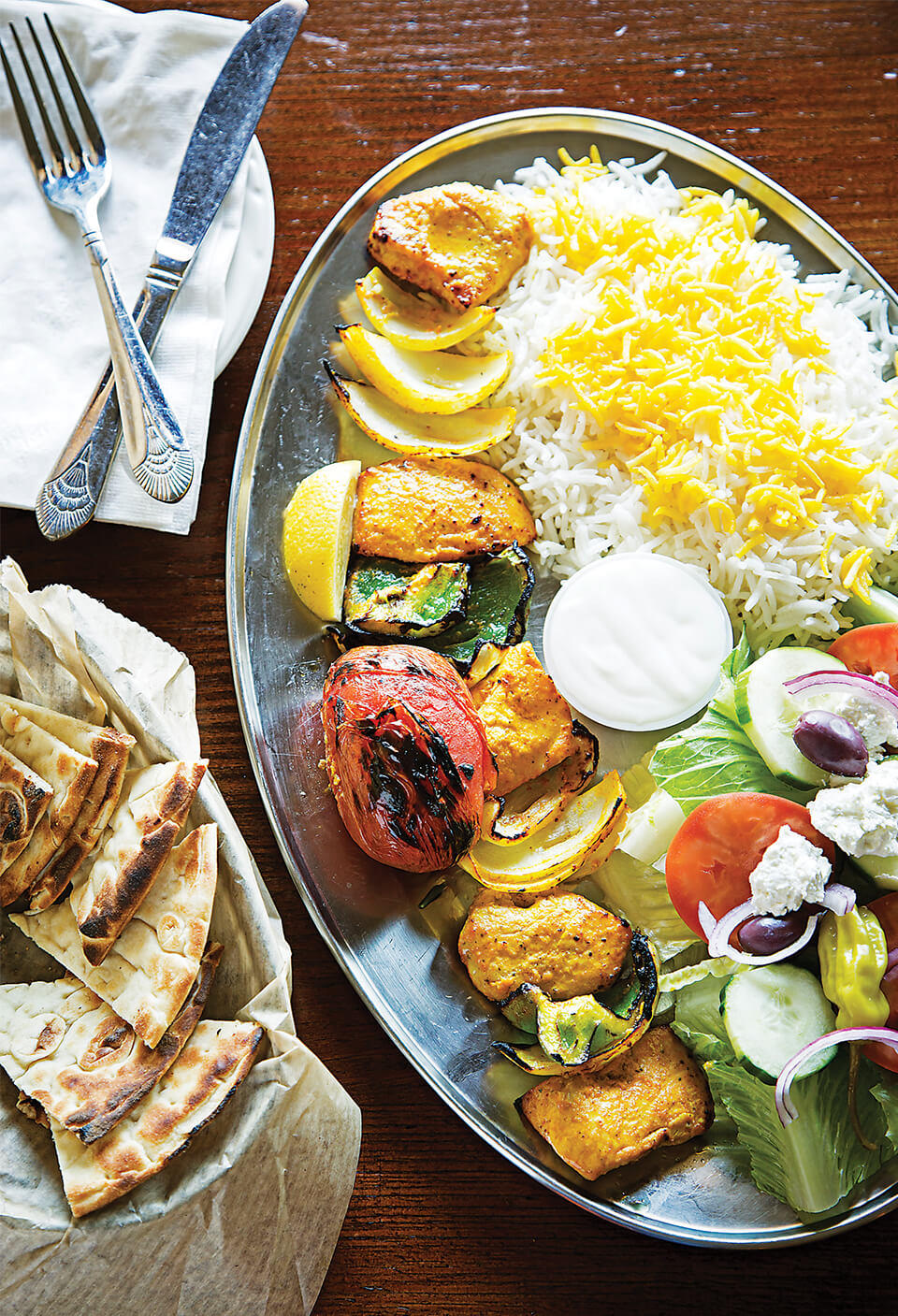 Chicken Shish Kebab Villagio Cafe
A chicken shish kebab platter is not generally the sort of thing that inspires Instagram photos, but an exception must be made for the one at Villagio Cafe. Served on a stainless-steel plate, with fluffy basmati rice with saffron, a side salad dotted with creamy feta cheese, and colorful bell peppers, onions, and tomatoes, the dish is as beautiful as it is delicious. Of course, the chicken is the thing: Marinated until it becomes wonderfully moist, with just the right amount of char, and seasoned to a delicate orange, it's mouthwatering on its own. Dunk generously in the Persian restaurant's signaturetorshi dip—a vinegary mixture of pickled vegetables and herbs—and this quotidian dish is elevated to superstar status. 6805 York Rd., Towson, 410-372-2200
Caesar Salad Aggio
Celebrity chef Bryan Voltaggio's signature move is tweaking the traditional, but of all the wildly creative cuisine coming out of his restaurants (including Range, Family Meal, and Volt), our go-to is the Caesar salad at Aggio. We love the twist in Aggio's version, which is composed of pale romaine hearts, contrasting deep green kale and collards, shavings of smoked dehydrated scallops (lending a hint of fishy flavor), and fried oysters acting as a crunchy stand-in for conventional croutons. 614 Water St., 410-528-0200 *The Inspiration: "I folded collard greens, kale, and romaine together to create these layers of flavors and textures with the greens. I was thinking that since we're in the Mid-Atlantic, if we're looking for fishy flavor, why not fry and bread oysters and make that our crouton? You get the crunchiness and that pop of brininess, and it reminds you of the anchovy. I took inspiration from a classic dish and made a fun, Mid-Atlantic version of it."—Bryan Voltaggio, executive chef, Aggio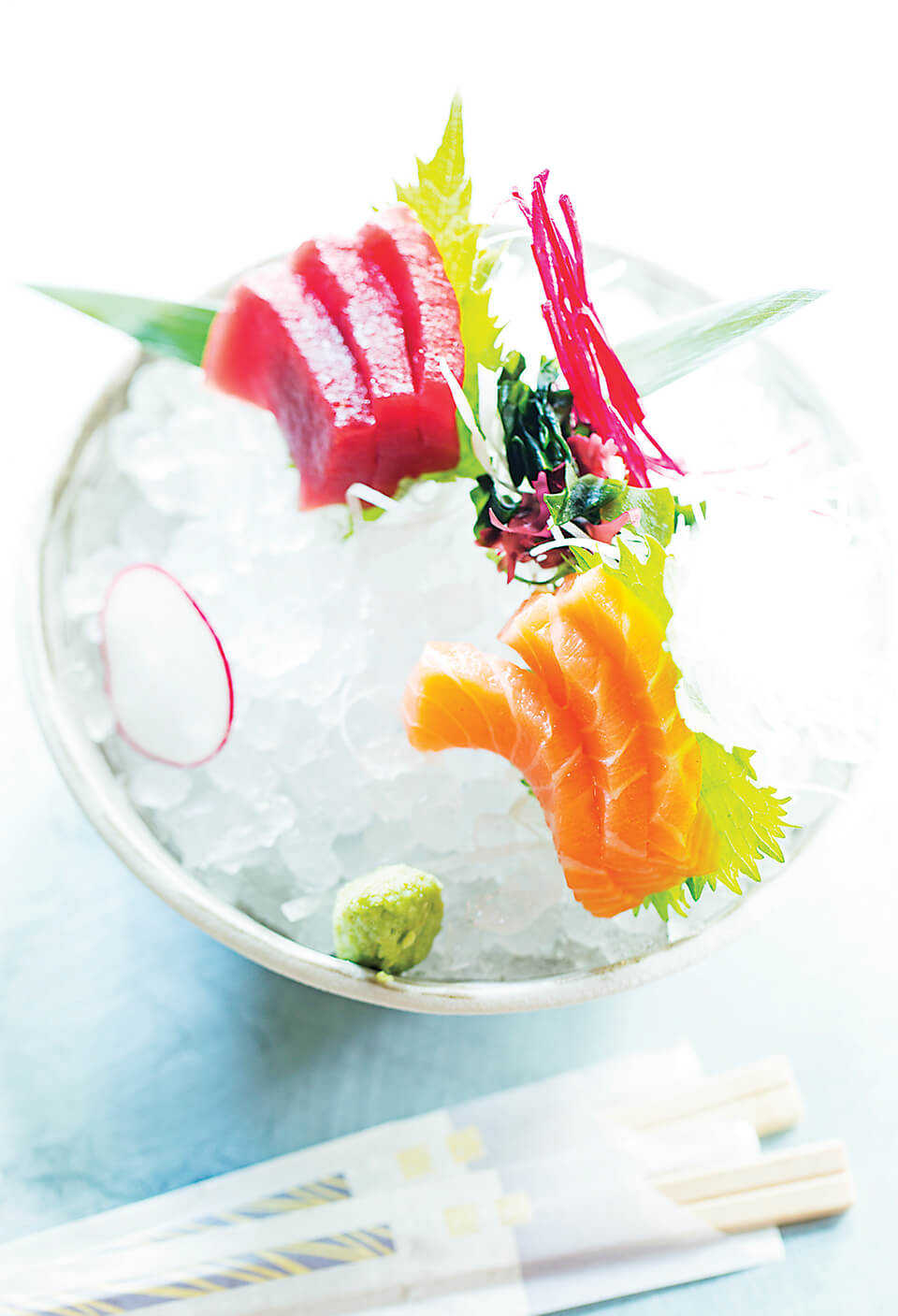 Sushi Johnny's
Fans flock to Johnny's for grass-fed black Angus burgers, designer coffee, and, uh, sushi? Unexpected, yes, but it all makes sense once you belly up to the sushi bar and watch former Pabu chef Ron Choi prepare what is some of the best sushi around. The menu is small, but this allows chef Choi to impress with each morsel, which in most cases involves brandishing his trademark precision knife work, adding just the slightest, yet pivotal, flourish, and then stepping back to allow the immaculately fresh ingredients to do the talking. On a given night this could be glistening opal-white scallops, or translucent kanpachi from Japan. If the stars are aligned correctly, the sea bream will be on offer, flown in fresh for the occasion, still blushing pink, topped with a pin dot of explosively citrusy and spicy yuzu kochu to punctuate the deep richness of the fish. A truly transporting experience. 4800 Roland Ave., 410-773-0777
Po'Boys Tooloulou
You can get anything from artisanal pizza and lamb Bolognese to Southern specialties like collard greens and dirty rice at this plucky little takeout in Belvedere Square. But we're particularly obsessed with the po'boy, Louisiana's version of the submarine. Stuffed between the crusty confines of French bread, you'll find tomatoes, lettuce, a slathering of Tabasco rémoulade, Cajun pickles, and a choice of straight-from-NOLA proteins: blackened or fried catfish, fried oysters, Coca-Cola ham, and even gator, that sends us back to the bayou every time. Laissez les bon temps rouler, indeed! 529 E. Belvedere Ave., 443-627-8090
PERFECT PAIRINGS
We asked local chefs about their most unique flavor combinations in pursuit of creating memorable meals
By Lauren Cohen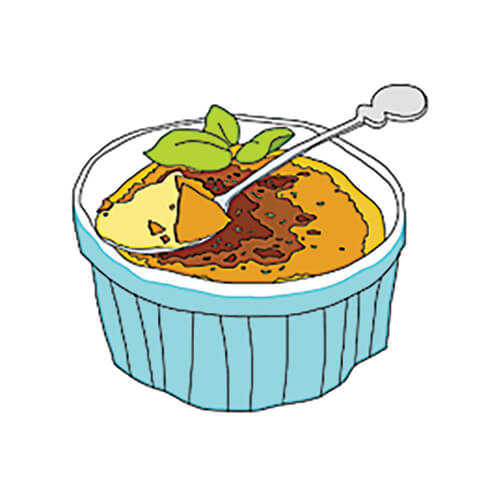 crème de la crème
"I revived a carrot miso from David Chang in New York. The flavor is earthy and inspired me to create a dessert. I tried using it in crème brûlée, and added an exotic curry mix with hints of lemongrass, kaffir lime, and coconut, adding lime ash and zest to cut the richness."
—Steve Monnier, owner/executive chef, Arômes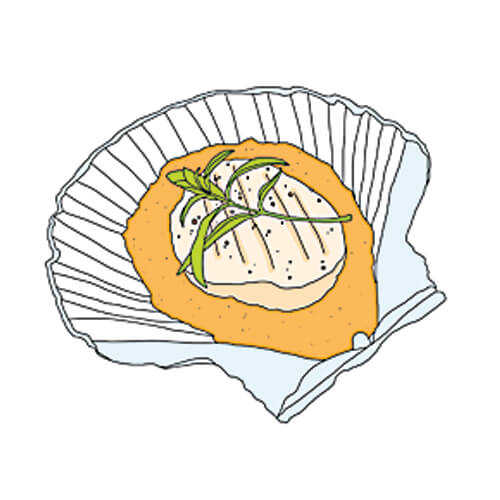 MELON BALLER
"I create interesting flavors that come from seasonal availability [like] a dish that paired Ocean City scallops with puréed cantaloupe and lemon verbena. When melon is puréed, it's light. This melon 'foam' is delicious with the brininess of the scallop, adding sweetness and acidity."
—Ben Lefenfeld, owner-executive chef, La Cuchara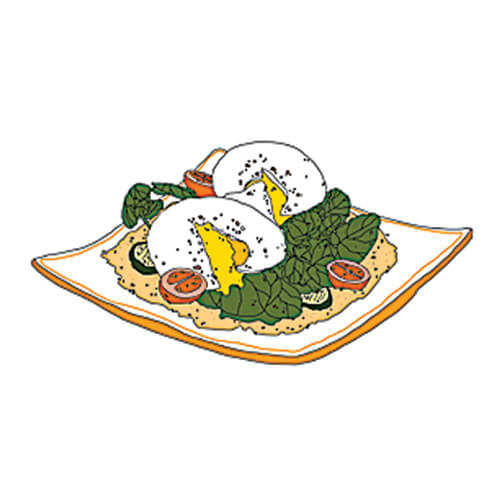 VEGETARIAN TIMES
"One of our most successful dishes is our sweet potato polenta. It was inspired by a guest who requested a vegetarian option for brunch. We introduce a puréed sweet potato into polenta, then sauté to order, then top with spinach, poached eggs, roasted vegetables, and goat cheese."
—Sean Guy, co-owner and executive chef, Water for Chocolate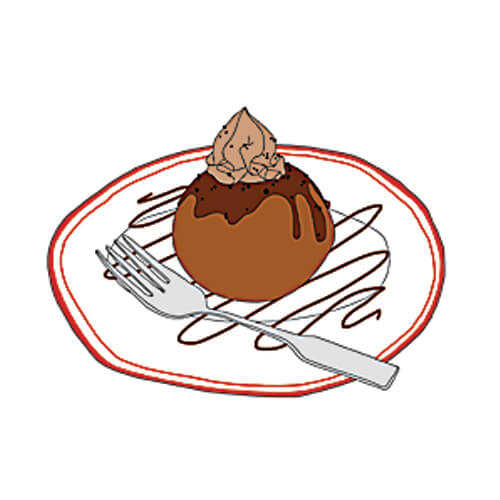 CHOCOLATE BOMBSHELL
"I once poured a chocolate ganache over chicken-liver pate. It was a sweetened chicken-liver mousse, like a chocolate bomb, and that was pretty fun."
—Cyrus Keefer, executive chef 13.5 % Wine Bar.
---
Thai Curry Mussels The Nickel Taphouse
If you're a seafood lover, there's no more fanciful dish in town than the Thai curry mussels at The Nickel Taphouse. Steaming mussels isn't a complicated affair (heat oil, sauté garlic, add mollusks). And much as we love them, eating our way through a pot of bivalves can become monotonous after the first few have been coaxed from their shells. But at this Mt. Washington eatery, this particular presentation—likely what you'd find on a road trip to the Far East—is all about the broth. The mussels arrive in a stainless-steel, covered bowl, soft and sweet and swimming in a liquid resplendent with red curry, garlic, cilantro, coconut milk, and butter. As you lower your spoon for a sip or use your buttered toast for a sop, there's no better way to slake your thirst and quiet your hunger at the same time. 1604 Kelly Ave., 443-869-6240
Tongue Tacos Tortilleria Sinaloa
"It's easy—just say 'tacos de lengua con todo, por favor.'" ("Tongue tacos with everything, please.") This was the advice we received nearly 10 years ago from an early adopter of the now-established taco torchbearer. And so we did, and so do we still. Sinaloa dispenses with the sundry accoutrements found elsewhere. Here, con todo simply means sides of pico de gallo, and both the red and green salsas, lemon, and radish. And what is a taco but a tortilla with filling? The tortillas are made fresh daily. Likewise, the meats are prepared in-house, cooked, and seasoned to spectacular effect. Of these, even surpassing the excellent res (steak), is the lengua, an incredibly rich, flavorful cut of beef, which, in the hands of Sinaloa's cooks, becomes meltingly tender and juicy with intense, clean, beefy flavor. It may just be the ultimate expression of the taco. 1716 Eastern Ave., 410-276-3741
Pork Buns Dooby's
Adopting the signature dish from the iconic Momofuku in New York can certainly be a risky undertaking, but Dooby's version is, in our estimation, a worthy homage. It's common to call properly made steamed buns pillowy, but in this case the braised pork belly is more accurately described as such—incredibly tender, with the right balance of savory and fragrant spice. The buns are just solid enough to encase the pork, then seamlessly vanish on the tongue. And the accompanying kimchi and gochujang aioli serve as piquant foils to all that luxury. 802 N. Charles St., 410-609-3162. *The Inspiration: "Our classic pork buns are inspired by some of my favorite eats from New York City. Living in the East Village, I had incredible access to the pork bun kings: Ippudo, Baohaus, and Momofuku. We wanted to bring some of that deliciousness back home to Baltimore. We tell our guests that the best way to eat it is to think of a bun as an Asian taco."—Phil Han, owner, Dooby's
Risotto Magdalena
On a menu rife with temptation—from a wild rockfish with maitake mushrooms and candied eggplant to a shoulder of Elysian Fields lamb served with kale-rice grits—it really says something that it's the vegetarian risotto that leaves us breathless. Here, a bed of aged Arborio rice slick with truffle oil and flecked with al dente English peas, tiny chanterelles, and shavings of Australian truffles forms a throne for the focal point: a crisp-crusted, lightly fried poached egg that's a marvel in taste and texture. The result is both earthy and ethereal, and quite possibly one of the best things we've ever eaten. The Ivy Hotel, 205 E. Biddle St., 410-514-6500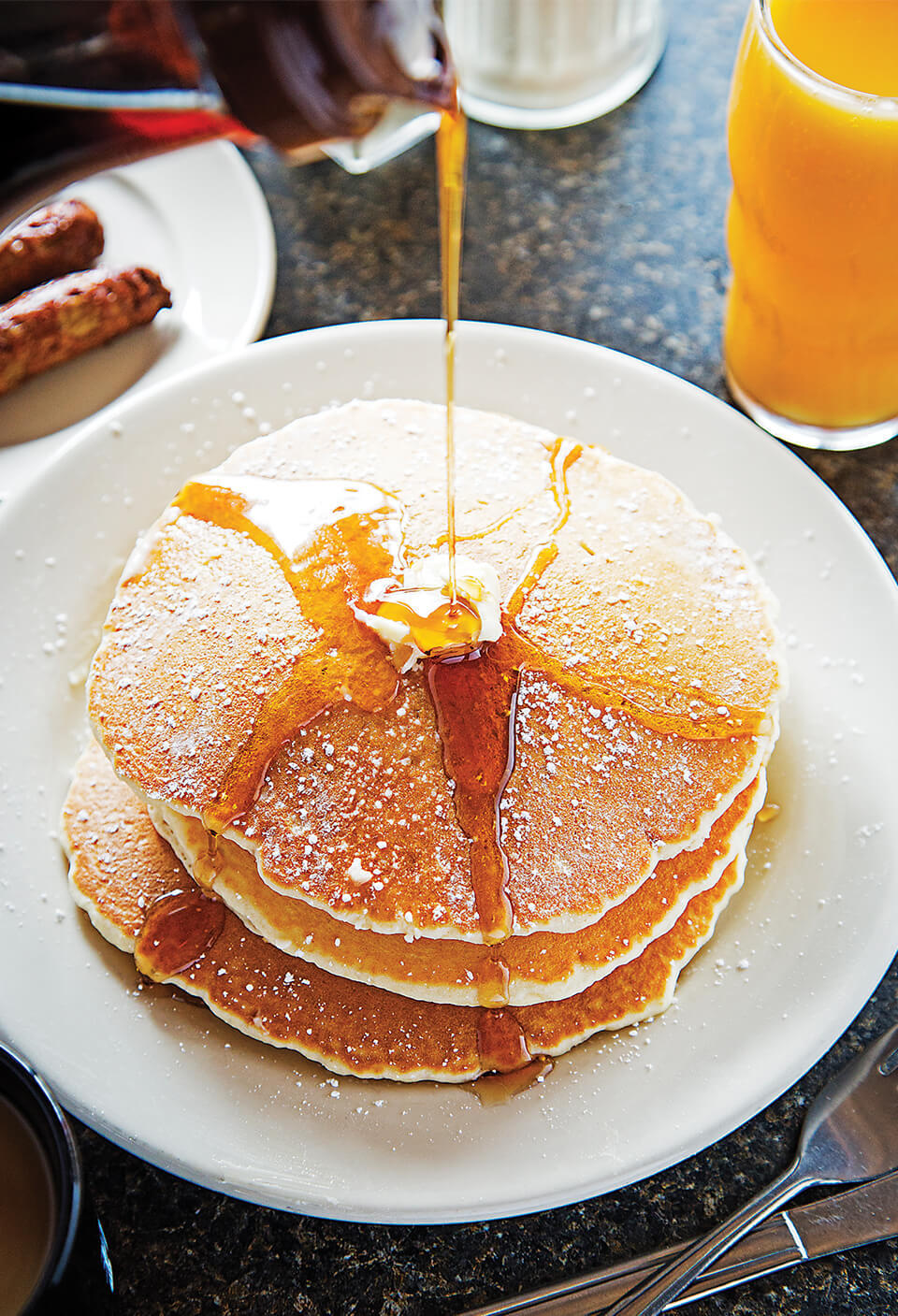 Pancakes Pete's Grille
On a fading corner of Waverly, this Baltimore breakfast landmark sits much like it has for the past 50-plus years. An old-school greasy spoon, it has long been lauded for its thick and fluffy hot cakes, a favorite amongst locals and celebrities alike. Grab a stool at the counter and go straight for a classic stack, dusted in powdered sugar and swaddled in syrup. Whether you're satiating your Saturday cheat meal or curing your Sunday morning hangover, a stack will fit the bill for both. And don't forget to batter up for Pete's annual pancake-eating contest to beat the current record—18 for men, 12 for women. Even if you're not into competitive eating, you could be a contender. Trust us, they go down way too easy. 3130 Greenmount Ave., 410-467-7698.
Corned Beef Attman's
As soon as the doors open at this century-old stalwart on Corned Beef Row, the line begins to build. Don't worry, it moves quickly. Watch the sandwich wizards work their magic while you ogle other orders—but don't be swayed. Simply follow the sign that states, "Repeat after me: Corned beef, rye, mustard. Period." The bread is soft and seeded; the meat is hot and tender, salty and thinly sliced; and the homemade mustard adds a just-right spicy kick. Grab a bag of Utz and a can of cream soda. Savor slowly. You'll want to make the moment last. Two locations, including 1019 E. Lombard St., 410-563-2666.
Lemon-Curd Donuts Fork & Wrench
Pastry chef Janae Aiken is slaying hearts at
this self-described boutique dive bar in Canton, where dinner is full of delectable surprises and the end is ever sweet. Aiken's desserts are always astonishing, but her lemon-curd donuts—light-as-air little puffs plumped with lemon curd, showered with candied citrus, and served with lemongrass ice cream—are positively irresistible, even if you're not a lover of lemon (or donuts for that matter). 2322 Boston St., 443-759-9360 *The Inspiration: " These donuts were inspired by my Kansas-raised grandmother's roll recipe, which won prizes at county fairs. A guy asked me out last week when he tasted these." —Janae Aiken, pastry chef, Fork & Wrench
---
---