Who said pin-up girls can have all the fun? In a new project headed by Hampden community staple Lou Catelli and shot by local photographer (and Baltimore contributor) Justin Tsucalas, the neighborhood's male entrepreneurs bare all for a good cause. Two versions of the 2016 calendar—one tame and one not-so tame—are being sold at businesses on The Avenue and 100-percent of the profits are benefitting the Hampden Family Center, which provides residents with education and career support. We talked to Tsucalas about the project's origins, some of his favorite photo-shoot moments, and how a naked Burt Reynolds fits into all of this.
How did this concept first come about?
I had nothing to do with the origin of the idea. It was Lou Catelli, Chef Bernard [Dehaene], and David Alima from The Charmery. They were all at the Corner Restaurant, got a couple of drinks in them, and started joking around. The idea became, 'We should come up with a sexy calendar to raise money for the Hampden Family Center.' Then they approached me about it because I had photographed Lou years ago. I told them if they got it all set up, I would block off two days and shoot it. Once Lou made the Facebook page with that famous image of Burt Reynolds, that became my inspiration for the entire thing.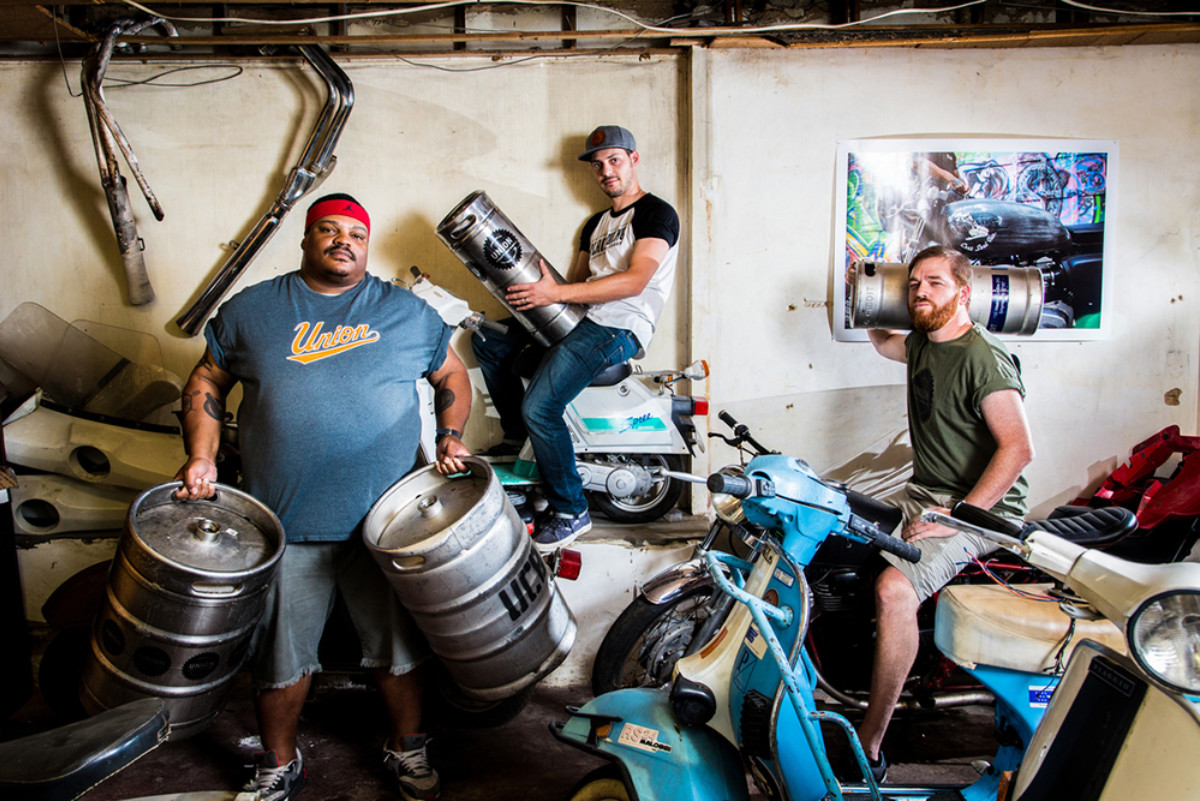 -Photography by Justin Tsucalas
Wow two days is not a lot of time to orchestrate 28 photo shoots.
Lou had just incredibly planned the whole thing out. We did 12 shoots in four hours that first day. We did 16 the next. I work pretty fast usually, but nothing ever like this. It was 15 minutes per guy, boom, onto the next. We were able to do some in the studio, but Lou also picked a few locations, like under Sixteen Tons, where I was surprised to learn there's a moped repair shop. Some were in the back alley behind Howl pet store. We did some in people's offices, also K&S Auto Repair on Falls Road. There was sort of a vehicle theme that emerged.
What were some of the most memorable shoots?
The very first shot of the whole project was on the roof of Twenty20 Cycling with owner Johnny May. As soon as I got there, I'm immediately climbing a ladder onto a roof, where Johnny is wearing a robe and they're hoisting a bike on top. But that was such an amazing shot and great way to start it off. I thought, 'If anything else comes close to this shot, we're good.' That was sort of the lightbulb picture.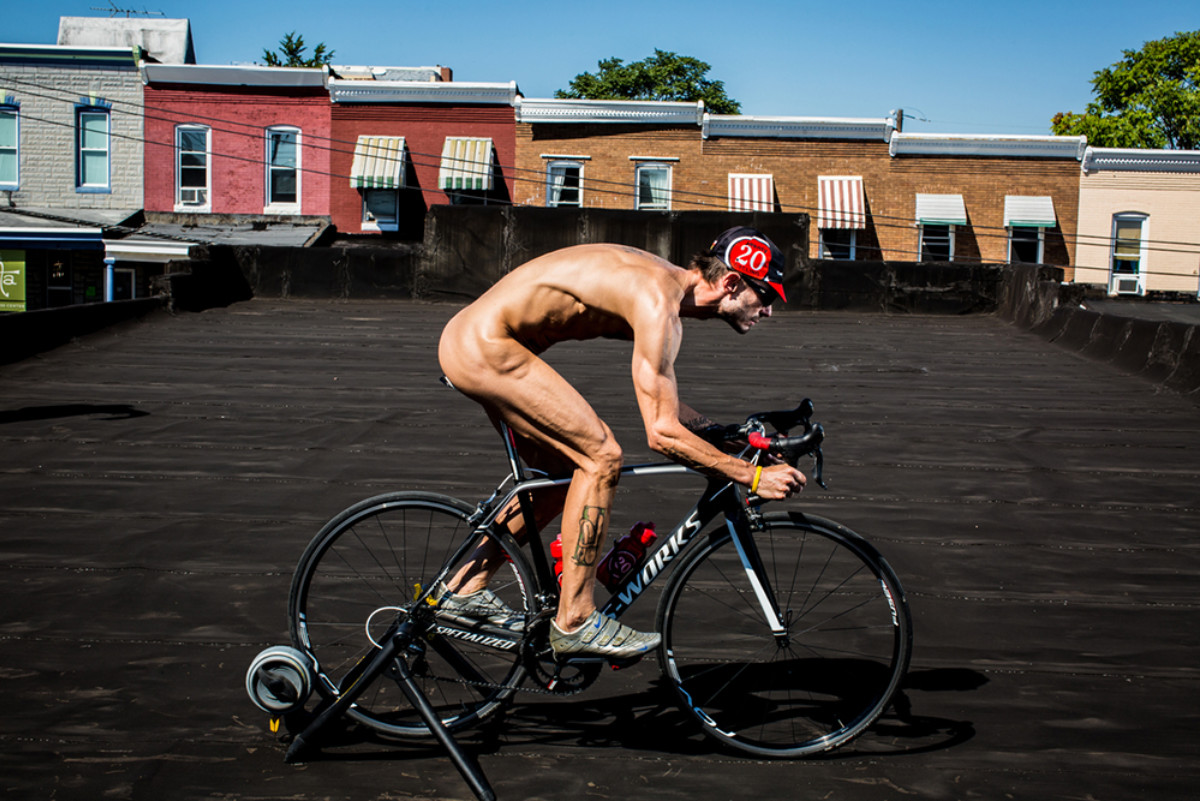 -Photography by Justin Tsucalas
Did different subjects have different levels of comfort?
Totally. Mr. Ming, the owner of Asian Taste, just cracked me up because he was so immediately on board with it. This picture was the last one of the day and there was no time to really get him warmed up. But he didn't need it, it just clicked really fast. Other people were a bit more reserved, which I totally understand. Everyone has different levels of comfortability. It became more what are you willing to do and what are you willing not to do. Chef Bernard's picture is ridiculous. He's wearing a pink skirt on his mini-bike on top of the bar. He went all out. For the most part, I'd say people were willing to take it to the PG-13 level.

Speaking of PG-13, there are two versions of the calendars—one standard and one "boys gone wild."
Well Lou initially threw the idea out to a few people, thinking maybe 10 or so would be interested. But, as word spread, we were able to confirm 28 people. Obviously that is too many for one calendar year, so we needed to make two. The general rule became: If you don't have a shirt on, you're in the "boys gold wild" version.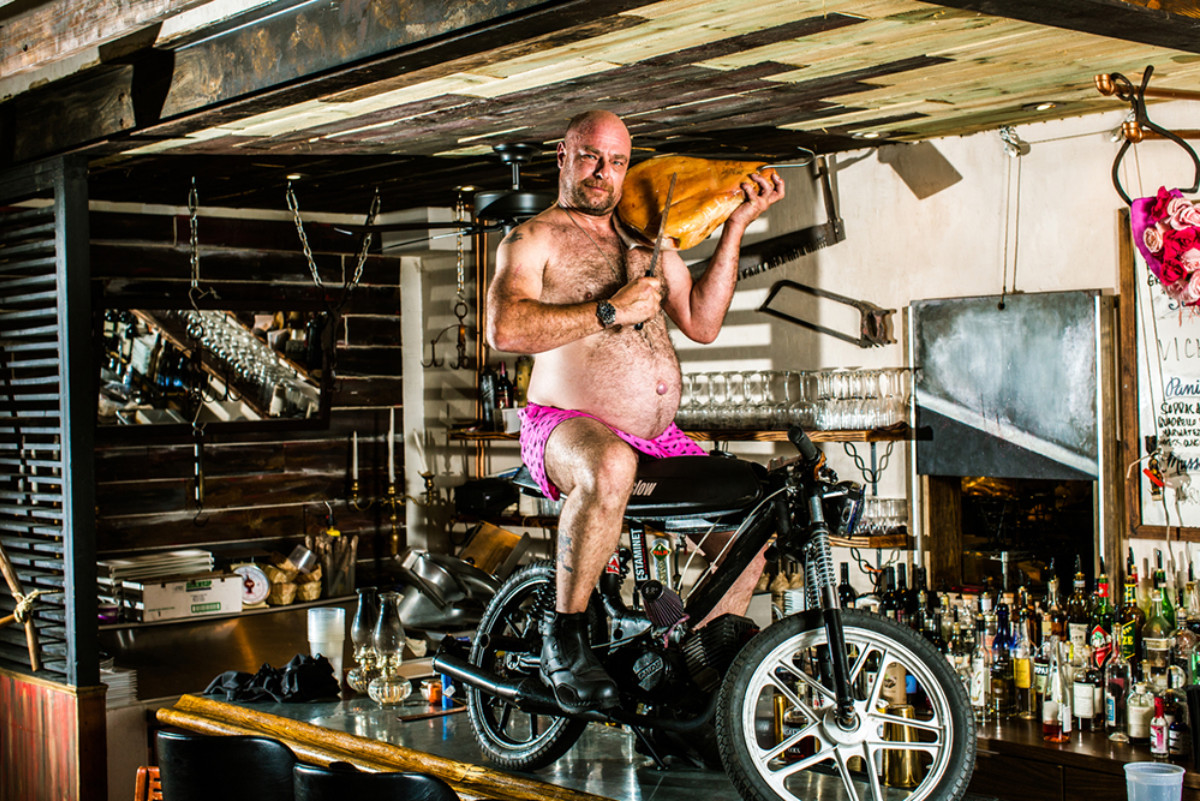 -Photography by Justin Tsucalas
I know you said Burt was a big inspiration for the photos. Anything else you were channeling?
I sort of wanted the photos to look paparazzi-esque. We were moving so fast, it was kind of like, 'Put the lights here. Okay, that looks good.' But you get all these really cool highlights on the sides of people's faces in a couple of shots. It helped that we had two beautiful, sunny days . . . I'm usually a pretty quiet shooter, like I'm kind of just there observing, not really dictating. But I was so on board directing these shots, telling them, 'Open your shirt, move your leg.' I've found that even in my assignments since the calendar, I'm a bit more pushy, a bit more directorial. It's funny how it's changed my style a bit.
Are you happy with how it turned out?
Oh yeah. It was just such a clever idea and it turned out really well. I think anyone that lives in Baltimore can appreciate it. I've heard they have even sold a couple internationally already. It's funny how it's sort of snowballing. Now I know if I ever want to get anything done, I'm going to get Lou involved because he makes it happen. It's definitely a credit to him and everyone in the photographs, who were willing to put themselves out there.
The calendars are available at various businesses on The Avenue and online. There is a release party on November 12 at Atomic Books, which will feature some talks and behind-the-scenes footage. Rumor has it that a female version is in the works for 2017.
---
---