Tapping into the trend toward foods that titillate the tongue, McCormick & Co. has launched Old Bay Hot Seasoning, the company's first new Old Bay spice spinoff in a decade. With its iconic blue, red, and yellow color scheme, the design of the tin looks much the same as the original, which has more than 530,000 "likes" on Facebook. But what's inside yields a fierier flavor, with pinches of black and chili peppers to create heat. "There's been a lot of interest in spicy flavors over the past few years, with consumers wanting bolder flavors such as sriracha
sauce," says Laurie Harrsen, director of consumer communications and public relations at McCormick & Co. "Up and down the grocery store shelves, people are looking for spicier flavors—so it was time for us to come up with something, too." Whether hot or classic, the seafood seasoning, named for a steamship line that traveled the Chesapeake, is practically our state spice. "When you're from this area, you grow up eating the bounty from the bay," says Harrsen. "Here, we are more attuned to eating seafood than any other food, and with Old Bay being more than 75 years old, it's considered part of the flavoring that comes from the bay."
---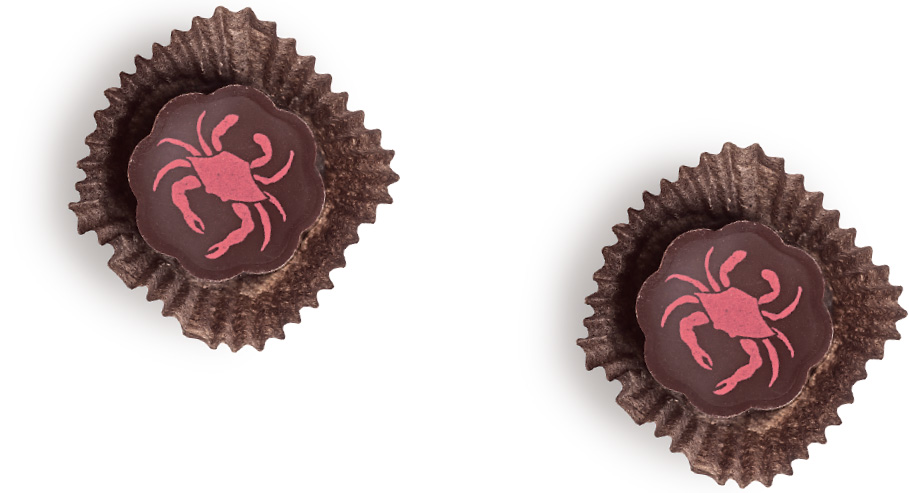 CRABBY CHOCOLATES

It's a truism that Marylanders use Old Bay in just about every food, from pasta to beer to Cheetos—and now chocolate. These crabby confections, made by Pick of the Bay, include cocoa butter, dark chocolate, a house-made caramel filling, and the Land of Pleasant Living's favorite condiment. "With the Old Bay in these chocolates," says Pick of the Bay founder Tom Nigro, "we offer a little taste of Maryland." Available at the Baltimore, Catonsville, and Towson farmers' markets.


Ooey Gooey: This caramel is made by an alum of the famed Le Cordon Bleu in Paris and uses only sugar, butter, and cream, with an infusion of Old Bay.
---
Old Bay is the blend that has launched a thousand products. Here are a few of our favorite Bay-inspired inventions:


---
PICK OF THE BAY CRAB MARINARA
Pick of the Bay uses True Blue-certified lump and backfin crabmeat from J.M. Clayton and Old Bay-style seasoning as key elements in its sauce. One taste and you'll wonder why you ever bothered to crack a crab. Available at the Baltimore, Catonsville, and Towson farmers' markets.
---
CARAMEL SAUCE WITH OLD BAY
This luscious caramel sauce can be drizzled on apples or eaten out of the jar. "I grew up with Old Bay," says Tom Nigro. "One day I tried a Marylander's version of salted-caramel ice cream using vanilla ice cream, caramel sauce, and Old Bay. The flavors were perfect together." pickofthebay.com.
---

CRABANERO
With its bright citrus notes and a good kick of heat, Crabanero founder Charles Parkhill says his product is, "great on raw clams and oysters, drier than a sriracha sauce, and not as acidic as a lot of hot sauce. It also has a touch of sugar to round out the edges. Coming up with this," Parkhill adds, "was my eureka moment." Available through crabanero.com.
---
---