A Raven tailed Tom Brady amid the Super Bowl post-game fray.
No, the Ravens weren't in the Super Bowl. But, yes, that was the guy who works for them shadowing Tom Brady at midfield on Sunday night, amid the confetti, photographers, and reporters in the moments after the New England Patriots' Super Bowl win over the Atlanta Falcons. His name is Chad Steele, now in his 15th year working in media relations for the Ravens. He's tall—6-foot-7—and a former star basketball forward at Winthrop University in South Carolina in the mid-1990s. You might normally recognize him from post-game TV cuts, as the guy in the suit next to Joe Flacco when he marches onto the field to shake hands with an opposing quarterback and do interviews. "I get it quite often," Steele said when asked if he's recognized around town.
For the second straight year, as part of a small group of senior NFL media relations personnel working the Super Bowl, Steele got the gig of making sure a celebrity NFL champion quarterback made it to his post-game press obligations, and on stage to receive the Lombardi Trophy. Last year, he was assigned Peyton Manning. This year, it was Brady.
"I sit back sometimes and say, 'I get paid to do this?' It's the coolest thing in the world," said Steele, whose father, Gary, was the first black football player at Army, and whose sister, Sage, is an ESPN anchor. "If you would have told me when I was 15 years old that this is what I'd be doing, I probably would have laughed at you and said, 'Can I fast-forward to that?'"
Standing on the sideline at Houston's NRG Stadium during the biggest of games, Steele gave the Patriots' four-man security team a heads up of his post-game duties and asked them to let him through, and help, when the expected media scrum afterward broke out. And chaos sure happened, prematurely in Brady's opinion, after Patriots running back James White went down near the goal line on a run that was called the winning touchdown in overtime.
"Get off the field! It's not over!" Brady yelled as media surrounded him, and 100 million watched on TV. "Just get away from me, until I know!"
"He thought it needed to be reviewed," Steele said. "I said, 'Tom, look around, bro, it's over.' The confetti was coming down. Then I heard it confirmed from an official and he dropped down to his knees. It was surreal. We're trying to protect him, give him a bubble, and it's just crazy around him; people being pushed, pulled, stepped on, and elbowed."
As for the mystery of Brady's missing game-worn No. 12 jersey, which the QB said was later stolen from his locker? Steele paused and, with a laugh, said he's not guilty: "I know I don't have it. It was chaotic in the locker room, and he told me, 'I pulled it off myself and put it in my bag.'"
Plank, Under Armour feel backlash for Trump comments.
There is no hotter button topic these days than President Donald Trump, who is a perpetual lightning rod of opinion and magnet of media attention. This week, Baltimore's own Under Armour, and its founder and CEO Kevin Plank, became intimately aware of that. Plank, who is on Trump's American Manufacturing Council and visited the White House on Tuesday, told CNBC in an interview, "To have such a pro-business president is something that is a real asset for the country."
As is par for the course in the current political climate, people saw "asset" in a sentence about Trump and were not happy, no matter the context. That includes one of the faces of Under Armour, the Golden State Warriors' Steph Curry, who cleverly said, "I agree with that description, if you remove the 'et'" from asset. Multiple UA athletes and others, like recently elected city councilman Ryan Dorsey, also spoke out against Plank's comments, with the latter injecting race into the conversation. And, just yesterday, ballerina Misty Copeland, also endorsed by Under Armour, said on social media: "I strongly disagree with Kevin Plank's recent comments in support of Trump."
Under Armour, also responding to a boycott hashtag, eventually issued a clarification press release that said, in part, "We engage in policy, not politics," making a point that Plank was talking about business factors, and alluding that the company is not in favor of Trump's executive order travel ban. With its stock price also at an eight-year low, all in all, a busy week for Under Armour PR.
Time for pitchers, catchers and floppy hats.
On a lighter and brighter note, pitchers and catchers report to Orioles spring training in Sarasota, Florida, on Monday, and the full team starts workouts next Friday.
Maybe more importantly, with Opening Day nearing, the O's this week announced their giveaway items and games for the 2017 season. A few highlights: Maryland flag script jersey (May 20 vs. Blue Jays); the return of the floppy hat (June 2 vs. Red Sox); Zach Britton bobblehead day (July 1 vs. Rays); and an Oriole Bird bobblehead toothbrush holder (Sept. 24 vs. Rays). Whatever it takes to keep the kids' teeth clean.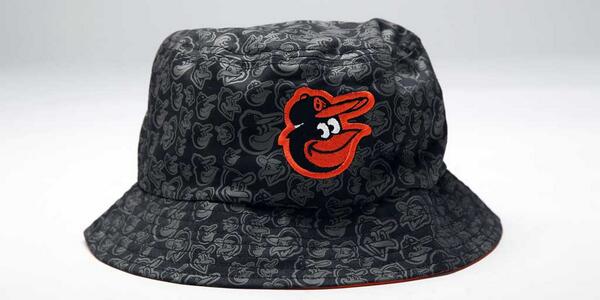 Johns Hopkins lacrosse goal makes SportsCenter.
This fake-flip, hidden-ball trick by Johns Hopkins junior midfielder Joel Tinney fooled Navy goalie Ryan Kern, and made ESPN's signature show. The goal came in the third quarter of the Blue Jays' 15-8 season-opening win on an unseasonably warm 65-degree night at Homewood Field.
ICYMI: Joel Tinney made his explosive return to Homewood Field tonight ???? @SportsCenter @ESPNU #SCTop10 pic.twitter.com/pSFLlARYig
— JHU Men's Lacrosse (@jhumenslacrosse) February 8, 2017
The local college lacrosse season is just getting started. Up Charles Street just a bit, Loyola, with arguably the top player in the country in sophomore Pat Spencer (Boys' Latin), opens its season Saturday at home against Virginia, in what will also be the first lacrosse game ever streamed live on Twitter. And it won't be long before the high schools get going, too. Check out our March issue for a preview.
---
---