You know those workouts that hurt so good, to the point where even laughing the next day is just a little painful? Yeah, that's Solidcore. This high intensity workout may be low impact, but it is not low in effort. While the class itself is challenging, there is something about sweating through the pain with your classmates and feeling like a superhero once you are done that will keep you coming back for more. We talk to Harbor Point studio manager Jaime Dardine about Solidcore, its benefits, and her favorite tunes to blast during class.
What is Solidcore?
Not to sound super scripted, but it's a 50-minute workout that is low impact and high intensity, meaning it is super light on the muscles. It's full body so you are working your upper body, core, obliques, and lower body. We also have specialty classes called "Buns and Gun," which is perfect for those who hate obliques, and "Arms and Abs," which is no lower body movements.
What is it that brought you to Solidcore?
I used to work at Under Armour and I was actually helping out with the sales team and we went to D.C. because we had just launched the studio line back in 2013. While we were looking for studios to bring that product into, we stumbled upon Solidcore. The first class I took was so challenging mentally and physically that I didn't know what I had gotten myself into.
But I wanted to get stronger, so whenever I was in D.C. visiting friends I would take a class. I just really enjoy the community aspect of it. Everyone was in such a great mood afterwards and that is very much my personality, so it felt like a great fit.
What are the benefits of Solidcore?
It really helps with muscle tone and structure. Through our slow movements, we break down slow twitch muscle fibers and build them back up to be more toned and defined. There are over 200 moves that you can on the Megaformer machine, so you can really focus on whatever area you'd like. I hate the word modification because, even if you are doing a move on your knees as opposed to your toes, it's still hard. The best part is seeing people get stronger and making that transition and progress.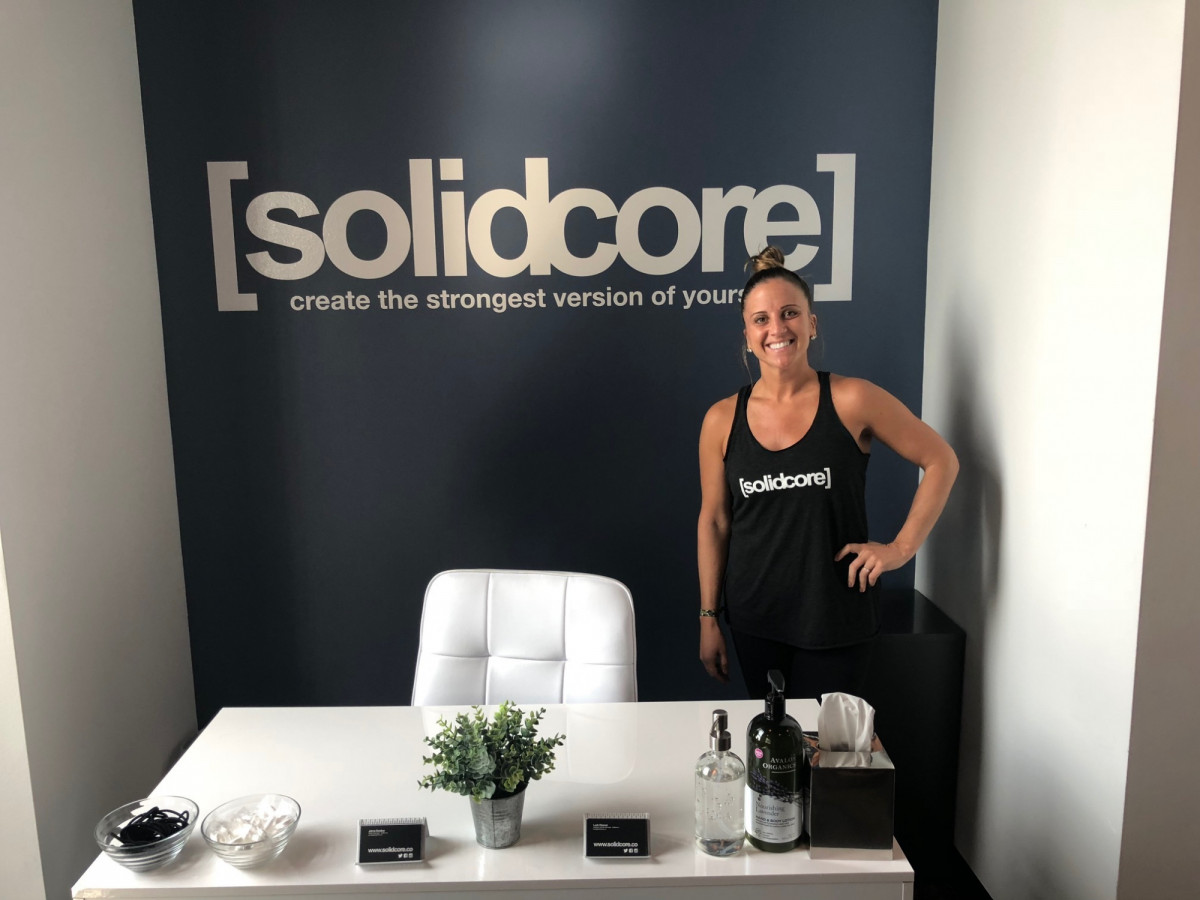 -Lauren Bell
What makes Solidcore different from other gyms?
We want to promote connection within our community instead of weight loss and fitness goals. It's just about creating the strongest version of yourself, whatever that may be. Also, I think the way we structure the actual class is a little different from other places. We really work on slow and controlled movements and mix up which areas we are targeting so that the class is always fresh and unexpected.
What is your favorite song to play during class?
I have music ADD. It depends on my mood for the day. Somedays I am into country, somedays I am into hardcore rap. All that matters is that it has a good beat.
What is your favorite place to shop for activewear?
I wear a lot of Under Armour. But what has been kind of fun is that I'm not only the studio manager at this location, but I help handle retail for all of our studios. I like seeing what else is out there because boutique retail is a little bit different than a corporate company.
If you could travel anywhere in the world where would you go?
I am actually going to South Africa for my honeymoon in a few weeks.
What is your wellness trend right now?
I have dialed in to all of the Vital Proteins and collagen supplements. We've done some pop-ups with them in the studio.
What is your least favorite wellness trend?
Fad diets. I don't like Band-Aid fixes. I want to invest time in things that are going to lead to long term results not short term.
If you were not working at Solidcore what would you be doing?
I would be a sportscaster.
What would you say to someone who is intimidated?
You are never going to know unless you try.
---
---