One step onto the polished pine floors at Heirloom, a cedar-shingled 1899 Victorian home on a quiet corner in historic Lewes, Delaware, and we were instantly enthralled: The light filtered through original wavy glass windowpanes, the wooden banquettes were laden with fetching floral pillows, the botanical drawings which hung along the dining room walls added to the cheer. But perhaps what impressed us most was the fact that elevated beach dining can be hard to come by—and, yet, here it was. 
At the very best restaurants, you know the narrative even before the first course arrives, from the font of the logo (in this case, a graceful lowercase cursive) to the china (mismatched vintage plates here) to the chairs (classic Windsor).
The space itself, originally owned by the town dentist, has been lovingly restored by owner Meghan Lee. When Heirloom first opened, the Chadds Ford transplant made it a point not to post a sign outside. "I wanted to build the foundation on word of mouth," she says.
Mission certainly accomplished. In fact, in the summer months, a table can be very hard to come by. Thankfully, our pre-season pilgrimage—a cool evening on the Ides of March—presented no such problems. In fact, other than a few beach barflies, we practically had the place to ourselves, which made us feel like we were having a private party. 
The farm-to-table fare—typically eight or nine "beginnings" and the same number of entrees—is a veritable Garden of Eden. Thanks to the limitless imagination of executive chef Matthew Kern, seasonal fruits and vegetables sourced from local purveyors such as the Historic Lewes Farmers Market, are employed inventively—venison with huckleberries and twice-fried sweet potatoes; pork chops partnered with wilted mizuna, braised red cabbage, and apple butter to name two.
Kern is the kind of chef who eagerly buys marred radishes that other chefs might discard, and then dehydrates them to make "chips." Or who purchases a crate of bruised peaches from one of the farmers who comes to his kitchen door and uses them to make vinegar. Kern keeps the menu hyper-seasonal, he says, "because it makes you a better cook if you're forced to use what's available."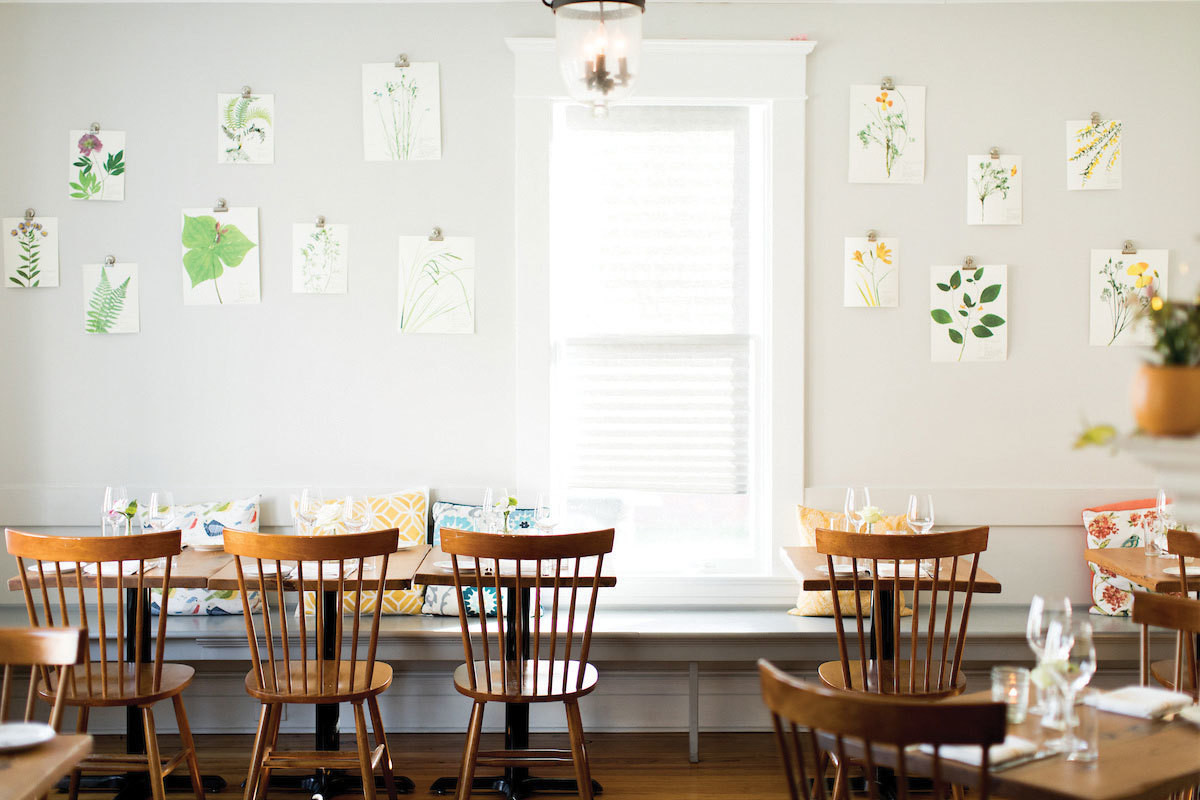 The dining room.
On our visit, that meant a Baywater Farm radish salad starter, a healthy play on a wedge salad with butter lettuce, shaved radishes, and beet-pickled shallots. Instead of bacon, the crunch comes from the brown butter breadcrumbs, and a drizzle of buttermilk dressing replaces the usual blanketing of blue cheese. Another earthy-sweet starter was the beet and ricotta toast (made with day-old sourdough) slathered with house-made whipped ricotta and topped with charred pecans, crispy sage, and candied beets.  
Seasonal entrees were equally original. A surprisingly rich and hearty house-made pappardelle with mushroom ragu, bright green broccoli, and a poached egg added a depth and richness and felt like a warm hug from the kitchen on a late winter's night.
The cast-iron crispy chicken was another winner. The Korean-inspired preparation highlighted sweet—and heat—thanks to chili and honey sauce, and was served along with a bamboo rice cake, charred broccoli, house-made Japanese furikake (seasoning), and a sprinkling of Virginia peanuts. The Chesapeake Bay crispy skin rockfish delivered as advertised—a large filet of fish. With a crackling crust and buttery flesh, it was nicely bolstered by fingerling potatoes, porcini purée, and toasted leeks.
Desserts are made in-house and, like the main menu, capture the seasons. For our repast, the grapefruit tart with dehydrated peel, as well as fresh grapefruit, was sweet, tart, and tangy, one burst of flavor unfolding after the other. A classic coconut cake also proved irresistible. On other days, you'll find Kern in the kitchen taking a page from the past with his grandmother's butterscotch pudding. 
As Heirloom cast its spell, I found myself wondering if the former home had an empty bedroom where I might be able to take up residence for the summer. In fact, we lingered for so long that when we inquired about meeting Kern, our server shared that he'd gone home for the night (though she assured us that she wasn't going anywhere until we were done).
Later, after the check arrived, we couldn't help but smile when we looked at the printed line beneath our balance: "With love, the Heirloom Family."
Indeed, from start to finish, you'll literally feel the love here.

HEIRLOOM: 212 Savannah Rd., Lewes, DE; 302-313-4065. HOURS: 5 p.m.-closing. PRICES: starters: $11-20; entrees: $26-28; desserts: $10. CUISINE: Farm-to-table. AMBIANCE: Granny chic. 
---
---