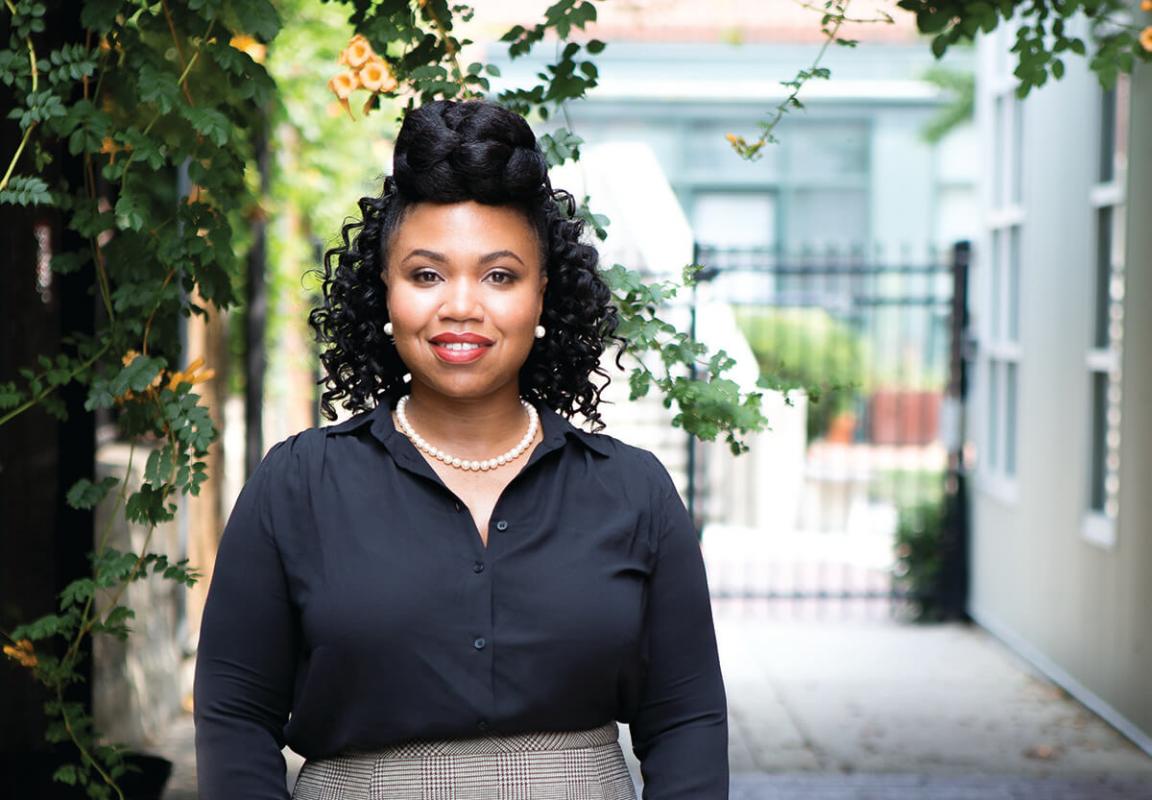 Teaching Outside the Box: TFA's New Executive Director Normandi Amprey is Dreaming Big
By Maggie Master | Photography by Beverly Funkhouser
When Normandi Amprey joined Teach for America (TFA) in 2009, she'd just graduated from Spelman College and thought she'd teach for two years in Baltimore before returning to her native home in Atlanta. Twelve years later, she's still here—having taken the top job at the organization that brought her into education and introduced her to her future husband (House Delegate Marlon Amprey). Amprey accepts the task at a moment of challenge and opportunity in public education. As she settles into the job, we spoke with Amprey about her organization's role in Baltimore, and what's possible for all students.
Teach For America's mission centers around educational equity: The pandemic laid bare so many disparities, largely across racial lines. Has the work changed for your teachers and organization during the pandemic?
During the shutdowns in 2020, I was heartened by the way the Baltimore community rallied to support students: ensuring access to regular meals and helping to bridge the digital divide and get more devices and broader internet connectivity in every home in Baltimore City. Many of our alumni (people who completed the two-year commitment as TFA teachers) are in high-ranking positions throughout Baltimore and were helping to lead those efforts. We have 600 teachers in City Schools who needed to learn best practices for virtual teaching. And now we're all focused on recovery from the 18 months or so when students did not have traditional classroom instruction.
We are talking about two pandemics, to your point. There's COVID-19 and there's systemic racism. And in 2020, there was a spotlight on what many of us have known to be true for a long time: The history of racism in this country has created disparities that have had real consequences for generations of people who look like me. TFA recognizes the complexity of educational inequity as a historic and systemic issue, which informs our approach.
What do most readers probably not know about Teach For America?
We are one of the most diverse sources of new teachers for Baltimore City Schools. Since 2014, at least half of our new teachers have identified as people of color, and we have been one of the largest sources of new Black teachers in Baltimore over the last few years, specifically. The research overwhelmingly shows that a diverse teaching force benefits all students, especially Black students.
Also, many readers think that after two years all of our teachers leave. That's just not true. So many of our teachers have stayed beyond the two-year commitment—like me! In fact, 40 percent of our teachers who began in 2016 completed their fifth year teaching in Baltimore City Schools, which is higher than the district average. The experience in the classroom shapes our teachers' commitment to education in the long-term. Many are emboldened by our mission, fall in love with their students, and stay for three years or longer. Some of them go on to become effective principals, work for the school district, and so forth.
"We are one of the most diverse sources of new teachers for Baltimore City Schools."
Your husband, Marlon Amprey, was appointed by Governor Hogan to fill a vacancy in the Maryland House of Delegates in January. Both of you are pushing for educational equity in your roles. It's been a busy year for the Amprey household!
It really has been a year. We had our first baby—she's 16 months now! We're emerging from the earliest stages of the pandemic having experienced so much personal loss. And we're still feeling very grateful, mostly because of our village—friends and family who have been there for us. I don't know what we would've done without that help.
Both my husband and I feel humbled and honored that we have been chosen for leadership positions to work alongside so many others towards our shared goals. He comes from a legacy of educators in his family—his uncle was superintendent of Baltimore City Schools in the '90s—and we both care so deeply about making sure students have what they need and the resources they deserve to create real choices for themselves. He's working to ensure it happens with thoughtful legislation, and I am leading from my seat ensuring we have a diversity of talented, effective education leaders, who see our students and believe in them, to contribute to their academic and personal growth.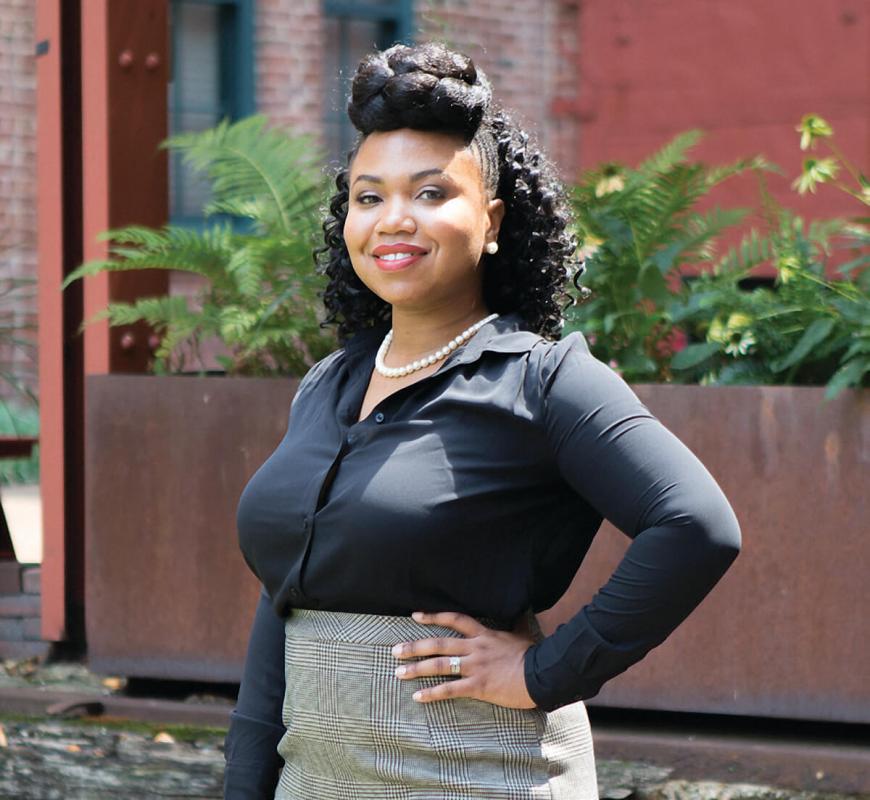 You joined Teach For America Baltimore as a new teacher in 2009. What are the biggest changes you've seen in your organization in the past decade?
During my early years teaching, the training we received was very focused on students' academic growth and holding high expectations for students. Of course, those things are important, but over time the national dialogue in education and pedagogy has grown. TFA now understands that academic success is not the only mark of a student's success, and that it's important to look at the whole child to achieve meaningful outcomes.
Now as the Executive Director, I'm proud to say that TFA's training has broadened substantially, and while, ultimately, we believe that helping students grow in hard skills is critical to their success, we are also focused on culturally responsive teaching, social-emotional learning, and trauma-informed teaching.
"My dream and belief is that, in 10 years, Baltimore will be making national news for the right reasons, because we will have experienced a major shift to radically transform outcomes for children."
What will the next 10 years look like?
Our goal is to work with partners to double the number of students who are hitting key metrics that predict economic mobility. My dream and belief is that, in 10 years, Baltimore will be making national news for the right reasons, because we will have experienced a major shift to radically transform outcomes for children. When I enroll my own daughter in City Schools in a few years, I will have no hesitation or doubt about whether or not she will be receiving a world-class education. And that will be every family's story.
This can be possible if we as a city and state create an ecosystem of supports for all children in Baltimore to live in safe, healthy neighborhoods with great schools. TFA has an alumni and teaching force of more than 1,400 diverse leaders working inside and outside of schools—if we organize effectively, we have the breadth and scope to help the city make progress on the education front. By partnering with others leading the way in economic development, public safety, and health and wellness, this big dream can become reality, but the TFA community needs to reimagine how we show up and work alongside others.
As you look ahead, what do you see as the biggest educational opportunities in Baltimore?
Definitely the Blueprint for Maryland's Future. A lot of TFA's path forward and the work we do is aligned to the Kirwan Commission's recommendations: A laser focus on effective educators, and ensuring students are graduating high school prepared for college and careers that will open doors for them. I'm so proud of our state for creating this once-in-a-generation opportunity for kids. It has the potential to change lives and trajectories for generations.
If our students grow up in safe neighborhoods and homes, have adequate nutrition and healthcare, access to early-learning opportunities, equitably funded schools with cutting- edge technology and resources, and effective educators who create learning environments that not only affirm who students are but nurture their strengths, then they will have unlimited opportunities to create beautiful lives for themselves.