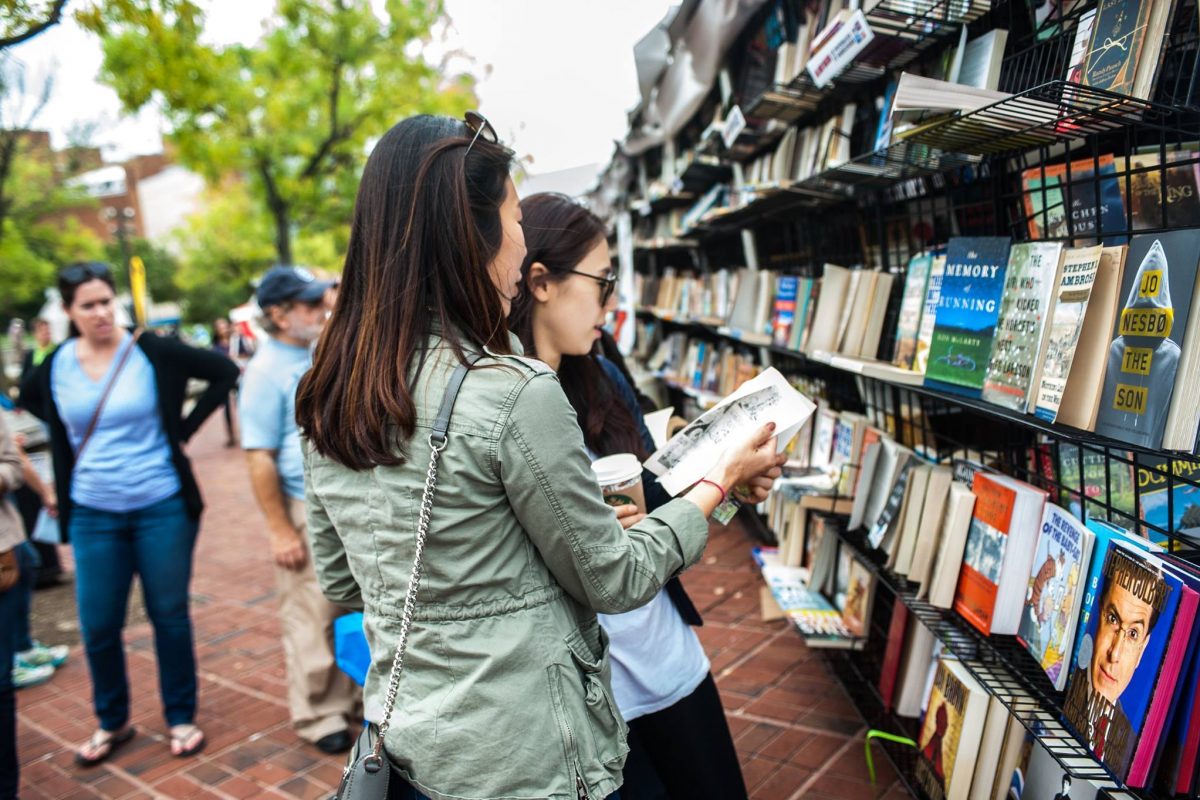 Baltimore Office of Promotion & The Arts
September in Baltimore means one thing for bibliophiles—The Baltimore Book Festival. For three days, the Inner Harbor becomes a book store, reading room, and literary salon all rolled into one, with stages featuring a host of local, national, and international authors to gather inspiration from. To make navigating this weekend's schedule a little easier, we've highlighted 10 writers and events that are not to be missed—and broken them down by your genre of choice.
Literature Lovers
Maryland Humanities presents Chimamanda Ngozi Adichie
2 p.m., Saturday, Sept. 24, Literary Salon  This Johns Hopkins grad who grew up in Nigeria has taken the literary world by storm. Her latest novel Americanah, was published around the world in 2013, and has received numerous accolades, including winning the National Book Critics Circle Award for Fiction and The Chicago Tribune Heartland Prize for Fiction, and it was named one of The New York Times Ten Best Books of the Year. Her 2003 novel Purple Hibiscus was the One Maryland One Book selection this year and her TED talk about feminism is a must-see.
Alice McDermott
3:30 p.m., Saturday, Sept. 24, Literary Salon  McDermott, a professor at Johns Hopkins University, is the author of seven novels, including Someone, which was a finalist for the National Book Critics Circle Award and the National Book Award, and Charming Billy, which won the National Book Award. She's also been a finalist for the Pulitzer Prize twice, and her articles, reviews, and stories have appeared in The New York Times and The Washington Post, USA Today, The Atlantic Monthly, and The New Yorker. She'll be promoting her new book The Ninth Hour at the festival.
True Crime Enthusiasts
It's amazing that a few years after the Serial podcast became such a huge hit that we are still pondering the future of Adnan Syed, who was convicted in the murder of Hae Min Lee. Two women with special connections to Syed are appearing at the festival. First is Asia McClain Chapman, who will tell her story of how she became the key alibi witness for Syed in Serial, and now in her book, Confessions of a Serial Alibi. (3 p.m. Saturday, Inner Harbor Stage.) And an hour later, catch Rabia Chaudry, Syed's public advocate and author of the New York Times bestselling book Adnan's Story. (4 p.m. Saturday, Inner Harbor Stage.) 
Local Scenesters
A Touch of Literati 
6 p.m. Friday, CityLit Stage Baltimore's own CityLit Press celebrates the launch of author Rafael Alvarez's new collection of fiction, Basilio Boullosa Stars in the Fountain of Highlandtown. The book commemorates the 20th anniversary of Alvarez's fiction debut, The Fountain of Highlandtown. The celebration includes two prize-winners: 2017 Gordon Parks Foundation Fellow Devin Allen, who will speak about the Time magazine photo that changed his life and the youth educational program he founded, and Deborah Rudacille, a 2017 Guggenheim Fellow, and science writer who tells stories about the ways in which science influences culture and culture informs science, the links between science and social justice movements. This session is moderated by WYPR's Aaron Henkin. 
Foodies
The intersection of food and literature is always a welcome discussion, and the book fest has plenty of cooking demos and cookbook signings at its Food for Thought Stage. But there's also Lunch at the Homesick Restaurant (1 p.m. Friday, Food for Thought Stage), where national best-selling mystery author Laura Lippman joins author Ann Hood and author and home cook Michael Ruhlman to discuss the way fiction informs food and food informs fiction, both in their own work and the works of others. Audience members who know their fictional food will have a chance to win some distinctly Baltimore treats.
Kids or Kids at Heart
Pets on Wheels
(11 a.m.-1 p.m. Saturday, Top of the World Observation Level) What could be better than cute pets and books? Children will be partnered with a therapy dog (or cat!) from Pets on Wheels. After selecting a favorite book, the child is invited to sit and read to their furry friend. And we maintain this event shouldn't just be for kids—adults like to read books aloud, too. 
The Conservation Conscious
McKay Jenkins (11:30 a.m. Saturday, Food For Thought Stage) has been writing about people and the natural world for 30 years, and continues this work in his new book, Food Fight: GMOs and the Future of the American Diet. He is also the author of ContamiNation, which chronicles his investigation into the myriad synthetic chemicals we encounter in our daily lives, and the growing body of evidence about the harm these chemicals do to our bodies and the environment. He teaches at The University of Delaware and lives in Baltimore.
Poetry Aficionados
Poets Speak: Raw Wounds, Wise Blood, Speak Water
(2 p.m. Sunday, CityLit Stage) You might know the name Kondwani Fidel from his recent viral essay that analyzed the human toll of Baltimore's violence in his personal experiences. The writer, speaker, and spoken word poet has also authored a book, Raw Wounds, has been featured in Business Insider and CNN, and was a 2016 recipient of the Ford: Men of Courage Award. He joins Robert Earl Price the author of four books of poetry, including Wise Blood and Truth Thomas, a singer-songwriter and poet who was the winner of the 2013 NAACP Image Award for Outstanding Literary Work in Poetry. Ron Kipling Williams, author of Black Freak Mosh Heaven, will moderate.
Be Free Live! hosted by Love the Poet (Michelle Antoinette Nelson)
(4 p.m. Sunday, Inner Harbor Stage) Baltimore's longest running monthly open mic will take place live at the book festival. Hosted by Michelle Antoinette Nelson aka LOVE the poet an artist, innovator, and Founder of Brown and Healthy a non-profit and global health and wellness initiative for people of color. She's dedicated over a decade to her life's work to authoring books, plays, writing arts + education curricula, and providing platforms for artists to explore and discover the true nature of their art. Featuring Almight Ra, Antoine Hayes, Najh Bayyan, and others.