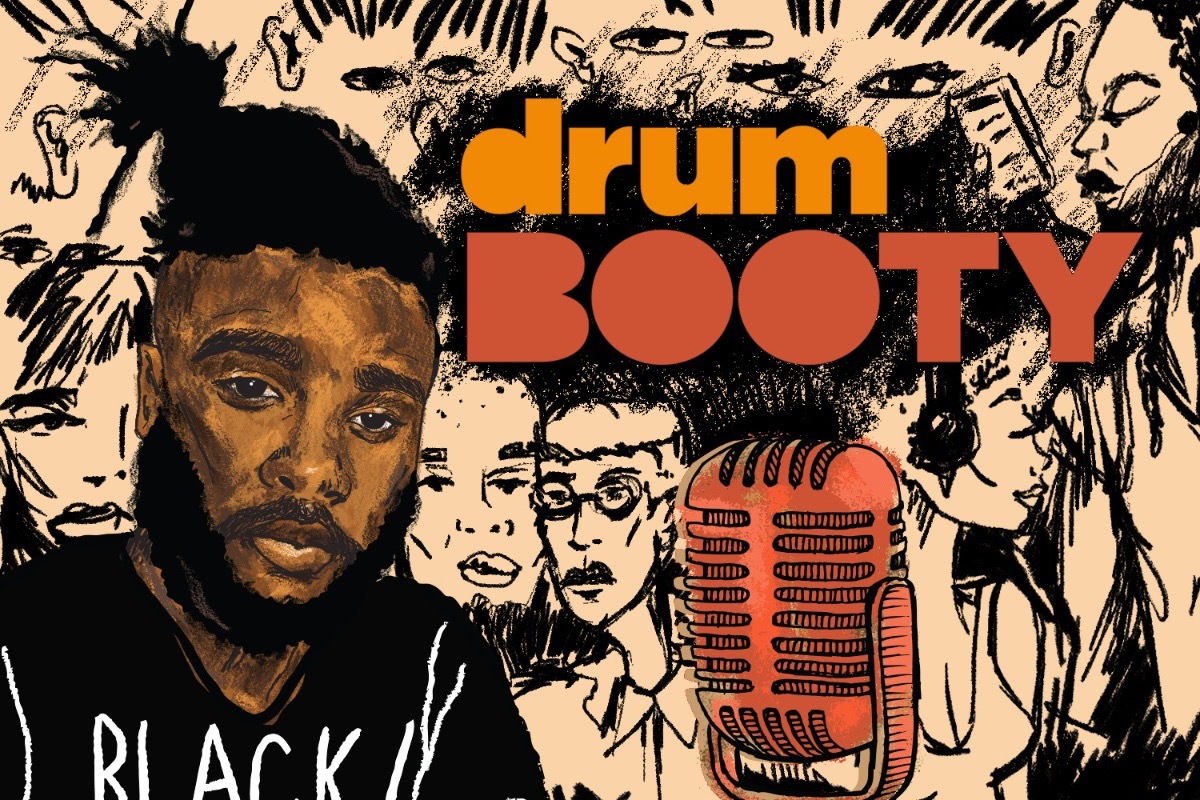 Last fall, you launched your own podcast, drumBOOTY, a recurring series that sheds light on untold black stories.
It's something I always talked about doing, I'm very conservational and personable, but never took too seriously. You have to let things come to you. Then in the summer of 2017, Mask Magazine hit me up and asked if I wanted to do a podcast for them. It was only six episodes but after my first interview with [writer-activist] Bilphena [Yahwon], I just felt so good.
What is it you like about podcasts?
I like the performance aspect. The audience is not present with you, but you still have to turn something on in order to make it a good show and a good listen for people. As a child, I was always obsessed with talk shows. I went to school for journalism at the University of Baltimore and my goal was to be a media person. I wanted to be Oprah or Ricki Lake. When I would stay home from school, I would watch Jerry Springer, Jenny Jones, all of it. Talk-show TV was like a whole era. I think people my age—the elder millennials, the late 20-somethings and early 30-somethings—we gravitate towards podcasts because we grew up on that sort of conversational television and storytelling. People like story time, and podcasts fulfill that human desire to hear their stories told orally.
After years in the music scene, why did you choose this as your next medium?
Hosting and curating [art and music] shows was cool for a while, but it wore out my soul. It's not feasible all the time for me. Without the events, I still felt like I needed something else to do beyond music. I'm a Gemini moon, so I need to be busy. And I realize that with podcasts, I can still do what I did with Kahlon [bi-monthly dance party at The Crown] through the guests that I bring on—filling a void, telling stories that haven't been heard, and being innovative. There are not many shows out there that focus on giving queer people a voice, black people a voice, or women a voice, and especially targeting voices who are creative intellectuals. For me, it's like In Living Color meets Ricki Lake.
Are there any podcasts out that there did inspire you?
Still Processing with my girl Jenna Wortham and Wesley Morris [via The New York Times]. You really enter their conversation. They have so much chemistry and they don't always agree on things, which is good, too. A lot of podcasts are about news, politics, or pop culture. They don't focus on specific themes. They can be dry or boring. I want drumBOOTY to feel like we're in a living room, and show the world that people my age are having these kind of intimate, real conversations, outside of the election and the pulpit. People want that in their media
I want to bring on people are not really represented on the podcast platform. People like Bilphena, who is a writer, an activist, queer, an immigrant, and an academic intellectual. I also want to talk about topics that aren't really talked about, like colorism, or desirability politics in dating, or anxiety disorders, or what it's like to be an underground artist. I'm bringing [local rapper] Butch Dawson on just to talk about his album and being from Baltimore. For me, it's just about elevating these voices. I want to tell as many untold stories from across the diaspora as possible. There's something very valuable about having these kinds of discussions and letting them be streamed but also archived so they can be referred back to in the future.
Season two, which you are now independently producing, is now underway. How often will the episodes air?
Every week from fall into winter. I'm going ham. I'm not playing games this time. I've been studying and listening to other podcasts all the time. I'm super passionate about it. I think it has so much potential. It's a platform I could really thrive in, and that it's going to make me not only a better person but also a better artist. Everyone can learn something from these stories. I want to invite people into my world and my community. I want to give Baltimore a voice.