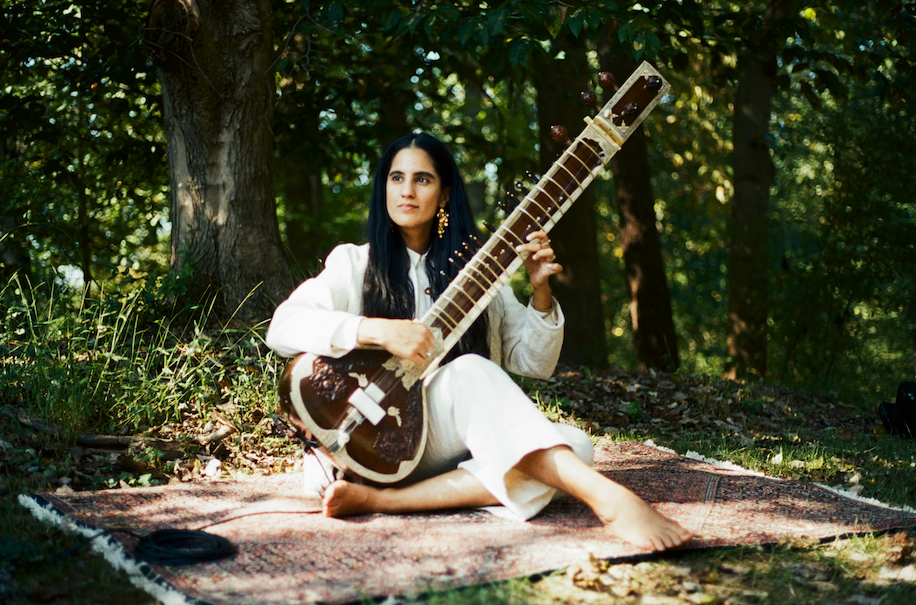 Missy Malouff
For nearly a decade on the local scene, the music of Ami Dang has been one of transcendence—transcendent of boundaries in its fusion of North Indian classical and Baltimore DIY, and transcending its listeners to higher states of mind through its meditative sounds.
An Oberlin Conservatory grad and 2019 Baker Artist Award finalist, Dang has now turned her focus toward the two instruments of her intersectional upbringing, the sitar and electronics, fusing both on her latest solo record, Parted Plains, to further explore the Eastern folktales of her youth. Even more specifically, she looks into these ancient stories in translation—stories that, much like her own, straddle two worlds. These ambient soundscapes conjure up unseen landscapes, vaguely familiar characters, and most of all, deep, undulating moods. In her own way, Dang is a folklorist for the 21st century, looking to the past to make music for the future, and a Baltimore artist to follow.
We caught up with the musician on the heels of her release to discuss dichotomies, depictions, and identity. See her live during a co-record release show with Lower Dens on September 1 at Rituals in Station North.
---
What does the album's title refer to?
It's a few things. I was in India this past winter when I was finishing up mixing the record. I was thinking a lot about this East-meets-West, traditional-meets-contemporary, analog-meets-digital, acoustic-meets electronic, all of these various dichotomies and disparities. My family is mostly from Delhi, but has descended from Punjab, with many people originally from villages in what is now modern-day Pakistan, which before partition was all India, and the South Asian subcontinent. I visited the Partition Museum and was thinking a lot about this partisan ripping apart of communities, even though we share so much culturally, like folklore. Some of the folklore I'm interested in is Punjabi, from this region that is now partly India and partly Pakistan. I wanted to tie in that part of my heritage in an abstract way. And moving to the United States, this is another plain, too.
What inspired you to incorporate these folklores into your music?
Some of it is kind of personal. I was engaged when I started working on this record, and I am now married to someone who is not of Indian origin and is not my family's Sikh religion. When we were engaged, my parents weren't totally excited about me being with somebody who didn't have a similar ethnic background and we were struggling with bringing him into the family.
At the same time, I've always been interested in this tale of Sohni Mahiwal. In this story, a woman falls in love with a man, and her father catches on and quickly arranges her marriage to the "appropriate" person. Her lover ends up settling across the river from her and they start to visit each other at night when her husband is away on business. One night, her sister-in-law spies on her. When crossing the river, Sonhi is aided by a clay pot. The sister-in-law replaces this pot with one that's unbaked, and as she swims across the water that next night, the clay dissolves and she drowns. It's a love story, a Romeo and Juliet tragedy, and I started thinking about it again in processing all my emotions between dealing with my family and my partner. I found myself thinking about how we sometimes think these stories are so far in the past and not relevant anymore, but the reality is, there are many families who still really uphold these values or expect their children to carry on certain legacies or traditions.
This story is also a really popular subject in classic Indian paintings, and there are a few Bollywood film adaptations. It was just interesting thinking about all these different narratives that we read or are told about or are depicted in art. I'm not a painter or visual artist, but this is my way of telling part of that story in a few of my songs.
Around the same time, you also created a live score to a film called The Adventures of Prince Achmed at The Parkway, which is adapted from another Eastern folktale, One Thousand and Nights, also known as in the West as Arabian Nights.
I read some translation of One Thousand and One Nights as a kid and hadn't revisited it since early high school. But in working on my score, I started to do some research and became curious about what aspects the director took from which translations and which she added for cinematic effect. Again, this got me thinking about all of these stories in translation, be it literally translated from one language to another, but also just the recycling of them over time and how they're depicted or even cut to music. That film is so beautiful but also has really problematic elements. It was at that point I realized how much I was interested in drawing folklore into my work. My work is my take on a new version or interpretation of some of these stories. Three of the songs on the record come from my score from the film: "Love-liesse," "Stockholm Syndrome," and "Raiments." Others are much more conceptual and abstract.
You've mentioned that your music is a way for you to further explore your intersectional identity as a Sikh South-Asian-American. What did you learn through the making of this album?
I feel more secure in my identity than ever, which is also just a process of getting older. But artistically, I'm realizing more and more that my music isn't as inaccessible as some people might think. This is something I've tried to communicate, especially to people in the industry. I've opened up for rappers, folk artists, rock bands, psych bands, and it all kinds of work, because my music is kind of a mashup, an alt-genre, if you will. This record is more experimental than my previous work, it was nice to change focus and do something more meditative. And my next record can be whatever I want it to be. I feel more confident in that.
On the flip side, how has your home of Baltimore influenced your music, too?
Baltimore is such a great place for anyone doing anything experimental. It definitely supports this mix of dabbling that I do—a dancey sound, an experimental sound, a little bit of a pop sound. I've built such a strong network of friends and fellow artists here; I used to live at a space called the Coward Shoe, which was a big warehouse and we'd have tons of parties and shows and got busted too many times. We had to stop doing that, but all those connections within all these intersecting smaller scenes over the years, and being able to perform at shows like Whartscape and Ratscape and Artscape and High Zero, it's been encouraging. There was a bit of a slow period after the Ghost Ship fire in Oakland, and then closing of the Bell Foundry. People were really scared to do anything, but things are slowly coming back. From what I've heard, talking to older artist friends, it's kind of always ebbed and flowed. But the same spirit is still definitely here.