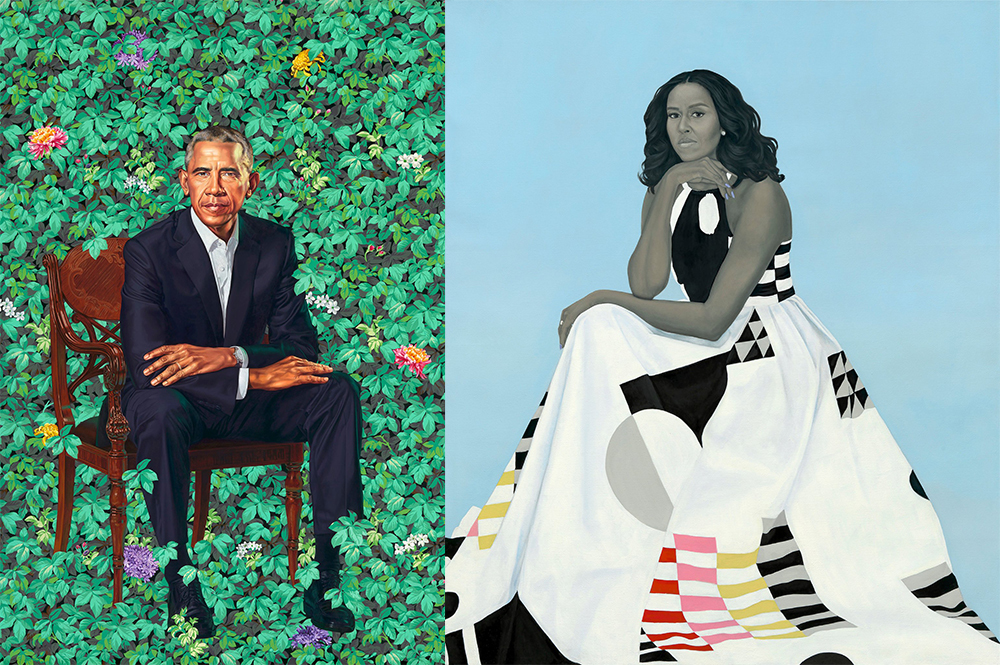 Kehinde Wiley and Amy Sherald
At a ceremony this morning, a portrait of Michelle Obama by Baltimore artist Amy Sherald was unveiled at the Smithsonian's National Portrait Gallery in Washington, D.C. She was joined onstage with Michelle Obama and former President Barack Obama, as well as New York artist Kehinde Wiley, who was commissioned to paint the official portrait of Barack Obama.
After winning the Outwin Boochever Portrait Competition at the National Portrait Gallery in 2016, Sherald was selected by the gallery to paint its official portrait of Michelle Obama. The piece—which shows a seated Michelle in a long, flowing dress, in Sherald's trademark style—will remain on display at the gallery through early November.Wiley's portrait depicts Barack Obama seated amid a flurry of greenery, with vibrant flowers poking through.
In this New York Times article, Holland Cotter says that this unveiling is historically significant, as its the first in a long series of presidential portraiture that depicts two African Americans, and both artists are African American as well. "Ms. Sherald's image of Mrs. Obama overemphasizes an element of couturial spectacle," he writes, "but also projects a rock-solid cool."
Tawanda T. Epps, a fan on Facebook, notes that the skirt in the portrait reflects the patterns of the Gee's Bend Quilt-makers. On Twitter, Ava DuVernay says the portraits remind her to hope:
Sherald formerly held studio space at the Creative Alliance in Baltimore and now works out of Motor House, a hub for artists and arts groups in Station North. She was also recently selected by High Museum of Art as its 2018 David C. Driskell Prize winner, which recognizes contributions to African-American art.