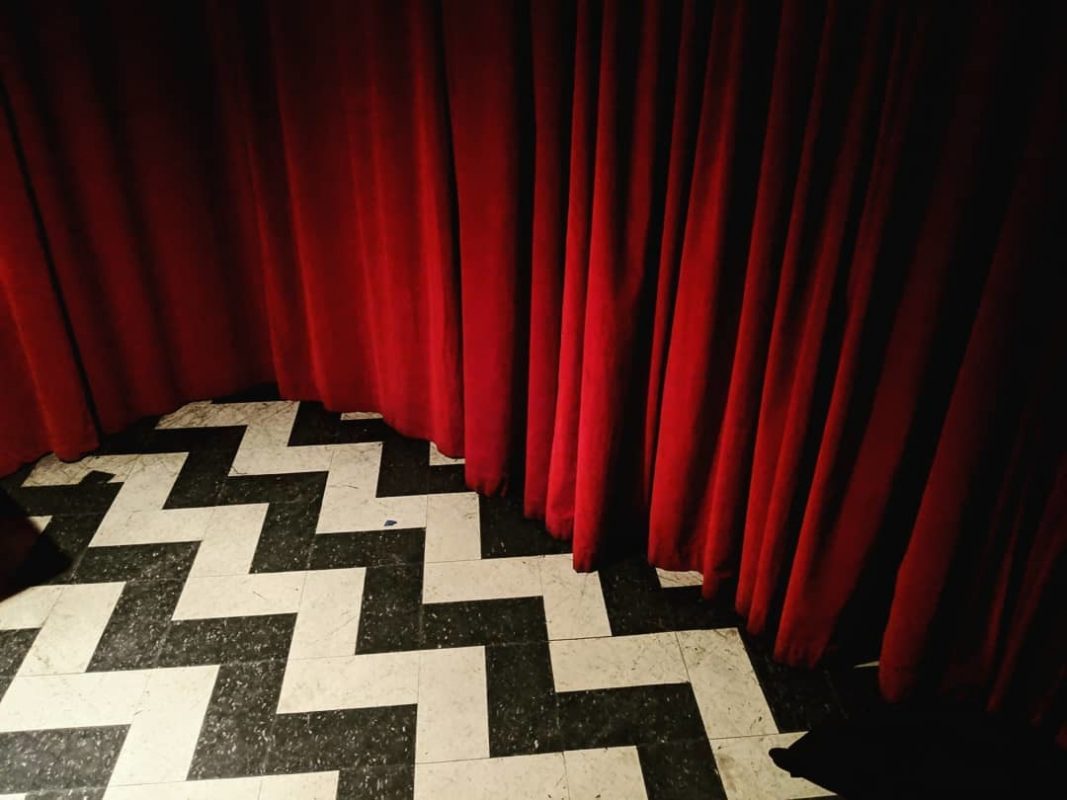 @c_t_r_l via Instagram
In a way, the zig-zag-printed stage at the Windup Space is symbolic of the programming that the arts venue has become known for. One night you could be there to see a local band or comedy show, and the next you could be sketching live models or screening episodes of Twin Peaks in the dark.
This week, the haven for local creatives will celebrate 11 years of offering inclusive arts showcases in Station North. But, sadly, owner Russell De Ocampo recently announced that the space won't be around for year 12.
"We've had the pleasure of sharing our love for the strange and beautiful things that Baltimore has to offer with our own special blend of programming," De Ocampo said in a statement announcing a closing date of June 1. "We hope you found the things you were looking for and discovered some new things that you will never forget."
Discovery was a huge aspect of the Windup ethos. Whether packed in shoulder to shoulder for a show or mingling freely at a gallery exhibition, regulars appreciated the versatility of the venue (which Baltimore named a "Best Bar" in 2010), and its ability to open their eyes to obscure art forms.
"Since Russell was so willing to bring in just about anything that people could get down to, we really leaned on the space for availability," says Derek Vaughan Brown, a local singer and actor who performs at Windup monthly with the groups like the Baltimore Rock Opera Society and psychedelic punk trio Patterson Trash. "It wasn't necessarily about monetizing for him, but about drawing all of those people in and letting them express themselves and use their voices."
Veteran rapper Eze Jackson says that De Ocampo has been welcoming him "with open arms" for nearly a decade. Back when his band Soul Cannon was just starting out, Jackson struggled to find performance spaces in the area.
"At that time, it was hard for us to get booked and even harder for us to put together our own bills," he says. "Other venues had trouble understanding us being on bills with punk bands or rock bands, and Russell was one of the first people to be open to any ideas that we thought were cool."
In the years since, Jackson has appeared in front of the iconic red curtains countless times. Among the many Windup memories that stick out in his mind is a show that he curated with J. Pope and the late Derrick "OOH" Jones of hip-hop and reggae group Brown Fish in 2010.
Jackson has also performed there with the Baltimore Boom Bap Society, whose founders Wendel Patrick and Erik Spangler first met at one of the venue's many free improv events. The duo later established a home for their live collaborative hip-hop showcases on the Windup stage.
"We just had one on Saturday and didn't know that it was our last one," Patrick says. "We've done individual shows at many places many times, but Windup has been our home for almost eight years and we've been proud to call it our home. I can't really think of a space that I've been sad to see close like that."
Brown sees the closure as yet another hit to the DIY arts scene, especially after the loss of The Bell Foundry, whose tenants were evicted in 2016, and Single Carrot Theatre—which recently vacated its Remington home.
"Those experiences are starting to vanish a little bit," he says. "Something that Russell was always keen to support was this idea that you don't need to figure out how to make money off of a project, as long as you're not spending money to make it. For art kids in Baltimore, that's perfect. There is something really beautiful about a small theater performing something in an inexpensive space."
Now faced with the impending closure at the end of the month, regulars are beginning to contemplate what the local landscape will look like without the North Avenue gathering spot.
"There will never be another Windup Space," Jackson says. "After you've been on the scene for so many years, you start to realize that's the reality. Venues come and go, but I hope whoever gets that space understands its history and at least tries to keep up what it brought to the scene."
De Ocampo's Station North neighbor and close friend Sarah Werner, who owns Metro Gallery around the corner, took to Facebook to share her thoughts on the void that Windup will leave behind: "I can't really imagine Station North without Russell," she said. "Every bit of the Windup Space was an outpouring of his love for the artists and people of Baltimore."
Even still, artists remain hopeful that Windup has paved the way for other spaces throughout the city to welcome works of all genres.
"I'd obviously love for other places and venues to maybe try to follow suit, but I don't think it's really a model that one would necessarily follow—it was just Russell," Patrick says. "He had this place that he really wanted and he's just such a caring and thoughtful individual. It really came out in the space."
To give the club a proper send off, the next two weeks will be jam-packed with the diverse entertainment that Windup has become known for. Specifically, the final 4 Hours of Funk will happen this Friday, the Baltimore Record Bazaar is scheduled for May 19, one last "Whose Roll Is It Anyway" performance will happen on May 26, and Brown's band Patterson Trash will host a "Living Wake" (complete with blacklight table tennis) on May 29. Locals are making plans to stop by in the coming weeks to have one last drink and honor the community that the Windup Space has built.
"I grew up watching Cheers," Jackson shares. "And when Windup first opened, I actually lived right around the corner on Maryland and LaFayette, so I used to joke and say that Windup was my Cheers. I was Norm, and I would be over there every night. I'm sad to see it go."