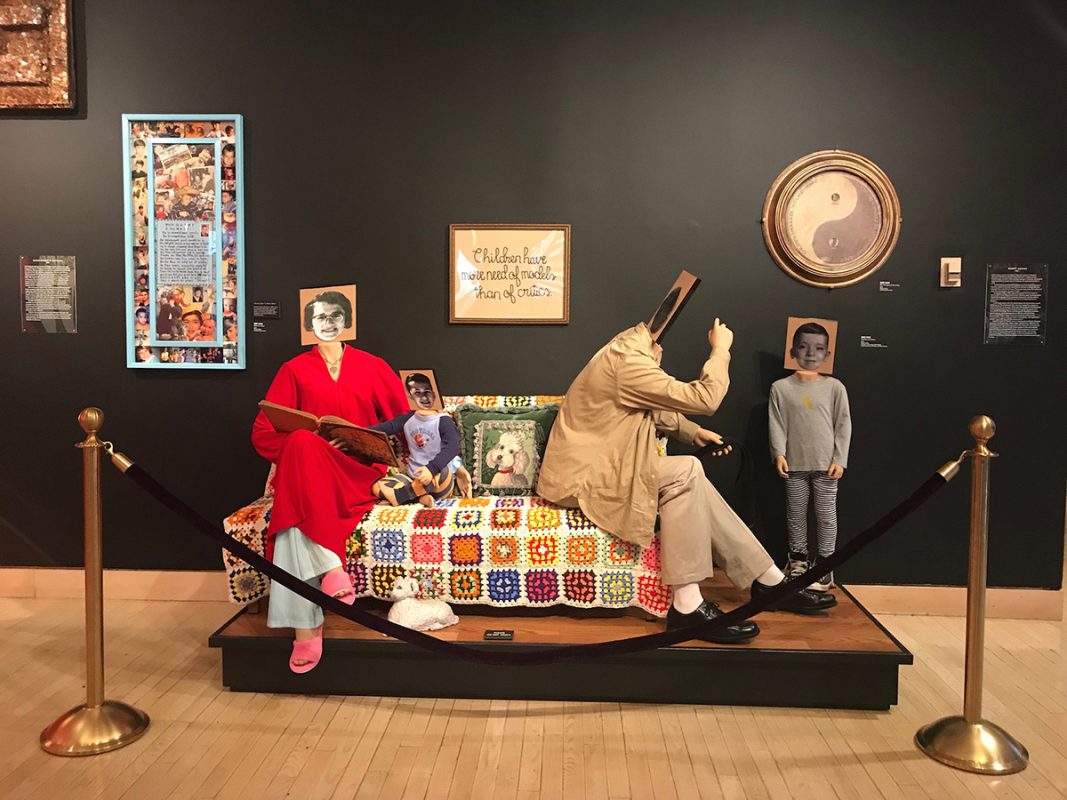 Lauren LaRocca
For those who are parents and those who have been parented, the American Visionary Art Museum's newest exhibition, Parenting: An Art Without a Manual offers a meditation on the role of role models, parental figures, and family—in all their shapes and sizes. From the warm and fuzzy to the nightmarish and traumatizing, the show is a contemplative, visual collection of stories on a theme, and it will most likely expand your definition of parenting.
It opens on Saturday and remains on view through September 1, 2019, in the nationally recognized museum in Federal Hill, with special events planned throughout its duration, including a free summit on March 24 that will bring together world-renowned speakers.
"Each year, we pick one grand theme that has always bedeviled or inspired humanity," says Rebecca Hoffberger, the founding director of AVAM and co-curator of the show with Anna Gulyavskaya. "We're all parenting, whether we choose to have children or not."
As is usual with AVAM shows, Parenting is both visually and intellectually satisfying, with some of the most well-researched and thoughtful text you're likely to see at an art exhibit. Statistics and the latest findings—on childhood trauma, parent-child attachment, grandparents becoming full-time parents because of the effects of the opioid epidemic, images of the developing brain, and more—as well as quotes witty and wise are posted throughout the gallery spaces to complement the visual art.
Bobby Adams' powerful installation Models and Critics, for example, depicts his family—mother, father, and two children, one of whom is a young Bobby—on a couch. Their mannequin bodies are topped off with flat pieces of cardboard that display black-and-white photographs of their faces. Adams explains during a preview of the exhibition that his mother is in her nightgown, reading a book to his brother, while his father is dressed in nice clothes, having probably just gotten home from an evening of "womanizing," and is yelling at Bobby, leather belt in hand. "My father always said I was stupid and called me a bastard," he says in an emotional retelling of his childhood story to a crowd of journalists and exhibiting artists.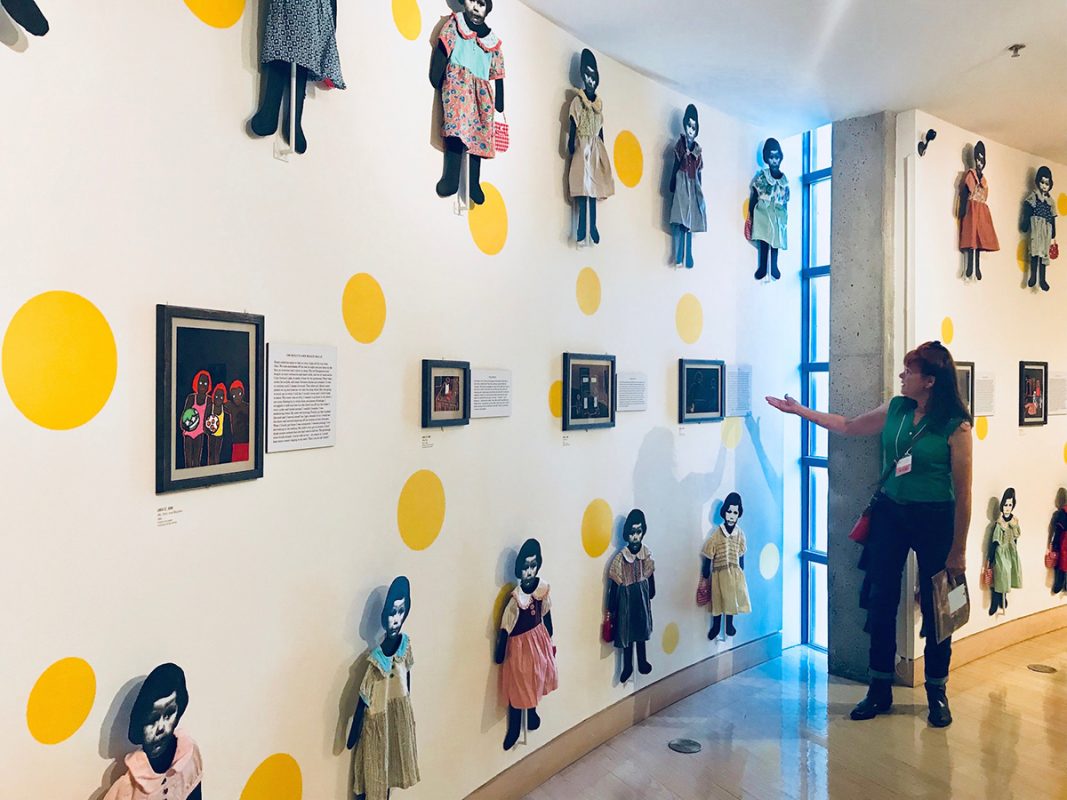 In another room, a long wall is dotted with several life-sized cutouts of a small child—each one with the same face but a different outfit. The work—Fifty Girls in Food Sack Dresses, by Linda St. John—explores the future of parenting and "designer babies," while posing questions about what parenting will look like as people's lifespans increase and families grow to include several generations.
And what would an AVAM show be without postcard images from Frank Warren, of Post Secret fame, or a piece by Baltimore's beloved mosaic artist Loring Cornish, or the large spiritual work of Alex Grey? All of the above find their place in this show, alongside artists who have never been exhibited at AVAM until now.
Baltimore's Chris Wilson makes his AVAM debut with a large abstract painting titled Momma's Boy. Through it, he tells the story of his mother, who took her own life after struggling with drug and alcohol abuse, used as a coping mechanism to survive a horrific trauma. "In this painting, my brother and I attend Mom's funeral," he writes in the description of the piece. "I remain in the back because I am afraid to see my mother deceased. It was the hardest I've ever cried, so white tears are all over the canvas."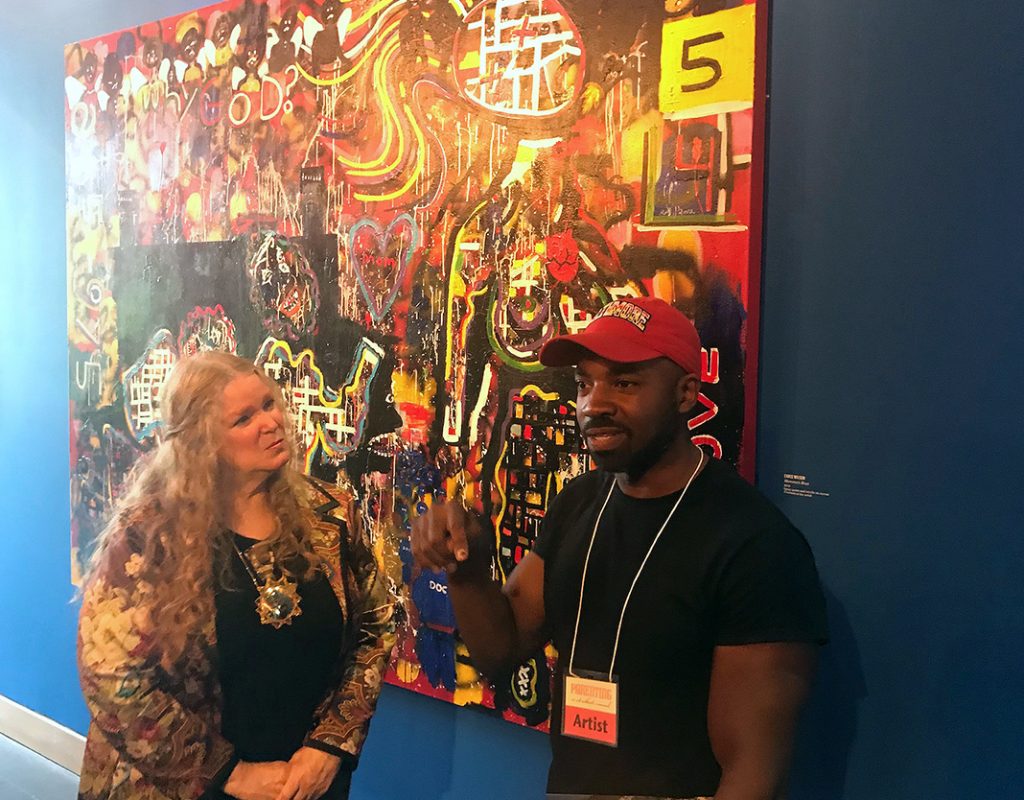 Additional pieces explore surrogate parents, the father-daughter bond, children living in refugee and diaspora situations, and what it feels like to be an orphan.
A compelling sculpture by Allen David Christian called Piano Family: Adagio, Amarosa, and Bucky depicts three figures made of piano parts and is enhanced by a quote installed above it, from Michael Levine: "Having children makes you no more a parent than having a piano makes you a pianist."