EDITED BY LYDIA WOOLEVER Photography by Christopher Myers Written By Jess Mayhugh, Amy Mulvihill,
Mike Unger, and Lydia Woolever
As the day winds down and stretches into night, Charm City wakes up with an electric energy. Bright lights stir across the skyline, Uber drivers prowl the busy streets, dress hems inch upward, and beer bottles go down easy. Our city comes alive in the dark of night, and even as Baltimore has lost some of its seedy allure (R.I.P. Old Fells Point and the glory days of The Block), its nightlife carries on an authentic spirit. Whatever the activity or hour, it's a celebration of the senses that's more invigorating than a full eight hours of sleep. Whether it's the taste of a well-poured nightcap, the sight of glowing neon signs, the smell of an old-school diner, the sounds of Foxtrot helicopters overhead, or the feel of sweat breaking on your brow at an underground dance party, there's no better time to call it a day and make the most of Baltimore at night.
NEIGHBORHOOD BARS
Fells Point MAX'S TAPHOUSE Vibe: Just off the cobblestone streets of Broadway Square, beer nerds and sports fans alike pack this lively microbrew mecca, filled with label art, neon signs, and more than 100 rotating drafts. Order: With so many options, ask Casey for a recommendation, but a Left Hand Milk Stout on nitro was a recent favorite. 737 S. Broadway, 410-675-6297.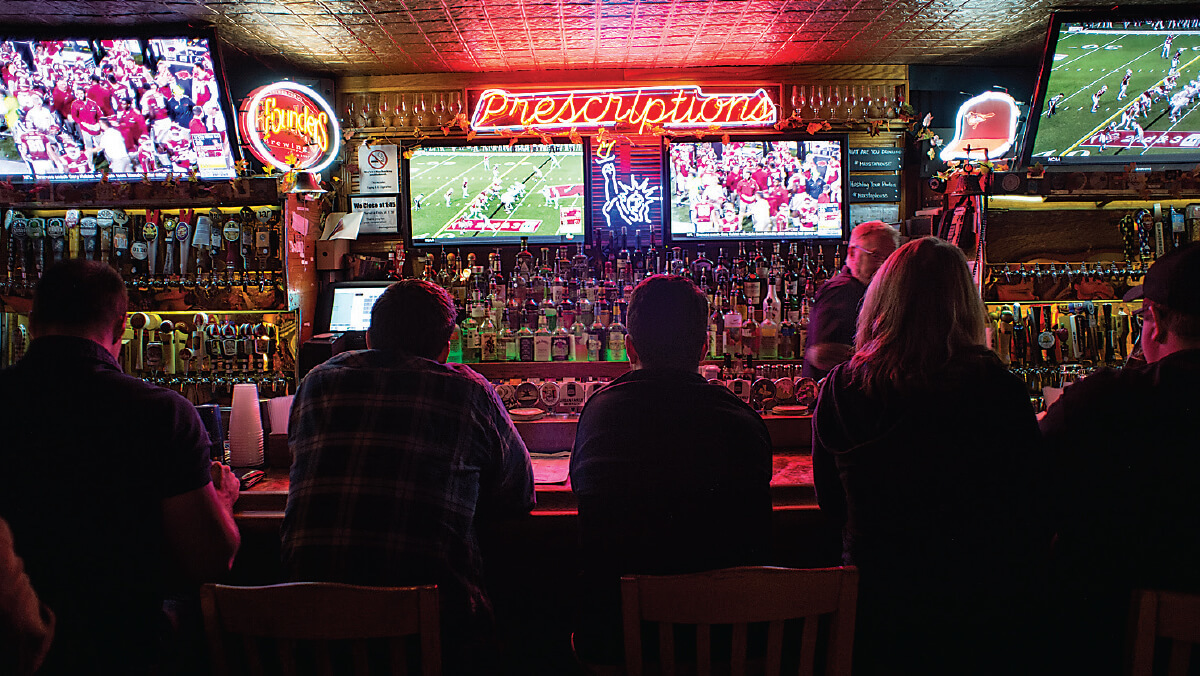 sports fans watch COLLEGE FOOTBALL at max's.
Locust Point HULL STREET BLUES CAFE Vibe: Amidst the old row homes of this newly popular neighborhood, make like a South Baltimore native with cheap beers and chummy conversation with the avuncular barkeeps at this circa-19th-century saloon. Order: A Brewer's Art Resurrection. 1222 Hull St., 410-727-7476.
Riverside BARFLY'S Vibe: This narrow hidden gem is simultaneously highbrow and low. Feel fancy as you peruse a menu of more than 435 whiskey varieties, but right at home eating Matthew's-style pizza on paper plates. Order: If your wallet allows, go for the 15-year Pappy Van Winkle. Otherwise, get the more affordable option: Pennsylvania-based Wigle Whiskey, neat. 620 Fort Ave., 443-682-7227.
Federal Hill MOTHER'S GRILLE Vibe: Whether you're outside on the jam-packed patio or inside beside the throngs of local youth, this Fed Hill staple has a penchant for purple on Sundays and extra-large portions of pub grub all week long. Order: An Orange Crush with an order of "buffacue" boneless wings. 1113 S. Charles St., 410-244-8686.
Ridgely's Delight CAMDEN PUB Vibe: From University of Maryland students to diehard Orioles fans, this solid sports bar provides the perfect place for post-exam happy hours or Camden Yards pregames. Order: O's-themed Natty Boh tallboy. 647 W. Pratt St., 410-547-1280. Little ItalyPALMERE'S Vibe: In a neighborhood known for restaurants rather than watering holes, this laid-back bar is much more about barstools and burgers than tablecloths and tagliatelle. Order: Budweiser, shot of Fireball, and a trio of homemade meatball sliders. 1018 Eastern Ave., 443-835-1953.
MIDTOWN BELVEDERE MOUNT ROYAL TAVERN Vibe: Beneath a faded ceiling mural of the Sistine Chapel, belly up to the long blue bar and admire its eclectic artwork while rubbing elbows with salty dogs and MICA students. Order: A Baltimore special: Pikesville Rye, a can of Natty Boh, and a bag of Utz. 1204 W. Mount Royal Ave., 410-669-6686.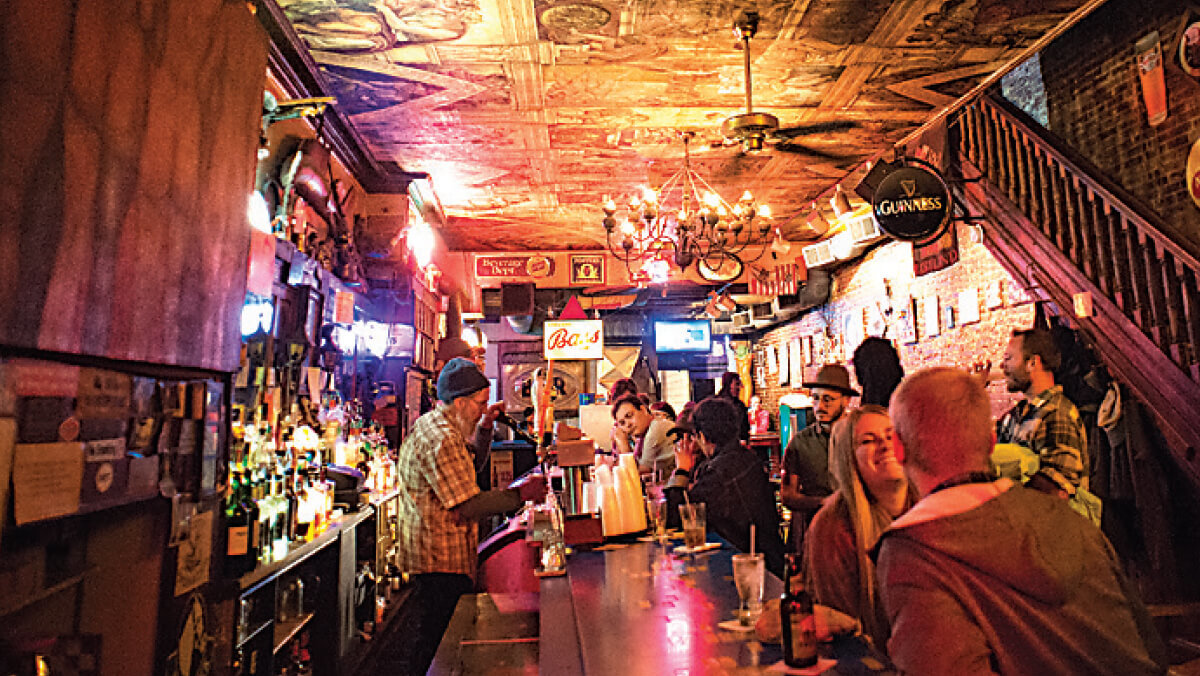 The ceiling mural at mount royal tavern
UPPER FELLS POINT SPIRITS TAVERNVibe: Haunted with the ghosts of drunken nights past, this former funeral home turned dimly-lit drinkery is decorated with a ghoulish flair. On a recent evening, we watched Blazing Saddles on one of the TVs—R.I.P. Pryor and Wilder. Order: Something from the Tub of Fun—if you correctly guess which brand of decidedly nonpremium beer the bartender will randomly pull, you win a free shot. Also, killer nachos. 1901 Bank St., 410-563-1612.
CANTON BALTIMORE TAPHOUSE Vibe: While the cozy confines and friendly regulars make this corner bar feel like a Baltimore standard, its beer selection is a cut above. Order: One of 14 craft drafts and a stick of beef jerky from the jar near the register. If your appetite demands, ask for the three-ring binder full of delivery menus. 600 S. Potomac St., 410-276-7553.
DUNDALK POP'S TAVERN Vibe: On an empty stretch of highway in Sparrows Point, this rowdy roadhouse is a rollicking good time, with a fun-loving, blue collar clientele and boot-scootin' country bands on weekend nights. Order: Whiskey. Whatever's closest. 4343 North Point Blvd., 410-477-0270.
HIGHLANDTOWN THE LAUGHING PINT Vibe: This pocketsize den has all the true grit and good vibes of its eclectic East Baltimore neighborhood. With friendly bartenders and a congenial crowd of locals, it proudly lives up to its reputation as the "nicest little bar." Order: A pint (naturally) of Union Anthem or a fresh squeezed Greyhound. 3531 Gough St., 410-342-6544.
STATION NORTH CLUB CHARLES Vibe: Affectionately known as "Club Chuck," this little red-lit hipster haven is the place to go to unwind from the hustle and bustle of North Charles. Slide into a plush leather booth beneath the art deco mural, order something strong, and wait your turn for the jukebox. Order: The obvious choice on Manhattan Mondays. 1724 N. Charles St., 410-727-8815.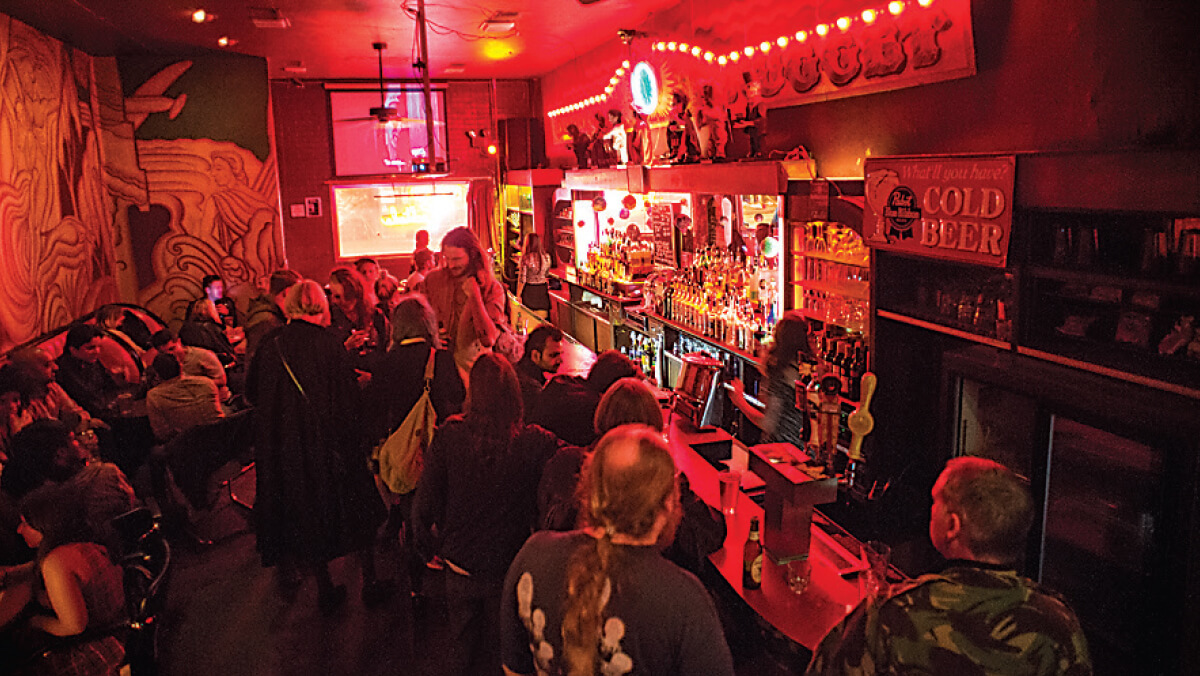 a packed house at club charles
BUTCHERS HILL THE LIFE OF REILLY Vibe: One of the only bars for blocks, this small standalone pub is worth a sit for Gaelic football (read: Irish soccer) and Emerald Isle cuisine like fish and chips and shepherd's pie. Order: Smithwicks for the beer lovers. Magners for the gluten-free. 2031 E. Fairmount Ave., 410-327-6425.
DOWNTOWN THE SIDEBAR Vibe: Nearing its 20th year, this subterranean dive caters to everyone from lawyers and business execs at happy hour to hardcore head bangers at night, when it transforms into a rough-and-tumble, all-ages music venue for punk, metal, and rock 'n' roll. Order: PBR tallboy. 218 E. Lexington St., 410-659-4130.
MOUNT VERNON MOUNT VERNON STABLE & SALOON Vibe: Easy to pass over in the bustling heart of the city, this down-to-earth basement bar boasts cheap drinks, comfort food, and an always active jukebox. Order: Jameson and ginger ale, liberally served in a tall pint glass. 909 N. Charles St., 410-685-7427.
CHARLES VILLAGE OTTOBAR Vibe: Now in its 15th year on Howard Street, this hallowed two-floor venue features a gritty-but-grand rock club downstairs for both small-town and big-name acts, as well as a dance floor upstairs with pool tables, leather couches, and DJ parties. Order: Two rail drinks at a time. 2549 N. Howard St., 410-662-0069.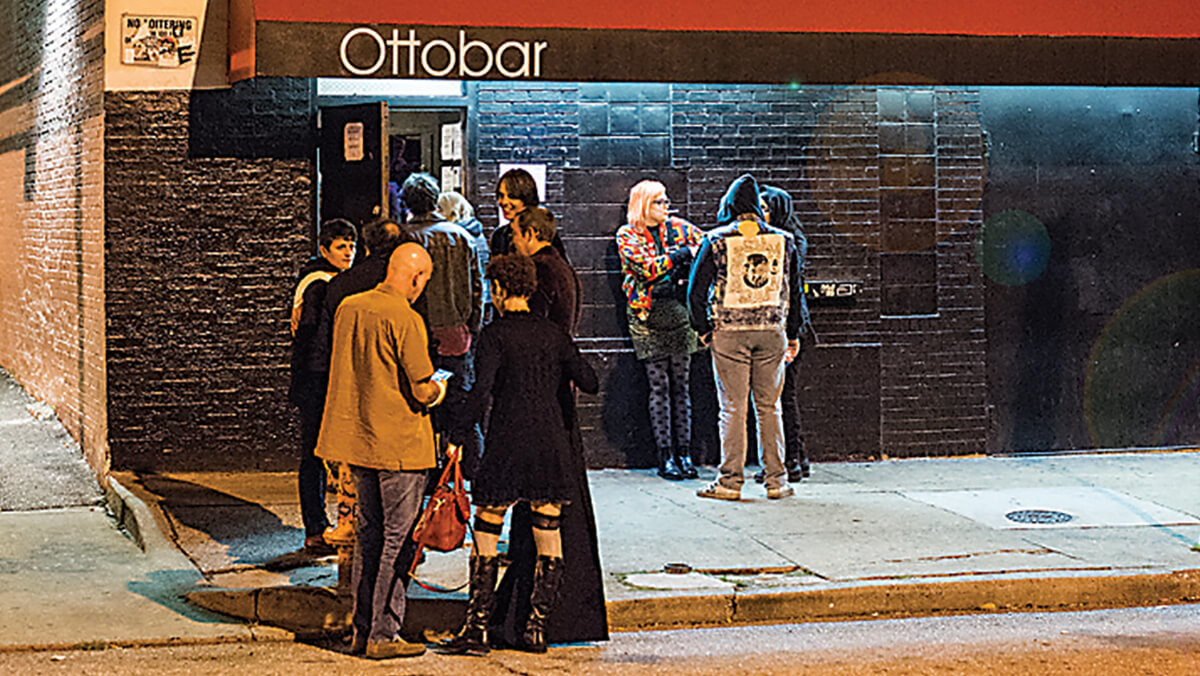 FRIENDS SHARE CIGARETTES OUTside of ottobar
REMINGTON THE DIZZVibe: Tucked away from the high-rise apartments and hipster invasion of rapidly refurbishing Remington, this corner bistro, aptly nicknamed "Baltimore in a bar," features local sports on the tube, hon-style hospitality, and some of the best burgers in town. Order: Bottle of Boh. 300 W. 30th St., 443-869-5864.
MOUNT WASHINGTON THE NICKEL TAPHOUSE Vibe: Don't miss out on the other Mount Washington bar, as northwest neighbors flock here for Edison light bulbs, warm woods, and an impressive raw bar of iced oysters. Order: Evolution Lot 3 IPA and a beef on weck sandwich. 1604 Kelly Ave., 443-869-6240.
BELVEDERE SQUARE SWALLOW AT THE HOLLOW Vibe: Dark, tiny, and timeless, the Hollow has been a favorite gathering place for Loyola students and neighborhood denizens since the 1940s. Order: Yuengling with honey-ghost wings and a juicy cheddar cheeseburger. 5921 York Road, 410-532-7542.
HAMILTON HOLIDAY HOUSE Vibe: On the southern stretch of Harford Road, these down-home dingy digs are home to a working-class clientele, pool tables, and live music on Friday nights. The fact that John Waters used the dive as the set of his 2004 film, A Dirty Shame, (and dubbed it "a real biker bar") says it all. Order: Natural Light and a round of Keno. 6427 Harford Road, 410-426-6794.
HAMPDEN FRAZIER'S ON THE AVENUE Vibe: With Baltimore mementos on the walls, worn leather booths, and cheap drinks all night, this old-school standby is the perfect respite on a long (and fuzzy) winter or summer night. Order: Union Craft Duckpin. 917-919 W. 36th St., 410-662-4914.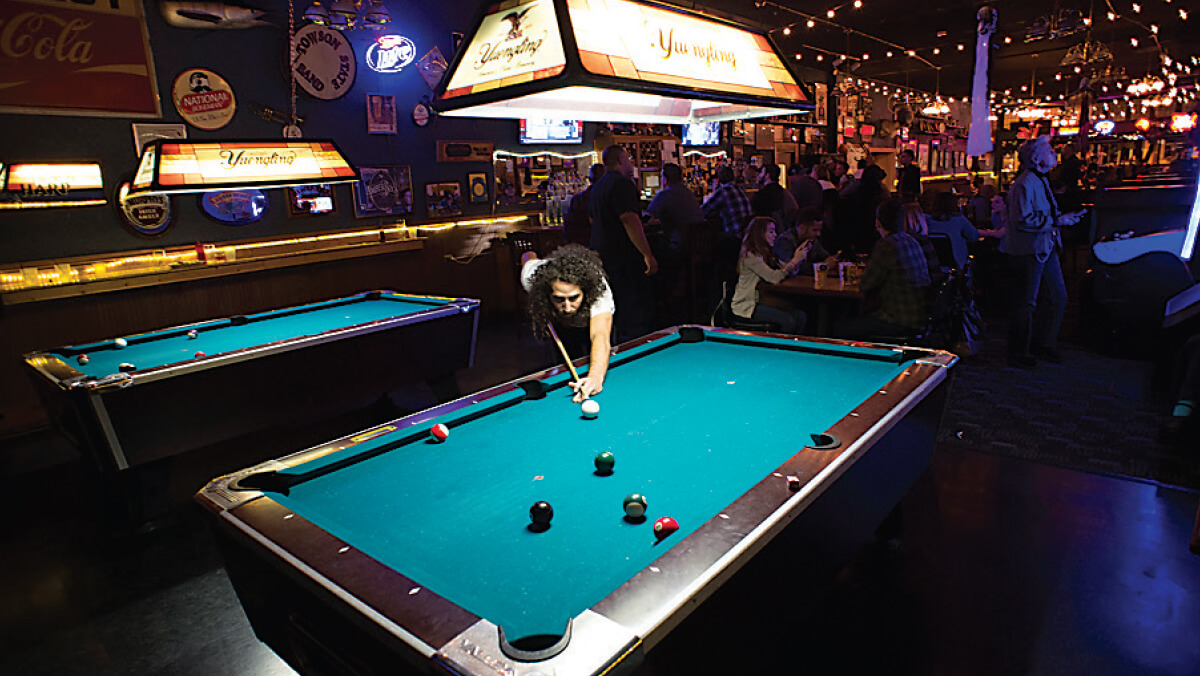 a LONE POOL SHARK PLAYS At frazier's
PARKVILLE FREDDIES ALE HOUSE Vibe: The bar formerly known as Dead Freddies still has much of its old neon sign plus a fresh beer focus with more than 20 beers on tap. Order: A Maryland local, like Manor Hill or RaR. 7209 Harford Road, 410-254-8373.
TOWSON KENT HOUSE PUB Vibe: While other Towson bars have spiffed up and spanned out, this traditional Celtic pub has stuck to its Irish-inspired roots with dark wood, live folk music, and knickknack décor. Order: Pint of Guinness by the fireplace. 506 York Road, 410-825-2650.
TIMONIUM MICHAEL'S CAFÉ Vibe: After more than 30 years, this Timonium mainstay offers a hoppin' happy hour for county residents, plus handcrafted cocktails and top-notch crab cakes. Order: A Moscow Mule, or discount rosé until 7 p.m. on weeknights. 2119 York Road, 410-252-2022.
CATONSVILLE MORSBERGER'S TAVERN Vibe: This family-owned packaged goods shop is like Nashville meets the beltway, with walls covered in neon signs, taxidermy, and miscellaneous memorabilia, plus karaoke Wednesday through Sunday. Order: A house eggnog during the holidays. Otherwise, Miller Lite. 713 Frederick Road, 410-747-9801.
LATE NIGHT EATS
There's something primal about the way our cravings change at night. A cigarette. Another drink. An ungodly, greasy, indulgently delicious late-night snack. In fact, scientists have shown that it's our sleep-deprived brains that jones for junk food, associating those salty or sweet comforts with pleasure and reward. Baltimore's nighttime dining options get better by the day, so go ahead, give into the midnight munchies. Thanks to some of these noteworthy nocturnal noshes, you definitely won't go hungry.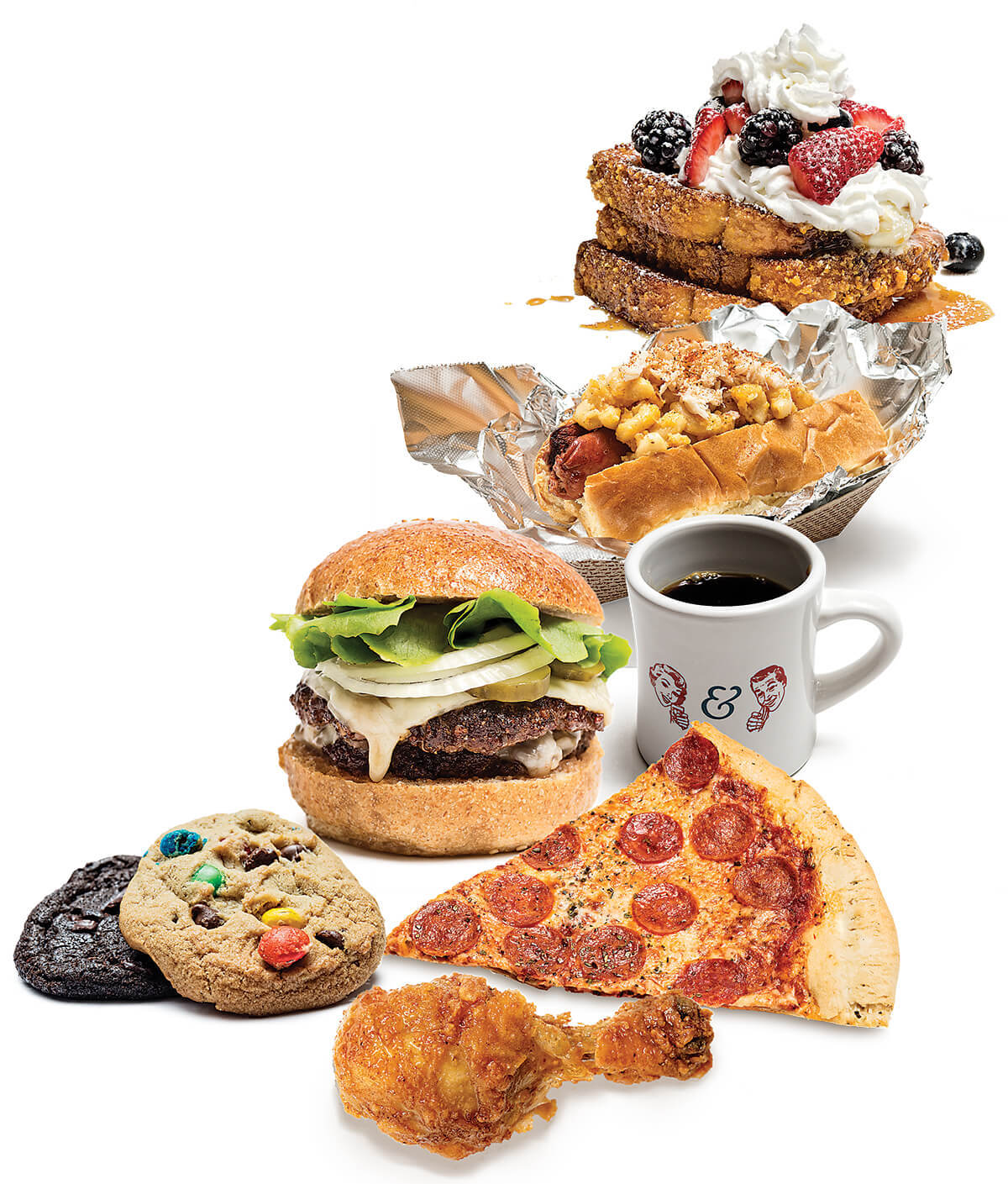 9 p.m.
Parts & Labor, 2600 N. Howard St.
While it's not always easy to get a seat at this Spike Gjerde protein lover's paradise, the bar clears out toward closing time, with plenty of room for you to fill your belly with juicy burgers, pictured, and finger-licking Korean short ribs. Kitchen closing time: Mon.-Thu. 10 p.m., Fri.-Sat. 11 p.m., Sun. 9 p.m.
10 p.m.
Clavel, 225 W. 23rd St.
On weekends, you have until 12:30 a.m. to indulge in this Instagram-worthy Northern Mexican cuisine. Grab a spot at the busy hipster-chic bar for muchas spicy mezcalitas, handmade tacos, and of course, the queso fundido. Kitchen closing time: Mon.-Thu. 11 p.m., Fri.-Sat. 12:30 a.m.
11 p.m.
The Bun Shop, 239 W. Read St.
This little Mount Vernon cafe is open extra late, offering comfy couches, keep-you-up coffee, and tasty treats like sticky buns, puff pastries, and savory tarts. Kitchen closing time: 3 a.m. daily.
12 a.m.
Blue Moon Cafe, 1621 Aliceanna St.
To beat the crowds, it's best to arrive at this Fells Point row home well before the bars let out for late (read: early) breakfast including massive omelets and their famous Cap'n Crunch French toast, pictured. Open 24/7 on weekends.
1 a.m.
Stuggy's, 809 S. Broadway
There are few things that curb a late-night craving (and ward off a hangover) quite like a hot dog, especially one covered in lump crab, Old Bay, and gooey mac-n-cheese, pictured. Kitchen closing time: Sun.-Wed. 8 p.m., Thu.-Sat. 3 a.m.
2 a.m.
Hot Tomatoes, 717 S. Broadway
When your inhibitions have fully lowered, it's time for pizza. These giant, super-thin slices, pictured, are arguably some of the best in town. Kitchen closing time: 3 a.m. daily.
3 a.m.
Jong Kak, 18 W. 20th St.
One of the last Korean barbecue joints in the city, this Station North noshery features charcoal-cooked meats, spicy fried chicken, kickass kimchee, and ice-cold beer buckets. Just mind the grill, if you've been drinking. Kitchen closing time: 4 a.m. daily.
4 a.m.
Sip & Bite, 2200 Boston St.
Open 24 hours, seven days a week, this old-school diner serves up the kind of mean milk shakes, chili cheese fries, and cheap coffee, pictured, you need to sober up again, with epic people-watching to boot. Open 24/7 daily.
5 a.m.
Royal Farms, multiple locations.
Okay, screw it. A box of RoFo chicken, pictured. End of story. Open 24/7 in most stores.
---
Night Caps
DRINKS FOR after dinner
---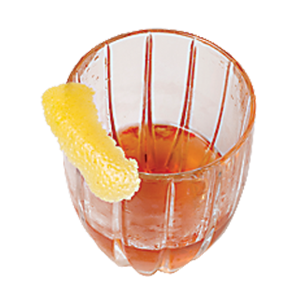 Sazerac Colette
This New Orleans darling is made with Peychaud's bitters, cognac or rye whiskey, and an absinthe rinse. Head bartender Crystal Wack says it's "by far" the bar's most popular drink.
---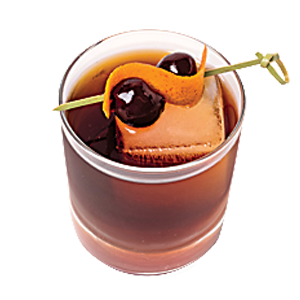 Amaro Rosa Sugarvale
A variation on a Manhattan, this Mount Vernon creation combines bourbon, Amaro CioCiaro, Fernet Branca, and brandied cherries into "the perfect digestif," says owner Phil Han.
---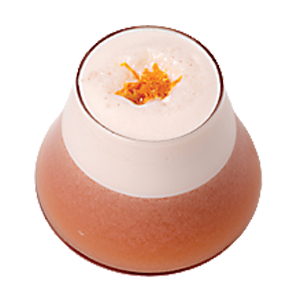 Eastern Promises Of Love & Regret
Head bartender Ryan Travers whips up this mix of apricot and plum brandies, Barolo Chinato, Velvet Falernum, citrus, honey, and egg white in a modern take on your grandfather's after-dinner brandy.
---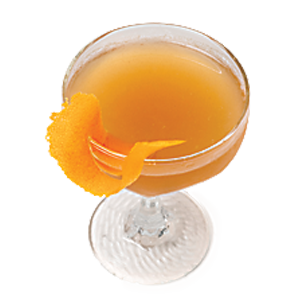 Lith Hall Maggie's Farm
As co-owner Matthew Weaver's tribute to the Lithuanian Hall, this adult's-only take on iced tea uses the Baltic country's Virtya honey liqueur, rye whiskey, lemon juice, old-fashioned bitters, and a twist.
---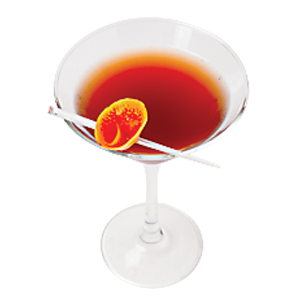 Chai Metropolitan Wine Market Bistro
Bar manager Aaron Simons infuses Dolin Rouge with black tea and spices like clove and cardamom for this chai-inspired brandy drink, which he says many guests treat like dessert.
---
pinball wizards
Old-school arcade games are back and better than ever, with a bevy of bright tables blipping, blinging, and dinging around town.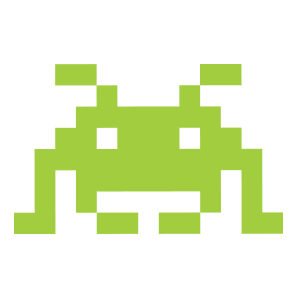 BOILER ROOM
27 E. Cross St.
This Federal Hill beer-and-a-shot bar boasts pinball, skeeball, basketball hoops, and Golden Tee Golf, plus two multicade machines that house more than 100 vintage games, including Mortal Kombat, Donkey Kong, and Space Invaders.
CRABTOWNE USA
1500 Crain Hwy., Glen Burnie
Twenty minutes outside of the city, this Glen Burnie crab shack is a step back in time with nearly 100 retro arcade and pinball games for as little as 25 cents a play.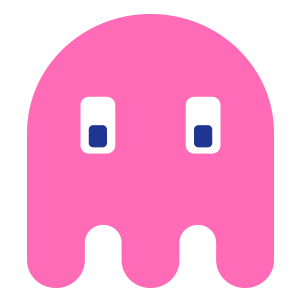 JOHNNY RAD'S
2108 Eastern Ave.
Grab a can of craft beer and head to the side room of this skater-hip Fells Point pizzeria for Harley Davidson-themed pinball, skeeball lanes, and an oft-overlooked multicade featuring Frogger, Galaga, and Pac-Man.
THE LATE SHIFT
The Broadway Diner has seen it all.
It's minutes before midnight and the workday for Phil Mills, pictured below, has just begun. As a night manager at Broadway Diner on the far reaches of Eastern Avenue, he serves on the front lines of the battle between Baltimoreans and their late-night cravings. After 25 years in the business, Mills, 41, sure has seen some things. We sat in a booth in the wee hours and asked him to share some war stories.

ALL OF THE LIGHTS
In 1817, Baltimore became home to the first gas street lamp in the United States. A monument commemorates this landmark on the corner of Holliday and East Baltimore streets.
What are your shifts?
Wednesday through Sunday, 11 p.m. to 7 a.m. I'm up all night anyway because I have four kids—13, 11, 8, and 2.
When is the late-night rush?
Most of the time it's 2:30 to about 3:30 a.m.—people that had a really good time at some other place. They come in here and eat til they're crazy. There's a second rush around 5 or 6. That's the older people coming in and getting their coffee and ordering the specials. We see all walks of life.
Do people ever fall asleep in their booths?
A lot of times. Sometimes I have to wake them up because they're just out of it, in a food coma.
Have you ever seen people making out?
Every once in a while we catch somebody but we just walk by and act like we don't see it. I don't get involved in that sort of stuff. I figure their hands are full.
Do you ever have to call the cops?
We usually have security here on Friday and Saturday nights, so it doesn't go that far, thank God. To be honest, it's not that bad. Of course people are going to get loud, but it's not where you have to call security every five seconds either.
What's the most you've seen one person eat?
We have this platter called the Lumberjack with three large pancakes, three and a half ounces of eggs, bacon, and sausage. Then they ordered other things on top of that, like a side of Disco fries. But they polished it off.
Has anyone ever thrown up?
Oh yes, in the bathrooms, on the floor, on the table.
Guess that's a sign that it's time for the check?
I would think that they've reached their limit, that's for sure.
How much coffee do you drink?
Ten to 12 cups a night.
---
NIGHT OWLS
City nightlifers on their Baltimore after dark
---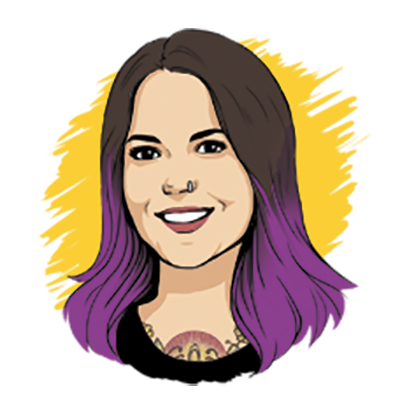 Briana Savage
Bartender, Bookmakers
"On my nights off, Clavel is my absolute favorite place in Baltimore. I really like to chat with the bartenders and have them pick out a mezcal for me to sip."
---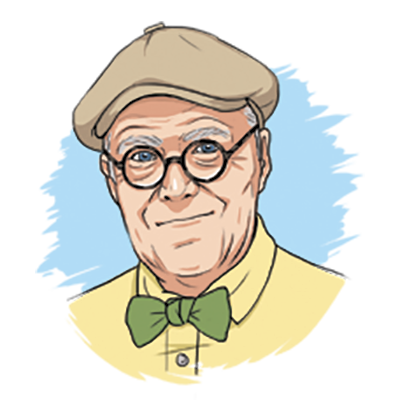 Bowtie Bob
Social butterfly
"Many Friday nights, I go to art openings in Mount Vernon, Station North, or the Bromo Arts District, at galleries like Escape Artists, Jordan Faye Contemporary, and Maryland Art Place."
---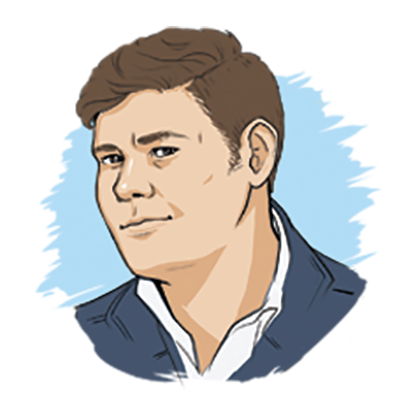 Rob Macy
Host & DJ, Save Your Soul
"I like to get outside of the so-called 'White L' and hit Harford Road dive bars to chat with the old-timers. Be it Mencken, Waters, or Coates, Baltimore is made of the stories of her citizens."
---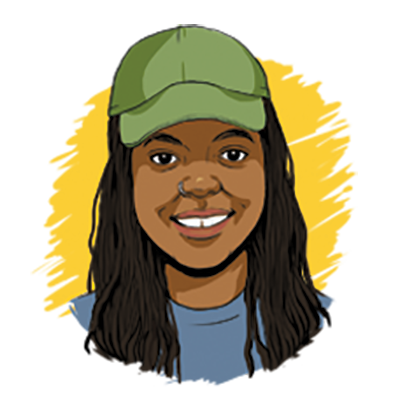 Trillnatured
Aka Jessica Hyman, DJ
"I like to catch other DJ sets at The Crown, during events like Kahlon and Blush & Brews. The material tends to be fresh and diverse, just like the crowd."
---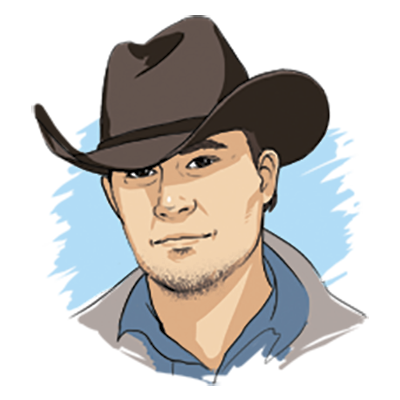 Sean K. Preston
Musician
"Working in Fells can feel like being a carnie. There's a lotta light, sound, hustle, bustle, masses to entertain and entice. The breeze off the harbor, music carrying through the air, the cobblestones, and plenty to drink—I sometimes catch myself taking for granted how special it is."
Fare Thee Fells
With stalwarts shuttering and a shiny hotel opening, a new Fells Point emerges.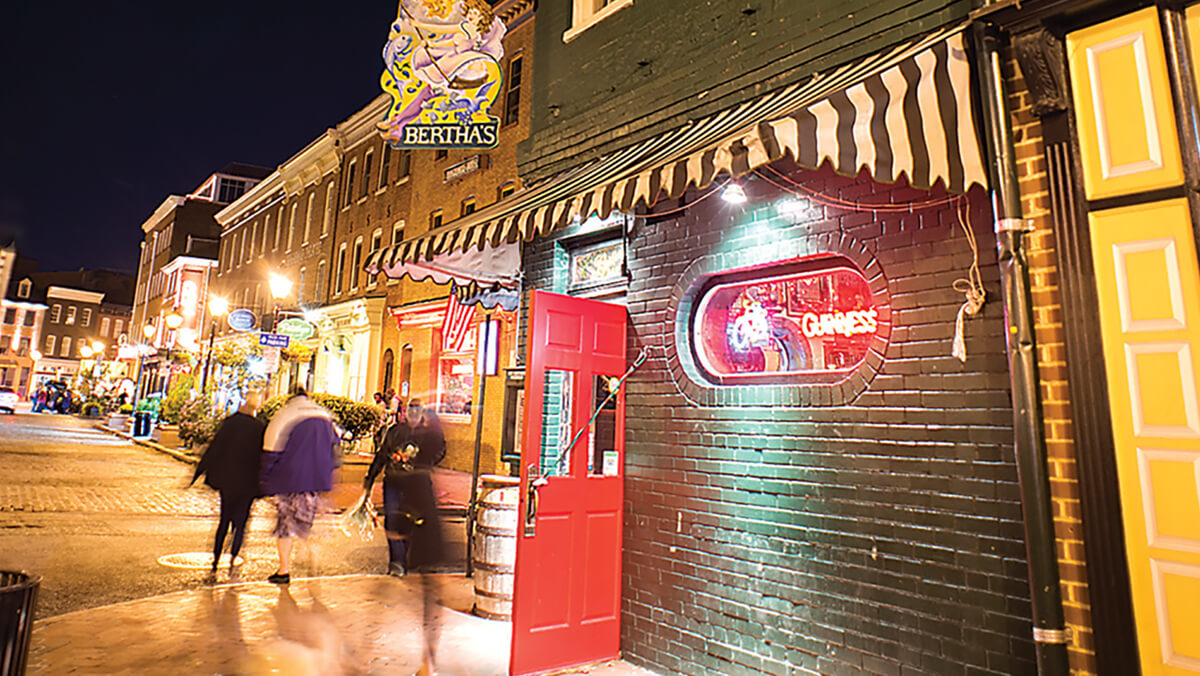 AMID THE CHANGING FACE OF FELLS, BERTHA'S REMAINS A LAST BASTION OF THE OLD 'HOOD, OPEN ON BROADWAY AND LANCASTER STREET SINCE 1972.
"There's an old saying in Fells Point," says Ana Marie Cushing, who opened Cat's Eye Pub with her now late husband, Tony, and another partner in 1975. "We don't have a town drunk. We all take turns." That carousing sense of self has come to define the historic waterfront neighborhood at the foot of Broadway for the past 40 years. Home to many sailors, eccentrics, and, yes, drinking buddies, Fells Point has become synonymous with the independent spirit.

POTENT POETABLES
Established in Fells Point in 1775, The Horse You Came In On Saloon is said to be the last stop of famed poet Edgar Allan Poe before his mysterious death.
"Fells Point used to be a real working-class community," says Andy Norris, who owns Bertha's, which his parents bought in 1972. "There were lots of artists, a heavy Polish population, old tugboat guys. It was a real bawdy kind of place." Those characters ("a real John Waters crowd," says Cushing) continued to stumble along the cobblestones for decades. "It was mostly a community of artists with after-parties every night at someone's house," says Bryan Burkert, who opened his record store The Sound Garden in 1993. "When you're young and work in the service industry or play in a band, it comes down to where can I live that's cheap. For a while, Fells Point was that place."
But a gradual transformation took place, some attributing it to the decline of Broadway Market and others crediting the development of Harbor East in the 2000s. "When Harbor East popped up, you felt that financial shift," says Norris. "It connected the corporate world to our little funky arts community." This caused housing stock to go up and a different type of patron to come out. "We definitely started seeing more young professionals," says Cushing. "It became gentrified and started to feel more like Georgetown."
The change has been evident most recently with the closing of stalwart music club Leadbetter's in June, which was replaced by the new iteration of the cocktail bar Rye. "I see that old guard moving on a bit," admits Cushing. "All those kids that went there to play music were so upset that they put a designer bar in there. That's just not the way Fells Point used to be."
But, business owners admit, not all change is bad. Many seem optimistic that Kevin Plank's Sagamore Pendry Hotel, which is set to open on the old Recreation Pier in early 2017, could do wonders for the historic 'hood. "I can't wait for that hotel to open up," says Norris. "Sure, it will be a higher-end clientele. But hopefully they will seek out authentic Baltimore. There are a lot of new shiny dimes opening up around here, but people can't forget about that old quarter in their pocket."
---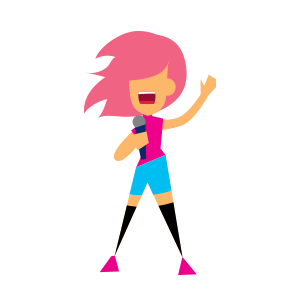 KARAOKE KINGS
We might not be Tokyo or NYC, but here in Baltimore, amateur sing-alongs abound
with plenty of places to sing your heart out.
▾
ALOHA BAR
1218 N. Charles St.
On Fridays and Saturdays, descend into this small, subterranean bar beneath the Mount Vernon sushi joint for Japanese karaoke (aka fantastic background lyric videos) that lasts extra late.
▾
LONG JOHN'S PUB
398 W. 29th St.
On certain nights behind the Formstone walls and bright green sign of this Remington dive hides a herd of songbird regulars and a stellar selection of oldies-but-goodies.
▾
WALT'S INN
3201 O'Donnell St.
Every night of the week, this cozy Canton corner bar is the place to go for boy band belt-outs with a side of Jell-O shots and Old Baltimore charm.
---
Members Only
Social clubs provide recreational sanctuary
We Baltimoreans are obsessed with localism. Our high school, our neighborhood, our corner bar—these are our talismans of identity. But for ultimate insider cred, there's no place like the private social club.
Over the course of the city's history, scores of these members-only outposts have existed—and many still remain, ranging from the august, antebellum Maryland Club in Mount Vernon to the determinedly discreet Dizzy Pleasure Club in Dundalk. They vary in size, atmosphere, amenities, clientele, and rules and regulations, but they all offer one coveted quality: exclusivity. Aspiring members must have their applications sponsored by an existing member, and there are yearly dues. But once you're in, you have access to a space that's somewhere between a bar, a banquet hall, and a friend's basement.
In Canton, The Ducky Pleasure Club has occupied the first floor of a South Clinton Street row home since it was founded in 1953. Like many social clubs in the city, it has a limited liquor license, allowing it to serve cheap beer and wine seven days a week, from 6 a.m. to 2 a.m. (Members can also sometimes bring their own liquor.)

MALTS BY MENCKEN
Notorious drinker and "sage of Baltimore" H.L. Mencken used to brew his own beer in his home at 1524 Hollins St.
"You get a key card that buzzes you in whenever you want," says club president Ed Wykowski. "If you drink five beers, you're supposed to put $7.50 in the register. It's self-serve, honor system."
Cheap beer isn't the only attraction. Clubs offer flat-screen TVs, stereo systems, and bar games. The posh Maryland Club even has squash courts. Mostly though, the clubs provide lots of friendly, familiar faces—all without overcrowding or crass commercialization.
The 100-plus-year-old Clifton Pleasure Club sits on a quiet side street in Lauraville in a rambling white building, part of which used to be a one-room schoolhouse. The club's next-door neighbor is a German Lutheran cemetery.
We popped in recently and found the club's den mother, Amelia Reitz, in the industrial kitchen preparing meatloaf, mashed potatoes, and gooey banana-chocolate bread pudding for a member's birthday. Her parents sat at the bar and chatted as her dog, Luna, trotted around.
Reitz admits that she is ambivalent about publicizing the club. Then again, clubs need new members, especially as older generations die off. Clifton's membership has grown in recent years, and many new members are Gen Xers and millennials.
"We are all so inundated with social media," she says. "We have so many 'friends' that it's nice to have a community to hang out in."
On the other hand, she's afraid that increased attention will rob the place of its subdued magic. "We like to keep things pretty low-key."
THE MIDWAY
A last glimmer of nostalgia on the Baltimore Block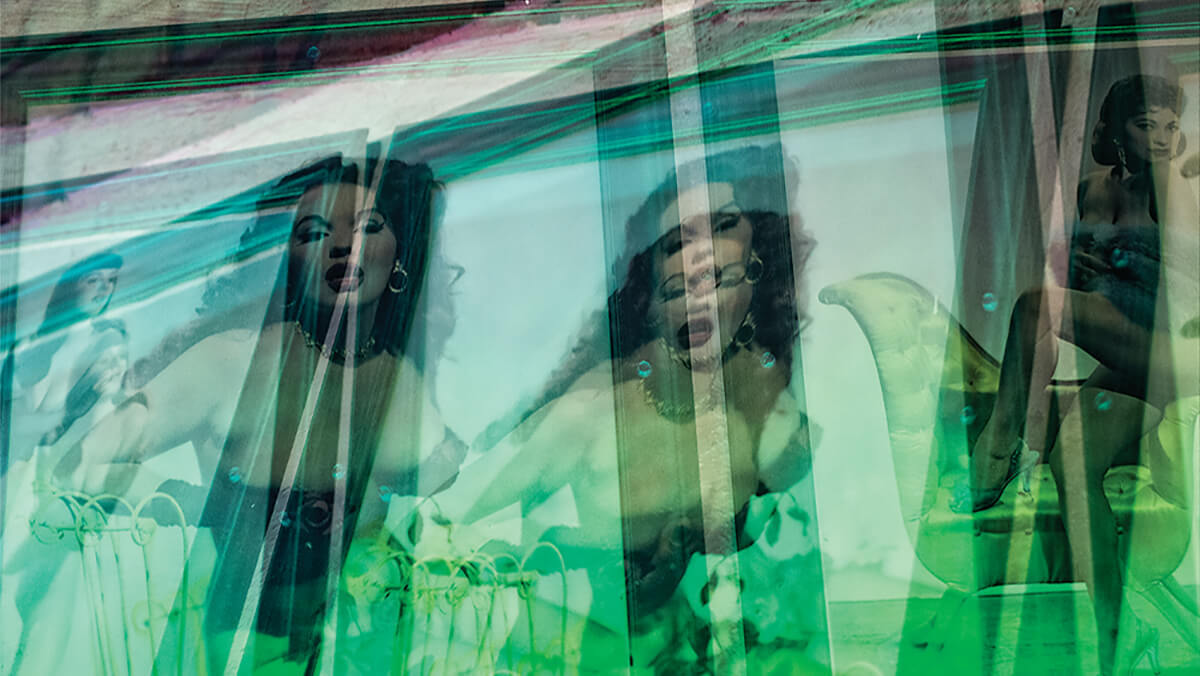 A VINTAGE PINUP OF the block's famous BLAZE STARR HANGS ON A WALL OF THE MIDWAY BAR.
These days, when looking for adventure and amusement, out-of-towners and county dwellers often head to the Inner Harbor, but just three blocks from the water, a stretch of Baltimore Street—also known as The Block—used to be the star. The strip was once a destination—covered in bright lights, glittering marquees, grand theater houses, vaudeville acts, and its world-famous burlesque—promising cheap thrills and adult entertainment to the crowds that filled the streets.
Today, the scene is something else entirely. A few flashy signs intermingle with boarded-up buildings. Pushy bouncers heckle passersby to enter their near-empty clubs. A few sly handshakes pass off a pocketful of drugs. The Hustler Club and Norma Jean's still maintain a touch of frill, with stiff drinks, high-dollar dances, and velvety crimson décor, but the rest, now tattered and tawdry, have gone to seed. There's barely an ounce of the glamorous good-old-days left.

BLOCK BOMBSHELL
In the 1950s, The Block's Blaze Starr gained national notoriety in an Esquire magazine story titled, "B-Belles of Burlesque: You Get Strip Tease With Your Beer in Baltimore."
But near the eastern end of the 400 block, past Club Pussycat and the Jewel Box, before you reach the headquarters of the Baltimore City police, there's a neon light, sometimes only partially lit, that beckons you inside. Behind the brick façade and red cursive letters of Midway Bar, this dark, deserted dive is the last vestige of the old Block that disappeared decades ago.
Unlike its neighbors, there's still of a hint of nostalgia in the knotty pine panels of the Midway. The interior is little changed, with vintage "Ladies" and "Men" bathroom signs illuminated in the back (even if the bartender has to buzz you in), and dozens of faded glamour shots near the ceiling, all glowing in glitzy light. Blaze Starr is there, of course—The Block's most famous female—but also other icons of the day, their makeup perfect, their hair just so; barely wrapped in fur and silk, wearing little more than high-heel shoes and elbow-high gloves. Dreamy, timeless, untouchable, they look like Hollywood stars.
Behind the long black bar stands Jim Brandt, who owns this establishment and started working here when he was 21 years old. "It was a lot of fun," he says of the early 1980s, his fresh plaid shirt tucked into his faded blue jeans. "Baltimore was more of a sailor town back then. Everybody had a good time."
Of course, even the '80s were past The Block's prime. It started to go downhill after World War II, when full nudity—not to mention pornography and prostitution—replaced the more artful burlesque tease, and crime and drug activity spiked across the city and country. Blaze Starr shuttered her business at The Two O'Clock Club in 1972, and Polock Johnny's stopped serving their signature Polish sausage not long after that. Even still, Brandt says that business remained good. The Midway continued to be a welcoming rest stop for center-city businessmen and the city's abundance of third-shift workers. Always simply a bar, the only dancers you'd find inside were those stopping in for drinks before or after work.
Today, even with the neighborhood's reputation stained with sin, the Midway's packaged goods business keeps them busy. The clientele is a motley crew, from seedy characters in need of a fix to hospitality folks at the end of their shift; veteran and amateur strippers taking a load off to uppity old white men in blue blazers and coiffed hair. Patrons come in for the cheap drinks, as five bucks cash gets you two ice-cold cans of Boh, cordially served with a glass. There's also Utz potato chips and pub mix, plus one lone flat screen for watching the Ravens and O's.

ALL THAT JAZZ
In the early and mid-20th century, Pennsylvania Avenue was an African-American-run entertainment district that rivaled Harlem and Chicago, attracting performers such as Billie Holiday, Duke Ellington, and Louis Armstrong.
With the last glimmer of Baltimore Street's former glory all but faded away, the Midway, fittingly, remains as a midway point between what The Block now is and what it used to be. Seven days a week, Brandt stays open until 2 a.m., even in the thick of blizzards, much to the appreciation of old regulars like Charlie, who's been coming here for decades. "I like to say that the Midway is The Block's neighborhood bar," he says over a midday Miller Lite. Adds Brandt, "It's a nice place. We ain't never had no problems."
On any given night, he and his mother, Vickie, are happy to talk about the past. "It's nothing like the old days," she says, now in her 35th year as a Midway bartender. "There used to be parking out front, and as one car pulled out, another car pulled in. The bar was full of sailors, lawyers, just everyday working people. Now they're all in a hurry to get going somewhere else."
Bucket List
DON'T MISS THESE CHARM CITY EVENING ESSENTIALS
After a long workweek, it can be hard to muster up the strength to get off the couch or even find a baby sitter. But before you surrender to Netflix and chill, be sure to cross off these eight nighttime necessities from your Baltimore bucket list.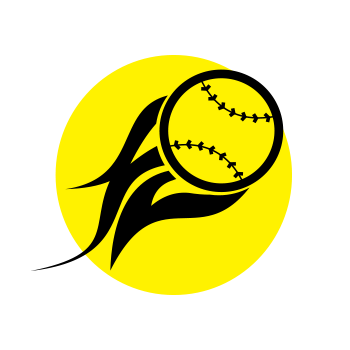 ORIOLES NIGHT GAME
In the dead of summer, we understand the urge to stay inside next to the a/c. But bearing the heat to see Chris Davis hit a homer out of Camden Yards with a cold beer in hand? There's no better place in the world.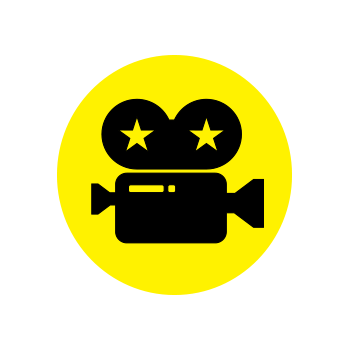 OUTDOOR MOVIES
Beneath the dog-day moon, lay out a blanket with friends for alfresco summer flicks, be they projected over the Federal Hill lawn, a Little Italy parking lot, the end of Broadway Pier, or the hood of your car at Bengies Drive-In in Middle River.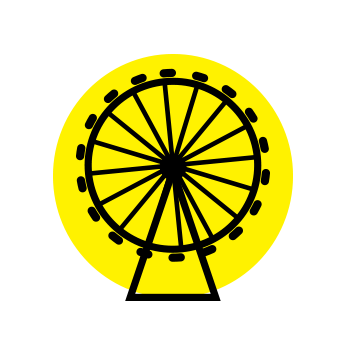 STATE FAIR FERRIS WHEEL
There's a brief moment at the top of the sky-high Ferris wheel at the Maryland State Fair—above all the bright lights, carnival rides, barnyard animals, and Timonium traffic—where everything is calm and peaceful. Soak it all in before you barrel back down again.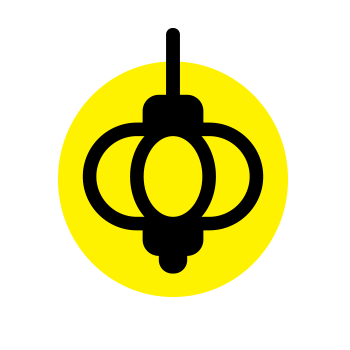 GREAT LANTERN PARADE
On Halloween weekend, the hills of Patterson Park illuminate with handmade lanterns and custom costumes in a spookily spectacular parade of lights. From neon glow sticks to jiggling jellyfish headdresses, this beloved tradition is fun for kids and adults.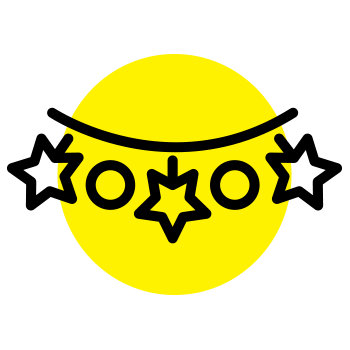 MIRACLE ON 34TH STREET
At the end of November, thousands of onlookers converge on a small stretch of Hampden to watch its houses transform into a winter wonderland with hundreds of twinkling lights. Stop and snap a selfie in front of the hallowed Hubcap Tree.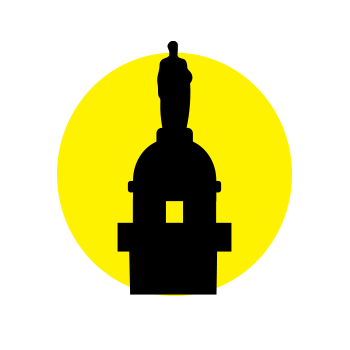 MONUMENT LIGHTING
Once a year in the heart of Mount Vernon, the dark December night lights up with the color and smoke of fireworks as Baltimore's 200-plus-year-old Washington Monument becomes a spectacle not to be missed.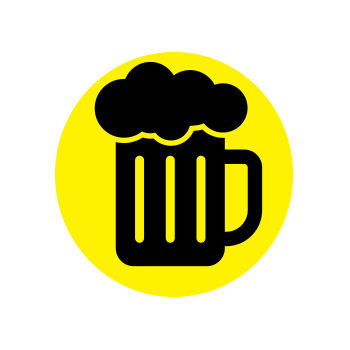 WINTER RAVENS TAILGATE
Forget the frigid forecast. Throughout winter, wake up early, throw on your warmest jackets (layers are key), and head to the M&T Bank Stadium parking lot for even colder beers, hot chili, and a roost with the Ravens flock.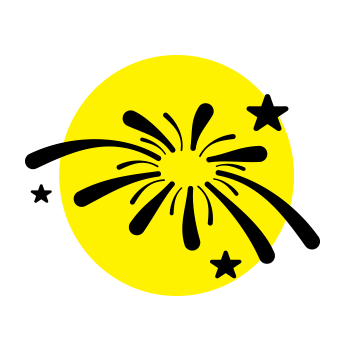 FIREWORKS
Be it the Fourth of July or New Year's Eve, make your way to an urban rooftop for Baltimore's big-bang fireworks. From way up there, with the skyline glittering over the harbor, Charm City stands in all its glory.
Neon Nights
FUZZY SIGNS STILL SHINE ACROSS THE CITY
When the sun goes down in Baltimore, the warm glow of neon buzzes across the city. From the red head of Mr. Boh to the giant letters of Domino Sugars, this town, like many before it, was built on those colorful, radiant tubes. There is something innately nostalgic about neon—its luminous pulse reminiscent of another time, another place; of a forgotten America covered with highway motels and small-town diners, bowling alleys and corner stores and drive-in movie marquees. Many of these signs came down a long time ago, gone with the good old days of industry and economic prosperity, replaced by the less romantic LED. But intentionally or not, those that remain—in bar windows, outside restaurants, above businesses, and beside shops—serve as relics of the past and live on as beacons of a bright future that once again might be. Imbued with that potent possibility, a few new signs still stir like fireflies across our skyline. From taco joints in Remington to noodle bars in Mount Vernon, they come alive, electric and abuzz, like little heartbeats of the city.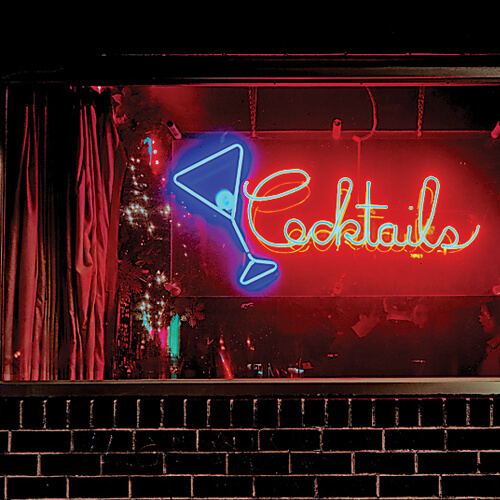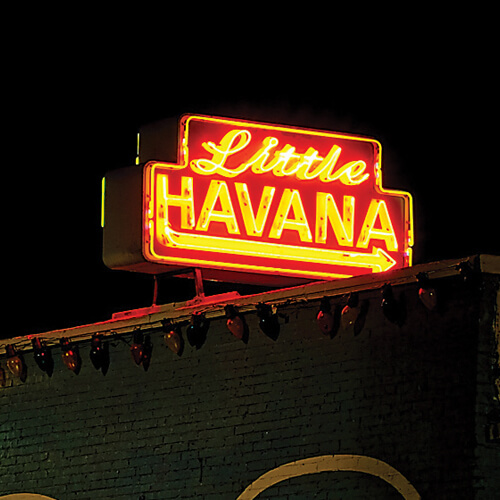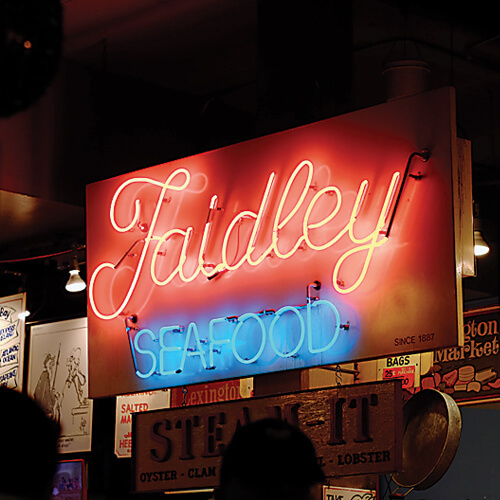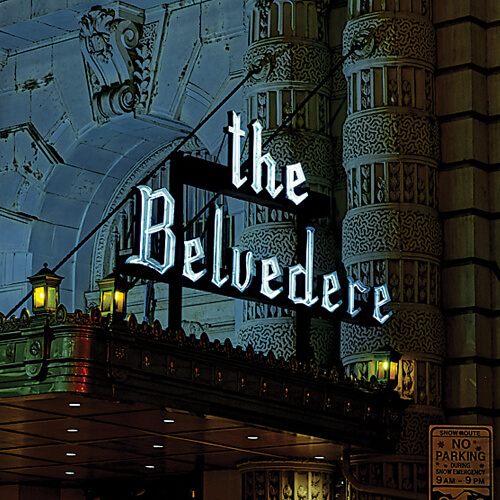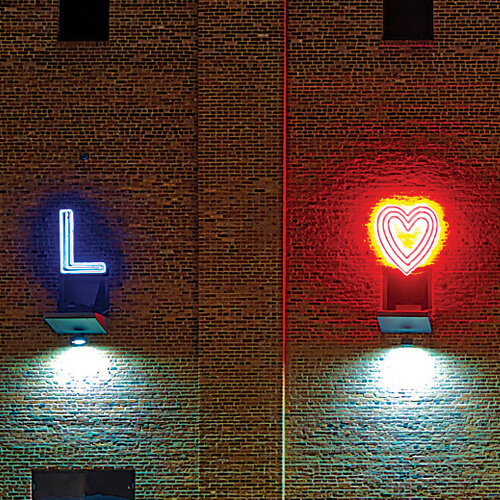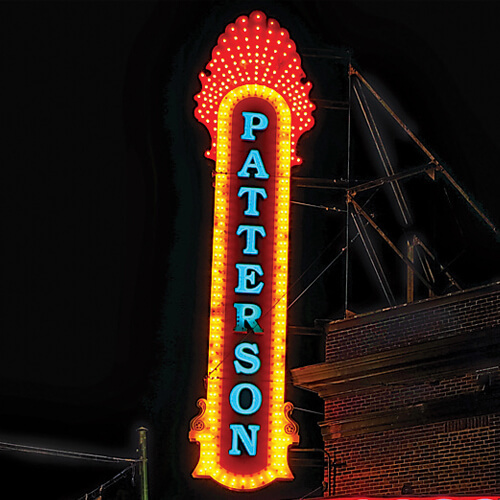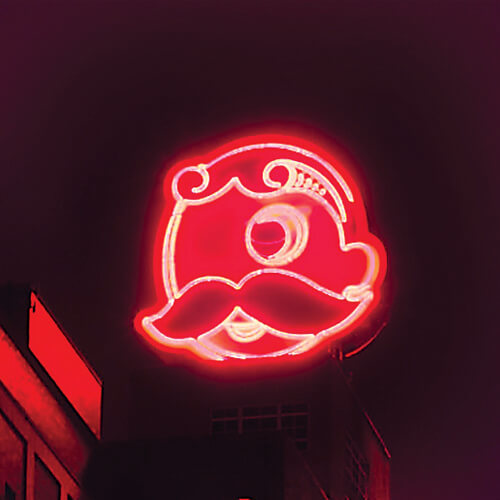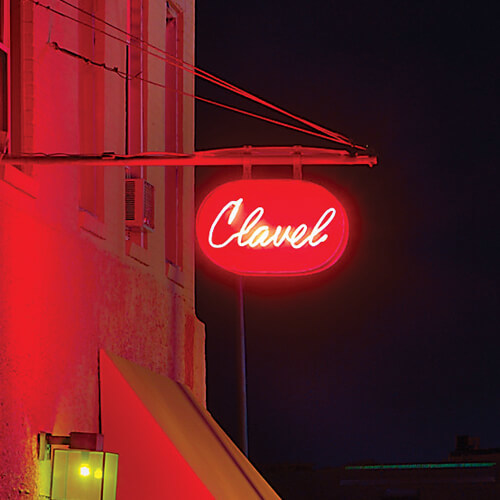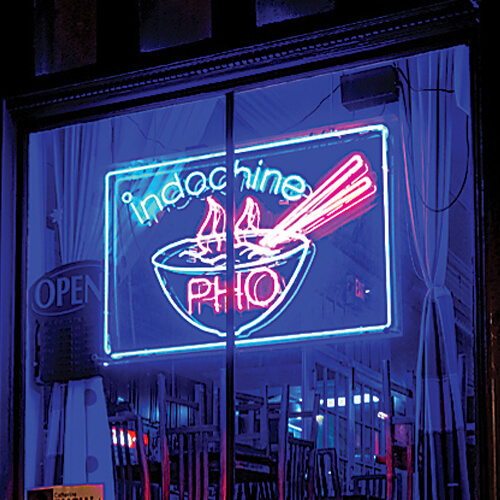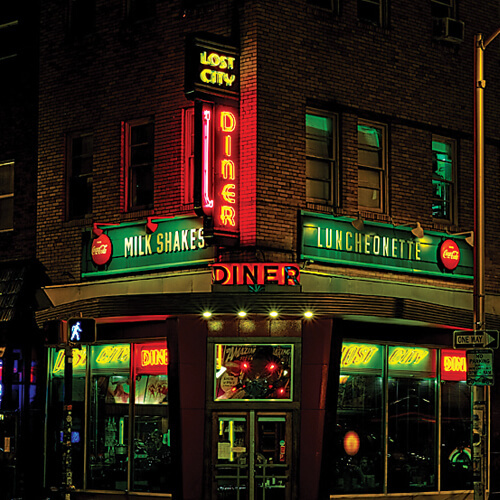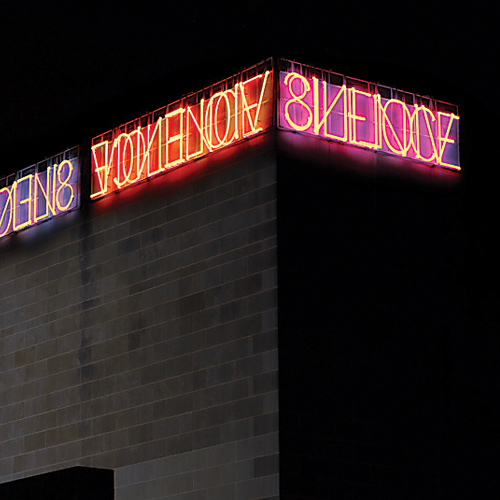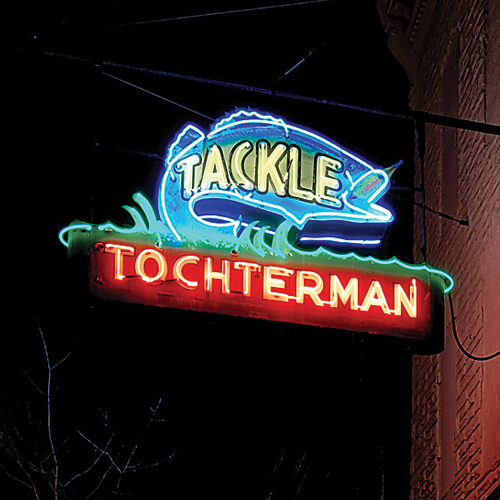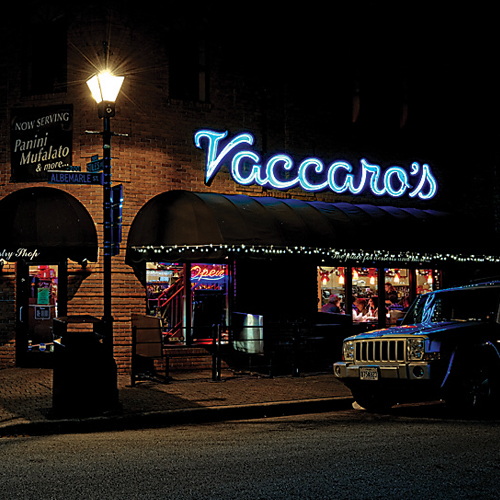 ---
CROWN JEWEL
Station North mixed-use space is a champion of Baltimore's DIY arts and music scene
THIS FALL, THE CROWN HOSTED DIVAWEEN, A PLANNED PARENTHOOD BENEFIT DANCE PARTY FEATURING LOCAL ARTISTS AND MUSICIANS.
Sitting on a barstool with a Natty Boh in hand, Brendan Sullivan compares his first day at The Crown to being tossed the car keys before even knowing how to drive. "I was like the nerdy kid working the valet who gets handed a really expensive car," he says, as red lights glow overhead and ambient music hums all around. "The guy didn't ask any questions, so I just tried my best to park."
Sullivan had never worked in a bar before, let alone managed one. But the owner, Eun Lee, had been looking for someone to turn a shuttered Korean karaoke bar on North Charles Street into a successful venue. The then-26-year-old MICA grad wasn't completely green—he'd spent the last four years as co-founder of the artist-run gallery Open Space in Remington, where he helped curate a diverse mix of local art exhibits, film screenings, lecture series, and fittingly, as he is one half of the post-punk duo Weekends, live music shows.

BMORE MUSE
During his years in Baltimore, F. Scott Fitzgerald finished his acclaimed 1934 novel, Tender Is the Night.
At the time, the city's DIY scene was largely shepherded by the merry pranksters of the Wham City arts collective and restricted to underground venues like warehouse spaces and house parties. But because these locations lacked proper permits and liquor licenses, the cops would show up in no time. The Crown was the answer to all that, providing a legitimate, legal space for up-and-coming performers and events. "I still had to worry about the cops," says Sullivan. "But when they came, I had all the paperwork."
In June 2013, Sullivan began booking local artists to perform on the second-floor venue's stage. "From very early on, I was pretty open," he says. "I viewed it as a place to see artistic expression that might not fit into other venues, or that other venues might not be willing to give a try. I wanted it to be a space for anyone who is welcoming and accepting of the people in the room."
His eclectic lineups opened doors for creatives of all colors, genders, and talents, with acts ranging from hip-hop shows and indie-rock concerts to comedy and karaoke nights, not to mention the popular, bimonthly DIY dance party Kahlon. "It felt so scrappy and secluded in the beginning that even though it was open to the public, you still had to know it was here," Sullivan says. "The silver lining is that actually endeared a lot of people to it."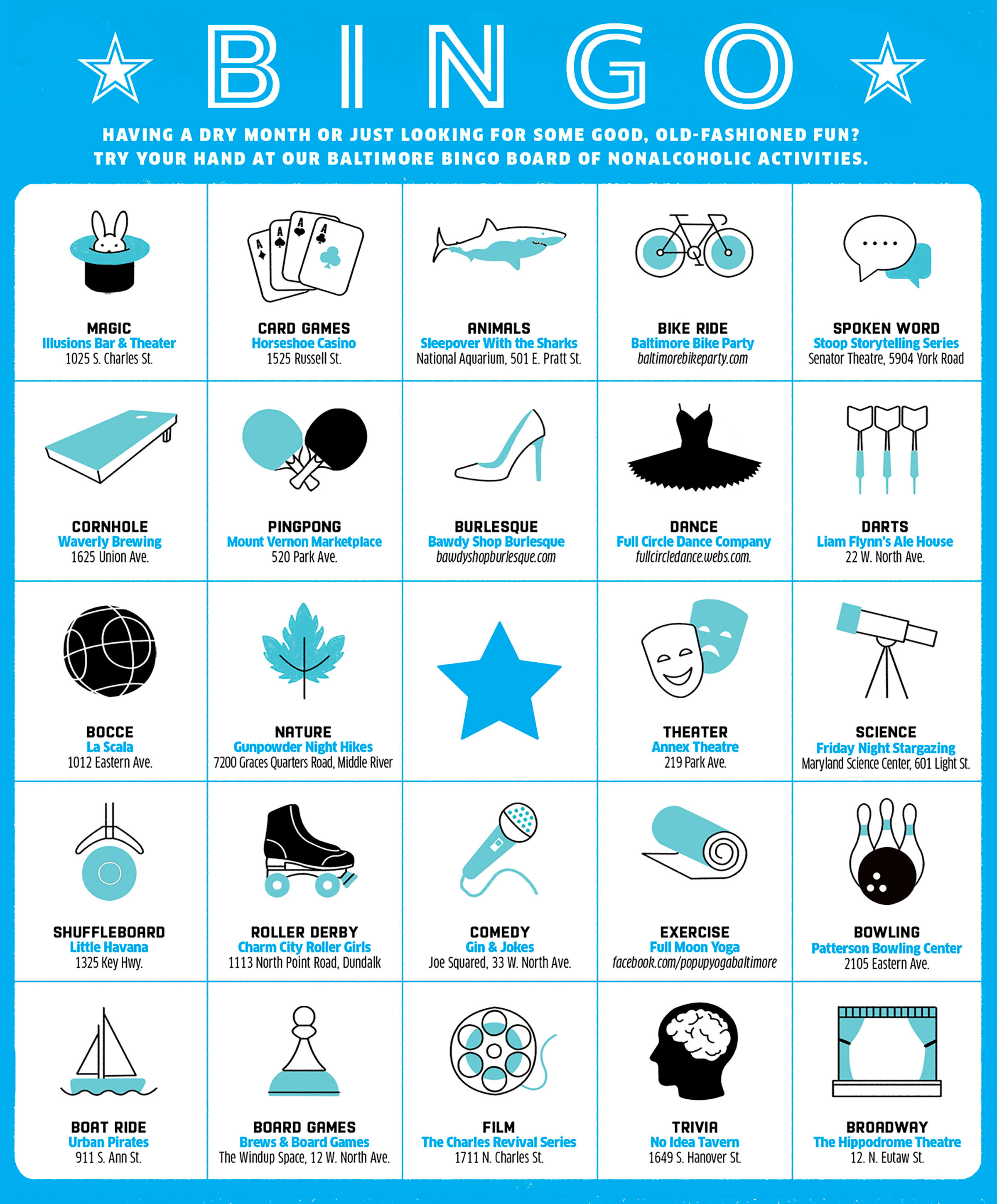 Try your hand at our Baltimore Bingo Board of NonAlcoholic Activities
Within no time, The Crown started to draw larger crowds, and to keep up with the demand, the venue expanded in size to include both its main "red room" for headliner shows and a smaller "blue room" for DJ sets and more, all while maintaining its inclusive attitude and appropriately dingy décor. On any given night, the crimson bar—equipped with craft cocktails, funky art, and a sparkling curtain of silver streamers illuminated on the stage—is a beloved hangout for art-school transplants and music lovers, including a sort of who's who of local artists, gallery owners, and notable musicians.
"The music scene is so much more fluid and integrated than it used to be and I think The Crown has a lot to do with that," electronic artist Dan Deacon told us last year. "It's a nexus for so many different types of music and people."
"It doesn't matter if you just started a band, practiced twice, and want to play a show, Brendan will put you on," says Jimmy MacMillan, founder of Friends Records, whose artists perform regularly at The Crown. "There's this willing support. Everybody just wants to see everybody succeed."
Sullivan shies away from taking too much credit, attributing the city's wealth of talent and drive to what The Crown has become. His only real goal for the future is to continue to provide a platform for artists and musicians to perform and grow. "I just get to say 'yes,'" says Sullivan, "which is the beauty of it."
By doing so, in three short years, The Crown has become a stalwart in an otherwise rapidly changing neighborhood. "It's not the 'it' bar—it's not the spot that everybody visits when they come to town," says MacMillan. "It's the secret place you show your friends. For Baltimoreans, it's a staple."
ART AFTER DARK
Forget gallery and museum hours. Step outside of your regularly scheduled programming and admire art beyond just the light of day.
ALLOVERSTREET
stationnorth.org
Get to know Station North creatives during this neighborhood art walk with openings and events up and down East Oliver Street on the first Friday of every month.
BMA ART AFTER HOURS
artbma.org
Nearly one year old, this monthly museum party has quickly become a Baltimore favorite, with local food and drink, live music, and the BMA's impressive art collection.
BROMO AFTER 5
bromodistrict.org.
On the last Friday of every month, spend your happy hour perusing the art galleries and mixed-used spaces of the Bromo Arts District from 5 to 8 p.m.
CREATIVE ALLIANCE
creativealliance.org
While attending a concert or performance at this Highlandtown nonprofit, take advantage of the open-floor exhibition space, which features a rotating selection of noteworthy artworks that typically closes at 7 p.m.
A Little Night Music
The sounds of the city include some expert instrumentation.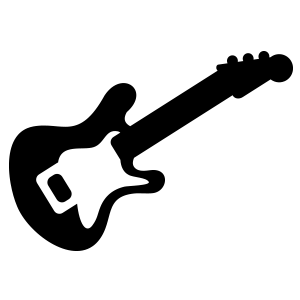 BLUES THE CAT'S EYE PUB
Calling all sea dogs, Deadheads, and blues lovers—there's no better place to cut a rug than the Cat's Eye, seven nights a week. 1730 Thames St., 410-276-9866.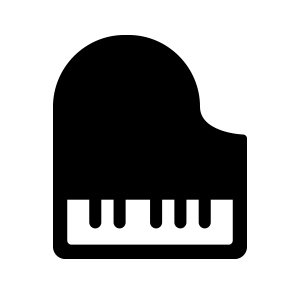 CLASSICAL AN DIE MUSIK
This historic Mount Vernon townhome provides an intimate setting for soaking up classical, jazz, and world music by local and internationally acclaimed artists. 409 N. Charles St., 410-385-2638.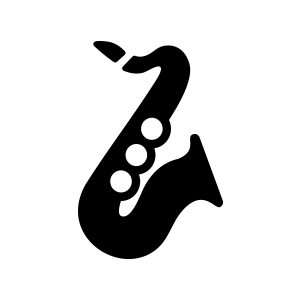 JAZZ BERTHA'S
Grab a stool (and an "Eat Bertha's Mussels" sticker) for freestyle jams by the acclaimed Jeff Reed Trio on Thursday nights. Extra points for the occasional hot sax. 734 S. Broadway, 410-327-5795.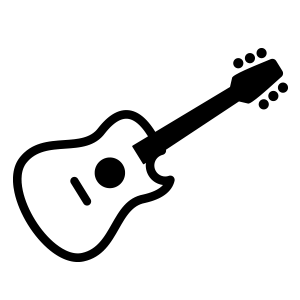 HONKY-TONK
1919 Beneath the blue and green Christmas lights of this itty-bitty dive, lose yourself in the Americana sounds of steel, slide, and acoustic guitar. 1919 E. Fleet St.
Night Vision
A Q&A with Foxtrot
An aerial view from Baltimore at night.

CHASE ST. SPEAKEASY
The Owl Bar at The Belvedere Hotel was a speakeasy during Prohibition. Legend has it that if the owl statue blinked, the party was on.
We all know the choppy whir of rotor blades, the swooping beam of spotlight. The Baltimore City Police Department's Foxtrot helicopters are an omnipresent part of the Baltimore sky, whether they're responding to shootings or car thefts, conducting missing person searches, aiding in homeland security, or just out there on patrol. On a gray windy day at the end of summer, we sat down at the BPD headquarters with chief pilot Renonzo Belcher, who commandeers the unit's four aircraft, and tactical flight officer Debra Swinney, who operates all of the onboard mission equipment, to talk about what it's like being the eye in the sky.
Tactical flight officers (TFOs) begin as seasoned street police officers. What made you make the switch?
Debra Swinney: It was something I always wanted to do. I love flying. I love being in the air. It's a totally different lifestyle up there.
Are there other women in the unit?
DS: I'm the only female. I wish there were more. As long as you're not afraid of heights, you're good. The guys don't treat me any different.
You're based out of Martin State Airport in Middle River. How long does it take to get to the city?
Renonzo Belcher: About five minutes. At any given time, we have one aircraft up, so there is constantly someone out on patrol for the officers on the ground.
How fast do you fly?
RB: The aircraft can get up to 130 miles an hour, but it all depends on the weight and conditions.
DS: If it's windy, you think you're going fast, but you ain't movin'. It takes forever to get where you need to go.
And how high?
RB: The aircraft can go up 15,000 feet, but we're usually at about 500 feet.
Is it more difficult to work at night?
RB: Certain visual cues are different. The searchlight brightens everything up, and the infrared definitely helps us out. If we can't see what we're looking for, we'll use [infrared] to try to detect a weapon, or body, or car. It measures different sources of heat, so on a cold winter's day, we might have a suspect fleeing officers who hides in a park and throws leaves over himself and the ground officers might walk right by.
DS: But we can see his body heat, even though he's covered in leaves. It's like when you hold a flashlight under a blanket, you can still see the light coming out.
RB: You ever play video games?
Is it kind of like that?
RB: It is.
Is that mindset something you have to get used to?
RB: It's just like any police. When we come on a scene, we look at the totality of the situation and just try to do everything we can to assist the officers on the ground. . . . For TFOs, it takes months of training to learn how to operate the technical side of things and just acquire the feel for the job. Even then, it still takes a few months to build up your own way of doing things. It's a whole different ball game going from the streets to the air.
Is it strange to be removed like that?
DS: Yes. Even during the hard times of the city, it was hard for me because I couldn't just jump out and help.
RB: But we have other ways of helping out. In high-risk situations, we are the on-scene commanders. If we have an officer that's injured, we're calling for the ambulance, or fire rescue, or blocking off streets. We have to be in control of the scene so we can quickly get help to those units.
What does the city look like from way up there?
RB: Oh, it's a beautiful view, both day and night. They're completely different. But the nighttime view . . . I like all the lights. Downtown is like a heart and all of the streets that come out of it are like the veins. We see the traffic flow. For me, it's calm and peaceful.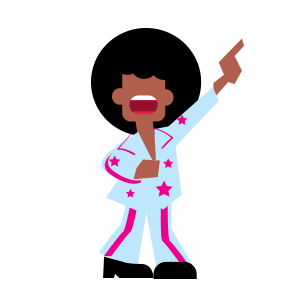 Bump in the night
As dance clubs disappear across the city (R.I.P. Paradox), dance parties are keeping the hip bumping, booty shaking spirit alive and well.
MOBTOWN BALLROOM SWING DANCES
Mobtown Ballroom
Swing into Pigtown on Monday and Friday nights for dance sessions that go as late as you want to hop, jump, and jitterbug. 861 Washington Blvd.
SAVE YOUR SOUL
Lithuanian Hall
On the outskirts of Hollins Market, head to the Lith Hall basement every first Friday for packed dance floors, shots of honey liqueur,and vintage vinyl on the ones and twos. 851 Hollins St.
BALTIMORE SQUARE DANCE
Ideal Arts Space
Skip the trendy eateries and hip shops of Hampden to travel back in time with old-time string bands at this bimonthly square dance, open to beginners and masters alike. 905 W. 36th St.
BALTIMORE WHISKEY COMPANY DANCE PARTY
De Kleine Duivel
Once a month, this German beer bar joins the BWC for DJ dance parties with themes like Geek-chic, Sci-Fi, and Soul Train. 3602 Hickory Ave.
Goodnight Moon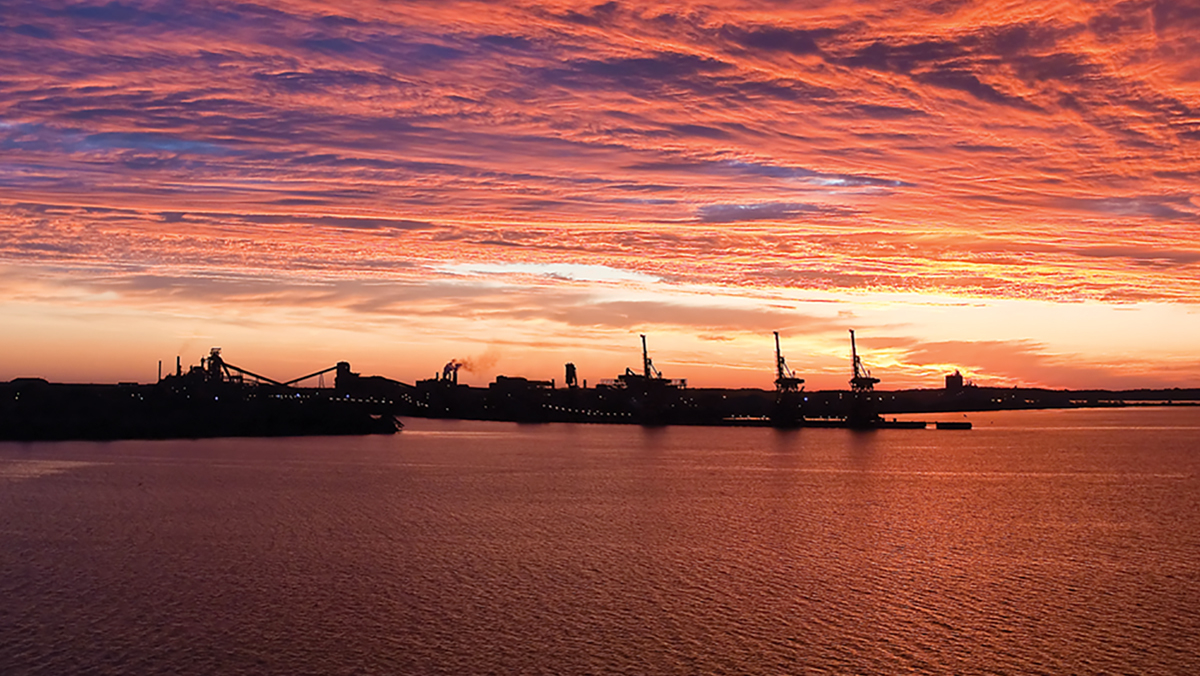 SUNRISE AT THE Baltimore harbor close to the dock by Key Highway. PHOTOGRAPHY BY KEVIN BURROUGHS.
There is a moment at the end of the night when the darkness fades out and daylight shuffles in. Time seems to slow down, if only for an instant, with the embers of the evening's endeavors—be it bad decisions or a deep sleep—still flickering in your mind; the anticipation of the next 24 hours just a few seconds away. It's a strange adrenaline rush that can keep you going a little longer, or wake you up better than any cup of coffee. The exact moment changes by the day, but whatever the time, wherever you are, be sure to stop and soak in the sunrise at one of the city's prime perches.
---
DRUID LAKE
At the edge of Druid Hill Park, grab your dog, bike, or running shoes for stellar sunrises and early morning strolls around this waterfront path.
---
FEDERAL HILL
Couch potatoes beware—the hike up Federal Hill is harder than it looks, but from the top, you can enjoy a panoramic vantage point over the entire Inner Harbor.
---
INNER HARBOR LOOP
From the steps of the Maryland Science Center, the benches of the Bond Street pier, or the grassy lawn of the Canton waterfront, this promenade offers endless vistas.
---
PATTERSON PARK PAGODA
At the top of this historic tiered tower, ogle as far as the eye can see with nearly unobstructed views over the city and out to the Key Bridge.