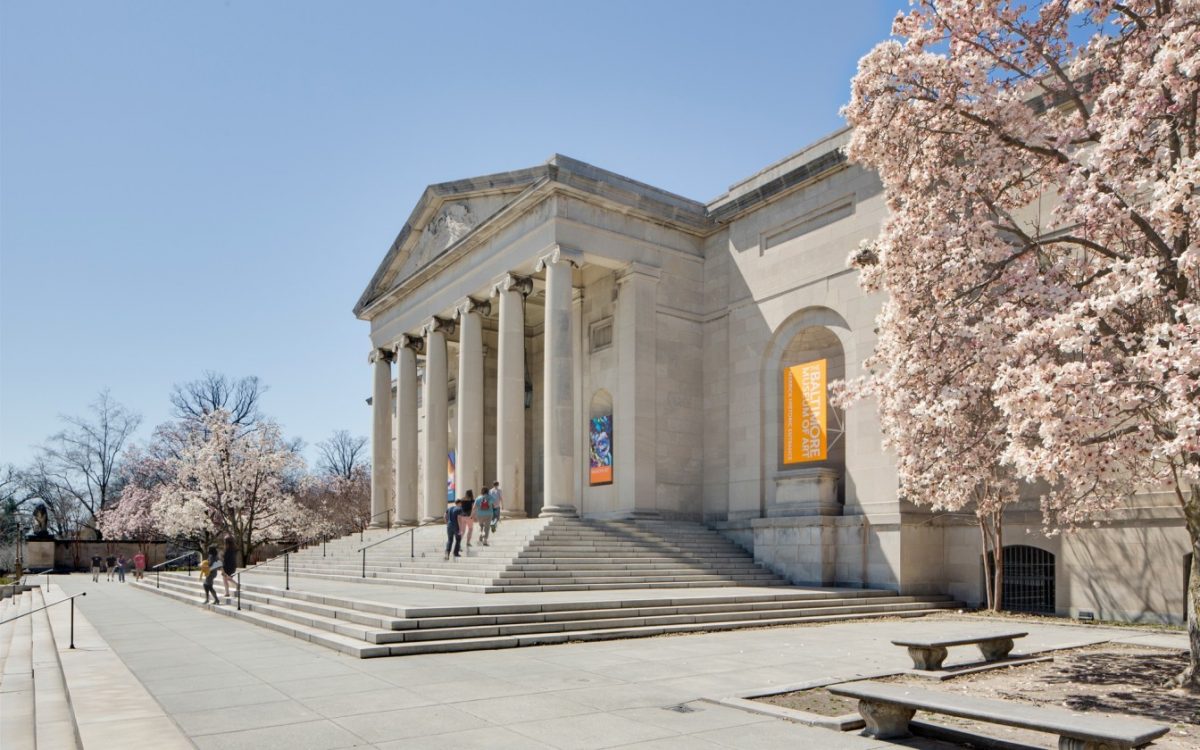 Baltimore Museum of Art
Looking to add a bit of culture to your afternoon? There is no shortage of great museums around Baltimore. Whether it's art, science, history, or a particular famous figure you're interested in, there's a place nearby to spend your day wandering and learning.
This unique museum celebrating outsider art was named by Congress as the country's official museum for self-taught art. Come for the elaborate sculptures, gorgeous drawings, and interesting assemblage pieces, then stick around to browse Sideshow, the treasure trove of a museum store downstairs. As a bonus, AVAM is free for federal employees (and up to three others) during the 2019 government shutdown with a valid ID.
For more visionary and local art, try: MICA Galleries, Eubie Blake Cultural Center
This free museum houses a collection of 95,000 works, so you're sure to find something to interest everyone among its vast collection. Lovers of modern art will want to linger in the galleries housing the famed Cone Collection, while those looking for the more non-traditional can usually find something interesting and extraordinary in the Contemporary Wing or special exhibition galleries. Recent shows have included a John Waters retrospective, surreal visions of some of Europe's great conflicts, and a look back at the BMA's first exhibit to feature black artists.
For more art and antiques, try: Maryland Art Place, School 33 Art Center
The Smithsonian-affiliated Reginald F. Lewis Museum is home to art, photographs, sculptures, military antiques, and ephemera chronicling Maryland's African-American history from 1784 to the present. Although it's connected to the Smithsonian, the Lewis Museum remains open throughout the shutdown and is offering free admission to furloughed workers and up to three guests with a valid government I.D.
For more African-American history and culture, try: Frederick Douglass-Isaac Myers Maritime Park, National Great Blacks in Wax Museum
Housed across three buildings (including a historic residence) in Mount Vernon, the Walters features an extensive collection of Asian antiquities and decorative arts. Wander the Chamber of Wonders to experience what a 1600s nobleman might have shown off in his lavish home, or head to the 1 West Mount Vernon Place to see contemporary art placed alongside the preserved architecture of a 19th-century townhouse.
For more historic homes and exhibits, try: The Johns Hopkins Museums, The Star-Spangled Banner Flag House
Explore Baltimore's history as a hub of business and industry at this South Baltimore museum housed in a former cannery. Exhibits include a 1900s garment loft, a recreated soda fountain, a print shop, and a gallery dedicated to how Baltimore fueled the rise of the automobile. Don't forget to stop by the Baltimore docked outside—she's the oldest steam-powered tugboat in the United States.
For more transportation and industrial history, try: The B&O Railroad Museum, Baltimore Streetcar Museum
The MdHS is the state's oldest, continuously operating cultural institution, having been responsible for documenting Maryland history since 1844. With exhibits featuring figures such as The Catonsville Nine, Elizabeth Patterson Bonaparte, and the Peale Family of painters, this collection is comprised of more than seven million items from pre-Colonial times to the present.
For more great figures from Baltimore's past, try: The Babe Ruth Birthplace & Museum, Edgar Allan Poe House & Museum
With a history going back to 1797 with the Maryland Academy of Sciences, this Inner Harbor spot has evolved into a family-friendly exploration of the natural world, from the smallest cells to history's largest creatures. Visitors can also take advantage of Davis Planetarium or catch a movie on the IMAX screen, which will reopen in March after theater renovations are complete.
For more hands-on learning, try: Port Discovery Children's Museum, Historic Ships in Baltimore
Plan to spend some serious time at this colorful spot. Beyond the normal fish, rays, and other aquatic critters, you'll find sloths, puffins, crocodiles, and more scattered across the many habitats housed in this multi-level aquarium. An indoor rainforest, a stories-high shark tank, and a living reef featuring Calypso, a rescued sea turtle, are just a few of the highlights in this gem overlooking the Inner Harbor. Book your timed entry ticket online to avoid long lines, and go first thing in the morning or late in the day to avoid the field trip crowd.
For more nature encounters, try: The Maryland Zoo in Baltimore, Rawlings Conservatory