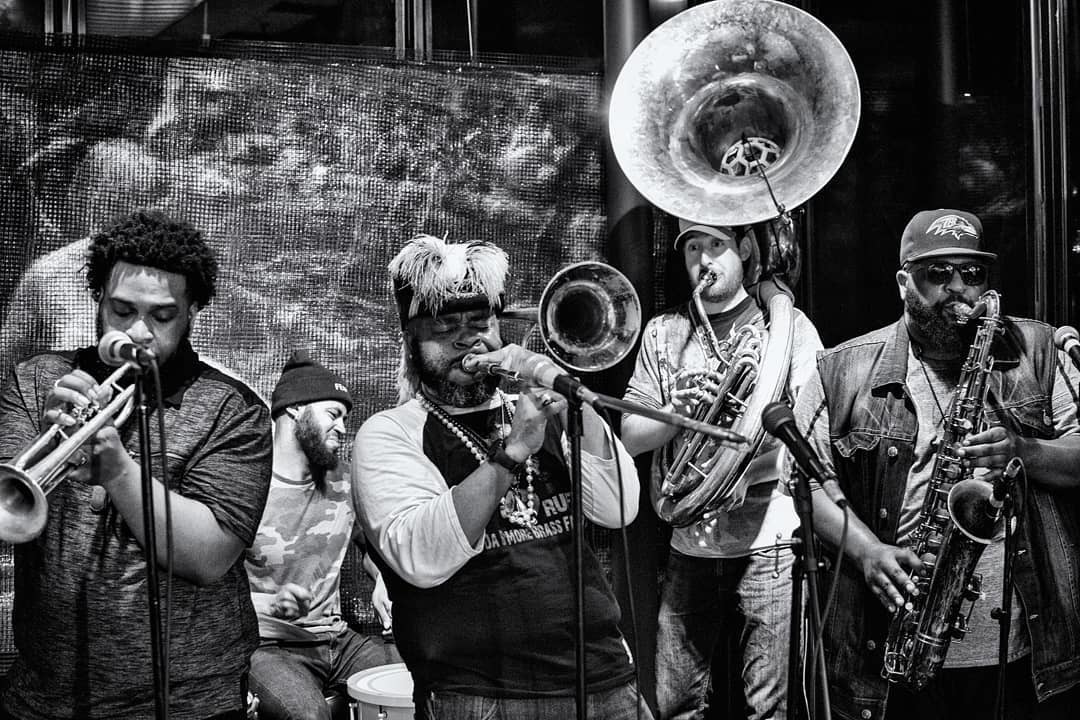 Rufus Roundtree
The first-ever Brilliant Baltimore—the lovechild of the Light City and the Baltimore Book festivals—will kick off this weekend with 10 days of free activities along the Inner Harbor. From November 1 through November 10, catch local musicians performing live outside at the main Brilliant Baltimore Concert Stage adjacent to the Maryland Science Center, as well as other locations throughout the neighborhood. Here are more than a dozen not to miss.
Marian McLaughlin
11/1, 12 p.m., Brilliant Baltimore Concert Stage
Start things off with a mid-day set by this dynamic chamber-folk singer-songwriter. Combining acoustic instruments, stream-of-consciousness storytelling, and a focus on the natural world, her poetic music is a meditative listen in this fast-paced world.
Afro House
11/2, 8 p.m., pop-up performances
This inventive performance art group (and Best of Baltimore winner) brings its Astronaut Symphony—a futuristic fusion of beat box, opera, punk, and funk—to the city streets with roaming performances around the harbor on Saturday evening.
Rufus Roundtree & Da B'More Brass Factory
11/3, 4:30 p.m., Brilliant Baltimore Concert Stage
Keep the Sunday scaries at bay with an afternoon powerhouse performance by this funk-fueled Baltimore institution, always bringing a Charm City-meets-New Orleans get-down that should incite a second line.
Outcalls
11/3, 7:30 p.m., Brilliant Baltimore Concert Stage
Behold the vocal power of Britt Olsen-Ecker and Melissa Wimbish. The two classically trained opera singers make up this pop-opera duo, as they've called it, bringing ethereal harmonies, synth-power ballads, and all-around female empowerment to every stage they play.
Abdu Ali

11/3, 9 p.m., Brilliant Baltimore Concert Stage
This avant-garde rap artists first captivated the city's art scene as the MC of their Kahlon dance parties at The Crown. Years later, Abdu Ali's talents have only continued to grow, as has their stage presence, with their live performances now backed by a full band and more fiery energy than ever before.
Clarence Ward III & Dat Feel Good
11/6, Brilliant Baltimore Concert Stage, 7:30 p.m.
On Wednesday, this skilled Baltimore brass player takes to the stage with his full band for, as the name rightfully implies, a feel good show filled with influences by jazz, hip-hop, and funk. Ward himself commands the horn and saxophone, while his bandmates keep the vibes high on keys and drums.
MovaKween
11/7, 9 p.m., Brilliant Baltimore Concert Stage
This New Age R&B singer offers a smooth way to slide into the weekend, with jazz-infused melodies, earthy vocals, and an empowering message for all listeners, especially women, on Thursday night.
Wendel Patrick
11/8, 5 p.m. Brilliant Baltimore Concert Stage.
It's hard to know exactly what type of music this composer, producer, rapper, radio host, and more will be bringing to this Friday evening set. But we do know, no matter what, this Baltimore music veteran and mad scientist is sure to be a showstopper.
Super City
11/8, 7:30 p.m., Brilliant Baltimore Concert Stage
A perfect way to kick off your Friday night, this infectious indie-pop band puts on one of the best live shows in the city with high-powered hits (new go-tos like "Stay" and old favorites like "Artificial Sin") and killer choreography (fancy feet, low-low dips) that make it impossible to not dance along.
Billy Price & The Charm City Rhythm Band
11/9, 6:15 p.m., Brilliant Baltimore Concert Stage
This veteran blues-and-soul singer brings his six-piece band for an old-school sound and Saturday night shakedown fit for all ages. A newcomer to Baltimore, Price brings funky grooves, rollicking rock-and-roll numbers, and soulful, belt-out ballads.
Joy Postell
11/10, 6:15 p.m., Brilliant Baltimore Concert Stage
One of the most soulful voices in the city, Postell packs a punch on every song she performs, be it socially minded hip-hop tracks, jazzy neo-soul croons, or old-school R&B slow jams. Prepare to be mesmerized.
Patrick McAvinue
11/10, 7:30 p.m., Brilliant Baltimore Concert Stage
This young musician is quickly becoming one of the most regarded bluegrass fiddle players with national awards and a regular gig at Nashville's Grand Ole Opry. Expect a Sunday set of fast-flying, feel-good tunes when he comes back to his Baltimore roots.
Eze Jackson & The Backwudz Band

11/10, 9 p.m., Brilliant Baltimore Concert Stage
A guiding force of the local music scene, this dynamic rap artist and front-man of hip-hop collective Soul Cannon will perform with his Backwudz band for a Sunday evening set of high-octane energy and only-in-Baltimore rhymes.