Black Creatives Pay Cinematic Homage to Baltimore With 'A Black Girl's Country'
The film, inspired by Nia June's poem of the same name, was recently acquired by the BMA.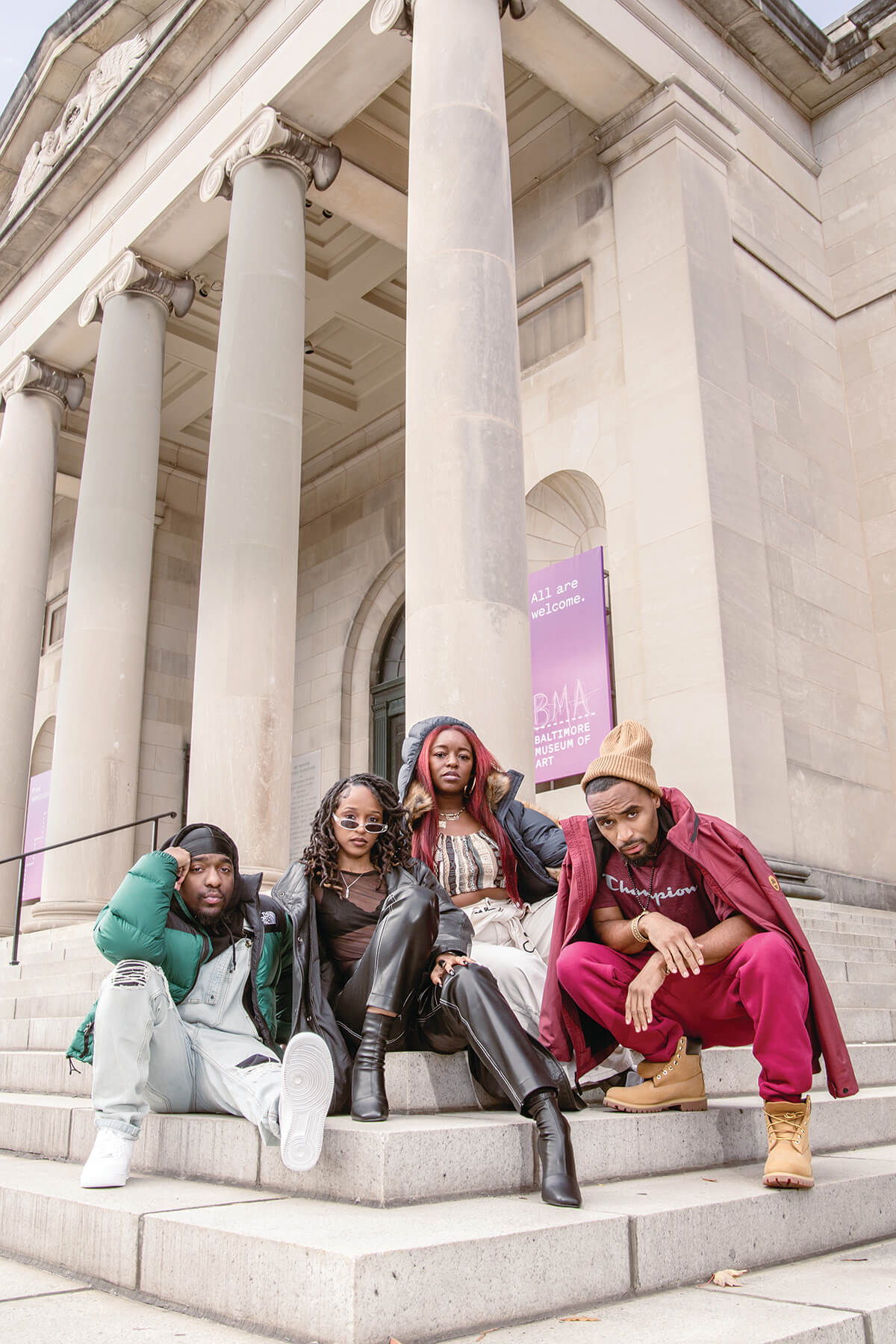 In the spring of 2019, Nia June found herself in the living room of a home in Windsor Mill. She described it as "old-school." There were many pictures on the walls and others lined the tables. There was plastic covering on the matching vintage couches. The Baltimore poet was there for work, though it didn't feel like it.
"It felt like home," says June, pictured second from left, who spent the day listening to stories from the three generations of Black women who resided there: Najah Johnson; her daughter, Indigo; and her grandmother, Ethel Zimmerman. "Seeing the way her grandchild and great-grandchild just folded to her—they sat at her feet, they loved her so much, and just took care of her. It was beautiful."
Zimmerman died last January, at 86 years old, but she will now live on in the permanent collection of The Baltimore Museum of Art. June's debut film, A Black Girl's Country, inspired by her poem of the same name, was recently acquired by the BMA as part of its new initiative to obtain more works by artists of color and those with ties to Baltimore.
It all started with a poem that June wrote as a student at Towson University in 2018. As the only Black woman in her poetry class, she felt frustrated and out of place, with her work constantly misunderstood by her classmates, many of whom were white men. She wrote her feelings into a poem that she now describes as a "home for Black women."
The short film based on that poem, written and directed with local cinematographer Kirby Griffin, right, and musician APoetNamedNate, left, features more than 50 Black women and men set to the backdrop of Charm City, with June's words echoing in the background.
"In person, Nia is this very delicate, soft-spoken woman, and then you see her onstage and it's just like pure fire," says Griffin, who filmed all the video footage, while APoetNamedNate created the music to accompany June's poem. Together, their goal was to celebrate Baltimore's Black community.
"Representation was really important to us," says June, who is now an arts educator herself. "I've had a lot of students who are young Black girls tell me that they watch the film every morning to start their day and make them feel good. A lot of Black women have told me they cried, or dads have said they show it to their daughters."
The BMA first interacted with the film during the COVID-19 pandemic, when it was showcased in the "Screening Room," a virtual space where visitors could quench their thirst for local artwork while the museum's doors remained closed, quickly becoming a fan favorite.
"This is probably one of the best things that happened to us last year," says chief curator Asma Naeem. "This work is a portrait of so many incredibly moving and powerful and inspiring people."
That includes Sharayna Ashanti Christmas (second from right) the founder of Necessary Tomorrows, whose creative consulting branch helped the BMA acquire the film.
"Black artists need to know that they have someone that can advocate on their behalf," says Christmas, whose radical multimedia platform works to promote art by creatives of color, helping to raise more than $5,000 in emergency relief funding for Black artists in 2020. "They also need to learn how to advocate for themselves."
Per June's wishes, the film is still available for free on YouTube, where it has amassed more than 8,000 views. But as it's one of the first films by a local Black artist to join the BMA's collection, Christmas see it as a landmark.
"It's being acquired in the permanent collection of a prestigious museum located in Baltimore and the work is by three artists that are from Baltimore and it's about Black women," she says. "I don't think it gets any more historic than that."